BU Administrators Add Two Wellness Days to This Semester's Calendar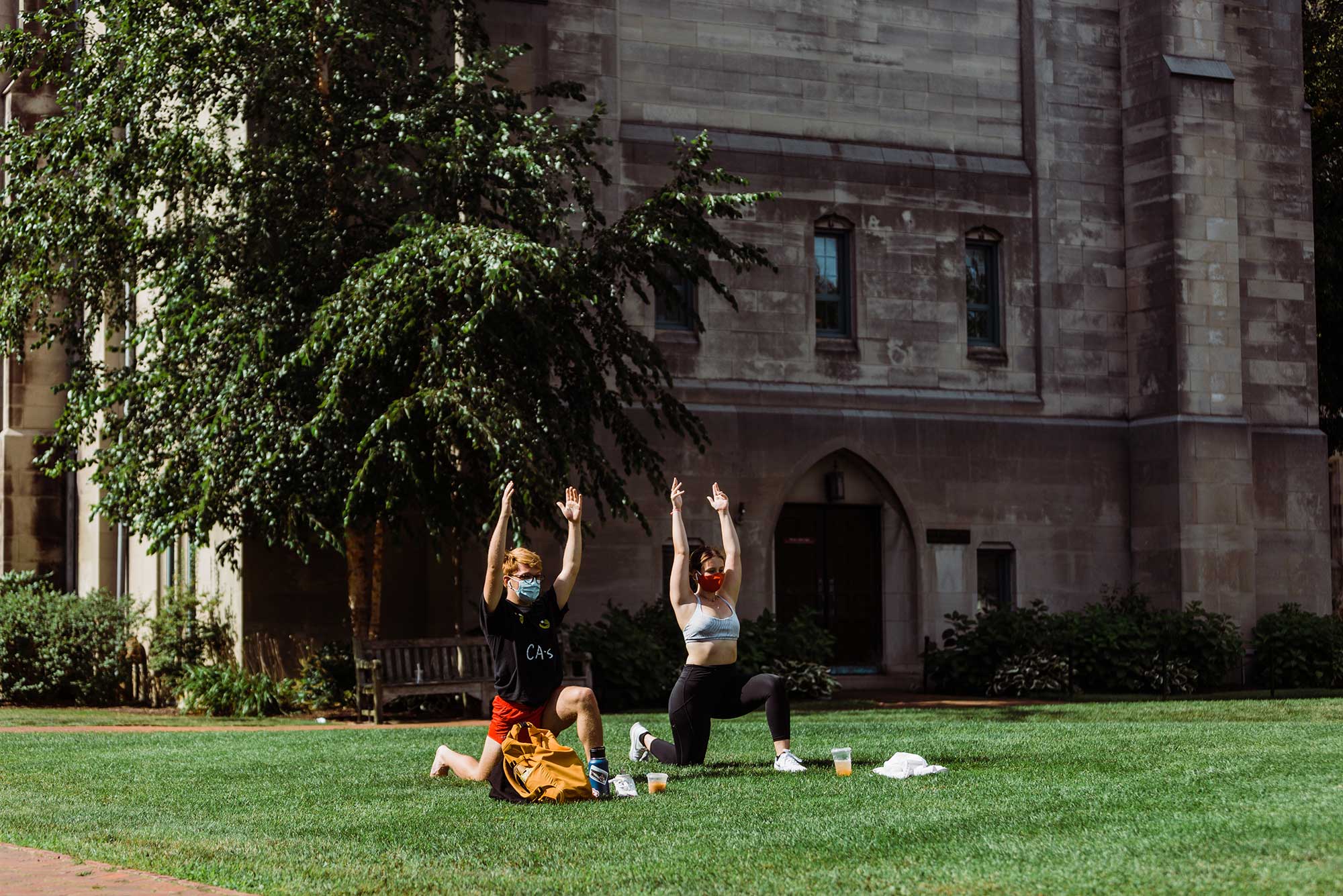 Mental Health
BU Administrators Add Two Wellness Days to This Semester's Calendar
No classes, no homework, and no exams allowed
Add spring break to the growing list of things that have been upended by the coronavirus pandemic. The weeklong March vacation was canceled with the aim of reducing the University community's risk of COVID-19 exposure. Administrators had worried that having students, faculty, and staff travel could lead to a surge of cases on campus.
But going through the semester without a chance to rest and recharge wasn't a viable solution, either. In a letter sent on January 13 to students and faculty, Jean Morrison, University provost and chief academic officer, announced that BU has added two wellness days to the spring academic calendar. No classes, no exams, and no homework on those days. In other words, everyone should take the time for a mental health break.
The two wellness days are scheduled for Thursday, March 18, 2021, and Wednesday, March 31, 2021, planned to align with the Presidents Day and Patriots Day holidays, so there is a break in the academic calendar every four to six weeks throughout the semester.
Sue Kennedy, interim associate provost for undergraduate affairs, whose team helped to coordinate the days, says that breaks from the intensity of the semester are important. "We thought that given what a unique situation this academic year is," she says, "it is important that students and faculty have periods of respite."
BU is not alone in instituting wellness days. Harvard, Penn State, and Duke are among other Universities that have decided to add wellness days to their spring calendar as well.
Back in November, Student Government's Mental Health Committee (MHC) proposed the idea for four wellness days. Kennedy says the BU administration considered the request and that Kenneth Elmore (Wheelock'87), associate provost and dean of students, was in contact with student leaders to coordinate a plan.
Morrison's letter also stated that graduate schools and clinical programs with their own calendars (the School of Law, the School of Social Work, and the Medical Campus schools) have the option of choosing two different days that work better for their calendars. The wellness days do not apply to online-only courses that run for seven weeks.
"I understand that this calendar adjustment will require some faculty to adjust syllabi and potentially remove some planned content from their courses," Morrison wrote, before asking for faculty to refrain from adding on work as a makeup. "I hope that we can all embrace these Wellness Days as opportunities to recharge."
Evan Teplensky (CAS'23), a College of Arts & Sciences Student Government senator, was involved with the planning and echoes that hope, saying that he worries that professors will still quietly assign work and tests for the day following a wellness day, forcing students to use their time off as study time. There have been reports about this on the BU Reddit page. Teplensky urges students to report these instances to their department chair or dean if they find this happening. "It's important that we really get these days off, these days away from Zoom," he says.
MHC cochair Savannah Majarwitz (CAS'22) cites a School of Public Health study last September that found that the pandemic has caused the depression rate to triple among US adults, and that even students and faculty who haven't been diagnosed with depression still need a much-deserved mental health break.
While vegging out and staying off Zoom are two viable options for these days, the BU Wellbeing Project is planning in-person activities to encourage casual social interactions, as well as self-directed wellness activities. BU Today will provide more details on these events in March.
"We hope that people take the day, go for a walk on the Esplanade, explore Boston safely, and still remember to mask and social distance," Kennedy says. "Unplug for the day."