BFA Thesis Exhibition Offers Mesmerizing Look at Seniors' Work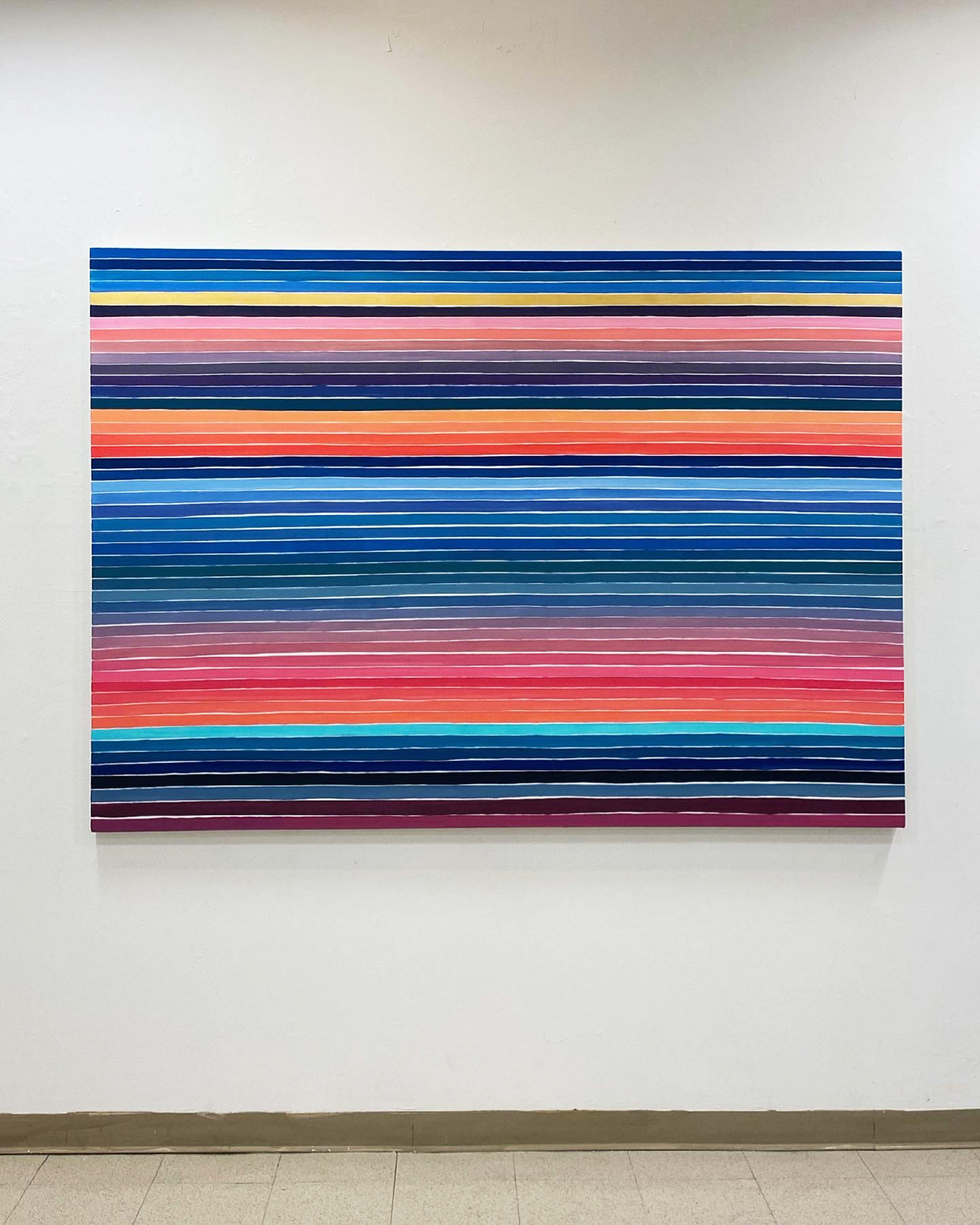 Fine Arts
2021 BFA Thesis Exhibition: A Mesmerizing Look at Work by CFA Seniors
On view through May 14, show features more than 60 artists
We dare you to walk by the College of Fine Arts without pausing to take in the vibrant abstract painting of multicolored stripes hanging in the Faye G., Jo, and James Stone Gallery window. The arresting canvas, A Lifetime of Skies, painted by Cailyn Masson (CFA'21), offers a hint of what's inside and across the street at 808 Comm Ave: a mesmerizing combination of painting, sculpture, printmaking, and graphic design comprising this year's BFA Thesis Exhibition.
The work by 61 talented School of Visual Arts seniors is on view through May 14 at the Stone Gallery and the Commonwealth Gallery, both at 855 Commonwealth Ave., as well as in satellite shows in CFA's fifth floor studio areas and the first floor hallway at 808 Comm Ave.
"These artists have been steadfast to their work and their community of artists over this past year. This perseverance is a testament to their commitment to craft and sharing a conversation around art," says show curator Leah Triplett Harrington, a Boston-based writer and curator of the nonprofit public art accelerator Now + There. "They are making, and breaking out of, any preconceptions or parameters for doing so."
In fact, this year's BFA exhibition is titled Breaking Out. The theme was developed by the branding team graphic design seniors and grew out of conversations about the need to escape the Zoom boxes that have dominated our lives this past year and rediscover beauty in physical spaces. The title is also a reflection of how Zoom has offered us glimpses into people's private lives, allowing us to find spaces between the physical and digital, the private and public.
Mary Yang, a CFA assistant professor of art, graphic design, says her students wanted to focus on finding a silver lining in the past year. The theme, she says, is also a reflection of their growth as individual artists. "Breaking out can be going outside their comfort zone, trying something different than what they had been making before this year," Yang says. "I think breaking out also means going out and making change and letting their work be impactful in some way."
The statement about the show's theme—"We'll realize that all this time, breaking out means shining together"—underscores, too, the sense of community the artists wanted to emphasize by coming together.
The ways individuals found community, redefined home, and sought some kind of inner peace throughout the pandemic are reflected in the hundreds of artworks on view throughout the exhibition spaces.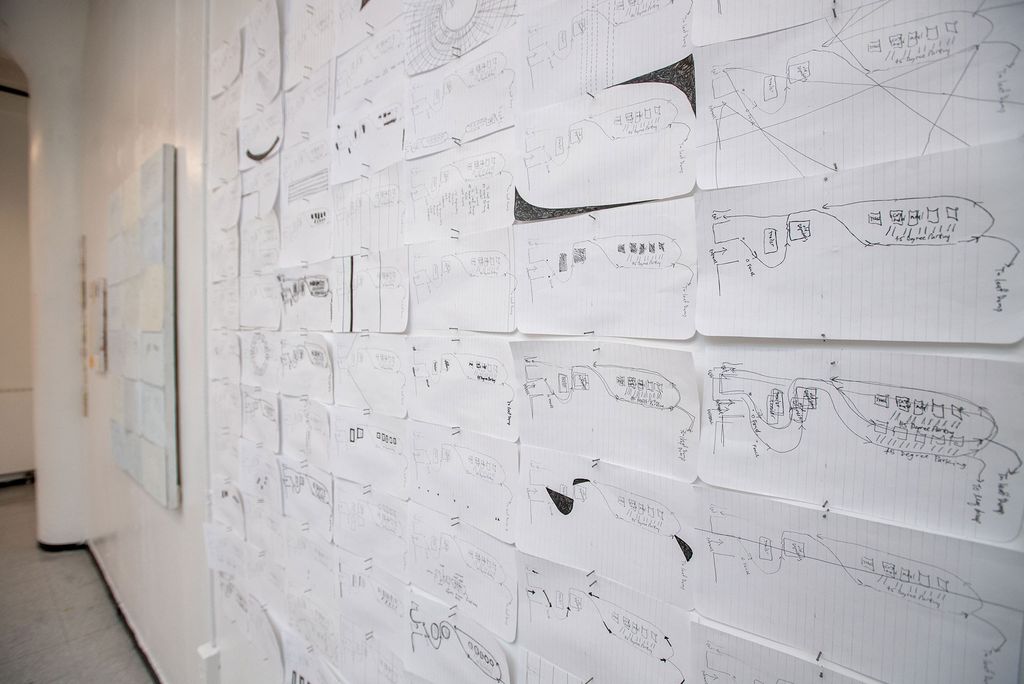 Molly German (CFA'21) says she was deeply impacted by having to quarantine with her parents at home this past summer. A painting major, she was cut off from her studio space and the materials she typically worked with. So she turned to collage.
She began collecting what she calls "special trash" from her family's paper recycling and pinning the pieces on a cork board. When she got back to BU this past fall, she began creating oil paintings of her collage collections, abstract interpretations of the boards she had created over the summer.
German has one painting in the Stone Gallery and more work in the fifth floor classrooms converted into satellite galleries for the exhibition. Along with her canvases, visitors can see some of the found materials she collected last year—as well as a sketch by her father outlining their town dump, which inspired one of her paintings.
The sketch "is a little hand drawing that my dad had given me when I had to go to the local dump," she says. "They had recently rearranged it, apparently, and my dad didn't want me to get lost. I found it so endearing that I brought it back to my studio."
An adjacent studio space showcases this year's graduating printmakers and offers a glimpse into their various processes.
Among the standouts: a series of breathtaking abstract etchings by Henry Louris (CFA'21), a hand-built greenhouse by Manon Michel (CFA'21) filled with reductive linocut depictions of her favorite plants, and innovative prints by Olivia Holdsworth (CFA'21) that use both reductive monotyping and digital editing techniques to create images of abandoned buildings.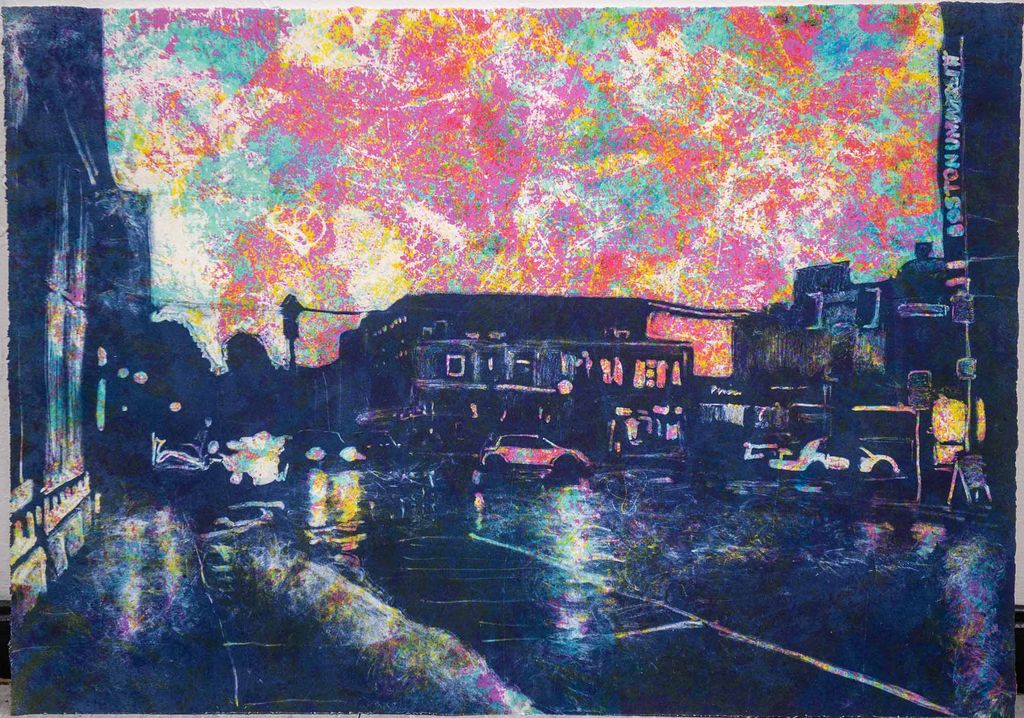 Also in the studio: both the largest and the smallest artwork ever produced in the BFA printmaking program. Mai-Han Nguyen (CFA'21) explores her relationship with her Vietnamese culture and her identity as a first-gen student through an immense woodcut print spread over more than a dozen panels. Meanwhile, Emily Bowen (CFA'21) captures important details from her life on two-inch by two-inch monotypes that mimic the look and feel of old slides. 
Nguyen says working on such a large scale allows her to tell a more complete story of her life. The work includes Buddhist imagery as well as a depiction of the shrine her parents were married under. The artist was born in Vietnam and her family immigrated to the United States when she was an infant. She says her work has offered her a chance to explore her identity. "It's okay to talk about the parts of your culture that are inherited but that you don't always understand," she says. "This work helped me find value in parts of myself that I hadn't previously found."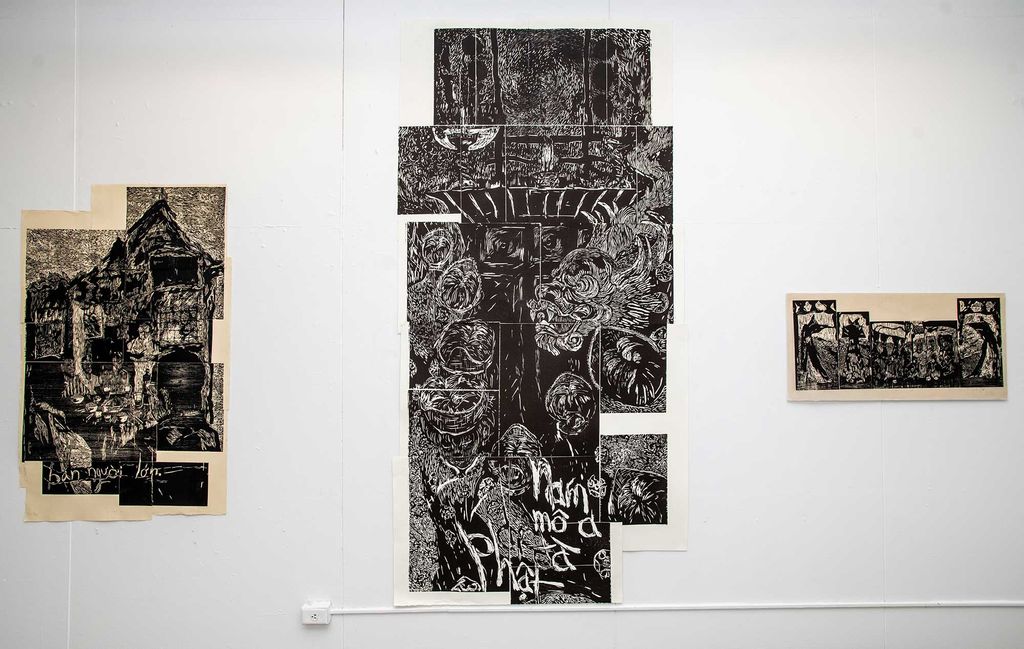 Similarly, Bowen's work explores themes of home and family. On exhibit are approximately 70 monotypes of small paintings she did depicting childhood photos and memories; 48 of them are on display in the fifth floor satellite studio, and 2 larger prints, of spots in her Rockport, Maine, hometown, are displayed in the Stone Gallery.
"I was thinking about memory and recollection and how photography plays into that," she says. The monotypes "are about the same size as a slide photograph, and as I started looking at the role of photos in my life, I started making ones of me and my sister or my cousins and parents. It became a very personal thing for me; I remember each thing that is happening in every single one of these, even though they're so tiny."
Welcome mat for the show
Masson, whose painting A Lifetime of Skies is a kind of welcome mat for the show, also drew on memory for her thesis work. She uses stripes and collections of colors to create abstract depictions of her surroundings, and she says she hopes visitors will find her work warm and welcoming. 
"A Lifetime of Skies isn't just a depiction of one sky, or one gradation of color, it's more about a collection of memories because of how you tend to overlap things in your mind," she says. "I really try to let my personality and my own memories come through, but in a way that's vague enough to where other people can put their own feelings and perceive their own things from associations in their past with the colors."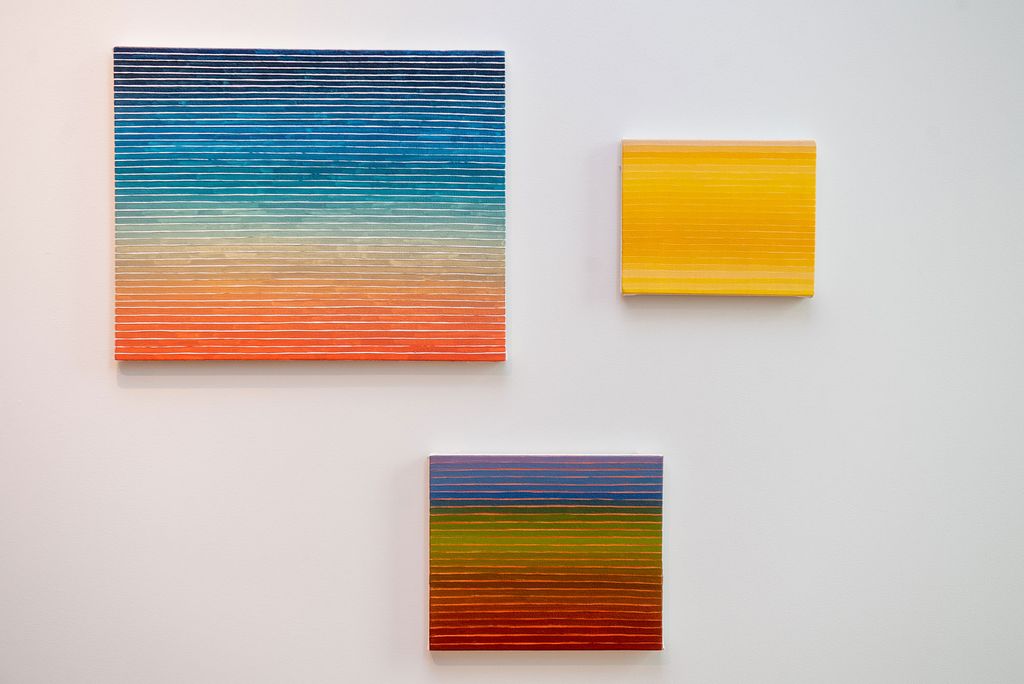 Masson says she embraces small imperfections to make her work feel warmer and more accessible.
Among the other visual arts, the show features two sculpture artists. A colorful, expressive sculpture by Go Eun Lee (CFA'21), made from chicken wire, plaster, acrylic, silicone, expanding foam, and clay, evokes memories of childhood toys and playtime.
Work by Elizabeth Klayman (CFA'21) plays with light and visibility. She has set up green lights on the Stone Gallery ramp that are mainly visible at night. Klayman says she is interested in the idea of not always being able to see a piece.
In addition to creating the show's branding, all graphic design seniors have two pieces—physical or digital—in the exhibition. Their work is in the first floor Commonwealth Gallery, adjacent to the Stone Gallery. Riffing off the show's title, the gallery, with work by 33 artists, is dubbed the "Breakout Room."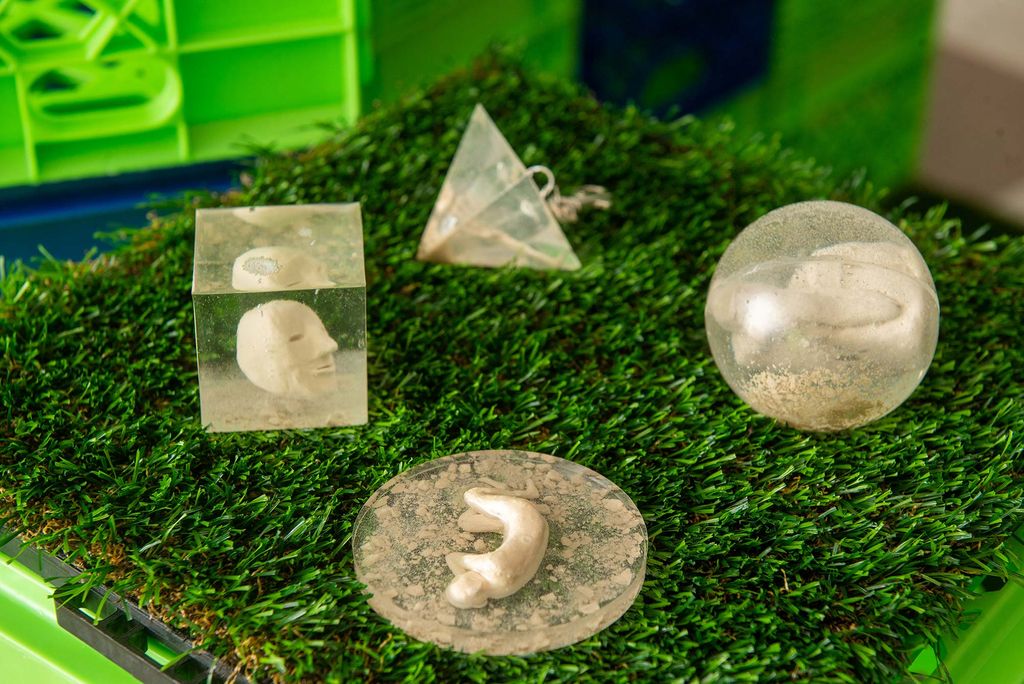 Design team member Emerson Lawton (CFA'21) helped curate the room's layout. One of her pieces in the show is a collection of morbid keychains and souvenirs, which are drawn from her thesis on the commodification of tragedy.
Other graphic design highlights are two miniature dioramas of set designs for musicals by Kendall Gregory (CFA'21) and funky T-shirts with the phrases "Follow me to eternity" and "We see the future" by Ivan Reyes (CFA'21). From Reyes' artist statement: "Every graphic t-shirt tells it's own story, whether it's through the history of the logo used or the graphic being created with a clear message to deliver."
There are also several interactive graphic design works in the show. Lena Johnson (CFA'21) explores tropes in horror films with her poster of Winona Rider. Wearing 3-D glasses, the image becomes more macabre. Ashley Smalley (CFA'21) invites viewers to interact with the black cut vinyl stickers of her walking patterns that she's laid down on the gallery floor by tracing their own patterns with multicolor dots.
The thesis books by graphic design and other visual artists are on display in the Stone Gallery reading room section.
Lawton says she's proud of the work she and her peers have done to create the show. "I want people to see that we were all able to come together and put everything into a physical show," she says. "We weren't sure if that was going to be possible this year, so the fact that we were able to get everyone to collaborate on this one space is so exciting."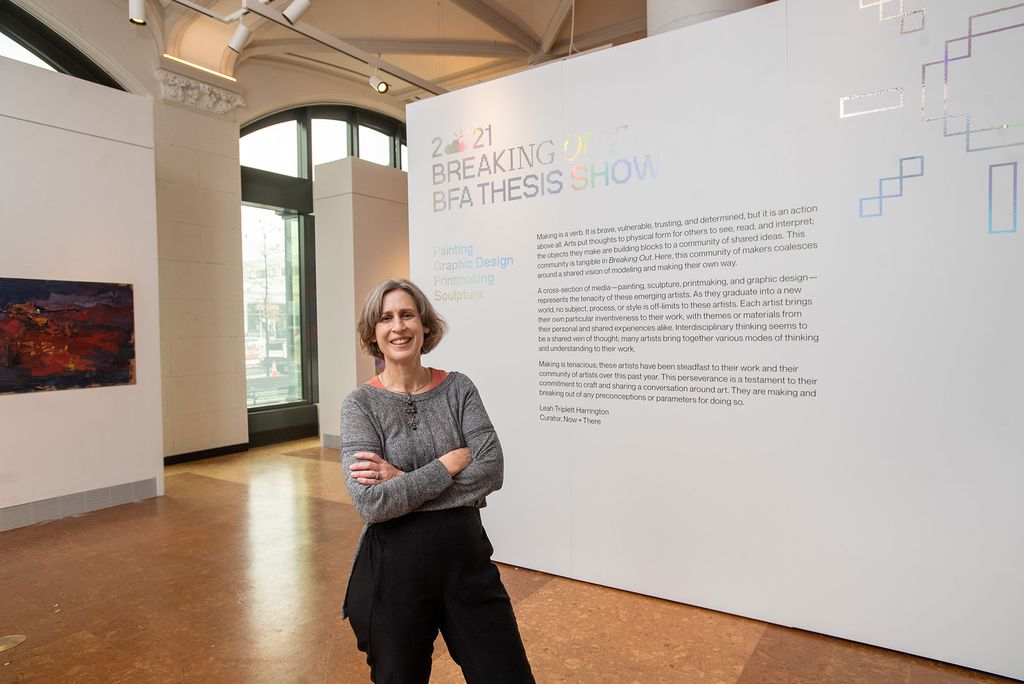 Visitors should make a point of heading over to 808 Comm Ave after touring the CFA spaces. In the 808 first floor center hallway is work by four additional painters, among them two fantastical oils by Brooke Jones (CFA'21)—Pretty Boy, a depiction of a lion surrounded by flowers, and Sweet (Floral) Escape, one of a mirror covered in flowers. Juxtaposed with these are three vivid, dream-like paintings of fruits, vegetables, and human anatomy by Julia Smithing (CFA'21). 
Also on view in the 808 space are seven abstracts by Masson featuring horizontal stripes of different color gradations. Five abstract paintings by Yeon Soo Kim (CFA'21) round out the display. Kim uses monochromatic palettes and complementary color pairings to play with shapes and pattern.  
Dana Clancy, director of the School of Visual Arts and an associate professor of art, painting, says she is impressed with the growth she has seen in the BFA program's graduating seniors this year.
"They've evolved in finding their own voices, but at the same time what I've also noticed is just how much more they know about a larger context," she says. "I hope that people come to the exhibition, and seeing it in person, are surprised and see that the material resonates with them."