Bright Future after Banner Year for BU's Women Athletes and Teams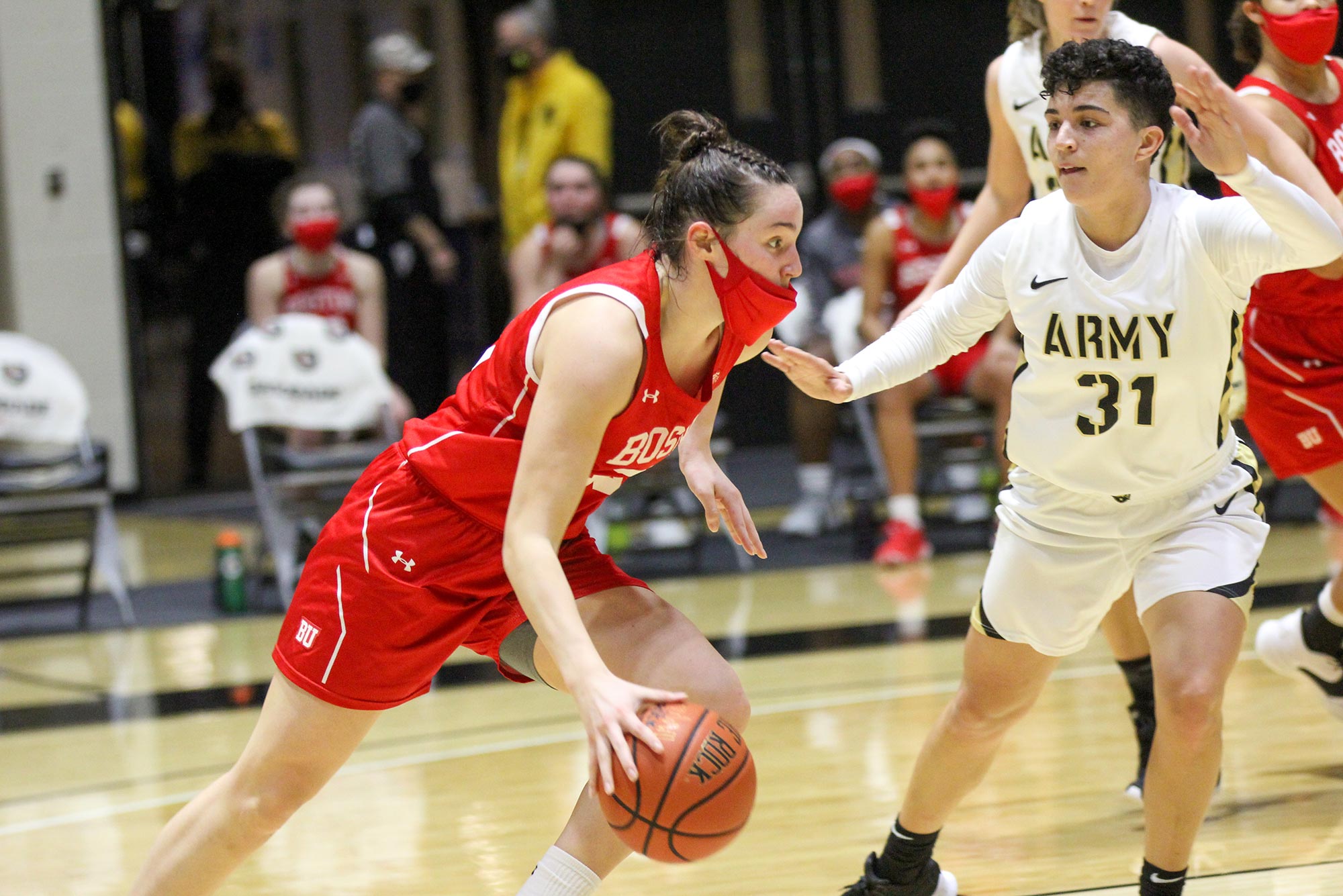 Varsity Sports
Bright Future after Banner Year for BU's Women Athletes and Teams
Terrier varsity teams reached seven conference finals this spring
For the Boston University Athletics women's teams, 2020–2021 was a banner year.
The women Terriers secured four Patriot League championships, along with three conference finals appearances and one third-place finish. It was one of the best seasons in the history of BU Athletics, and it all happened in the 2021 spring semester disrupted by COVID-19.
Field hockey head coach Sally Starr, who has been around BU Athletics for four decades, says the department's collective accomplishments this season certainly stand out.
"It really was a difficult year in so many ways, and I really applaud the athletes for the way they were able to stay focused and positive," the National Field Hockey Coaches Association Hall of Famer says.
Starr saw her field hockey team reach the Patriot League title game, finishing as runner-up alongside the women's basketball and women's golf teams in their 2021 seasons. The four BU women's teams that brought home championship hardware were the softball, swimming and diving, tennis, and cross country squads. If that's not enough, the women's rowing team rounded out a sensational year by picking up third place in the conference. In tennis, senior Emily Kim (Sargent'21) was also named the Patriot League Women's Tennis Scholar-Athlete of the Year.
Nicole Amodio (Sargent'22) was one of the season's champions, helping BU softball—a team that included two-time Patriot League pitcher of the year Ali DuBois (ENG'21)—to its first-ever three-peat. She says significant credit for the season's victories should go to the University as a whole.
"I think it's awesome that within a trying year like this, our school was able to make it work so we were even able to compete," Amodio says, "and on top of that, we were able to succeed."
It truly was a team effort, according to Riley Childs (CGS'20, COM'22). With the entire department behind them, Childs and the BU women's basketball team reached their first-ever Patriot League championship game this past March, losing to Lehigh in the title game 64-54. "Knowing that everybody in the department supports everybody has been one of my favorite parts about being a student-athlete at BU," Childs says. "It's just a fun program and school to be a part of."
Veteran Starr is on board with that: "There's a lot of support. It's just really a tremendous group of young women."
The relationships within and among teams are evident across BU Athletics. Childs says the connections among athletes from various sports come together naturally and propel the group forward as a whole.
"We all live in the same buildings, so you see everyone in the gym, you see them in the weight room, you see them when you're doing your laundry," she says. "It's always nice to hear people congratulate you on a game, or wish you good luck in a game."
Amodio says these bonds are a critical part of what makes BU Athletics tick.
"I think it's really important that the women's teams support each other and go to each other's games," she says. "Everyone is pretty close within BU Athletics, and I love being able to root for the other teams."
Childs says the widespread success of so many Terrier teams also has a ripple effect in a competitive sense. When players from one team see their classmates winning in another sport, it makes all of them more eager to replicate that success.
"It's definitely raised the bar," Childs says. "Making it harder is half the fun, having those goals and trying to reach them."
With the expectations constantly rising, Starr says her recruiting efforts have benefited.
"In the long time I've been at BU, it's just gotten better and better and easier to attract student-athletes here," she says. "You're getting people that are really motivated to want to make the best out of their opportunities, and I think that's consistent across all the teams."
Amodio adds to that: "I think the type of kid that wants to go to BU is someone that's driven in a sports aspect and an academic aspect. A lot of kids want to reach higher and higher, and I think that's really important."
Now, a new season looms, veterans return with high hopes, and incoming Terriers join the ranks. As the cycle begins again, Childs says she thinks a more traditional preseason training period than that of a year ago will help her team and others continue their upward trajectory.
"I think this summer is going to be huge for us, especially since we lost last summer session due to COVID," she says. "I'm really looking forward to this fresh start and the upcoming season."
Starr sees a bright future around BU Athletics, and like everyone, she hopes a return of normalcy is a part of it. And before the fall sports season begins in late August and September, several BU teams will be back on campus this summer to begin preparations for the new year.
"I'm optimistic that things will be back to normal in the fall," Starr says, "and I'm really looking forward to that."