Ayanna Pressley, Elizabeth Warren to Headline Forum on Antiracism as Health Policy
Public Health
Ayanna Pressley, Elizabeth Warren to Headline Forum on Antiracism as Health Policy
Three-day program will examine solutions to structural racism and racial disparities in health exacerbated by COVID-19
US Senator Elizabeth Warren (D-Mass.) and US Representative Ayanna Pressley (D-Mass.) will join Boston University's School of Public Health and Center for Antiracist Research during a three-day program beginning today, Monday, April 5, that will explore the role of race in shaping health in the United States.
Titled Antiracism as Health Policy: Race, COVID-19, and Policy Reform, the Public Health Conversation will feature a series of virtual panel presentations and conversations featuring Sandro Galea, SPH dean and Robert A. Knox Professor, Ibram X. Kendi, Center for Antiracist Research director and founder and Andrew W. Mellon Professor in the Humanities, and other health experts and race scholars in academia and government. The event is free and open to the public and will be held on  Zoom from 4:30 to 6 pm each day.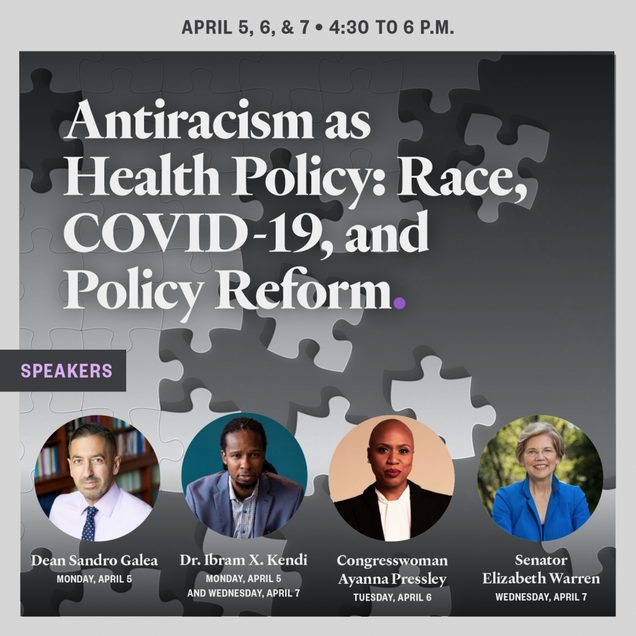 The speakers will examine the deep-rooted racial disparities in health that have been exposed and exacerbated by the pandemic and discuss how to best address racial inequities through research, policy, and action.
Monday's session will begin with a conversation between Galea and Kendi, followed by a panel discussion that will explore the importance of collecting and utilizing data on race to better understand the short- and long-term impacts of the pandemic.
Tuesday's program, also cohosted by the Rockefeller Foundation–Boston University Commission on Health Determinants, Data, and Decision-Making, will feature a keynote address by Pressley and a panel discussion that will explore how to incorporate evidence-based research into policymaking. The program will conclude on April 7 with a conversation between Warren and Kendi, followed by a panel discussion that will identify antiracist policy solutions informed by data.
"We have long known that racial disparities exist in health outcomes for Black and brown communities, but the federal government has yet to tackle the main driver of these disparities," says Warren. She, Pressley, and US Representative Barbara Lee (D-Calif.) recently reintroduced legislation that would identify racism as a public health crisis and support the development of antiracist federal health policies.
"By naming structural racism as the root cause, we can start treating health disparities like we would any other public health crisis: by investing in research into their causes and treating the resulting 'symptoms' of centuries of structural racism," Warren says.
Increasingly, over the past year, data have shown that people of color bear the heaviest burden of COVID-19 in terms of risk of exposure, total cases, access to testing and treatment, hospitalizations, deaths, and most recently, access to vaccinations. But federal COVID data on race and ethnicity was sparse in the early days of the pandemic. The Center for Antiracist Research's COVID Racial Data Tracker, developed in collaboration with the COVID Tracking Project, filled this gap and highlighted the important role data play in effective policymaking.
"More comprehensively and more frequently than any other government agency, the COVID Racial Data Tracker tracked, analyzed, and illuminated state- and national-level trends in COVID racial inequities through clear and compelling data visualization in real time," says Monica Wang, an SPH associate professor of community health sciences and Center for Antiracist Research associate director of narrative. "Data from this tracker importantly highlighted the urgency to prioritize resources, testing, and intervention and vaccination efforts for many different communities of color."
Wang, one of the coordinators of this week's event, says she hopes the program's viewers and participants will gain "an understanding of the devastating extent of the racial disparities, an awareness of how and why they emerged, and a commitment to exploring new paths forward to build an equitable society." Today's panel discussion will be moderated by Kimberly Atkins (COM'98, LAW'98), Boston Globe senior opinion writer and member of the paper's editorial board, and will feature Stephanie Ettinger de Cuba, executive director of Children's HealthWatch; Megan Sandel (SPH'02,'03), a School of Medicine associate professor of pediatrics; Kaye-Alese Green, a MED diversity and inclusion fellow and a visiting fellow at BU's Institute for Health System Innovation & Policy; Stephen A. Wilson, MED's chair of family medicine; Jayakanth Srinivasan, a Questrom School of Business research associate professor; Julia Raifman, an SPH assistant professor of health law, policy, and management; and Aviva Geiger Schwarz, data editor of the COVID Racial Data Tracker at the Center for Antiracist Research.
The School of Public Health will present the three-day Public Health Conversation, Antiracism as Health Policy: Race, COVID-19, and Policy Reform, Monday, April 5, Tuesday, April 6, and Wednesday, April 7, from 4:30 to 6 pm each day on Zoom. The event is free and open to the public. Find more information and register for Part 1 here, for Part 2 here, and for Part 3 here.