Caring for a Loved One with Dementia? BU Neurologists' New Book Offers Guidance
Alzheimer's Care
Caring for a Loved One with Dementia? BU Neurologists' New Book Offers Guidance
An excerpt from Andrew Budson and Maureen O'Connor's Six Steps to Managing Alzheimer's Disease and Dementia: A Guide for Families
As a sequel to their 2017 book Seven Steps to Managing Your Memory: What's Normal, What's Not, and What to Do About It, BU neurologist Andrew Budson and BU neuropsychologist Maureen O'Connor have published a new book, Six Steps to Managing Alzheimer's Disease and Dementia: A Guide for Families (Oxford University Press, 2021). For World Alzheimer's Day, Tuesday, September 21, BU Today is publishing a brief excerpt from their new book. (It's estimated that worldwide more than 55 million people are living with the disease and that as many as 139 million people could have it by 2050.)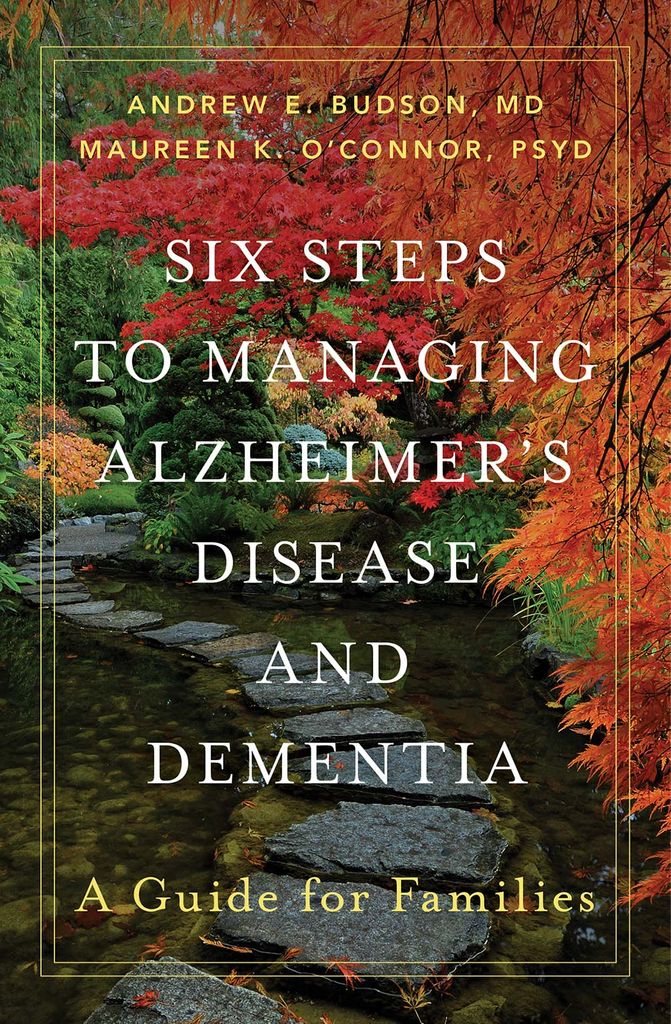 Caregiving is hard. It's hard whether you're caring for your spouse, parent, grandparent, sibling, other family member, or friend. Even if you had an extra 10 hours each day to do it, it's hard to manage all the problems that come with dementia. And caring for a loved one with dementia can sometimes feel like a long, lonely journey.
Everyone is familiar with the terms "dementia" and "Alzheimer's disease," but not everyone knows exactly what they mean and how they are related. In our practices as a neurologist and a neuropsychologist, we have worked with several thousand families who are struggling with dementia, just like you. We give them tips for communication to diffuse tense situations. We explain why their loved ones may have false memories, hallucinate, not recognize them, or think they have been replaced by an imposter. We also help them deal with tremors, falls, wandering, agitation, aggression, and incontinence.
THE 4Rs: REASSURE, RECONSIDER, REDIRECT, and RELAX
Although many specific problems in dementia are best managed by equally specific solutions, there are some general approaches that can be used in a wide range of situations. One helpful approach when you are in the midst of dealing with a difficult situation is the 4Rs.
We want to reassure our loved one that everything is alright. We want to reconsider the situation from their point of view. We want to redirect them to activities that they enjoy and are calming. And we want to remember that it is important that we relax so that we do not inadvertently escalate the situation.
Reassure
It is important to understand that your loved one with dementia may have difficulty interacting with the world around them. Because of their memory loss, people and things once familiar may become unfamiliar. Noise, crowds, and activity may be difficult to understand, and they may feel easily overwhelmed. They may be worried or scared when they can't see you—thinking you've been gone for hours even if it's only been a few minutes. In short, there are many reasons why an individual with dementia may feel anxious and afraid, even if they have never had trouble with these emotions before. It can be helpful to remind yourself that if your loved one is yelling or acting agitated, it may be related to their feeling afraid or nervous. Reassure them that everything is alright. Phrases like, "You're safe," "Everything is OK," and "I'm here for you" can provide comfort. You may need to reassure them repeatedly. Reassurance from you can help reduce or stop many problem behaviors.
Reconsider
It is important to consider your loved one's perspective. Their experience of situations might be very different than you might imagine. For example, perhaps your loved one becomes angry every time the home health aide visits and tries to help him bathe. This behavior may seem mysterious, but reconsidering things from his perspective may help explain it. Because of his memory loss, he may perceive the aide as a complete stranger—even though she has been bathing him for months! He also may not remember that he needs help bathing. So, from his perspective, a stranger is asking him to take his clothes off so she can bathe him, and he may feel outraged, anxious, or confused. Reconsidering the situation from your loved one's point of view can improve your ability to empathize with them, help you feel calmer, and provide you with clues about what you might be able to do to manage the problem behavior.
Redirect
Simply telling your loved one to stop a problem behavior rarely works. Redirecting them to something they like often does. When you redirect your loved one, you change the focus and direct them from the upsetting or counterproductive event or environment to something else. This change may be accomplished by taking your loved one into a different room, starting a fun conversation or activity, pointing out something interesting, or giving your loved one a novel, interesting, comforting, or well-loved object. Use a nurturing touch and tone of voice to redirect your loved one. Using a loud or harsh tone will generally escalate the behavior, which brings us to our last R—relax.
Relax
With diminishing abilities, your loved one may increasingly rely on you to help them interpret the world around them. Consciously or unconsciously, they may use your emotions as a way to know how they should be feeling and responding. If you are anxious and upset—whether because of their behavior or something else—your loved one may feed off of your feelings and also become anxious and upset. Even if the words you are using are reassuring, if your tone of voice or body language reflects that you're feeling frustrated or angry, your loved one is likely to pick up on these nonverbal signals. This is why it is so important that you remain calm and relaxed—especially when faced with problem behavior.
Of course, it isn't always easy to relax your posture, uncross your arms, loosen your hands, and speak calmly and reassuringly. Remaining relaxed in the face of aggressive, agitated, embarrassing, and irritating behaviors is hard for everyone. Practicing good self-care will make it easier for you to remain calm and collected when your loved one is not. Learning deep-breathing and relaxation techniques can help you control your emotions.
Andrew E. Budson is a School of Medicine professor of neurology, associate director of BU's Alzheimer's Disease Center, and chief of cognitive and behavioral neurology at the Veterans Affairs Boston Healthcare System. He can be reached at abudson@bu.edu. Follow him @abudson.
Maureen K. O'Connor is a MED assistant professor of neurology, director of neuropsychology at the Bedford Veterans Affairs Hospital, and a member at large of the National Academy of Neuropsychology. She can be reached at mkoconno@bu.edu.