$1M Gift to BU Tanglewood Institute Will Boost Continuum of Music Education
Giving
$1M Gift to BU Tanglewood Institute Will Boost Continuum of Music Education
New fund will support its connection to the Boston Symphony Orchestra at its summer home
If the Douglass family was a piece of music, Tanglewood would be a central motif. Now the Douglasses are adding a fortissimo climax.
Chair of the Boston University Tanglewood Institute Advisory Council, Chester "Chet" W. Douglass and his wife, Joy, have pledged $1 million to launch the Tanglewood Institute Young Artists Fund, the largest gift in the 54-year history of the Boston University Tanglewood Institute (BUTI).
BUTI is a summer training program for promising musicians, singers, and composers 14 to 20 years old, on its own 64-acre campus in Lenox, Mass. The new fund, created to strengthen the more than five-decade partnership between the Institute and the Boston Symphony Orchestra, marks a significant investment in the training of young artists through a continuum of music education connecting BUTI and Tanglewood, the BSO's summer home, just down the street.
"It strengthens the core DNA of the program, which is the relationship started in 1966 between these two powerful arts and educational organizations," says Hilary Field Respass, BUTI executive director. "By joining together they create something for young artists from across the country and around the world that really doesn't exist anywhere else."
Many students begin at BUTI as high school students, later become fellows at Tanglewood Music Center (TMC), and go on to professional careers with the BSO and other orchestras around the country. More than a dozen BUTI alums have been members of the BSO during the past decade. But even for students who don't make a career of it, the experience enriches their lives.
"Before BUTI, 9 out of 10 have never been in an orchestra where everybody else can play the right notes, and they start playing together and feeling it, and they just bloom," Chet Douglass says. "It becomes a life-changing moment."
The fund will support BUTI student activities at Tanglewood Music Center, from the lawn passes and special access to the BSO's daily concerts they enjoy every summer to practice sessions at the rehearsal spaces and from master classes with Tanglewood guest artists like Yo Yo Ma to performing their own concerts at Ozawa Hall.
"It includes a lot of the things that make BUTI what it is, this quintessential connection between BUTI students and the Tanglewood Music Center," says Respass.
"For over a half-century, the BU Tanglewood Institute has provided a vital and enriching training experience for young musicians, as unique for its rigor and professional standards as for its unrivaled setting," says Jean Morrison, University provost and chief academic officer. "We are grateful for this generous gift that enables the Institute to continue its important work and further Boston University's commitment to supporting artistic and creative excellence."
A long family history
Each summer since 1978, Chet and Joy Douglass have run Douglass House, a guest house on the shores of the Stockbridge Bowl, a beloved destination for many who cherish their summer stays. Chester Douglass is a Harvard University oral health policy and epidemiology department professor emeritus, and he still teaches there and at the University of North Carolina's Gillings School of Global Public Health. Joy Douglass, retired after a career teaching elementary school music in Newton public schools, is a writer. She was also a BU College of Fine Arts School of Music adjunct faculty member in music education in the early 2000s. After decades in Newton, the two now live in North Carolina when they are not in the Berkshires.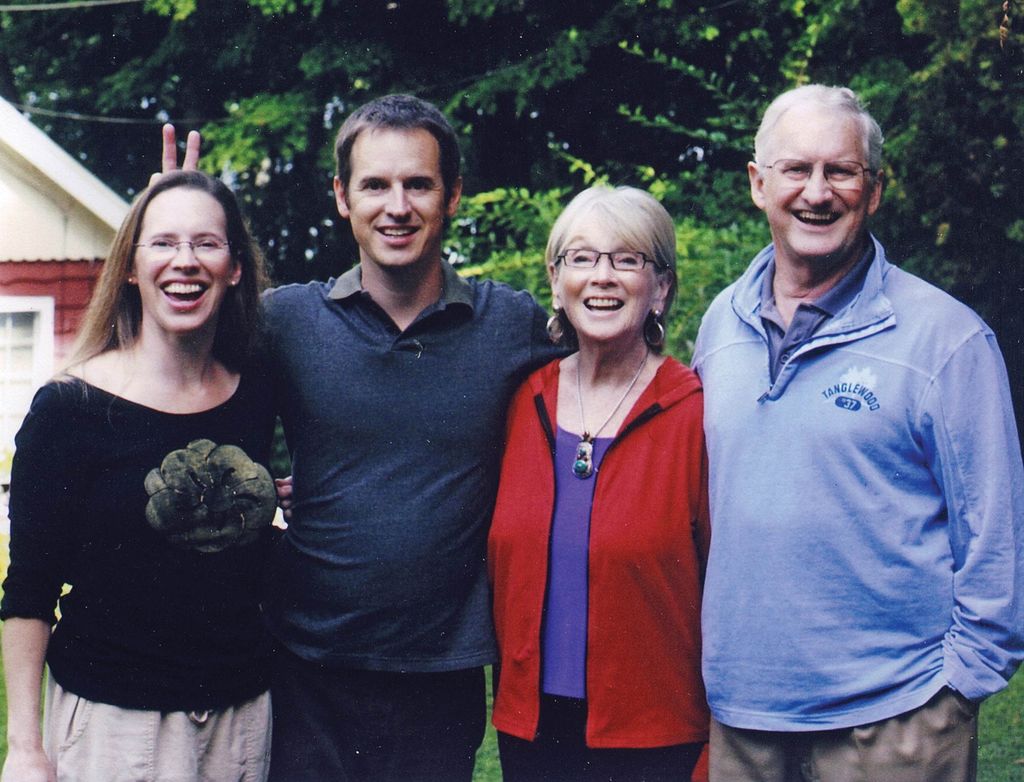 Their two children best illustrate the depth of the family's connection to Tanglewood and BUTI.
Daughter Jenny Douglass (BUTI'83,'84) had her first job delivering mail on the BSO campus; son Anthony got percussion lessons from a BSO timpanist and later was a driver for the family of Seiji Ozawa, then BSO music director. Both babysat for Ozawa's children. Jenny went on to study viola at BUTI and as a fellow at the Tanglewood Music Center, and Anthony became a member of the center's stage crew.
"It was just great," Chet Douglass says with a grin. "We'd get these calls: 'Can you come down and slip in the back door of the barn? We're rehearsing, and Yo-Yo Ma is going to sit in with the cello section!"
Jenny is now principal viola with the Marin Symphony in the Bay area and a top substitute with the San Francisco Symphony, among others. She is also director of education and community engagement for the Marin Symphony. Anthony is a longtime music teacher at the Samuel Adams Elementary School in East Boston and still drums on the side.
"We've benefited as a family from being part of this continuum, which starts, we believe, at BUTI," their father says.
An enduring connection
The BU-BSO relationship was born in 1965 when Erich Leinsdorf, then Boston Symphony Orchestra music director, envisioned an expanded summer educational program for young artists at Tanglewood. The College of Fine Arts and its School of Music, under the leadership of Wilbur Fullbright (GRS'60), former School of Music director, responded to the maestro's invitation to collaborate on this vision, launching BUTI in summer 1966.
"Now, more than 50 years later, BUTI serves as a key entry point to Tanglewood's educational continuum," explains Mark Volpe, Eunice and Julian Cohen President and Chief Executive Officer of the Boston Symphony Orchestra. "The program develops and ignites the passion of talented young artists, who often then return to the Tanglewood Music Center as aspiring professionals."
The Douglasses have demonstrated a sincere and lasting commitment to support the development of young artists, says Harvey Young, dean of CFA. "They understand the magic of the Berkshires, the life-changing experience that occurs when young artists come together to make music together and find themselves as artists and as people. This gift is an investment in the future."
It's also a big step toward BUTI's goal of standing on its own two feet financially. The institute attracted a record 441 students in 2019. COVID caused a rapid switch to a modest virtual program in summer 2020, but this year the it is mounting a more extensive online effort that includes two-week workshops and other programs for young artists taught by faculty from the BSO and BU. "It will be as intense as ever, as only BUTI can be," promises Respass.
The Douglass gift will strengthen the BUTI-BSO connection when in-person learning returns to the bucolic campus. "We're excited about 2022," Respass says.
"The depth and impact of the relationship between BUTI, the TMC, and the BSO is as strong as ever," Volpe says.
Soon it might be even a little stronger. In June, Volpe will retire and pass the baton to Gail Samuel, currently chief operating officer of the Los Angeles Philharmonic and president of the Hollywood Bowl. That's Gail Samuel (BUTI'87). She attended the Tanglewood Institute as a violinist and later worked there, as many do who can't resist the urge to return, summer after summer.
"That's just one very recent example of how BUTI helps shape the future of music in our communities," says Young.