Women's Lacrosse Sees Offense as Key to a 2020 Patriot League Championship
Varsity Sports
Women's Lacrosse Sees Offense as Key to a 2020 Patriot League Championship
Now in her second season as coach, Lauren Morton (CAS'08) has big goals for the program
When Lauren Morton took over as head coach of Boston University women's lacrosse in summer 2018, she immediately laid the groundwork for how she wanted to revamp the program.

"She made it clear she wants to make this program into a nationally ranked team, a nationally recognized team," says goalkeeper Bianca Smith (Questrom'20).
Whether or not that goal will be achieved this season remains to be seen, but ushering in the change is a role the team's seniors embrace. "The wings we are putting in place, we want to be a lasting legacy," Smith says. The Terriers are currently 3-2 as they go up against Harvard at Nickerson Field today, Wednesday, March 4.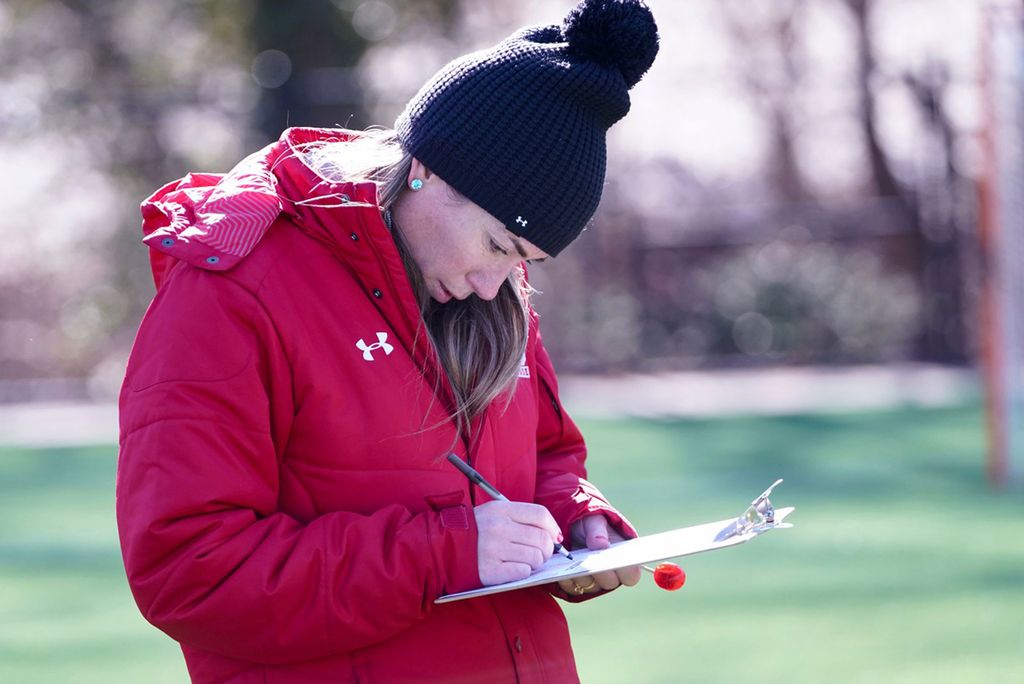 The team is leaning heavily on its roster of explosive playmakers this season. Led by Kailey Conry (CAS'20), seven of last season's nine double-digit goal scorers have returned for the 2020 campaign. Conry posted 25 goals and 55 assists last year, leading BU to an 11-7 mark and 6-3 Patriot League record. Emily Vervlied (CAS'21) had 30 goals last year, and four other 20-plus goal scorers have returned for what should be a loaded offensive unit. Conry and Vervlied received preseason Patriot League Women's Lacrosse All-League Team honors. BU came in third in the league's preseason poll, and players hope to do damage when they open up league play later this month.

"It's really been incredible; we knew coming in that we were going to have those juniors and seniors that have game experience, and I even think with our sophomores that have played, they've all got really good game experience," says Morton (CAS'08). "Having that provides a level of confidence for them in terms of what they're able to do and really understand each other, being able to play off the chemistry."

Mackenzie Irvine (CAS'21) and Lexi Lewis (Questrom'20) are two other players off to strong starts. Irvine leads the Terriers with 12 goals. Lewis has nine goals and one assist. Conry owns a team-best 20 points on the strength of 7 seven goals and 13 assists.

"I think knowing from a standpoint how people are going to play Kailey, the attention she's going to get, similarly with Lexi, we really encourage a seven-man offense," Morton says. "Every person has the ability to score. Everyone feels the responsibility to have a role in scoring and taking shots. That allows Kailey to play to her strengths, same thing with Lexi."

In her final season, Lewis is a key part of the team's strong offensive attack. Save for a season-opening 16-6 loss to perennial national championship contender Boston College on February 12, the Terriers have outscored opponents by 11 goals this year.

"Our offense is definitely one of our biggest strengths. I think Mort was right saying we had an advantage because of the experience we have on our attack, but also our versatility—a lot of underclassmen are stepping up," Lewis says. "Versatility across the board is important for us, and that's why we've had success so far in most of our games."

Smith assumed the starting role in goal for the Terriers this season and is the top option for the first time in her BU career. Kennedy Smith (CAS'22)—no relation—started all but four games in net last year and has seen time this season as well. "We're taking it game by game and really seeing who steps up each week in practice," Morton says. "That's definitely our biggest indicator, that consistency in terms of giving up the shots we want to give up and making those saves."

Bianca Smith says what makes the team stand out is the support players give one another, especially the goalies.

"It's definitely meant a lot—I think goalie is such a unique position because there's only one on the field," she says. "Every goalie that I've had here has been so supportive of me, and we've been so supportive of each other, which is awesome."
Morton says her first season was a "trial by fire," but this year provides an opportunity to "dive in a little bit deeper.

"I think that we really learned a lot as a staff," the coach says. "I think that we've been able to really target some key aspects, just in terms of the way we want to play, or the way we continue to operate as a program to really take steps forward."

Last season was also an adjustment for team upperclassmen like Lewis and Bianca Smith, who were coached their first two seasons by Liz Robertshaw and had to adapt to a new coaching style. "Last year was definitely an adjustment having a new coach, but I think Mort was an amazing pick because she played and coached here," Lewis says. "The transition went smoothly. Coming back to BU, she has so much passion for this team and our success."

The Boston University women's lacrosse team hosts Harvard today, Wednesday, March 4, at 5 pm, at Nickerson Field. Purchase tickets through the Agganis Arena box office here. The game will be streamed live on the Patriot League Network.