Two Terrier Men's Lacrosse Players Drafted by Major League Lacrosse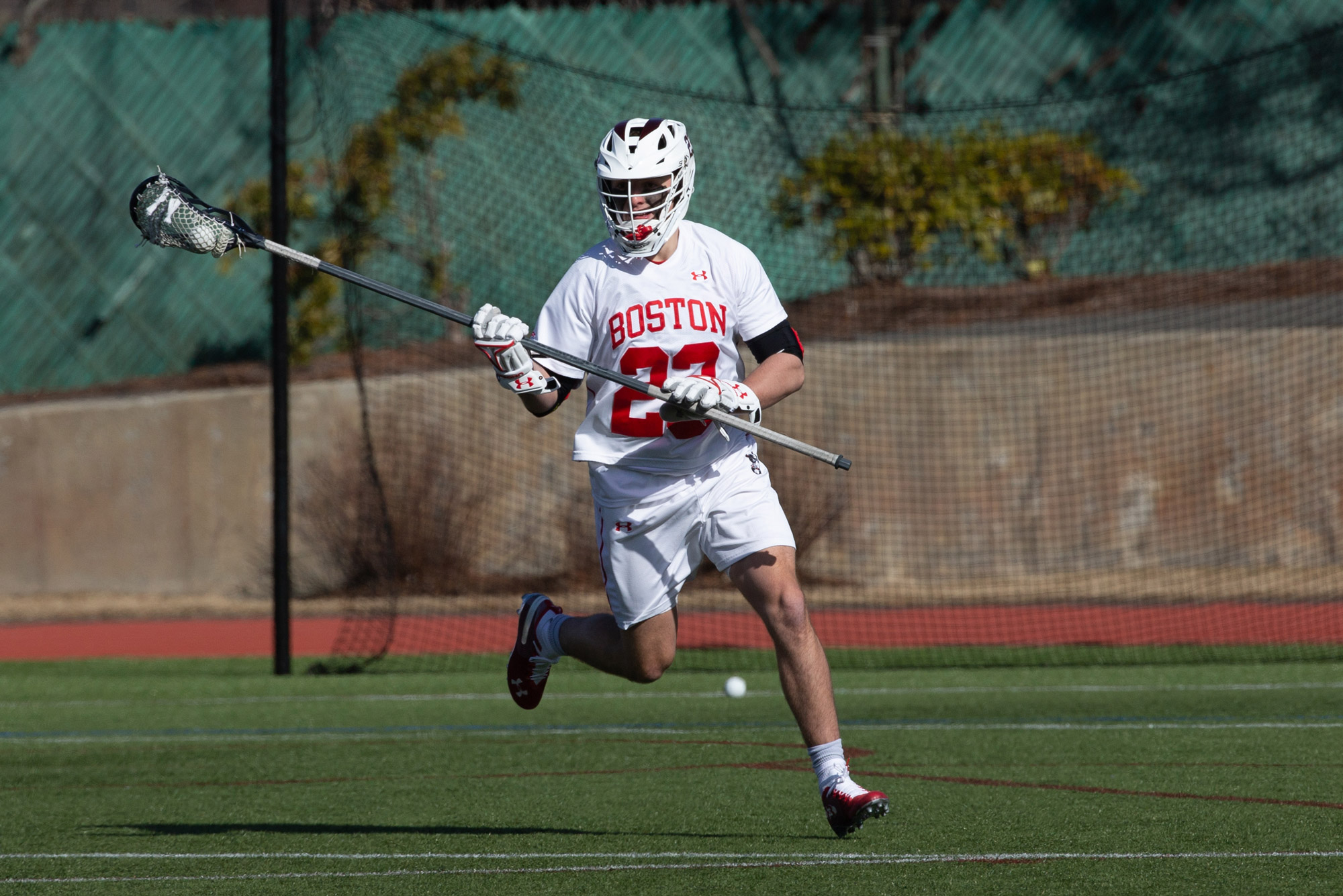 Varsity Sports
Two Terrier Men's Lacrosse Players Drafted by Major League Lacrosse
Chase Levesque and Reece Eddy choose not to come back for another year of eligibility granted by the NCAA
Two Terrier men's lacrosse players are off to the professional ranks, as the long stick midfielders were selected in the 2020 Major League Lacrosse (MLL) draft on May 4. Reece Eddy (CAS'20) was the 14th and Chase Levesque (Questrom'20) the 18th pick overall.

Eddy will play professionally for the Philadelphia Barrage, and Levesque is now a Chesapeake Bayhawk. The highest draft picks in program history now join Terriers James Burr (Questrom'19), Cal Dearth (SHA'17), Christian Carson-Banister (CAS'17), and Dominick Calisto (Questrom'17) playing in the MLL.

"I couldn't be happier for Reece and Chase," says Ryan Polley, Boston University men's lacrosse head coach. "They are great players, but more importantly, are great student-athletes. They will be missed next year, but they are both ready to compete at the next level and contribute to both organizations."

Eddy, Levesque, and the rest of the Patriot League athletes saw their season cut short on March 12 because of the coronavirus pandemic. The rest of the conferences in the NCAA followed suit soon after.

But on March 30, the NCAA approved an extension of eligibility for spring sports athletes, allowing schools to provide an additional season of competition for student-athletes. Both Eddy and Levesque could have come back with that extra year of eligibility, but neither decided to take it.

Eddy played his first two college seasons at Canisius College before transferring to BU. He was an impact player in his junior season and earned Inside Lacrosse All-American honors after playing in all six of this season's BU games. He is applying to medical school and wants to go into pediatrics or family care.

"It was a hard decision. With medical school coming up and being an athlete, I just thought I didn't have enough on my résumé," Eddy says. "To build a competitive application for medical school, I needed to do some things during this gap year."
---

At the end of the day, what it came down to for me was I put in my four years, and although the year got cut off, it felt that I reached the end of my journey.

---
Levesque played a key role in all four of his seasons at BU. As a junior, his last full season as a Terrier, he set career highs in ground balls (65), caused turnovers (31), and goals (7). In addition to his professional lacrosse career, he is looking for a full-time job in financial services.

"The number one reason to come back [to BU] is to be with the team again and be coached, involved with the organization, because they're the only coaches that gave me a shot at D-1," Levesque says. "There's obviously other factors you had to consider; there's the financial stuff. That ultimately wasn't the biggest decision for me. At the end of the day, what it came down to for me was I put in my four years, and although the year got cut off, it felt that I reached the end of my journey."

The MLL's season was set to begin May 30, but it too has been postponed due to the pandemic. The season is not a full-time job for the players, as MLL teams practice only once a week and play the next day, so the schedule is a manageable commute for both Eddy and Levesque.