Travis Roy, Terrier Hockey Player Paralyzed in 1995, Dies at 45.
Tributes
Travis Roy, Terrier Hockey Player Paralyzed in 1995, Dies at 45
Tributes pour in from the hockey world and beyond for Roy, who dedicated his life after the accident to helping others with spinal cord injuries and funding research. "Courage, class, patience, and grace."
Almost exactly 25 years to the day after his life was tragically altered 11 seconds into his first shift for the Boston University hockey team, Travis Roy (COM'00, Hon.'16), who was left paralyzed from the neck down in that game, died on Thursday. He was 45.
A family spokesman says Roy died from complications of being a quadriplegic for 25 years.
"He did not want ever to put anybody out, he approached everything with love and gratitude," says Keith VanOrden, who is married to Roy's sister, Tobi. "He did say if his passing inspired others, and served to motivate others to support the Travis Roy Foundation, then what a great way to remember him."
VanOrden says Roy, who split his time between Boston and Vermont, was in Vermont when he died, with family by his side. "He's been a gift to us. A gift to everybody for 25 years. There were times you'd do things with him, and it was the best hour of your day. You never knew all the effort that went into getting into his chair. But when you were with him, it was a presence unlike anything you ever experienced."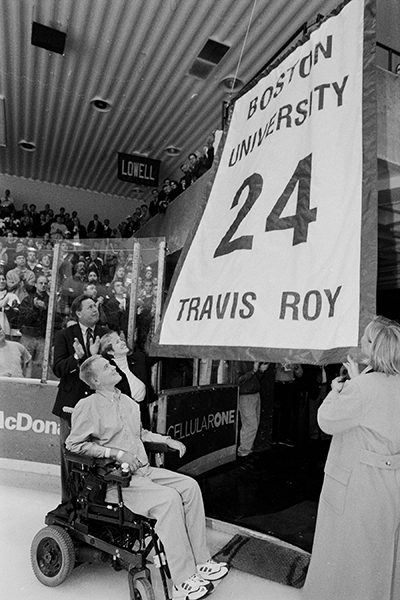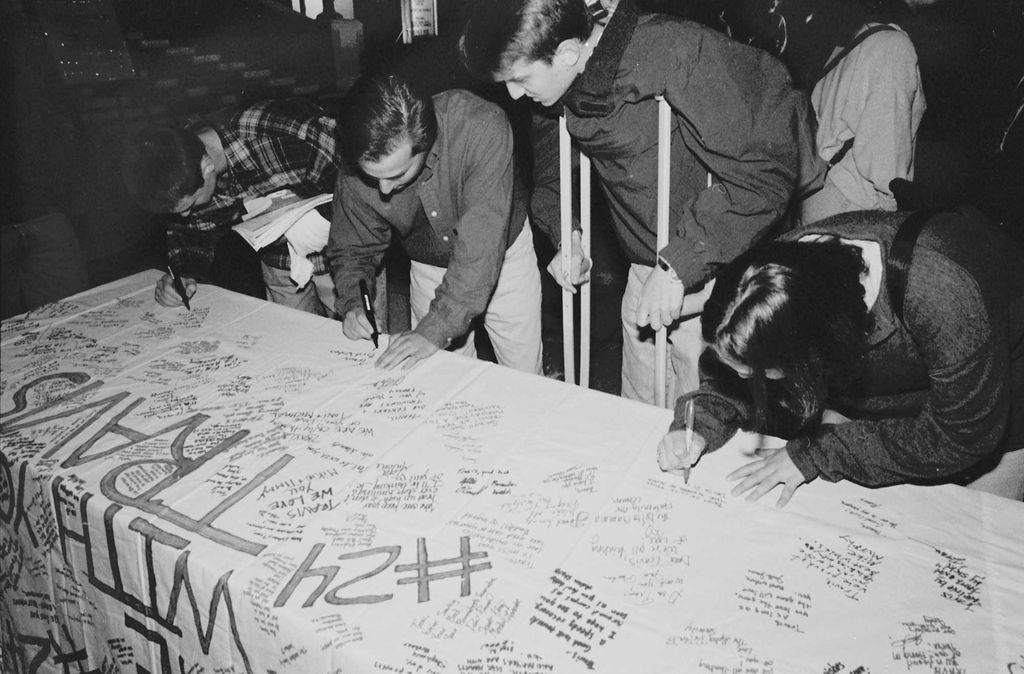 Roy's life after the game on October 20, 1995, was less about being defined by a single moment and more about his strong desire to lead a fulfilling and meaningful life by helping others who suffered similar injuries. His Travis Roy Foundation, established in 1996, has helped more than 2,100 quadriplegics and paraplegics, and awarded nearly $5 million in grants toward spinal cord research, according to its website.
"Travis was dealt a difficult hand in life, but he played it well," says Albie O'Connell (CAS'99), BU men's hockey coach, who was also a classmate of Roy's. "He impacted a lot of lives, not only at BU and in the Boston area, but also nationally. For our program, he was a bridge builder between a lot of classes. He loved being a Terrier. A memory that I'll always have is skating around at Midnight Madness freshman year at a packed Walter Brown Arena, and he was just so excited to get going and embark on a college career. We had such a short time playing together, but I remember it all so vividly. We've lost a special guy."
A statement from BU Athletics says: "It is with heavy hearts that we mourn the passing of Travis Roy. His story is the epitome of inspiration and courage, and he was a role model and a hero to so many people. Travis' work and dedication towards helping fellow spinal cord–injury survivors is nothing short of amazing. His legacy will last forever, not just within the Boston University community, but with the countless lives he has impacted across the country. "
Five years ago, Roy was celebrated in a gala at Agganis Arena by BU and the city of Boston, which declared October 20 "Travis Roy Day." VanOrden says Roy's bond with BU remained strong: "It was always one of the most important places to him."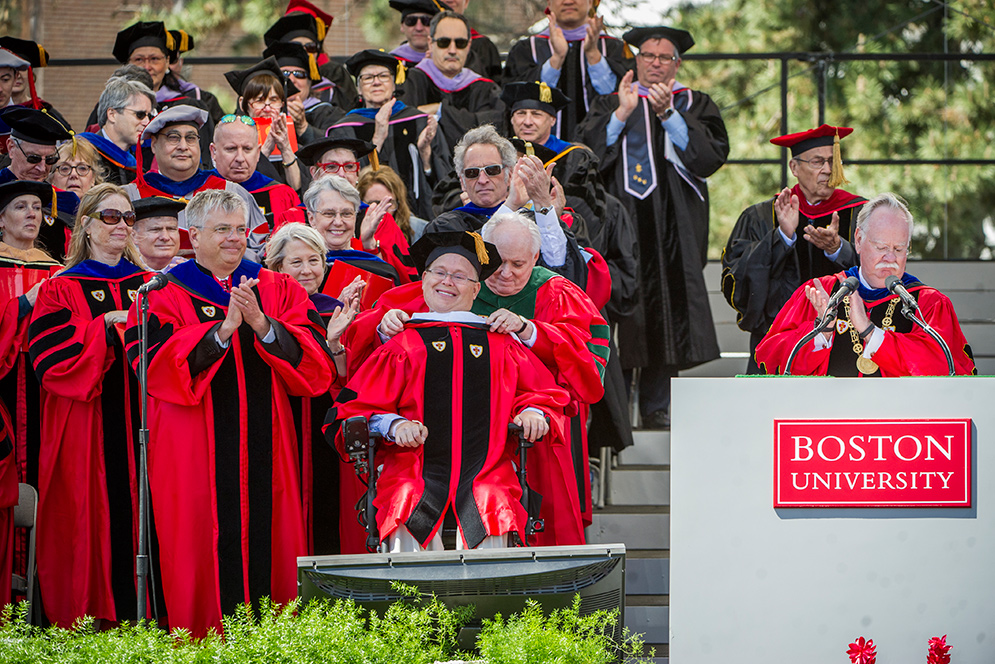 For that 20th anniversary, Roy appeared on ESPN, and the Boston Bruins signed him to a one-day contract. Anonymous donors gave $2.5 million to create the Travis M. Roy Professorship at Sargent College. More recently, Roy received an honorary Doctor of Humane Letters at BU's 2016 Commencement.
"Twenty years ago tonight, I lived out my dream of playing Division I hockey," Roy said at the Agganis gala. "The 11 seconds at Walter Brown Arena playing for Boston University were the best 11 seconds of my life. My work on the Travis Roy Foundation alongside my friends and family has helped me create a life that is very rich, very much worth living. I feel so loved."
Roy, a freshman forward, had barely been on the ice when he crashed headlong into the boards, shattering his fourth and fifth cervical vertebrae. It severely damaged his spinal cord and left him paralyzed from the neck down. He said that while lying in the intensive care unit, his breathing supported by a ventilator, he often wondered if his life was worth living because he did not want to be a burden to his parents.
His foundation became his life's work.
"It is the wish of every paralyzed person that one day their wheelchair will no longer be needed," the foundation website says of its mission. "For researchers and scientists the most important question is basic: How can an injured spinal cord regenerate and reconnect the 'wires' from the brain to the muscles and nerves throughout the body? Researchers are working tirelessly on many different fronts to solve challenges related to paralysis, but the research is expensive and a cure is likely still years away. The more money we raise, the sooner a cure will be found."
One of the thousands of people who benefited in a small way from the Travis Roy Foundation was Bryce Allard. In 2018, he suffered a spinal cord injury while competing in a race in Montana during the Big Sky State Games. Reached on Thursday at his home, Allard says Roy's passing was "shocking news," and that he was grateful for the foundation's help after his injury. "They helped me with a new bed," he says. "Pressure sores are very common, and the bed does not allow for pressure points and that really benefited me. It was huge for me. It helped improve my life, my living conditions."
As donations to the foundation arrived from around the country, Roy would often tell stories of those who gave, from the boy who sent him $7.23 after busting open his piggy bank to the couple who forfeited a honeymoon to send him $5,000 instead.
"We've lost someone who was so special to so many people, whether you knew him for decades or just met him recently," says Jack Parker (Questrom'68, Hon.'97), who coached BU men's hockey for 40 seasons. "The relationship my family and I had with Travis was unbelievably close. He looked up to me and I looked up to him."
In a profile on the 20th anniversary of his injury, Bostonia wrote, "Roy hears these stories during his 50-hour workweek with the Travis Roy Foundation. When it started, it was able to give out 5 or 6 grants a year; today, it gives 150 grants a year, making home modifications so a 17-year-old boy, paralyzed in a car accident, can return home, and installing a lift so a father who fell off a ladder can reach the second floor of his home to tuck his children into bed."
But even as Roy helped so many in his life, he acknowledged having some darker moments. Just a week ago, in an interview with the Boston Globe as the 25th anniversary approached, Roy told the paper's Kevin Cullen, "Sometimes I might be in a mood and might wish the moment didn't happen, and I wonder what life would have been. But it's a part of who I am."
But as Cullen wrote in his column, Roy never wanted anybody to feel sorry for him: "I'm 45 years old. I know that's young. But I do feel old. There are things that wear you down when you live in a wheelchair for 25 years. But I have been so fortunate, and all the people who have helped me are still with me. There are people that are so worse off than me, and I want to help them."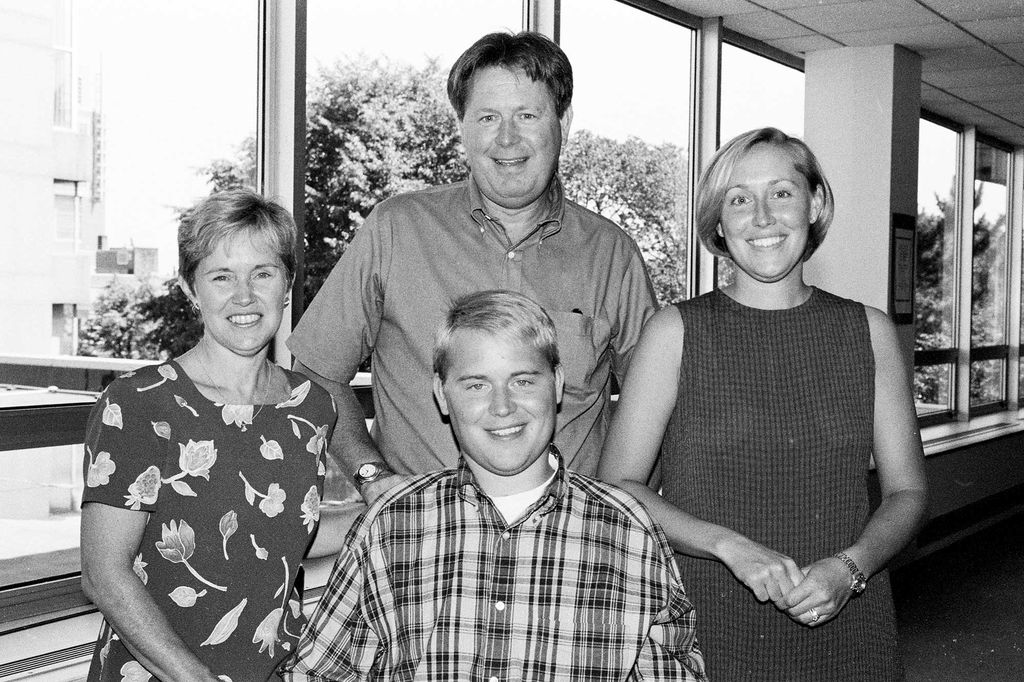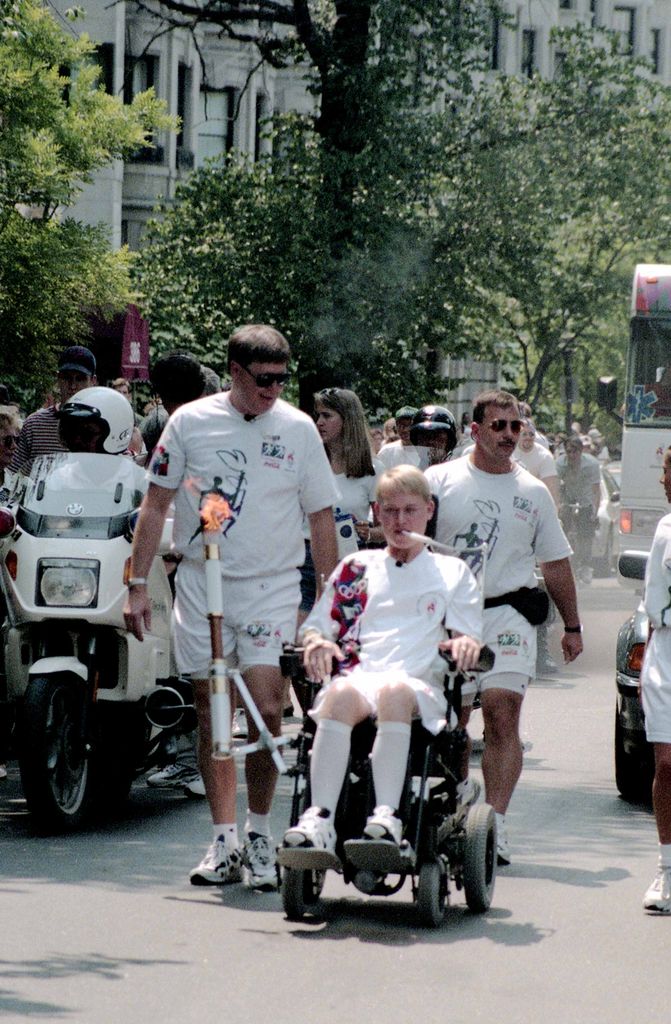 On Twitter, fans, players, NHL teams, and notable figures, including Bruins legend Ray Bourque and Boston Mayor Marty Walsh, reacted swiftly to the sad news. "Travis Roy exemplified the Boston Strong spirit—of resilience, of courage, and of never giving up," Walsh tweeted. "He showed us how to take an incredibly tragic experience and turn it into a symbol of hope and a way to give back to the world."
The BU Dog Pound also tweeted, for Terrier fans around the world: "Rest in peace, Travis Roy. You were an inspiration to so many in the BU community and beyond. You will be sorely missed, but your legacy of kindness, generosity, and perseverance will stay with us forever."
Parker says that after his injury, Roy missed hockey badly and did not think he would ever have anything to get that passionate about again.
"But sure enough, he started his foundation and had a much bigger impact than he would have if he a was a 20-year NHLer. He cared so much about others who suffered similar injuries, and they will all feel that care for the rest of their lives," Parker says. "You'd be hard-pressed to find anyone who could give so much while dealing with an unbelievable handicap. Courage, class, patience, and grace. He was a gem."
Dan Ronan (COM'99, LAW'05), a classmate of Roy's and O'Connell's and a member of the Travis Roy Foundation's board of trustees, says Roy was just selfless.
"He would reach out to families who were trying to cope with a spinal cord injury and walk them through it," Ronan says. "In a way, he was taking people's pain on for them. You would walk away feeling better after talking with him."
Roy is survived by his father, Lee, and mother, Brenda, and his sister and brother-in-law, Tobi and Keith VanOrden, as well as four nieces and nephews.
Amy Laskowski contributed to this story.