Their Homeland in Crisis from Coronavirus, This BU Team Got to Work
In The World
Their Homeland in Crisis from Coronavirus, This BU Team Got to Work
Raising money, sending medical supplies—response from these Chinese students has been rapid and enormous
Shisong Chen is desperate, and determined, to help—and he's not alone.

With painstaking efficiency, the BU School of Law student has organized 16 of his Chinese classmates, and several dozen other volunteers—students, instructors, and alumni from Harvard, MIT, and other schools, along with friends from his club soccer team—into a tight-knit team focused on one goal: to send box loads of urgently needed protective gowns, masks, gloves, and safety goggles to five hospitals in southeastern China's Zhejiang Province as quickly as possible.

Chen (LAW'15,'20) himself has donated $4,000 for medical supplies. A law firm where he worked back in China has kicked in more than $50,000. "We have to defend our country, and our people," he says.

With 57 million people, Zhejiang has been hit hard by the coronavirus, which has infected nearly 80,000 people in 37 countries— although the vast majority of cases are in China—causing at least 2,600 deaths, almost all of them in China. Chen's team calls itself Zhejiang Defense. But they're more like a mini Amazon, with a warehouse that just happens to be a small home in Newton crammed full of boxes.

For the past three weeks, his team has been taking breaks only to attend classes, study and write papers, and grab food and sleep. Otherwise, they follow the coronavirus news on Weibo, a Twitter-like Chinese social media site, update one another, and check in with friends and family back home, via the more personal WeChat site. "We communicate constantly," says Chen.

Armed with elaborate flow charts tracking their progress, it's hard to imagine anything slowing down this little band of BU law students.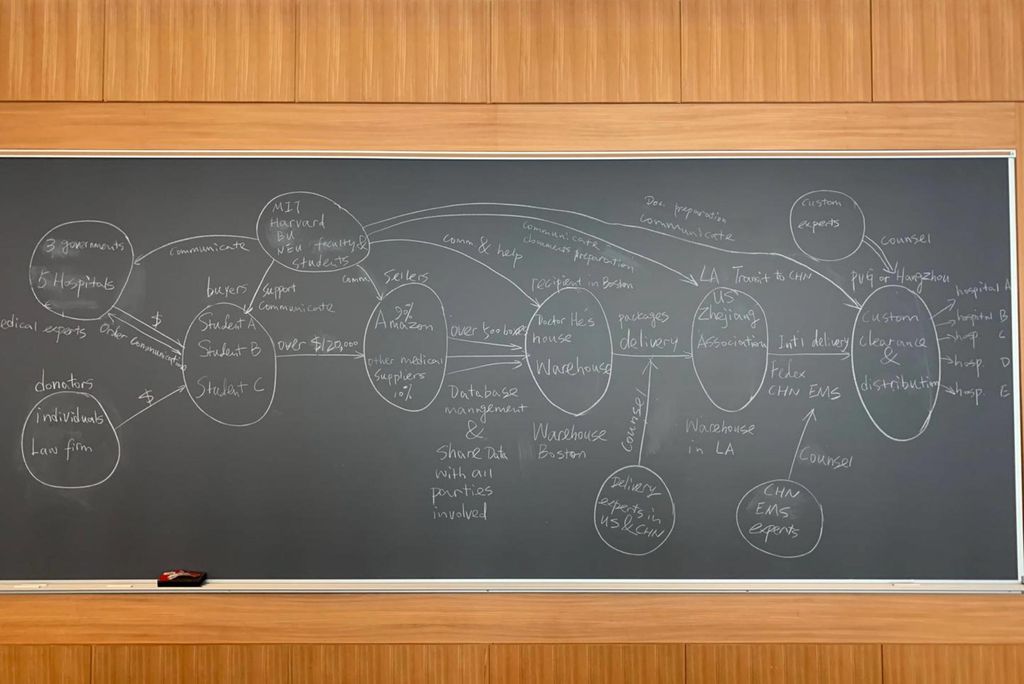 The home in Newton where they are jamming in boxes belongs to Xiaowei He, one of Chen's Boston Dragons soccer teammates. Supplies are collected there and packed by the law students and other volunteers, a group that includes He's nine-year-old son. Boxes are then picked up by FedEx.

As for Chen, the last he heard from his family back in China, one of his relatives, a nurse, was heading into the epicenter of the coronavirus outbreak—Wuhan, in Hubei Province. Health workers there, as in other areas of the country, have been battling the virus with taped-together masks, used gowns, and subpar gloves and goggles.

"Our family is seriously worried about her safety, but they aren't even able to get her protective clothing," he says. "Health workers have to rely on our help from overseas."

"This is a team effort," Chen says. "Everyone sacrifices a lot."

The maze of logistics and obstacles is head-spinning. The team responds with work-arounds and pleas for help from friends and colleagues on two continents. With major manufacturers running out of masks and other protective gear, the team decided that each volunteer would buy small amounts of supplies from dozens of sellers on Amazon. That means multiple boxes arriving at that Newton house—and a lot more work on the ground. "We have to check each package to make sure it has the right items, that they meet the requirements," Chen says, "so we can enter them into the database and make sure they get to the right hospital."

Hurdles at every step
The 33-year-old Chen exudes cheer and confidence, despite the obstacles. "You get frustrated sometimes, but you have to find the solution," he says. "We use critical thinking, which we learn at the law school."

Chen arrived at BU in 2014 to pursue a master's degree in American law and is currently studying intellectual property law. Most of his Chinese classmates working with him on the coronavirus rescue mission are enrolled in the American law program.

From Newton, Chen explains, the supplies are sent to Los Angeles, where they are kept in another warehouse, this one donated by the US Zhejiang Association, before being delivered to Los Angeles International Airport. With air travel between China and the United States drastically curtailed because of the virus—all direct commercial flights between Boston and China have been canceled—only a handful of airlines are available to transport supplies from the United States, Chen says. And the schedules are constantly in flux.
The students were in Newton on a recent Friday, scrambling to get a shipment of 200 boxes ready for delivery to China, when Chen sent an email to the group: "We were just told that the airline service we communicated with will be canceled." After numerous exchanges via WeChat, they found another Chinese airline to carry their boxes.

---

This is a team effort. Everyone sacrifices a lot.

---
Once the supplies arrive in China, there is another obstacle to navigate before they can be delivered, by Chinese Express Service, to Zhejiang: the customs bureaucracy. The first 76 box loads of supplies made it from Los Angeles to Shanghai, but the shipment got stuck at the airport for several days after Chinese customs officials asked for additional paperwork from Chen's team documenting each of the dozens of purchases they'd made on Amazon.
"This problem is unexpected and will be resolved very soon," Chen tells several classmates who have joined Zhejiang Defense at a recent meeting in a LAW classroom. One of his classmates was working on it, he says, and friends in Shanghai were also helping.

"This is like a war," says Jiehong Shao (LAW'20), a student at the meeting who is from Zhejiang Province. "My neighborhood is quarantined. I feel less worried about what's happening there when I'm helping out."

A group effort, bridging two countries
Everyone on the team has a different role—and a title, designated by Chen. ("I cannot judge myself," he says, explaining why he has not given himself a title.) The titles range from accountant to international shipment manager to customs clearance director.

Shao, who helped build the team's database, is director of database management. "I'm just sort of an assistant," he says, but he's in awe of Chen's leadership and his bicontinental networking skills. "He knows everyone," Shao says.

Chen shrugs off any compliments. "I should not get too much praise," he says, insisting, again, that it is a group effort, one bridging two countries.

For example, he says, classmate and team buyer Huilin Fang (LAW'20) has been working with the Women and Children Foundation of Zhejiang Province. Bowen Yin (CAS'15) is helping out from Hangzhou. Chen's friend Linrong Zhou, who runs a sock manufacturing company in Zhejiang, has donated thousands of surgical masks through the BU-based team.

Another classmate who is helping out, Yijin Li (LAW'20), is from Wuhan. Chinese state media reported the first death from the virus on January 11, in Wuhan, and 12 days later, authorities closed off the city in an effort to contain the virus. "I have asked my family to report on their safety to me through WeChat every morning," says Li. "They are lucky not to have any symptoms of infection."
Working on the rescue effort helps Li harness her worry about her family into action. "We can do something instead of feeling anxious every day about the outbreak," she says.

Li says she has been gratified by an outpouring of support from her professors, as well as from other BU students. She introduced herself as being from Wuhan at the beginning of the spring semester, telling her classmates "that I hoped no one would be afraid of me," she says. "Many students expressed concern for the health and well-being of my family and friends."

Law school, meanwhile, can't wait. With all his work on Zhejiang Defense, Chen acknowledges that he'd been worried about a paper that he owed his intellectual property class professor. "Thank goodness, I made it by working all that night till 11:55 am the next day—five minutes before the deadline," he says.

Just over a week ago he sent another update to the group: the first shipment was close to getting liberated from the airport in Shanghai. The next day, an elated Chen had good news: the team's first shipment of medical supplies had made it to Zhejiang Province.
Anyone interested in donating to Zhejiang Defense can contact Shisong Chen at sschen@bu.edu.