Meet the Candidates Running in the Massachusetts 4th Congressional District Democratic Primary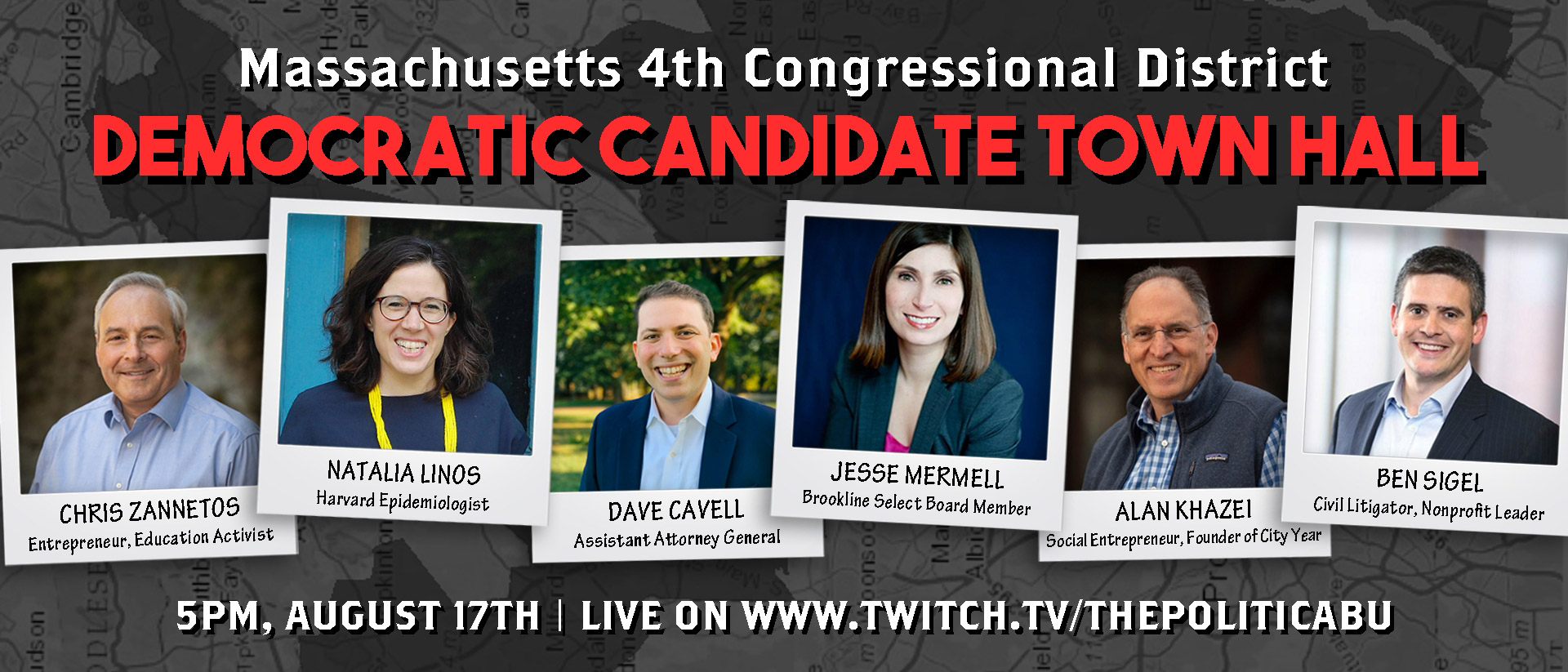 Politics
Meet the Candidates Running in the Massachusetts 4th  Congressional District Democratic Primary
New student organization The Politica to host virtual town hall tonight
A new student group has the scoop on the 2020 Massachusetts 4th Congressional District Democratic primary. The Politica, a podcast series and online academic publication, will host a virtual town hall tonight, August 17, with five of the nine candidates competing for the seat that became available when US Representative Joseph Kennedy III mounted his bid for the US Senate last fall. The primary will be held September 1.
Tonight's event will be conducted via Zoom and livestreamed on Twitch and will operate as a fairly standard town hall: opening and closing statements, prepared questions from The Politica, and an opportunity for presubmitted and live questions from the audience.
"We want the town hall to be an easier way for college students to really look into the election, to become a lot more informed," says Politica cofounder Laila Inan (CGS'21). "It's also to get people excited because we want the event to be more than just question, answer, question, answer—more conversational, more lively."
The idea for The Politica began in January 2020, when Inan and Ferren Winarto (CGS'21) arrived at BU and quickly realized that they had the same class schedule. The two friends frequently ate lunch together in the West dining hall, discussing their shared passion for politics. Out of these lunchtime conversations came an idea: a new platform for students to discuss politics with an academic lens.
Fast forward to April, and the two CGS first years were back home because of the pandemic, working to launch their new club, The Politica, from afar. With an emphasis on global affairs and comparative politics, Inan and Winarto envisioned a two-pronged approach: a podcast series and an academic publication. Although there were other student outlets at BU covering politics, they felt something was missing.
"It was the higher intellectual stimulation of having interdisciplinary, deep, analytically driven papers," Inan says.
By the end of June, with The Politica officially established through the Student Activities Office, Inan and Winarto began interviewing applicants for leadership positions. As a new organization, the group was focused on building an online presence, mainly through social media channels. On July 22, they received a direct message on Instagram that sparked their first project.
Uma Khemraj (Sargent'21) is working on epidemiologist Natalia Linos' Massachusetts 4th Congressional District campaign for Congress, and she was asking if Linos could be a guest on The Politica's podcast—which Inan and Winarto had not planned to launch until September. But Khemraj's request kicked them into gear, and they began reaching out to other Democratic candidates to get going on their congressional podcast series.
"It's an excellent start for the kind of discourse that we want to have associated with our podcast and with our organization at large," says Politica chief editor Rachel Zhu (CGS'21).
Politica staffers have since interviewed candidates Linos, Jesse Mermell, and Dave Cavell (who has since dropped out of the race), and have confirmed upcoming interviews with Ben Sigel, Alan Khazei, and Chris Zannetos.
Tonight's town hall will be hosted by Inan and a team of publication, content, and podcast directors. Rather than a traditional political debate, their goal for the town hall format is to "have a space where we all see how the candidates compare with each other," Zhu explains.
Victoria Fernandez (CGS'21), the group's head of public relations, reached out to other local colleges and universities to invite their student organizations to attend. Interested groups helped promote tonight's event and will have the opportunity to pose questions to the candidates, Fernandez says. The Climate Justice club and College Democrats from Boston College will be attending, as will students from Stonehill College.
Heading into the fall semester, The Politica will continue its dual focus of podcasting and publishing academic pieces on a variety of topics. Inan, for example, has written about ideological tourism, and Fernandez has examined international prison systems.
"We aim to write about things that are widely acknowledged, but not necessarily spoken about," says Inan. "We've tried to talk about things that are a little bit more provocative in nature, but very much unique and authentic as well."
The Politica's Massachusetts 4th Congressional District Democratic Candidate Town Hall is tonight, August 17, at 5 pm. The event will be livestreamed here. Learn more about The Politica on the group's website.