A Look at the Five Slates Running for Student Government before Tonight's Virtual Debate
Student Government
Student Government Elections Will Be Held Virtually, Debate Tonight on Zoom
A look at the platforms of each of this year's record five slates
The effects of the coronavirus pandemic are reverberating around the world, including here at BU, where classes are being taught remotely, Commencement has been postponed, and grading policies have been adjusted. In another sign of the times, this year's Student Government elections will be held online.

Originally scheduled to be held late last month, the debates and voting period were pushed back. Candidates for the Executive Board will debate tonight, Monday, April 6, at 6 pm on Zoom, and voting will be done on the Student Link starting at midnight on Wednesday, April 8, and end at 11:59 pm on Tuesday, April 14. The results will be announced the following day.

There are a record five slates seeking office in this year's election. Each consists of a president, an executive vice president, a vice president of finance, and a vice president of internal affairs.

With the debate just hours away, we've got your cheat sheet right here: a look at each slate's name, members, and  description of their platform, in their own words.

BeLoudBU

President: Archelle Thelemaque (COM'21)
Executive VP: Josh Pei (CAS'21)
VP Finance: Derrick Lottie (Questrom'21)
VP Internal Affairs: Sum Yue Guan (CFA'23)
Platform: BeLoudBU is here to do just that: be loud and make the voices of BU students heard. At an institution this large, it can be difficult to be acknowledged and to find yourselves in a sea of 17,000. We're here to change that, but not as superheroes or pseudo-administrators, but as students who love and care about this institution. We want to engage, mobilize, and inspire the student body to speak up, to move, and to shake. We're here for the students who speak their mind but whose words go unheard. This is not a campaign; this is a movement. A movement to heal this institution of old wounds. A movement where you can be loud. A movement where you can be you. Join us.
---
igniteBU

President: Collin McCormick (CAS'21, Pardee'21)
Executive VP: Juliana Torrez-Ortiz (CAS'21)
VP Finance: Kevin Yu Shi (Questrom'22)
VP Internal Affairs: Noor Siddiqui (Sargent'21)
Platform: igniteBU is the combined efforts of four dedicated citizen-scholars—Collin McCormick, Juliana Torrez-Ortiz, Noor Siddiqui, and Kevin Yu Shi—to focus on the problems facing countless individual students, who are so often overlooked by University administration. igniteBU will be exacting a two-part platform encompassing both internal and external student government affairs. Internally, igniteBU will focus its efforts on reorganizing and streamlining student government proceedings to optimize efficiency and more successfully impact the student body externally. This will allow the entire student government to reignite campus life, mental health, and foster a deeper sense of community at Boston University.
---
4BU

President: Daniel Kelly (CAS'22, Pardee'22)
Executive VP: Joanna Hsieh (Questrom'21)
VP Finance: Tiya Kothary (Questrom'22)
VP Internal Affairs: Santiago Arenas (CFA'22)
Platform: Has student government impacted your life? That is the question we, 4BU, want students to be able to confidently answer. We are a passionate group of 4 students, Dan Kelly, Joanna Hsieh, Tiya Kothary, and Santiago Arenas, running on 4 pillars: mental health, sustainability, the student voice, and improving daily life. We care about issues facing students on this campus and can make a difference, but our goal is not to solely be your voice, it is to empower you as an individual; in doing so we not only form a stronger government, we become a powerful student body.
---
OneBU
President: Oliver Pour (COM'20)

Executive VP: David Joseph (CAS'20)
VP Finance: Megan De Armas (Questrom'20)
VP Internal Affairs: Nyah Jordan (COM'20)
Platform: When reflecting on the end of your four years at Boston University, what do you look for? Personal and professional growth, along with cultivating relationships that will transcend beyond your tenure at BU. OneBU means to serve these ends in using student government to foster an environment that is conducive to the type of growth students seek. Furthermore, we seek to build a community that is unified by the underlying principles of finding common ground and embracing diversity, celebrating BU's identity as an enriching cosmopolitan microcosm of society. OneBU's mission is to bring student government to the students of BU.
---
ConnectBU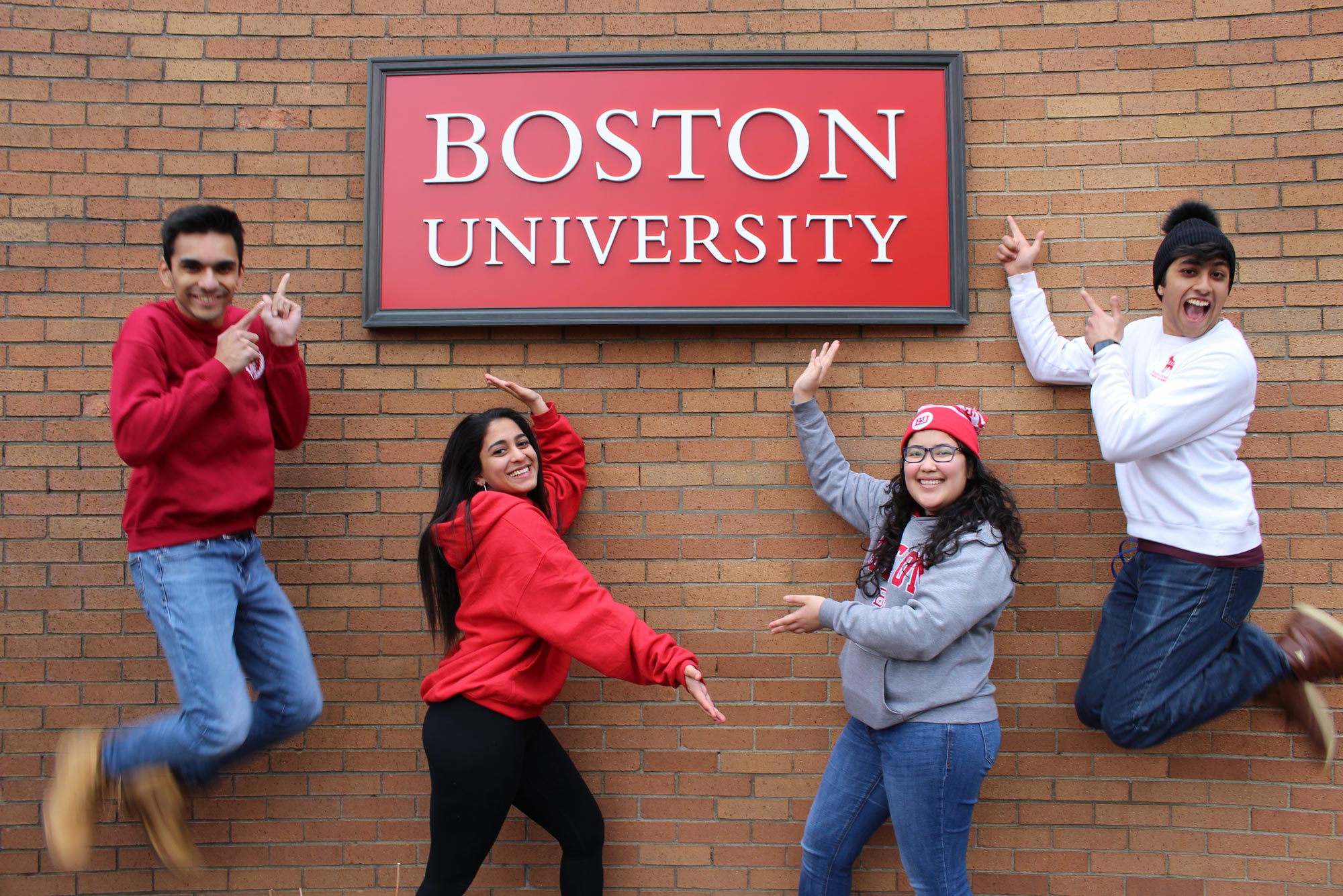 President: Aditya Jain (ENG'21)
Executive VP: Soumya Malhotra (CAS'21, Sargent '21)
VP Finance: Mariafernanda Hernandez (ENG'21)
VP Internal Affairs: Hessann Farooqi (CAS'22)
Platform: Decades ago, StuGov created the BU Shuttle, solving a major issue impacting students. Today, StuGov has faded into irrelevance. This is our chance to change that. We're here to reunite BU and solve our boldest challenges: tuition, grades, mental health, and sustainability.

None of this can happen without YOU. With your help, we will:
Bring back the Spring Concert
Create the BU Games: a cross-college Olympics-style tradition fostering school spirit
Hold administration accountable
Establish conversations with every club
With five years of shared experience, you know we will make these dreams a reality and truly connect BU.
---
The Student Government Debate is tonight, Monday, April 6, at 6 pm on Zoom. Voting will take place on the Student Link from Wednesday, April 8, at midnight until Tuesday, April 14, at 11:59 pm. Find more information here.