Inside BU Alum's Stitch House, a Business for the Times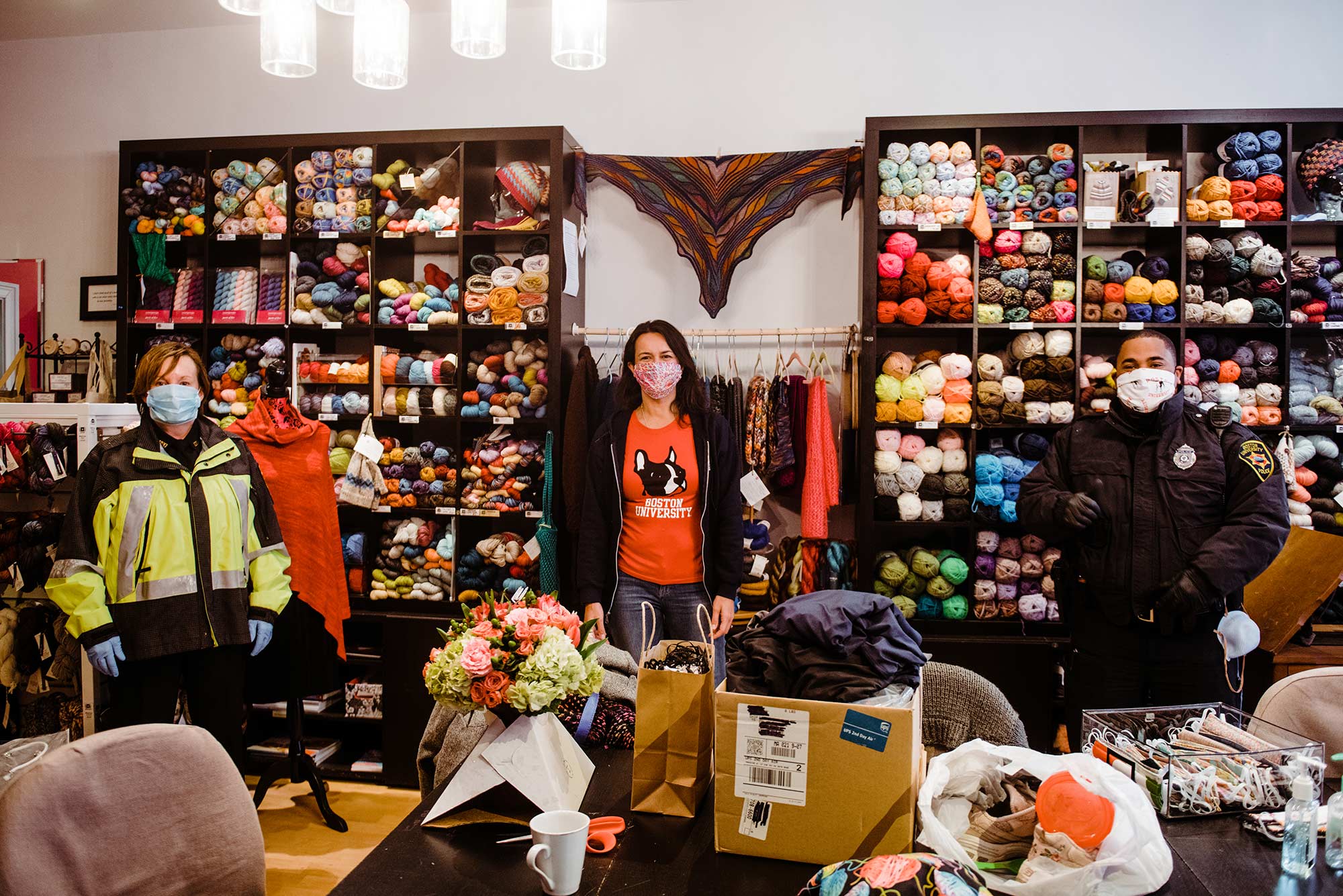 Community Service
Inside BU Alum's Stitch House, a Business for the Times
Annissa Essaibi-George (CAS'96), a Boston city councilor at-large, keeps busy stitching masks for BU police, Boston's mayor, constituents, and customers
It takes Annissa Essaibi-George two minutes to stitch up a face mask at her Singer sewing machine, her foot pushing the pedal gingerly.
The owner of Stitch House Dorchester and a Boston at-large city councilor, Essaibi-George (CAS'96) has sewed about 1,000 face masks for customers and constituents, Boston and BU police, and even Boston Mayor Martin Walsh since the COVID-19 pandemic began. It certainly isn't a condition of her city council employment, but the masks are filling a vital need.
"For me, it's something I can do," she says on a recent afternoon, surrounded by swatches of brightly colored fabric. Sewing is a hobby she learned as a girl from her mother, a Polish immigrant to Boston. (Her father was from Tunisia and worked as a security guard at BU.) "It makes me a little sad that I have to sew them," she says, "but I'm just grateful I can."
People across the United States are making face masks for themselves and others to alleviate shortages and comply with government guidelines. (The city of Boston, for example, recommends that residents wear face masks in public at all times.) Other efforts, such as the Boston Area Mask Initiative on Facebook, have enlisted dozens of home stitchers to create masks for hospitals and healthcare workers treating COVID-19 patients.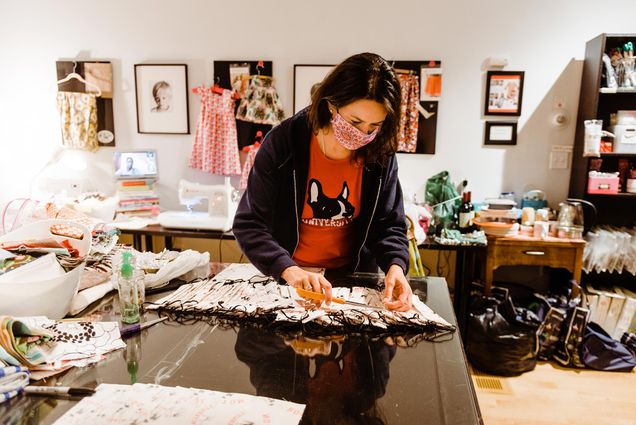 Mask-making is one way a nation caught woefully unprepared for the now-global pandemic has rallied during the crisis, although the idea of enlisting seamstresses in an emergency effort feels more like 1920 than 2020.
The operation often runs into late evening, and can sometimes involve a glass of wine at the end of a long day. Dangling a finished stitched mask from her index finger, Essaibi-George says the cloth masks can't replace standard medical gear, but "as long as you're not dealing with critical care patients, this is what you need."
The particular model she's holding is a custom mask for the BU Police Department. Last week, BU requested 400 of the masks for its officers to comply with new city guidelines and add to its limited supply of masks.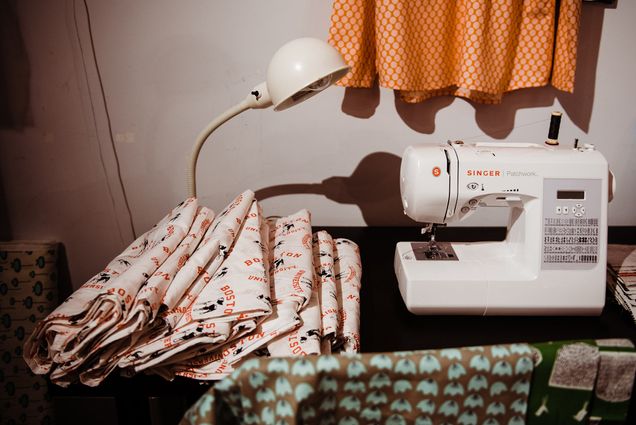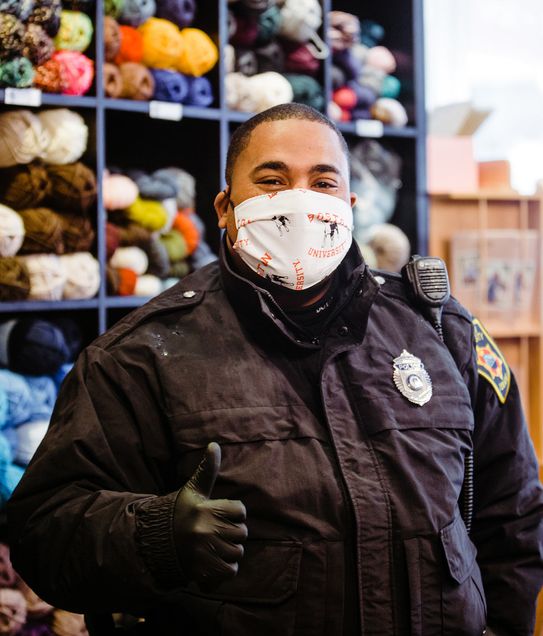 Essaibi-George used BU-themed cotton bedsheets donated by Barnes & Noble to design masks with the Terrier and BU logo front and center. She "jumped all over it," says Kelly Nee, BU police chief, noting that 200 masks were distributed to officers within days of the request.
"It's just a little bit more peace of mind," Nee says, "that we're providing everything we can to police and public safety personnel to keep them as safe as possible."
Essaibi-George's handiwork was also worn by Walsh at a recent press conference where he asked Boston residents to cover their face in public as a health precaution. The Centers for Disease Control and Prevention recently reversed its guidance on masks, recommending that Americans wear "cloth face coverings" after months of saying they were not necessary. The agency says new research showing the spread of the disease among people without any symptoms brought the change, a shift that has sent many Americans running for face masks (with a major exception: President Donald Trump, who refuses to wear one).
Walsh ordered 20 face masks from Essaibi-George for his staff. She says she delighted in his choice: a colorful blue cloth with a fish pattern. He has since requested a Patriots-themed mask.
"I'm partial to brights and colors and prints," Essaibi-George says. "They're more fun to make."
The masks come with a request for a $5 donation to Winter Walk Boston, a nonprofit that raises funds to help homeless families. An advocate for disenfranchised families, improved mental health services and the city's schools, Essaibi-George says it's too soon to know the full impact of the pandemic as deaths continue to climb, unemployment soars, and small businesses struggle.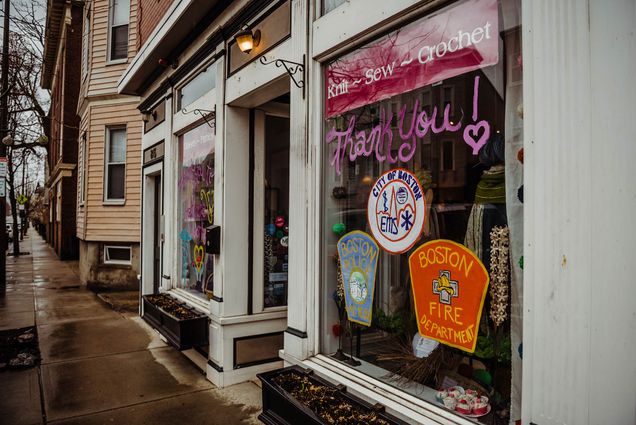 Karen Foley, Essaibi-George's city hall scheduler and fellow mask-maker, says keeping up with neighborhood news about COVID-19's spread can take an emotional toll. Every day brings more stories about people who have become sick or lost work, Foley says, choking up at her ironing board.
"It's just too close," she says of a city where more than 100 people have died from the virus.
Essaibi-George says she works to stay upbeat and busy, always on the lookout for ways to help, large and small. She keeps a basket of masks at the shop for the occasional drop-in or emergency request.
City business continues, she says, albeit remotely. She attends key budget meetings on Zoom from her shop. She's also participating in a pull-up contest with other city officials, including Brenda Cassellius, Boston's superintendent of schools.
But the COVID-19 crisis looms over it all. In such times, Essaibi-George says, sewing and knitting bring her peace. Scanning her shop, with its fuchsia walls and stacks of plush yarn twisted into soft skeins, her eyes fall on a Singer sewing machine surrounded by bright fabric swatches. In her bag is an elaborate alpaca knit shawl that's almost finished—a project she works on at home at night, after she leaves the shop.
"This comforts me," she says.