With Local Towns Needing Help Fighting COVID-19, SPH Students, Alums Step Up
Public Health
With Local Towns Needing Help Fighting COVID-19, SPH Students, Alums Step Up
From contact tracing and data analysis to mapping cases and building websites, they volunteer where needed
Kathleen Banks has worked to improve the health of refugees in Greece, mothers in Zambia and Ethiopia, and families struggling with food insecurity in the Mississippi Delta. A public health professional who is pursuing her doctorate in public health at Boston University's School of Public Health, Banks was not about to sit out the COVID-19 outbreak.

"A pandemic is both the Olympics and the worst nightmare for those of us who work in public health," says Banks (SPH'09,'21). "I was really frustrated sitting on the sidelines when I knew my community was in trouble. We were saying, 'Put us in.'" 

At the end of March, with the number of COVID-19 cases rising across the state, the Massachusetts Board of Health formed the Academic Public Health Volunteer Corps to connect students, alumni, and faculty from SPH and eight other schools and programs of public health in the Boston area with understaffed local boards of health in responding to the pandemic. In addition to contact tracing to identify and isolate people who have been infected with the coronavirus, cities and towns needed help with data analysis, mapping of incidence of cases, promoting health equity, translating, health communications and social media, and team management.

"I volunteered almost immediately," says Banks. "I like getting involved."
She was not alone—400 other students and alumni from SPH also rose to the call. So did more than 1,500 others from Harvard, Tufts, University of Massachusetts Amherst and Lowell, and other public health programs. "It's a public health crisis—this is our time to help," says Pawandeep Kaur (SPH'15,'22), one of Banks' classmates in the SPH Doctor of Public Health program. Kaur is juggling her volunteer responsibilities with her coursework and her full-time job as a clinical trial director at SPH.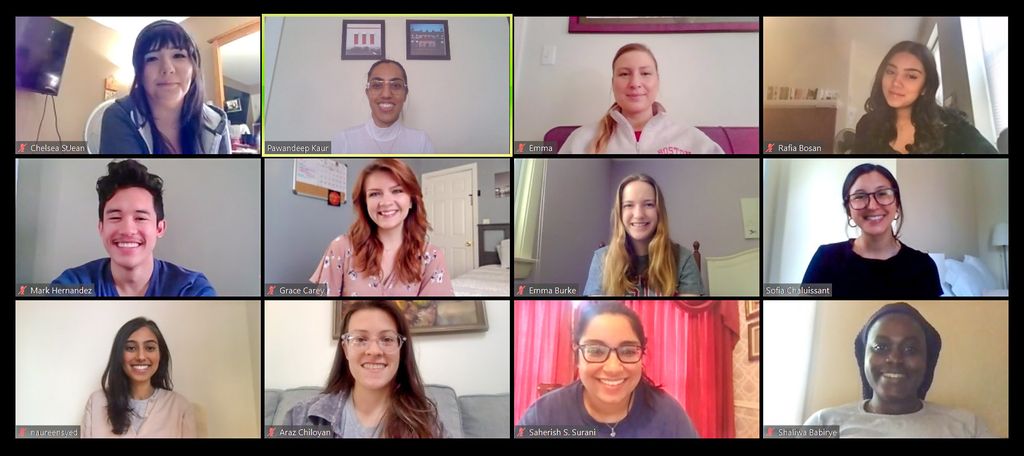 Other examples of what Banks and Kaur are doing—volunteering to help those on the front lines of the pandemic—are everywhere. Tens of thousands of undergraduate and graduate students are helping frontline workers with childcare, collecting and making PPE (personal protective equipment) for hospitals, tutoring homebound elementary school students, delivering groceries to the elderly, advising immigrants who are essential workers on their rights, and raising money for those whose lives have been derailed by the virus. 

Banks is leading a team of volunteers—all students or graduates of SPH and other public health programs—working with the town of Hudson, Mass. Like many other municipal public health departments, Hudson's is stretched to its capacity, sharing one part-time public health nurse with the nearby town of Ashland. Seven of Banks' classmates are putting their experience to work as leaders of teams of volunteers partnering with boards of health in other Massachusetts cities and towns.

Doctor of Public Health students are trained in "leading health programs, mobilizing teams, and navigating health systems," Banks says. "This is what we live for."

Because a crisis like COVID-19 moves so fast, she says, things change quickly. "There is a lot of hustle involved," she says.

One example: after Banks had trained a team of Spanish- and English-speaking contact tracers, Hudson had an influx of cases involving people who spoke only Portugese. Through her network of team leaders, Banks was able to track down two Portugese-speaking volunteers who could help out in Hudson.

Another of Banks' classmates, Rebecca West (SPH'23), has been leading a team of seven public health student contact tracers in Ashland. "My job was to set up a relationship with the Board of Health, set up a volunteer schedule, and get everybody trained," West says. "I communicated back to the Board of Health—'Here's who we've called, here's who's still symptomatic, here's who isn't.'"

"We absolutely needed the help," says Ed Burman, an Ashland police sergeant who was appointed by the town manager to lead the Board of Health's COVID-19 response. "If I had a question about a particular case, Becca was right on top of it."

Most of the people who had tested positive for COVID-19 were open to talking and sharing information with the volunteer contact tracers, West says. The information has been invaluable in unexpected ways. One of West's SPH student volunteers called a woman who had tested positive for COVID-19, and she told them that before she learned she was positive, she had picked up takeout food at a restaurant from an employee who wasn't wearing a mask. West alerted Ashland's Board of Health that the restaurant didn't seem to have PPE. 

"That was a lightbulb moment for me about the wide impact this kind of effort can have," West says. "These small boards of health don't have the capacity to do everything right now. We can be their eyes and ears."
With a master's in global public health, West has worked previously in Malawi and South Africa, conducting research related to HIV prevention and education. Partnering with the Ashland Board of Health has been "really motivating and invigorating," she says. "After this experience, I've been thinking really hard about working in local systems. I just think city health departments are so vital." 

Contact tracing is painstaking, time-consuming work, but health officials say it is one of the keys, along with testing, to containing the virus. At the end of April, the commonwealth of Massachusetts brought in the global nonprofit Partners in Health to take over the contact tracing; Partners has been hiring and training hundreds of people to make the calls.

While they've been wrapping up their contact tracing cases, the public health volunteers are continuing to help out local boards of health in other ways. In Hudson, Kate Killion (Sargent'18), who is working on a master's in public health at the University of Massachusetts Lowell, is posting easy-to-understand information and graphics on everything from social distancing to how to wear a mask on the city's Facebook page. Her training in public health communications has come in handy, she says. 

"People from all walks of life are consuming this information," Killion says. "You need to make the message clear."

In Watertown, Kaur's multilingual volunteers are also disseminating guidance on COVID-19—in Hindi, Urdu, Spanish, Portugese, Arabic, and Armenian, as well as English—and they're mapping cases.
Still, other public health student volunteers are connecting those who have tested positive for COVID-19 with food, counseling, and other resources. They're taking the time to listen to people who are scared and isolated.

"For a lot of these people, I might be the first human voice they've heard since they found out they tested positive," says James Naso (SPH'20), who has put his fluency in Spanish to use as a volunteer contact tracer in heavily Latinx Chelsea, the epicenter of the state's COVID-19 outbreak. "A lot of people we spoke to wanted to tell us their story and how they're doing. It's really important to lend an ear."

Liz Henry (SPH'15), the leader of Naso's team in Chelsea, mobilized a team of 18 Spanish-speaking public health student volunteers in early April. The first step for her and the other team leaders was to ask local health officials what they needed and how the volunteers could help. 

"We saw ourselves as an army to be guided by the local boards of health," Henry says.