"I Will Get through This. We Will Get through This."
Photo Essay
"I Will Get through This. We Will Get through This."
After more than six months on the COVID-19 front lines, stories of grief, loss, and fear—but also hope, inspiration, and compassion—from Boston Medical Center
For more than six months Boston Medical Center (BMC) doctors, nurses, social workers, administrators, and others have worked on the front lines of the COVID-19 pandemic. They would come off their shifts emotionally and physically drained, which is when BU Today photographers Cydney Scott and Jackie Ricciardi captured most of them for this photo essay.
They talked about the pain and heartbreak they've seen, the uplifting moments that keep them going, and returning home to their loved ones after another day on the front lines at Boston's safety net hospital—which is also the teaching hospital of Boston University's School of Medicine. These are their stories.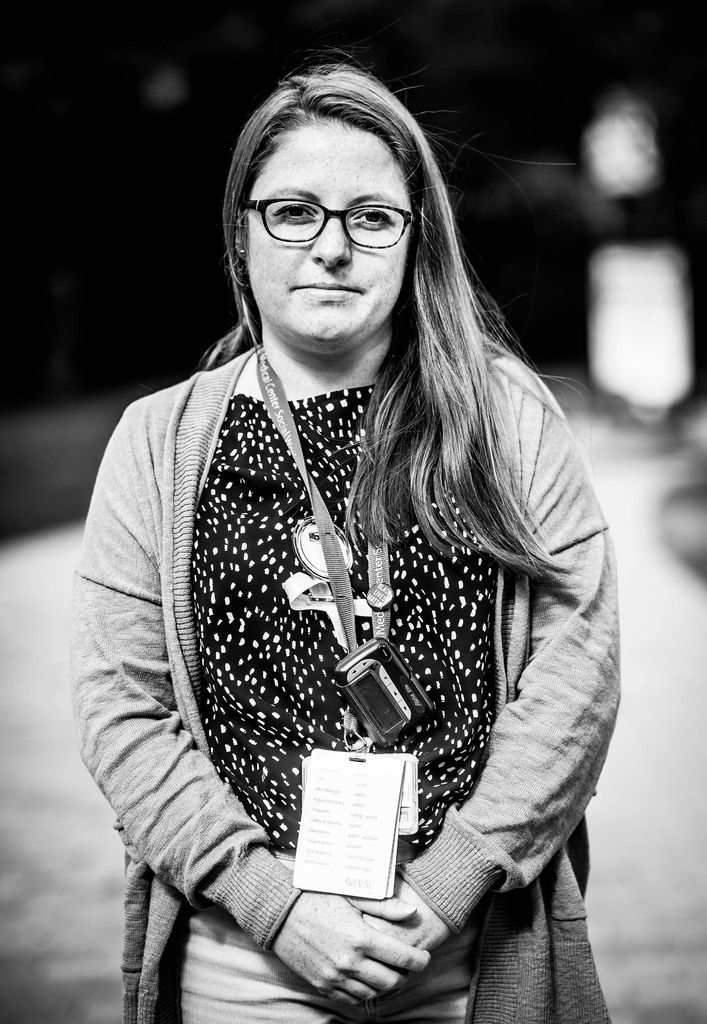 Karissa Giovannini
BMC clinical social worker
Even though I physically walked out the doors of the hospital and went home, in my heart and mind it never really felt like I was "off shift." There was a feeling of helplessness I experienced as a social worker in the new age of precautions. I had to almost relearn what it meant to provide support, as body language, physical touch, and face-to-face interactions were now restricted by the dawning of face masks and face shields, and by six-foot distances. There was new weight given to the intention in my words and the expression in my eyes, and I found I was more reflective of my verbal presentation and use of silence and gestures of compassion. There was a comfort I found in knowing that feelings of grief, loss, and fear were a fight we were in together on a global scale. The news often talks about which country or state's numbers are better, who is politically tackling this virus the best, but in the aftermath of supporting a family member or friend in saying goodbye to a loved one—the competition of it all did not matter. Instead, my thoughts would focus on how our team came together to support a parent, a child, a spouse, a family member, or a friend in sharing their wishes and love for a patient, as we created a space for the patient to transition to the end of their life. And I held on to the beautiful moments of human connection.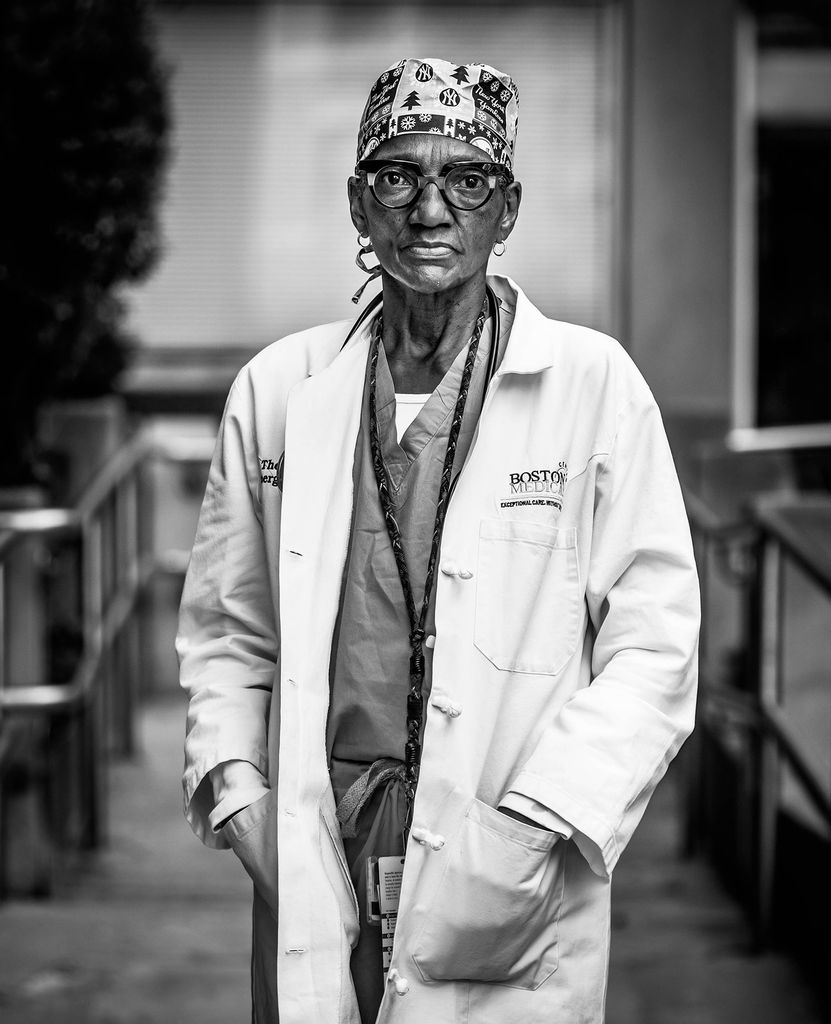 Thea James
BMC associate chief medical officer and vice president of mission and MED associate professor of emergency medicine
My very first thought after my first shift during the surge was "as a provider, this is like swimming in water trying not to get wet." Subsequently, I would reflect on the stories I heard from each patient as I did my usual engagement with them to allow them to tell me their story; they all had a story that clearly revealed a risk for what led them to become a patient with symptoms of COVID-19. Some actually had tested positive two days earlier, but were now sicker, so you knew what you were walking into before entering the room. But it didn't change anything, because they are the same patients with the same life risks we have been committed to partnering with pre-pandemic, for decades. Finally, I reflected on the COVID-19 data—what I expected the data to show before it was published, and being so anxious to see it.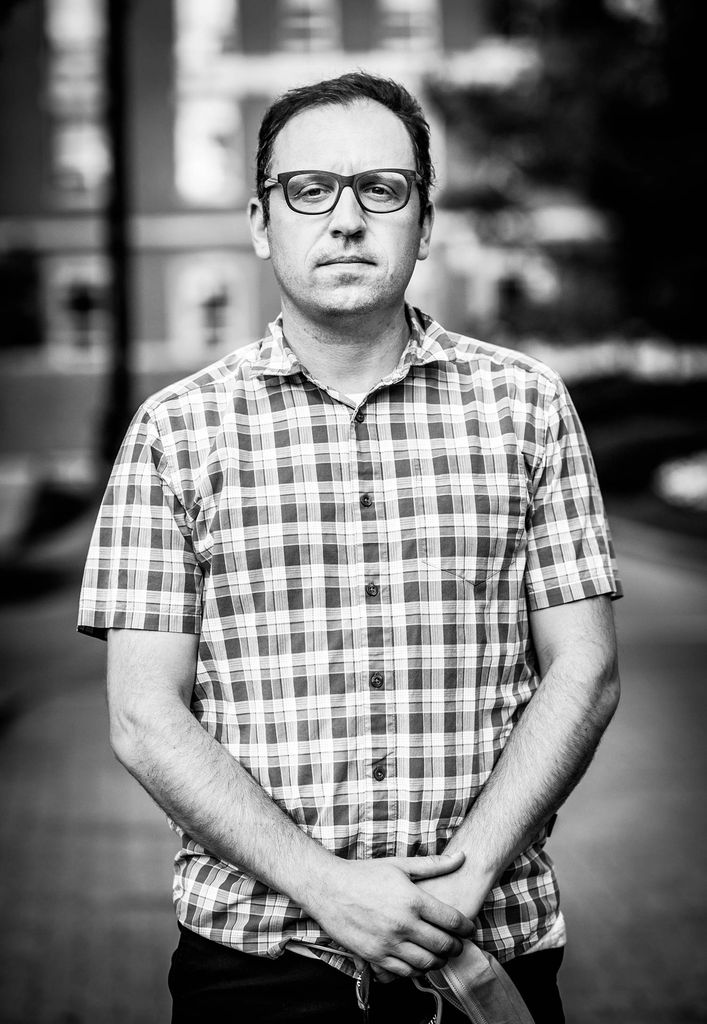 Joshua Barocas
BMC infectious diseases phyician and MED assistant professor of medicine
During the height of the epidemic, I experienced a range of emotions, from pride to sadness, from energized to lonely, from overwhelmed to tranquil. I am extremely proud to have worked on the front lines. Outside of being a loving parent and spouse, it is the proudest I have been in my entire life. And while I missed terribly seeing my family and tucking my children in at night, I found solace in the fact that I was helping my community and doing something that my children and wife were proud of too.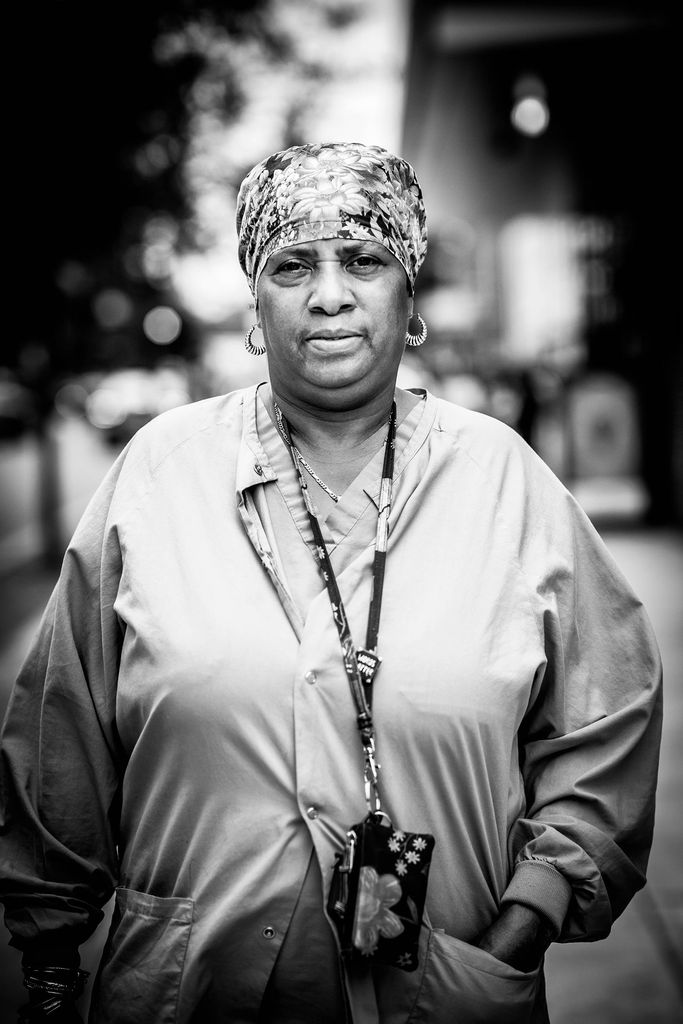 Keila Price
BMC administrative assistant
When I would finish my shift and leave the building, I would sometimes have to take a seat, put my face in my hands, and cry, knowing I was just inside the hospital doing all I could do for whomever I could do it for. Then I had the fear of going home, wiping down my shoes, taking off my clothes at the door, not ever knowing if I carried any COVID home to my family.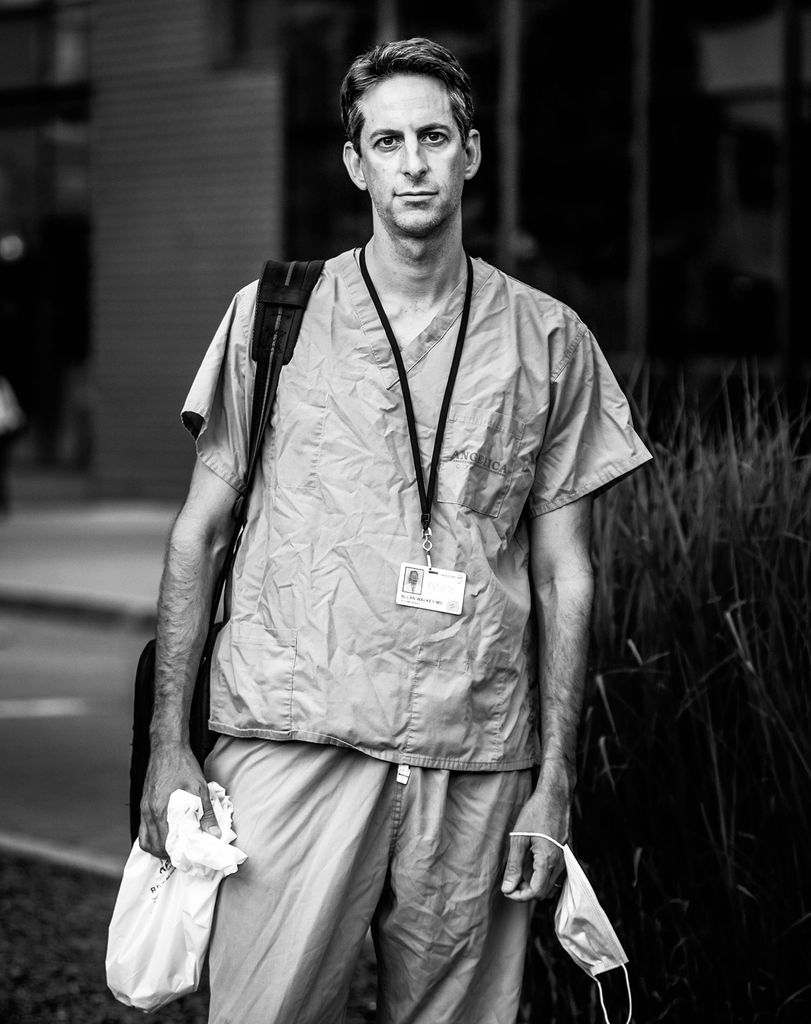 Allan Walkey
BMC critical care medicine physician and MED associate professor of medicine
We are lucky for now, with just one patient with COVID-19. So, let me tell you my thoughts from when I was working in the ICU during the peak Massachusetts surge in April. Many thoughts—sometimes conflicting—ran through my mind after a shift in the ICU during that time:
I was grateful to work with so many courageous, selfless, and smart colleagues;
I was tired of witnessing the same terrible clinical course repeat over and over;
I was reassured after seeing our standard ICU therapies help get most patients through;
I was deeply saddened by the deaths, often without family, but did not despair, because nurses held the patients' hands throughout;
I was angry to see so many patients—mostly representing society's most vulnerable and underserved—so sick, while knowing that it did not have to be this way.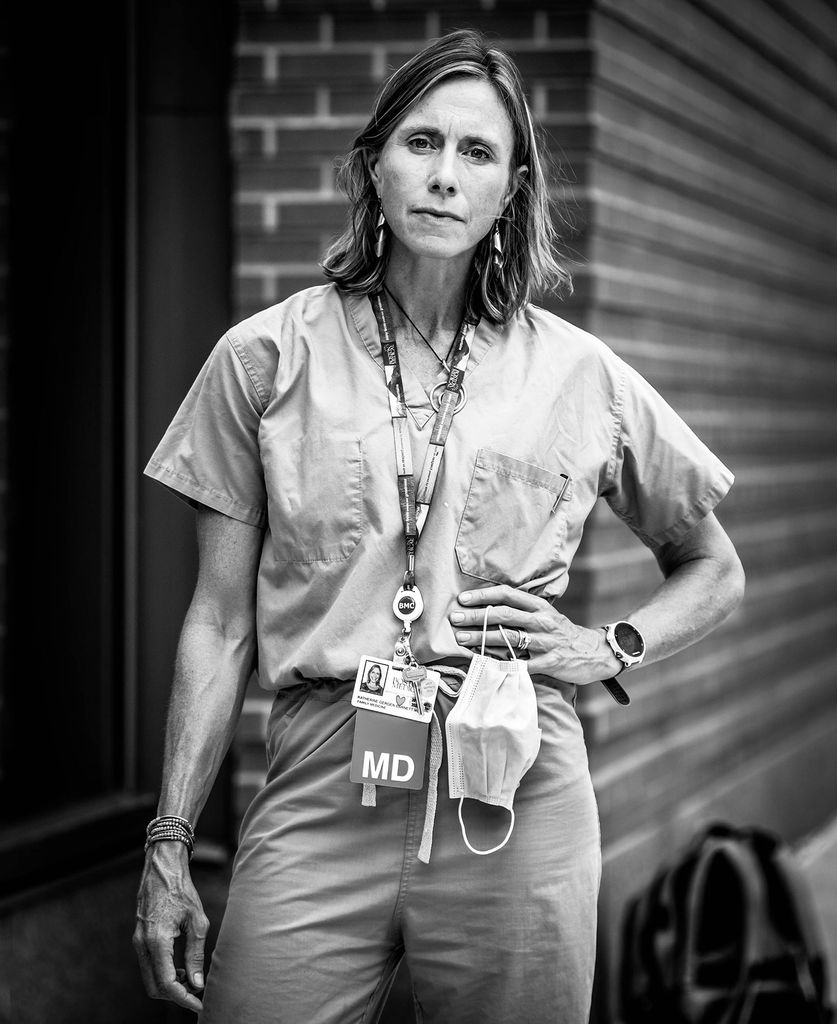 Katherine Gergen Barnett
BMC vice chair of primary care innovation and transformation and program director of family medicine and MED assistant professor of family medicine
During the peak of the pandemic this spring, all I could think about was the safety of those I loved—my family, my community, my patients, "my" residents, my colleagues—and also the safety of all of those I had never met. This time of crisis made me feel more connected than ever to both the people in my life as well as this great sea of humanity. When I went outside and glanced into people's eyes, I would feel this connection—like "we are all in this together and I see you." I was also continually amazed that despite our world changing so dramatically and everything being different, the sky would still be blue, the sun would still be shining, and spring was still continuing to march its way forward.
I felt both panicked and grateful after completing a shift on the front line during the pandemic. Panicked that I did not know what I was doing, that I was not donning and doffing my PPE correctly (no matter how many times I had prepared), that people around me would get sick, that I might very well get sick. All was the great unknown. But I also felt incredibly grateful. Grateful that I could serve in some way that was helpful, grateful for my colleagues at BMC, grateful for this incredible patient population who teaches me every day, grateful to my husband and children supporting me every day, and grateful every morning that I woke up and was healthy.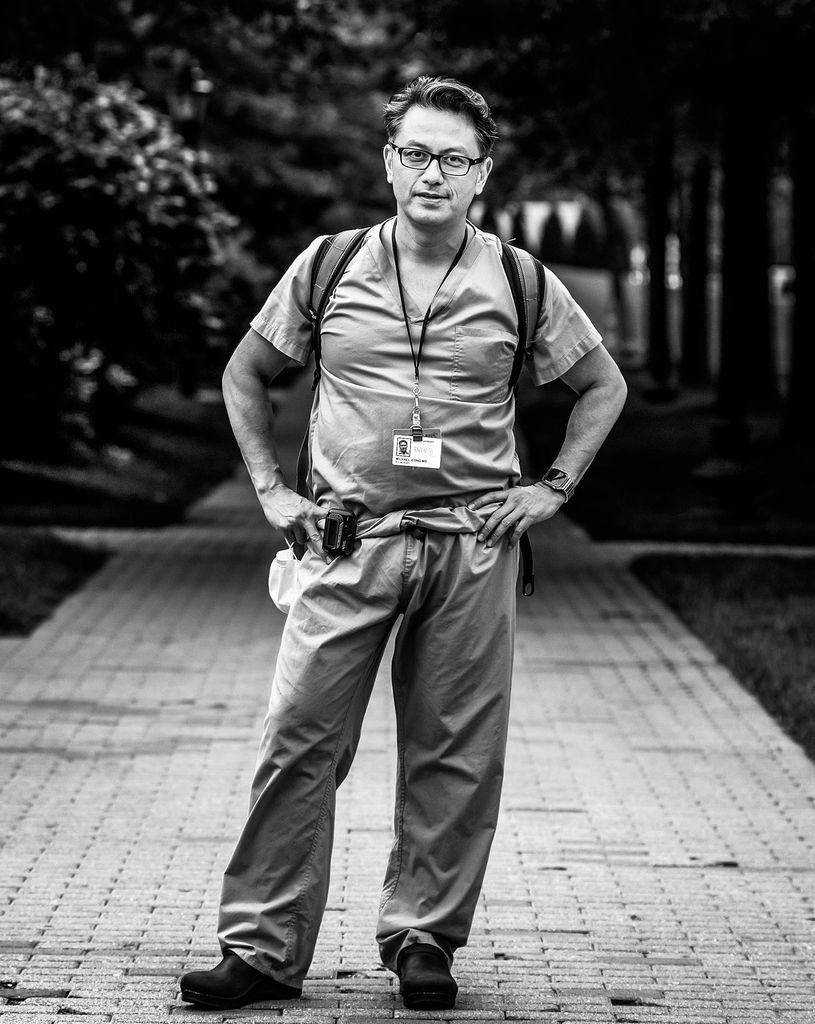 Michael Ieong
BMC medical director for intensive care units and MED assistant professor of pulmonary, allergy, sleep, and critical care medicine
The drop in the ICU and the number of COVID-19 confirmed cases has been dramatic. Currently, there are none in the ICU and less than 10 in the hospital! So now is completely different from back in April-May. Back then, during the height of the COVID-19 cases, I would end the day physically and emotionally exhausted, but with a restless mind going in many different directions. In which directions my mind would go would be determined by whether I was caring directly for patients, along with the responsibilities of being the medical director for the Special Care Units for Medical (MICU), or only focused on the latter role.

If I was caring for ICU patients directly, then I would be going over my patients, thinking about any potential interventions, including diagnostics that would be of value in providing what is essentially only aggressive supportive care, since we have not had any new potent treatment demonstrated to alter the course of patients with acute respiratory failure from severe COVID-19 pneumonia.
I would also be trying to keep up with the almost daily shifting literature, which was challenging since many of the reports were limited to case series or anecdotes, which we know have to be considered cautiously. This made it harder, since I'd have to do a much closer read of all the details that were always susceptible to unintended bias.
In general, I would try to compartmentalize within the realm of clinical management, knowing full well that beyond this was a minefield of guaranteed despair. Stepping into the world of the emotional impact of disease, I had little to counter the awful, isolating, and depressing state of keeping patients mostly alone and always physically apart from their family. The high risk and concern for spread made these rules nonnegotiable, except for possibly at the very end of life.
Two of my other constant and significant responsibilities are being the medical director for the MICU and cochair of our Critical Care Executive Committee. In these roles, my mind was constantly racing all day and most of the night, focusing on how I could ensure safe, updated, and adequate resources for all our staff throughout all the ICUs. All the while, I'd maintain active discussions with leaders in our testing group and the Boston metro community of ICU leaders. These were always shifting landscapes, as we had to surge out of our ICUs, adapt to PPE [personal protective equipment] changes, and be cognizant of staff burnout and risk for COVID-19 infection for them and their extended families.
I'm also the cochair for our hospital's ethics committee, which you can imagine was grappling with many of the issues I mentioned above, in addition to the looming question of invoking crisis standards of care that would require implementing a version of the state-issued ventilator allocation protocol. All of this, and more, would run through my head at the end of the day.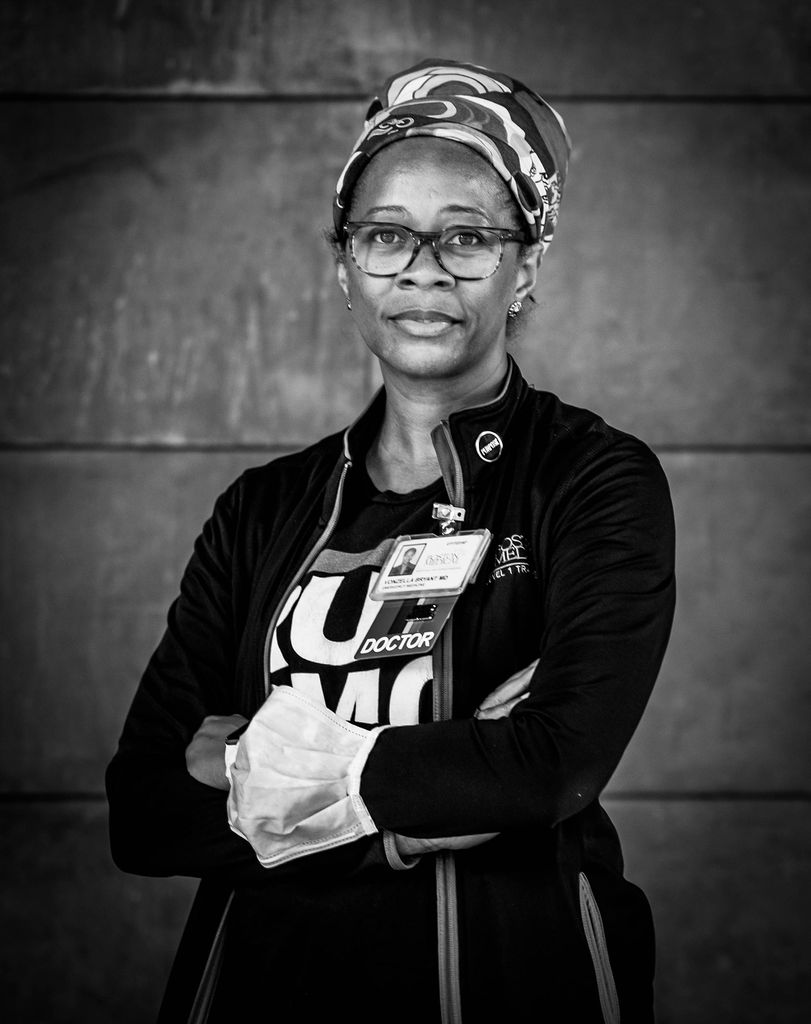 Vonzella Bryant
BMC emergency medical physician and MED director of medical student education, assistant dean of student affairs, and clinical assistant professor of emergency medicine
There was a lot of anxiety around how contagious this virus was, and I was doing my best to protect myself from bringing it home to my family. This virus is so unknown! There were patients with seriously low oxygen levels, had abnormal blood work and chest X-rays, and yet, they didn't look terribly ill. They looked uncomfortable while talking to you, but they were not in awful respiratory distress. They didn't look cyanotic or blue. But, unfortunately, some ended up being admitted and died. So, I would leave my shifts wondering if the patient that I admitted, who I was talking to like another family member or friend, was going to die while on the floor or in the ICU.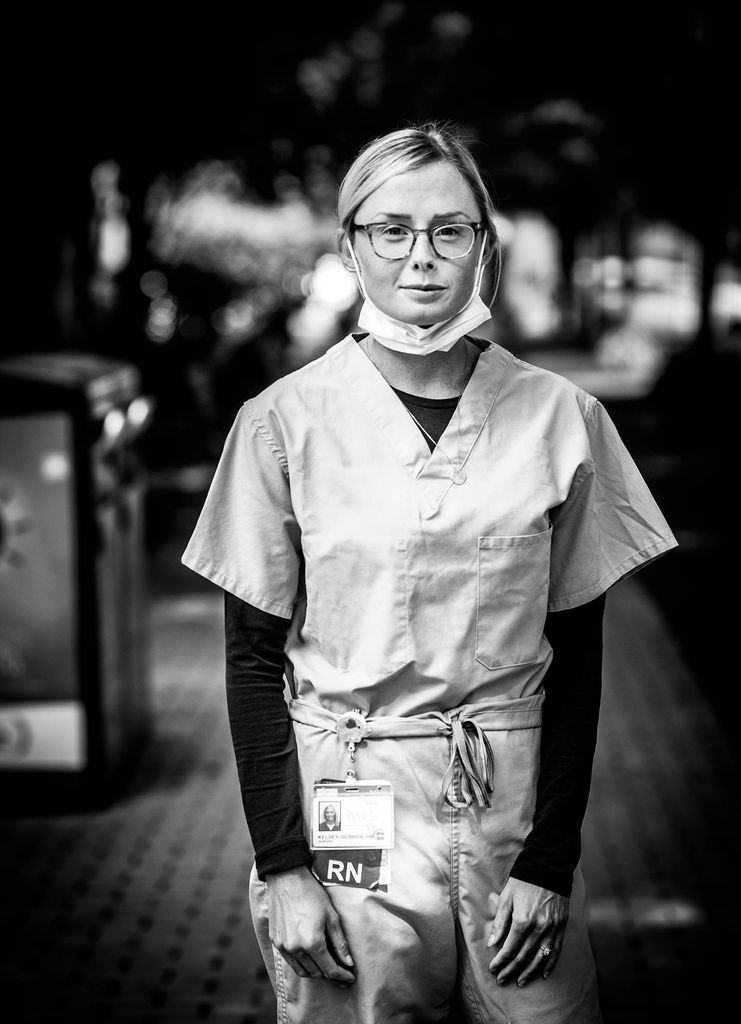 Kelsey Gilbride
BMC registered nurse
When COVID-19 emerged, the unknown of it all made it very real and scary. I am a nurse trying to be fearless in the midst of the unknown, while also being emotionally, physically, and mentally exhausted at the same time. Never did I think I would see—let alone face—a pandemic in my career. I am trying to do my best to provide the safest care possible while trying to keep myself safe at the same time.
Your new "world" has become very small, consumed with caring for others dealing with the unknown, and you don't have energy left for yourself. You haven't let yourself go, but you're just exhausted. There would be days when my fiancé would drop me off at work and I was afraid to get out of the car. When the only choice you have is to be strong, that's all you do, and you get out there and be the strong, courageous, compassionate nurse you know you are. You learn to appreciate the little things—like taking off your mask and breathing in the fresh air when stepping outside after a 12-hour shift. We all have a part in this, and we are all in this together. Let's continue to do our parts and stay calm, strong, and help one another.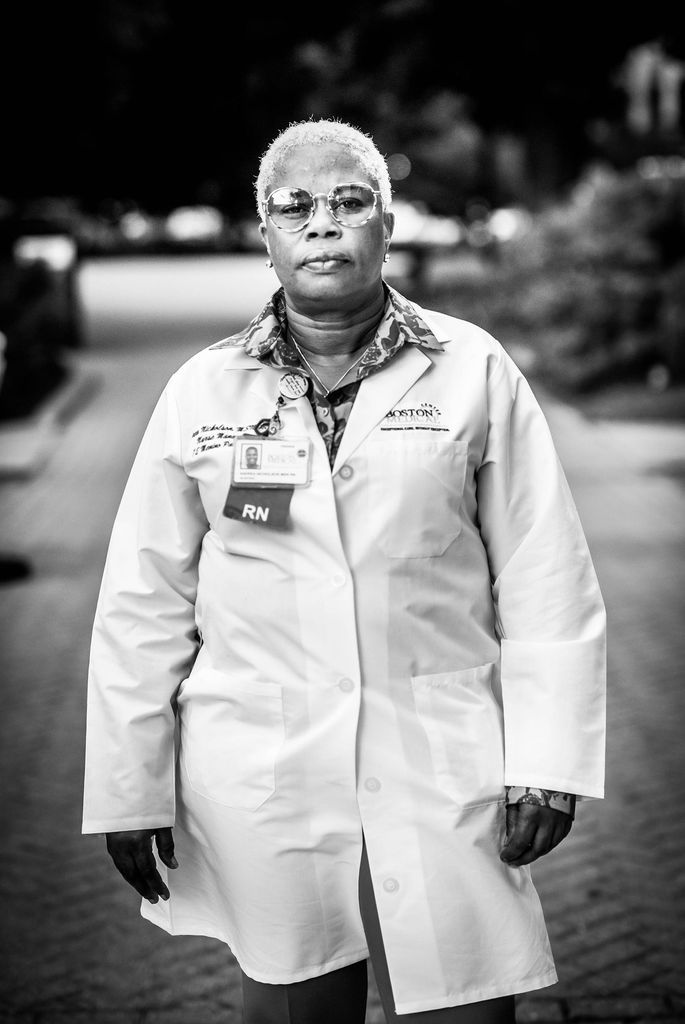 Andrea Nicholson
BMC registered nurse
I knew the staff was trained and ready to work, but I was still worried. I was comforted when the leadership team of the hospital provided us with all the supplies and resources we needed to be safe when taking care of patients. I thought of the staff that were getting sick. Sometimes I would think, "My God, I hope there's not another transmission." I thought of my family and friends—"How many people is this going to affect? Will this end? What is the new norm?"
I was devastated. I have never seen anything like this in my entire nursing practice or journey here in the US. I was scared and had to be strong because my staff depended on me to be strong. My family and children depended on me to be strong. In spite of my own fears and hopes. I remind myself, "I am a nurse and this is what I signed up for." I'm ready. Resilient. I have the support of my BMC family, my own family and friends. I will get through this. We will get through this.
Tommy Loring
BMC environmental services
When I would come off a shift, I always felt as if I was doing my best. The first couple of weeks were bewildering. But I'm not a person that's not going to go to work. I was doing my bit to help the best I could.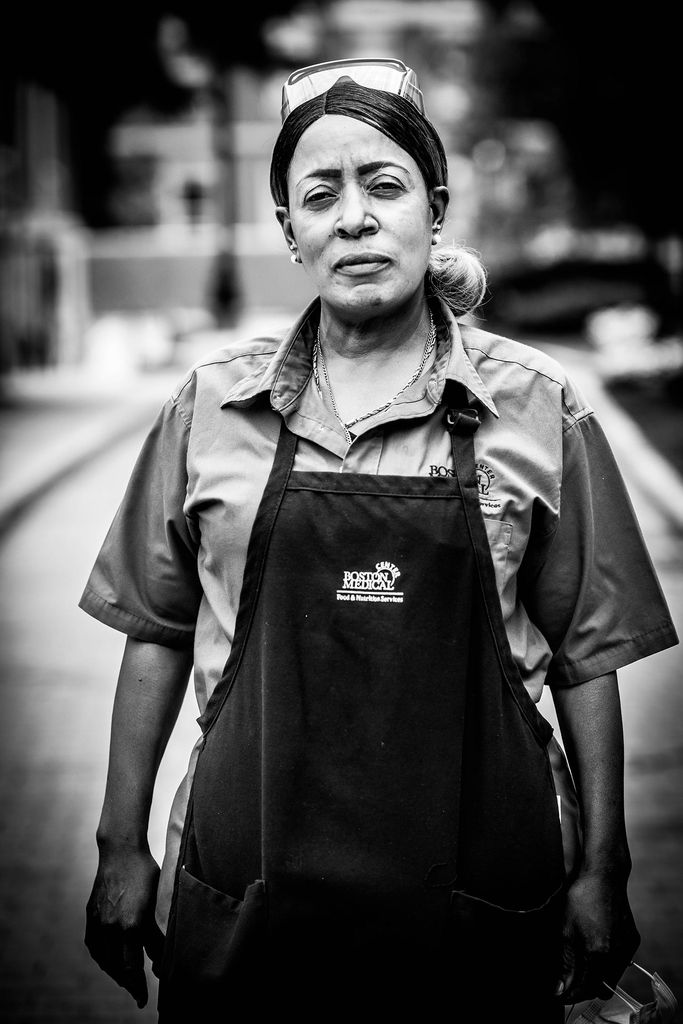 Tracey Hanley
BMC food and nutrition services
I was tired, always wondering if I caught anything while I was there, because I had my grandbabies and foster kids to go home to. It's calm now, but I'm worried and scared and preparing for it to come back again.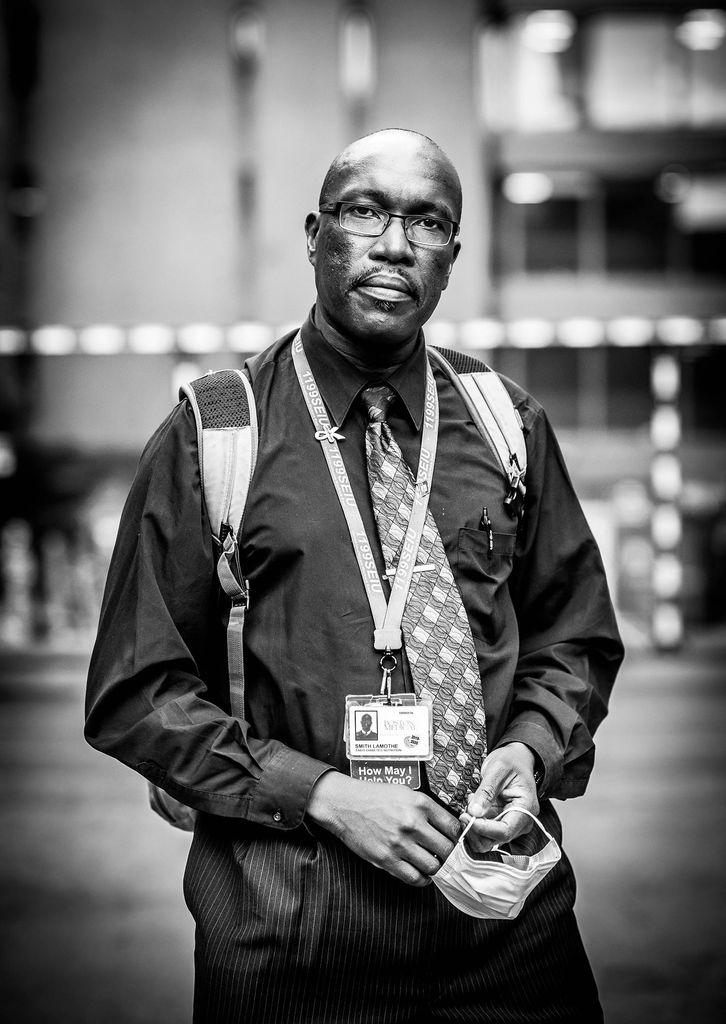 Smith Lamothe
BMC patient navigator
I felt this situation was unprecedented and that there was a degree of concern in my mind, yet I did not feel fear, but I was hopeful that this too would pass. Some of the things that went through my mind were:
Happy to be alive
Hope that I am COVID-negative
Hope that I and my colleagues have the proper personal protective equipment
Happy that I am in a position where I can use my ability and skills to help the patients, the hospital, and the community