Robert Pinsky Pays Tribute to Nancy Livingston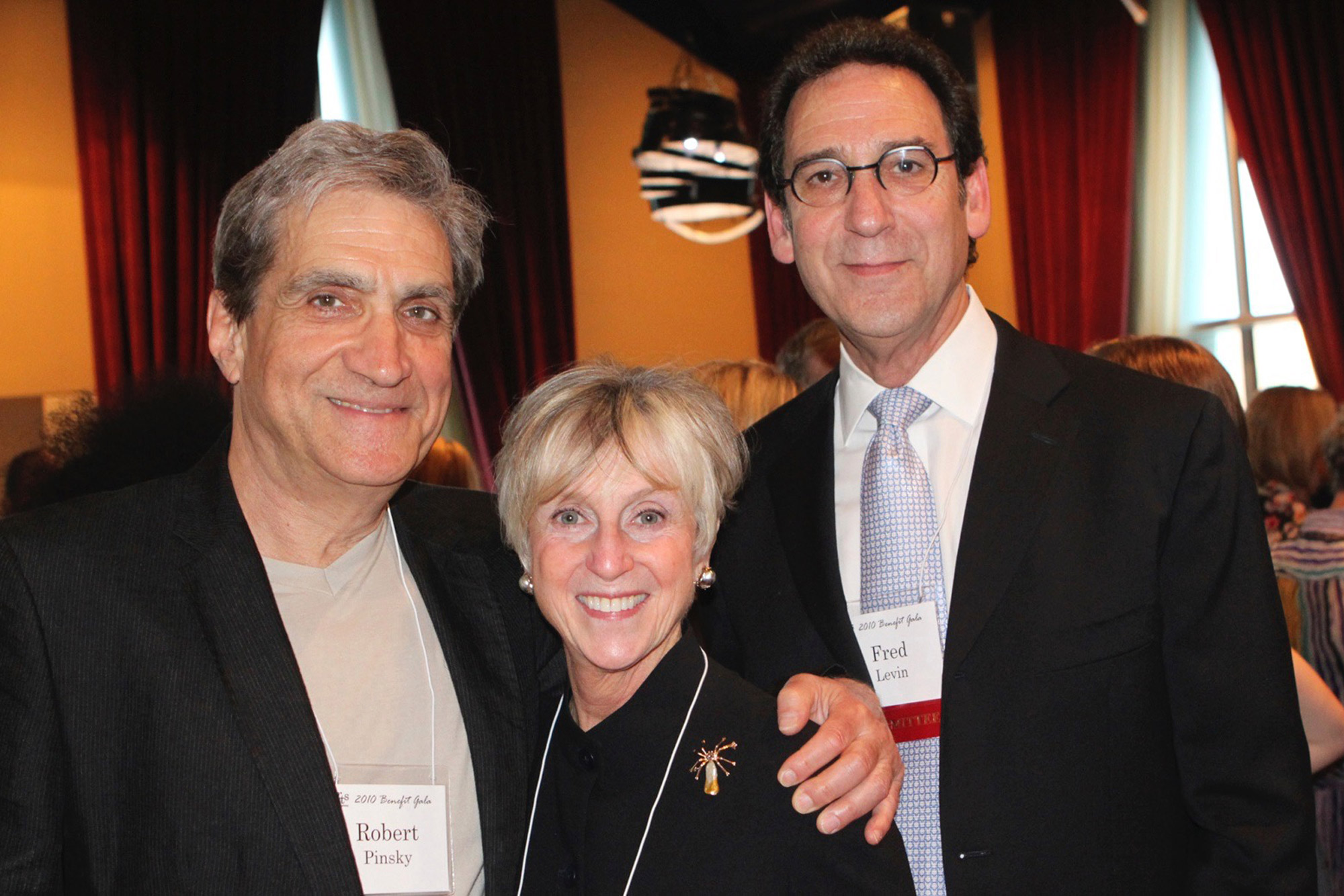 Alumni
Robert Pinsky Pays Tribute to Nancy Livingston
Alum was the creator of the University's Robert Lowell Memorial Poetry Readings
Nancy Livingston (COM'69), the creator, donor, and guiding spirit of the Robert Lowell Memorial Poetry Readings, died on November 16, 2019. The cancellation of all on-campus events at BU included the April 14 reading by poets Natasha Trethewey and Megan Fernandes (GRS'12). These paragraphs summarize some of what Robert Pinsky, a College of Arts & Sciences professor of English and a William Fairfield Warren Distinguished Professor, director of the Creative Writing Program, and a three-time US poet laureate, intended to say at that event.
Nancy Livingston, with characteristic energy and imagination, gave BU's poetry reading series its name, the Robert Lowell Memorial Lecture and its subtitle, In the Spirit of Room 222.
My dear friend Nancy and I enjoyed quibbling over the word "Lecture," which she gradually, and grudgingly, allowed me to replace on the posters with "Reading." Every time I spoke with her she had good things to say. Her enthusiasm and clarity inspired many people.
In Room 222, where we have conducted BU creative writing classes for many years, Robert Lowell taught a poetry class in which the students included Sylvia Plath, Anne Sexton, and George Starbuck. The title that Nancy created, the spirit of Room 222, is the spirit of art. Lowell was the professor and the others were students. But beyond academic hierarchies, in that room, they were poets, discussing principles and examples of their art.

The series' guest readers over the years have included John Ashbery, Eavan Boland, Louise Glück, Terrance Hayes, Seamus Heaney, Edward Jones, Sharon Olds, Grace Paley, Carl Simic, Mark Strand, and Adam Zagajewski.

"In the spirit" of our seminar room at 236 Bay State Road, those remarkable visitors were introduced by recent BU MFA students, who joined the guest by also giving a brief reading. BU alums in that role have gone on to publish significant books. Among their number: Peter Campion (GRS'01), Maggie Dietz (GRS'97), Jill McDonough (GRS'98), Patrick Ryan Frank (GRS'04), Eleanor Goodman (GRS'03), Ani Gjika (GRS'11), Heather Green (GRS'09), Katherine Hollander (GRS'06,'15), and Rachel DeWoskin (GRS'00).

The series has been more than a source of pride for us. When the eminent guest poets meet with BU students for conversations about the art, the spirit of the room has another, practical and inspiring, fulfillment. Through the Shenson Foundation, Nancy and her husband, Fred Levin, supported the series. As well as crafting the definition, Nancy actively followed the readings. It was a pleasure, each semester, to send her the video recordings and signed books, and to hear her responses. Sometimes she came from San Francisco to attend the reading and reception. I remember hilarious teasing between her and poet Phil Levine about their respective native cities of Cleveland and Detroit.

Our series was part of a wide range of Nancy's interests and accomplishments in the arts. San Francisco's American Repertory Theater benefited from her dynamic and creative leadership. The San Francisco Symphony performed at her memorial service, in that city's Congregation Emanu-El. The phrase "in the spirit" for this BU series has come to include Nancy's generative approach to everything she did.

Nancy Livingston's professional career was in advertising. She was very good at that work, and as a straight shooter of excellent taste, she preferred the plain word, advertising, to euphemisms like "public relations." Seeing her and Fred here in Boston and in the Bay Area has been, for my wife and me, what Samuel Johnson calls a "social comfort"—a bit of plain understatement I believe would have won Nancy's approval. I miss her and I will continue to miss her.

She remains, for me, a model of getting important work done, with a minimum of pretentious baloney, plenty of laughter, imagination, and a maximum of kindness.