POV: Racist Symbols Have No Place in Massachusetts. It's Time to Change the State Flag and Seal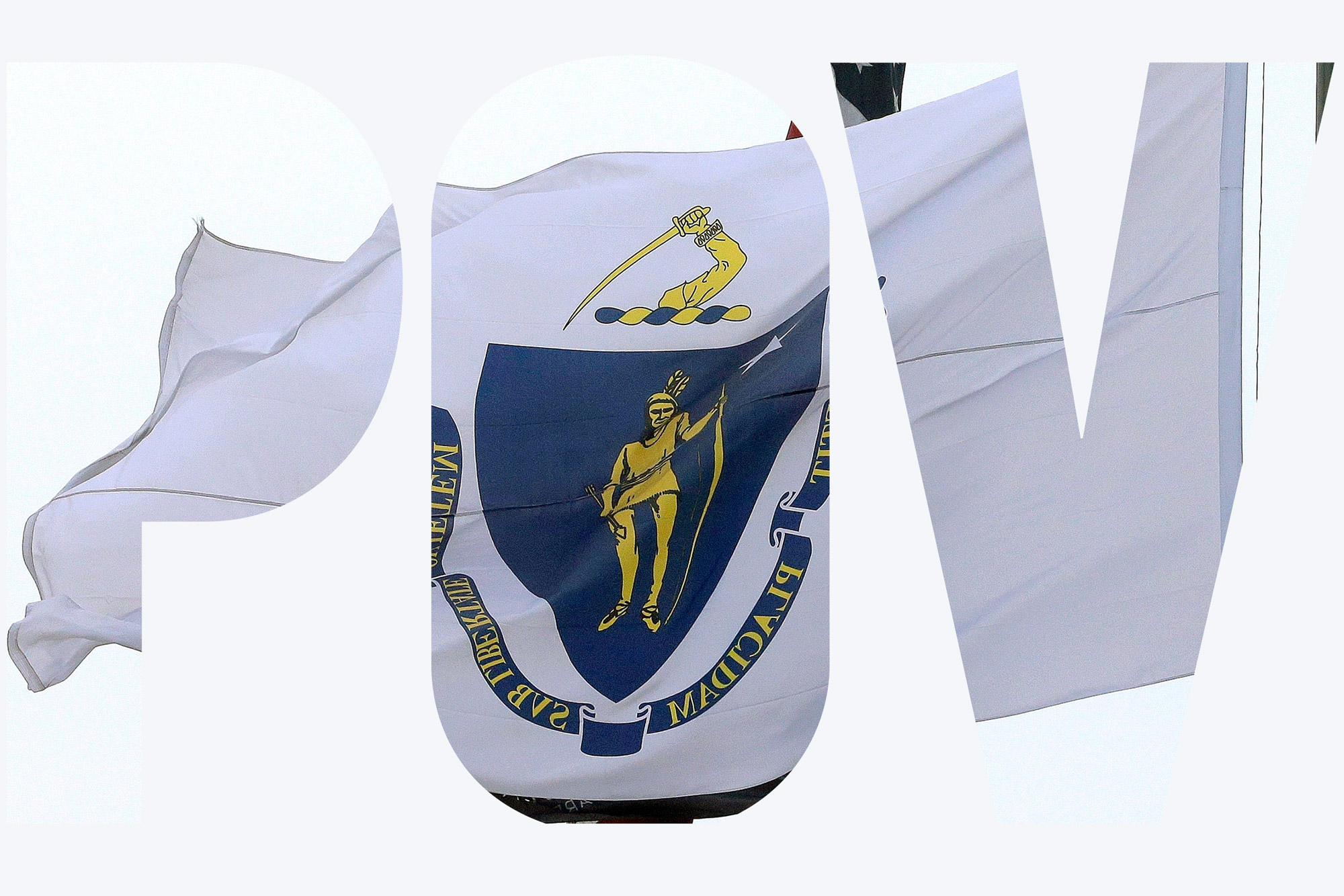 Voices & Opinion
POV: Racist Symbols Have No Place in Massachusetts
We have an opportunity now to change our state flag and seal
More than 130 years after Charles Eastman (MED 1890) became the first Native American graduate of Boston University's School of Medicine, Massachusetts continues to fly a flag threaded with white supremacy. At the top, a white arm clenches a downward thrusting sword. The point aims at a stereotyped Native figure who stands below. The same image appears on the state seal. At a time when even the National Football League team named with a racial slur is changing its name, it's time for Massachusetts to change our racist symbols. Speaking at a July 16 State House rally and press conference, Mahtowin Munro from United American Indians of New England asked legislators to support bills to change the flag and seal (S.1877 and H.2776), ban Native American school mascots, and protect Native heritage and sacred objects. We must seize "a historic opportunity to begin to listen to indigenous voices statewide," Munro said.
The state seal, mascot, and heritage bills collectively address long-standing wrongs. To understand their intertwined racism, read artist Edmund Garrett's account of creating the state seal. Garrett's descriptions of Native Americans display hateful stereotypes. His report dates from 1900, but today's Native American mascots embody similarly racist views. As for the state seal, it is modeled on objects at Harvard's Peabody Museum taken from indigenous communities, including Wampanoag leader Metacom's sash, and a bow pulled off a Nipmuc man shot in 1665. And in a horrific fact requiring a trigger warning, Garrett used the skeleton of an unnamed Native man from Winthrop to create the design.
The three bills before the State Legislature aren't just about changing symbols from the past. They are about respect and justice for the living descendants of the original inhabitants of this land now called Massachusetts. The far from radical Senate and House bills don't even mandate removal of the flag and seal. They set up a commission, with at least five members "of lineal descent of tribes," and require a recommendation by the end of the year.
Whatever that recommendation, the bills ensure they will come from the understandings and experiences of Massachusetts' diverse Native communities. In contrast, no Native person was consulted when the legislature approved the current flag and seal in June 1898. Indeed its origins lie not, as some argue, in the struggles of a revolutionary past. The 1775 flag Paul Revere designed featured a white patriot holding the Magna Carta.
The current flag and seal arose out of a shameful apex of American racism. The period leading up to the 1898 adoption included the Chinese Exclusion Act (1882), Plessy v. Ferguson (1896), the imperialist Spanish American War (1898), and in 1890, the massacre at Wounded Knee.
Thanks to antiracist activists, from Charles Eastman, who bore witness to the atrocities of Wounded Knee, to present-day leaders, some change has come. In June, the Mashpee Wampanoag won a court victory, and at least for the moment stopped the Trump administration from revoking reservation status. Earlier this month, the US Supreme Court recognized the land claims of Native nations in Oklahoma.
But that is not to say the threats are gone. As Hartman Deetz, a member of the Mashpee Wampanoag Nation, said at the State House rally, the flag and seal are "not just symbolism." Native people in Massachusetts, and across the country, "continue to live under that threat today, from continued genocide, from continued dispossessions, from continued oppression." That oppression is evident in disproportionate rates of police brutality, and in the devastation COVID-19, enabled by centuries of racist settler colonial policies, is wreaking on Native and indigenous communities.
The impact of racist images of Native Americans in promoting stereotypes and causing harm to Native people is well documented. Worse, the state seal is an official image. It hangs over meetings of the State Board of Education, and is stitched on uniforms of the overwhelmingly white (89 percent) and male (95 percent) Massachusetts State Police. Knowing the power of symbols, I do not discount the role of a racist state seal in racist policing, or in Massachusetts receiving one of the worst scores in a 2019 review by the National Congress of American Indians of state efforts to offer "accurate, culturally responsive, tribally specific, and contemporary content about Native Americans" in K-12 schools.
Structural racism, like a Jenga tower, has many interlocking blocks. Removing a few won't topple the tower. But it makes it less stable. Use this form to write your legislators. Do it today, before the State Legislature adjourns July 31. Tell them racist symbols have no place in the Commonwealth of Massachusetts.
"POV" is an opinion page that provides timely commentaries from students, faculty, and staff on a variety of issues: on-campus, local, state, national, or international. Anyone interested in submitting a piece, which should be about 700 words long, should contact John O'Rourke at orourkej@bu.edu. BU Today reserves the right to reject or edit submissions. The views expressed are solely those of the author and are not intended to represent the views of Boston University.