POV: Militarization of Policing Risks Turning US Cities into Battlespaces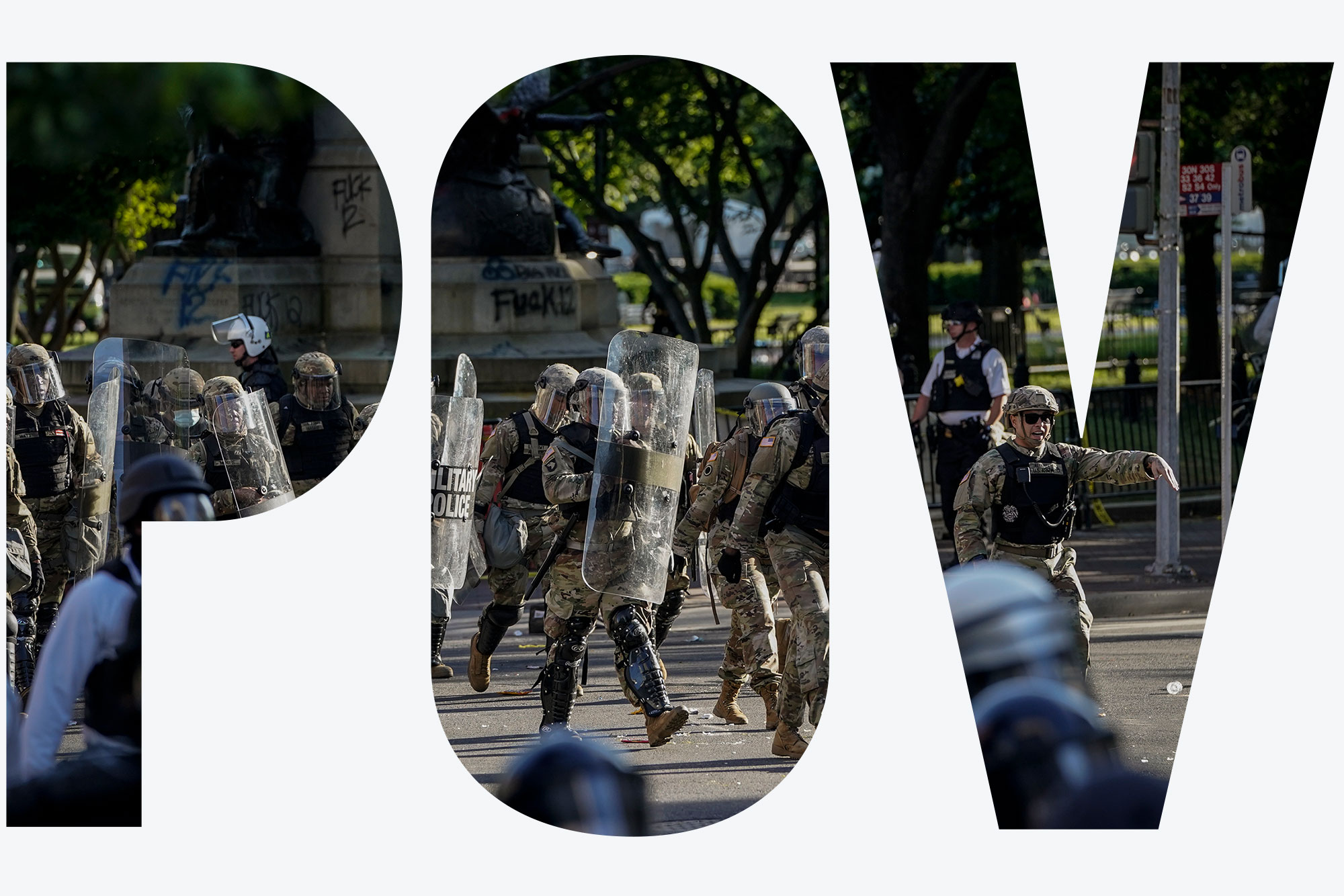 Voices & Opinion
POV: Militarization of Policing Risks Turning US Cities into Battlespaces
New statute needed that reaffirms our founding principles by defining the limits of the military's domestic authority
During President Trump's now-infamous walk to St. John's Church for a photo op earlier this month, he was escorted by the Secretary of Defense and a four-star general in battle fatigues. National Guard troops and unmarked federal agents used tear gas, flash grenades, and rubber bullets to clear the president's path of otherwise peaceful protestors. Defense Secretary Mark Esper's recent calls for government actors to "dominate the battlespace" played out right in Lafayette Square, a grassy plaza adjacent to the White House in front of an Episcopal church. The message seemed clear: the full force of the US military stood in support of President Trump's authoritarian pageantry.
 Earlier that day, President Trump demanded that the nation's governors stop being "weak" and "dominate" their own situations. He threatened to take control of states by deploying "thousands" of "heavily armed" soldiers. Far from an idle threat, on June 1 the Pentagon rushed hundreds of troops to bases near D.C., including the 82nd Airborne Division's Immediate Response Force, which was most recently sent to the Middle East because of Iranian threats. The troops were reportedly ready to deploy on D.C.'s streets armed with rifles and bayonets.  
While some law enforcement officers have de-escalated otherwise dangerous situations, this has been the exception. Many cities and states have responded with SWAT teams that look like soldiers, supplemented by the National Guard troops. In Washington, D.C., Blackhawk and Lakota helicopters typically seen in war zones have been used to menace protestors.
The events of the past several weeks present a nightmare scenario I've been concerned about for years. After 9/11, I wrote a lengthy article on the dangers both of the military acting as law enforcement officers and of civilian police becoming more militarized, imagining a modern-day Boston Massacre, with people of color, rather than colonists, calling for an uprising. Regrettably, the fictionalized events I had envisioned are now startlingly close to our reality as protest movements have mobilized across America since the murder of George Floyd, and as federal, state, and local governments have mobilized their response. Throughout our nation's history, citizens and lawmakers alike have raised alarms about the dangers of a military response on domestic soil. John Adams argued that British soldiers enforcing civil laws caused the Boston Massacre, calling soldiers "wretched conservators of the peace." Jefferson's Declaration of Independence says keeping a standing army in a civilian population was proof of King George's tyranny.
In 1878, in an effort to prevent the militarization of law enforcement, Congress passed the Posse Comitatus Act (PCA), which states that anyone who uses Army personnel to execute civil laws can be charged with a crime; it was amended in 1956 to include the Air Force. 
The PCA reflects a strong American tradition based on an important principle: the military and police are not interchangeable. While soldiers attack and defeat an enemy with overwhelming force, the police are expected to protect the community—including suspects—with a continuum of force and safeguard everyone's constitutional rights. Further, police officers have a duty to use minimum force, and only when justified. The power to police was reserved to states and localities because if an officer abuses their authority, a mayor or governor would be more responsive to complaints than a distant federal government. 
States can also use the National Guard to supplement law enforcement during times of crisis. While not ideal, the Guard comprises part-time soldiers who often train with law enforcement and typically just play a supporting role.
President Trump's recent use of the National Guard was extraordinary, and now he threatens to use the Insurrection Act of 1807, allowing him to send active duty troops to states without permission from the governors. In 1807, concerns about a rogue militia led Congress to enact the Insurrection Act, and during the 1950s and '60s the act was used against Southern governors who believed they could disregard civil rights laws behind their National Guardsmen.   
Active duty troops would have taken the attack on unarmed protestors in Lafayette Square to a dangerous new level, and the Insurrection Act now hangs like a sword over governors and communities alike. What happens when our trust and respect for the military is gone? How much tear gas can civilians breathe before the military is no longer the defender of our country, but an occupying force? 
Congressional oversight hearings will not be sufficient; the PCA must either be strengthened or replaced. As I argued back in 2003, a new federal statute should be enacted that reaffirms our founding principles by defining the limits of the military's domestic authority and restoring the clear distinction between the military and law enforcement. Americans have a right to civilian law enforcement—one that can be enforced in court to dismiss prosecutions due to military involvement or improper police tactics and used as the basis for civil suits against the government. Alexander Hamilton warned of countries that destroy civil and political rights in the face of continual danger: "To be more safe, they at length become willing to run the risk of being less free."
God help us if President Trump, egged on by his supporters in Congress and cable television, begins using the military to do his bidding on domestic soil. His base may readily renounce liberty for safety; but like Caesar crossing the Rubicon, it will be a massive step toward destroying another great republic.