POV: Elect Joe Biden President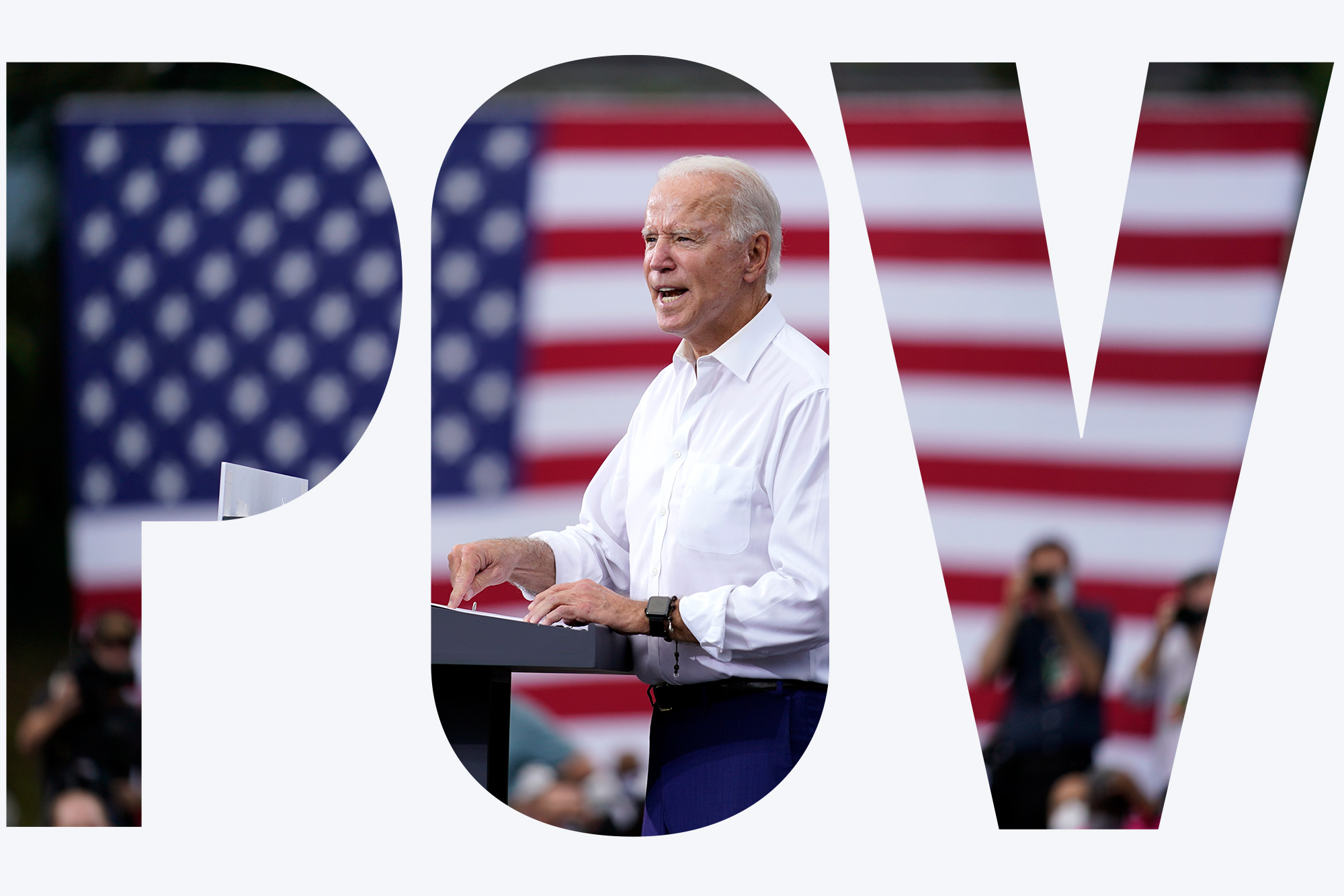 Voices & Opinion
POV: Elect Joe Biden President
Americans deserve a president who trusts the scientific community
Like many of my fellow students, former Vice President Joe Biden was not my first choice to be the Democratic Party's presidential nominee. When he announced his bid in the spring of 2019, I was a proud supporter of Senator Bernie Sanders (D-Vt.). That being said, this is not going to be about why I am disappointed Bernie lost the nomination…again. Instead, I want to address why I proudly cast my vote for Joe Biden.
Thinking back to the crowded debate stage during the primary season, it feels like a distant memory. It is fair to say we have all come a long way since then, and the ongoing pandemic has drastically altered how we live our daily lives. Although many of us have been able to restore some semblance of normalcy, there are many who are not so lucky. COVID-19 has pushed families into poverty, destroyed small businesses, and claimed the lives of more than 230,000 Americans.
The horror of the pandemic is nothing new. Whether you are reading the headlines or have been personally affected, the detrimental impacts of COVID-19 are hard to miss. Despite the lives lost and record unemployment claims, the Trump administration has failed to take sufficient action to protect the American people. The lack of action by the current administration throughout the pandemic frightens me. President Trump has downplayed science and the seriousness of this disease, failed to enforce a national mask mandate, and blatantly lied to the American people about the development of a vaccine. He has also taken no initiative to pass another relief package to aid small businesses and unemployed Americans.
I could continue to explain the failures of the current administration, but I think it is more important to explain why this country needs to elect Biden. At the bare minimum, the American people deserve a president who will trust the scientific community. The COVID-19 response plan outlined by the Biden campaign displays exactly the type of response we need, and frankly, should have had a long time ago. Biden's plan is grounded in science, not lies that are used to appease a candidate's voter base. If elected, Biden would finally implement a federal mask mandate and would heavily invest in making sure testing and treatment are widely accessible. Additionally, he would immediately implement a second relief package to help struggling families who are being ignored by the current administration.
The juxtaposition of Trump and Biden on policy regarding COVID-19 highlights the principal difference in the two campaigns. Trump has been in office for four years and we have seen him question the authority of the scientific community many times before. Flashback to the early days of his presidency when he withdrew the United States from the Paris climate accord. That moment was not only disappointing, but embarrassing for our country, an acknowledgment that this administration was unable to work with the international community. Even now, when nearly two-thirds of Americans support our nation taking the threat of climate change more seriously, Trump continues to boost the fossil fuel industry and roll back dozens of environmental protections.
Although Biden might not have been running on the Green New Deal, his climate policy platform is impressive and immensely preferable to the status quo. If Biden were elected, we would finally see large-scale investment into green energy and infrastructure like wind and solar power, high-speed trains, and electric car chargers. By reentering us in the Paris climate accord, Biden will amend the soiled foreign relations the Trump administration has created and establish our nation as a leader in the fight against climate change.
I am voting for Joe Biden because I am extremely confident his administration will be able to handle the ongoing pandemic and climate crisis with urgency and efficiency, but that is not the only reason. Despite the fact that he wasn't  the most progressive candidate in the primaries, his campaign is deeply committed to social justice. Whether that be supporting a woman's right to choice, police reform initiatives, or immigration policies such as DACA, I know that the Biden team has their heads on straight when it comes to upholding fundamental progressive values.
Politicians are not perfect. This means that even if Democrats win back the presidency, and possibly the Senate, there is still hard work to be done to make sure elected officials are held accountable. Political engagement is so much more than voting for a president every four years. We must all make a conscious effort to stay educated on issues that impact our communities and use that knowledge to volunteer, donate, and support organizations that are fighting year-round to protect the values we hold close to us.
CeCe Szkutak (CAS'22), president of BU College Democrats, can be reached at cszkutak@bu.edu.