POV: Tom Brady Leaving New England Patriots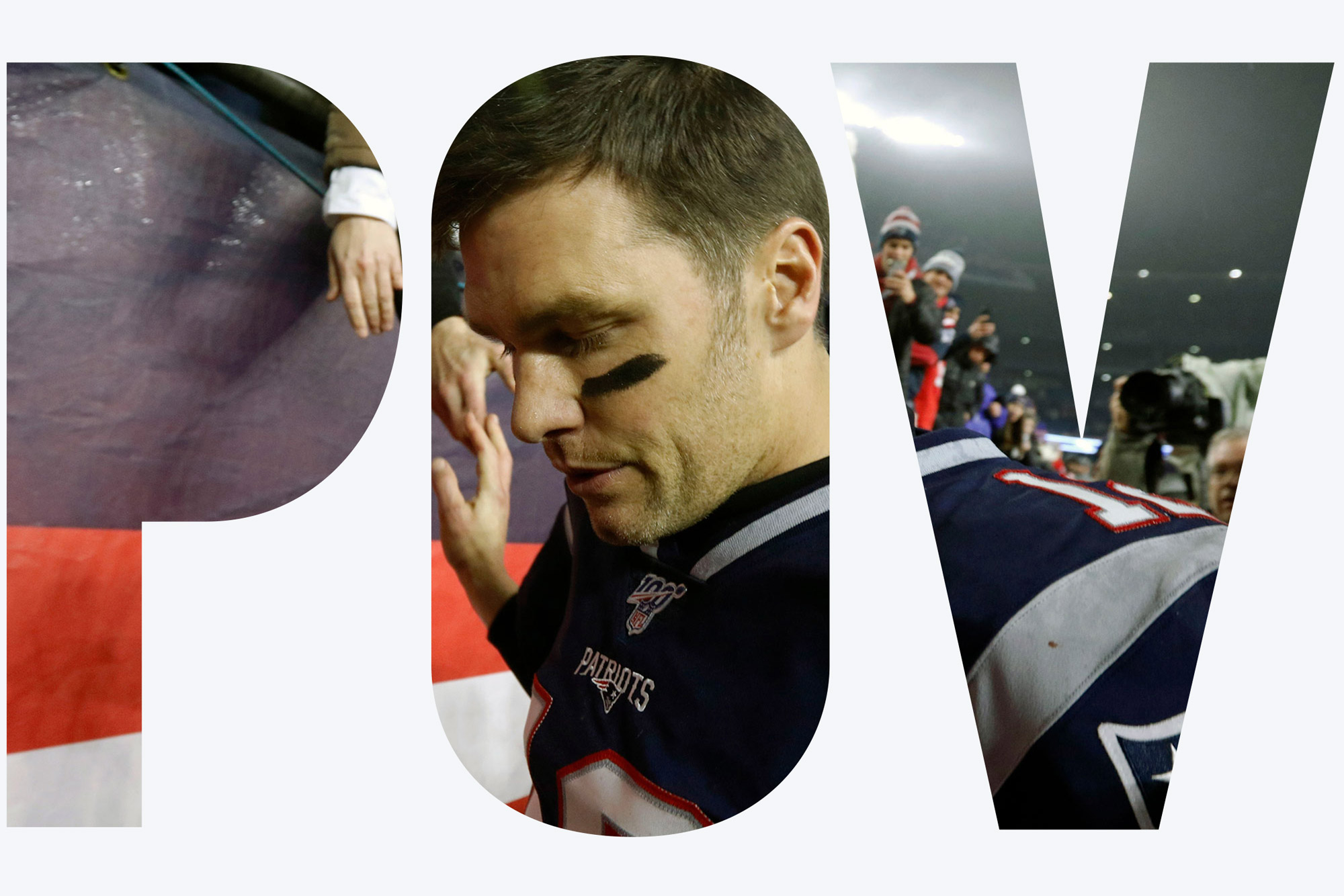 Voices & Opinion
POV: Tom Brady Leaves the Patriots, but His Legacy Stands Undiminished
Six championships highlight an amazing two decades for Boston sports
The word arrived this somber St. Patrick's Day with the thunderclap authority of a blindside block. Thomas Edward Patrick Brady, Jr.—a six-time Super Bowl champion and the only NFL quarterback to ever notch 200 wins during the regular season—announced he will no longer be donning the familiar Flying Elvis helmet for the New England Patriots. "I don't know what my football future holds," Brady tweeted to legions of heartbroken Pats followers, "but it is time for me to open a new stage for my life and career."

And what a magnificent career it has been.
From a lowly sixth-round choice in the 2000 NFL Draft to the winningest quarterback in professional football history, Tom Brady always defied expectations. Coming out of the University of Michigan, where he battled future major league baseball third baseman and Dallas Cowboys backup quarterback Drew Henson for starts, Brady seemed destined for a career outside the lines rather than inside. He was slow afoot with a throwing arm that did not conjure memories of Joe Namath or Johnny Unitas. "Looks a little frail and lacks great physical stature and strength," his draft report said. But there always was a hard-to-define quality about Brady that went beyond mere arm strength or an ability to finish the 40-yard dash in an acceptable time.

He had an abounding confidence and otherworldly ability to "move the chains." Future sports broadcaster and All-Pro cornerback Rodney Harrison, who played on two Super Bowl winners with Brady, noted that he's "very competitive. He wants to win." Indeed, down late in a game with the ball in his hands, you knew—just knew—that Brady would pull off the impossible and march his team down the field for the winning score. That was the case in Super Bowl XXXVI, when Brady—having assumed the Patriots' starting QB position over incumbent Drew Bledsoe during the regular schedule—made three clutch throws with one minute and 21 seconds remaining in a 17-17 tie against the high-flying St. Louis Rams to set up a game-winning field goal by teammate Adam Vinatieri. The victory marked the first championship in the Patriots' up-to-then woebegone history, with five more to come over the next 18 seasons. Fans will debate forever how much of the credit goes to Brady and how much to taciturn Patriots coach Bill Belichick.

But Brady was essential to every one of those titles. On the Mount Rushmore of all-time Boston sports greats, Brady is there along with Ted Williams, Bill Russell, and Bobby Orr. Of that select group, only Russell won more championships, with 11 rings in 13 seasons. Williams, of course, never won a single one, although his Red Sox came awfully close in 1946.

The other distinguishing fact is that only Russell and Williams stayed around to play their entire careers here. Orr ended his superlative Hockey Hall of Fame tenure with the Bruins under a sodden cloud of controversy, when the once-in-a-generation defenseman signed on as a free agent with the Chicago Black Hawks at the end of the 1976 season. "My years in Boston have been the greatest years in my life," he said in a tearful farewell statement. "It was a very, very difficult decision I had to make." Orr felt the Bruins organization had not paid him the proper respect in contentious contract negotiations. Sound familiar?

Unlike the perennial Stanley Cup–contending Bruins team Orr left, however, the Patriots team Brady is parting ways with is something of a mess. Possessing the oldest roster in the NFL, with a now-huge question mark at QB, the team might well be several years away from having Boston's famed Duck Boats haul them around town for another championship celebration.
Brady's departure, then, should be seen as the end of an era—a winning era, where he made the Patriots and the sport of professional football itself relevant in the six-state region. Before Brady, the Pats were a joke ("the Patsies") and an afterthought in a town dominated by the Red Sox, Celtics, and Bruins. Brady is largely responsible for turning that local sports pecking order on its head by his otherworldly play in the pocket, which produced an NFL career-leading 74, 571 passing yards as of 2019. His run with the Pats was the longest and strongest in an astonishing 20 years for Boston sports, which saw the Red Sox win four World Series, as well as a championship each for the Bruins and Celtics.

He was not perfect, of course. He will always have to contend with the lingering stain of the "Deflategate" controversy, in which Brady allegedly cheated in a 2014 playoff game against the Indianapolis Colts by supervising Patriots support staff members in deflating footballs used in play. NFL commissioner Roger Goodell handed him a four-game suspension as punishment, and Brady's reputation has never recovered. His name now invokes as many boos as it does cheers around football stadiums outside of New England.

Still, Babe Ruth was no angel either. And we continue to celebrate the Sultan of Swat as a truly transcendent athletic figure. I suspect the same fate will await the GOAT (Greatest of All Time) wherever he plays next, long after he has thrown his last pass and is enshrined in the hallowed halls of Canton.

Oh, say it ain't so, Tom!

"POV" is an opinion page that provides timely commentaries from students, faculty, and staff on a variety of issues: on-campus, local, state, national, or international. Anyone interested in submitting a piece, which should be about 700 words long, should contact John O'Rourke at orourkej@bu.edu. BU Today reserves the right to reject or edit submissions. The views expressed are solely those of the author and are not intended to represent the views of Boston University.