Photos of Life Before the Pandemic and Now, Our New Normal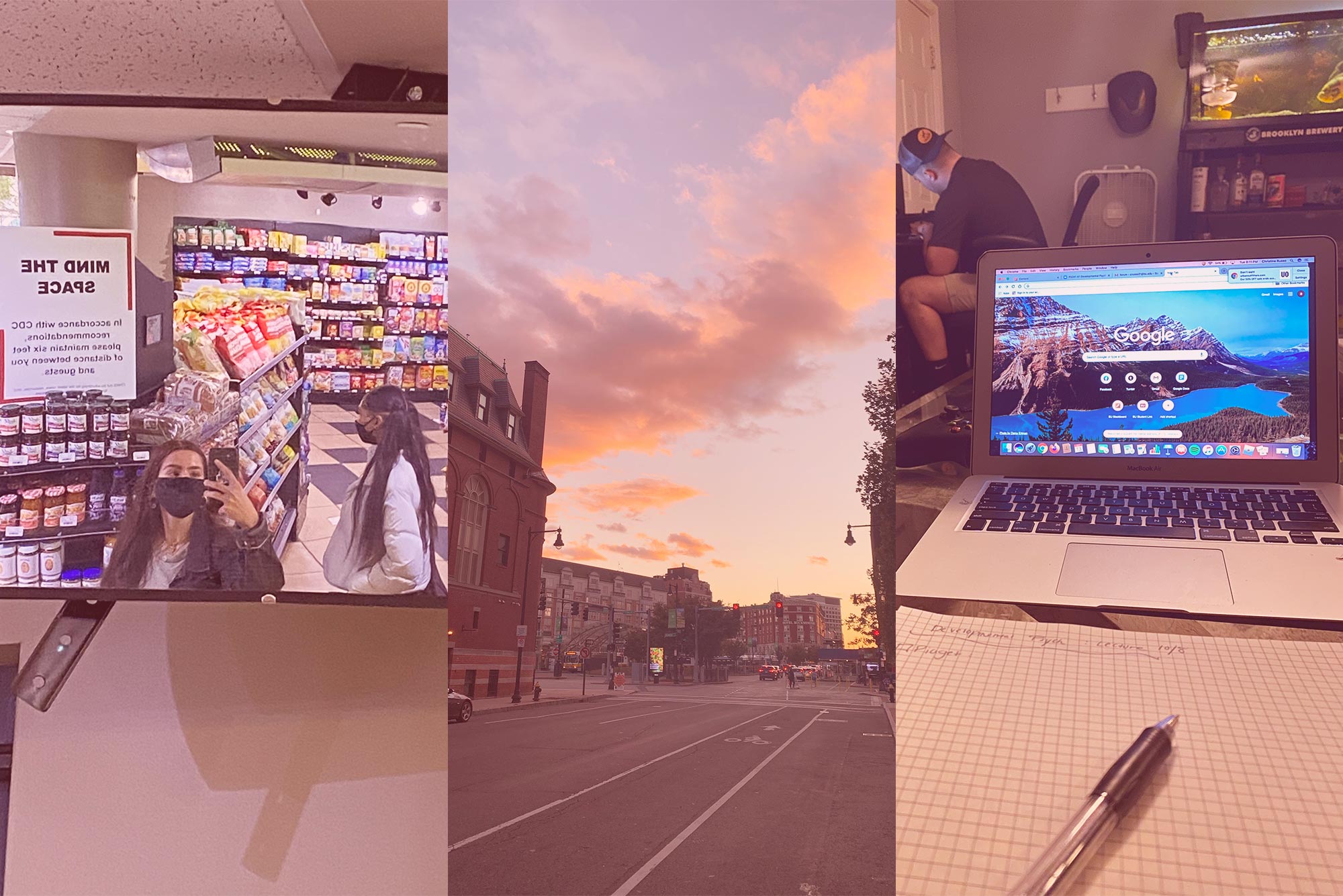 Student Voices
Photos of Life Before the Pandemic and Now, Our New Normal
BU lecturer Amina Shabani helps students find beauty in the mundane
A few weeks before the 2020 spring break, Amina Shabani assigned the students in her Spanish Language through Film and New Media class a photography project that challenged them to capture an ordinary moment. Little did they know that their photos of seemingly mundane moments, like friends gathering for study breaks, busy grocery stores, and students crowding the T platform, all captured before the coronavirus pandemic swept the country, would hold a greater significance.
Shabani, a College of Arts & Sciences lecturer in Spanish, titled the project Sense of Place. She was inspired, she says, by the themes in the songs of singer-songwriter Carrie Newcomer. She first came upon the artist when she lived in Bloomington, Ind., Newcomer's hometown. The two of them ran in similar circles there, had a number of mutual friends, and shared a love for gardening.
"She always says how there is something extraordinary and sacred in ordinary life," Shabani says. "Some of her songs are just about a jar of tomatoes and how there's something special about it, just like those small moments."
After moving from Indiana to Boston to teach at BU three years ago, Shabani decided to bring that theme of ordinary life into her classroom. Students in the Spanish Language through Film and New Media class typically watch 12 movies a semester, with a two-week mid semester pause for class discussions. Last spring, she changed it up and introduced the Sense of Place photography project.
Shabani says she was blown away by the photos and struck by how eager the students were to present and that those usually reluctant to share in front of the class did so with ease.
One of her favorite parts was how the outcome and creativity of the project rested entirely on her students, she says, and that it shifted the attention from her to them. She looked for a way to showcase the students' photos, but her plans were halted when COVID-19 prevented students from returning to campus after spring break.
Suddenly, the photos of mundane sights like crowded grocery stores with people wandering without masks and groups of students huddled in the library and the GSU became reminders of a lost sense of normalcy.
"A lot of them loved the project, but I think once the pandemic hit, there was a lot of sadness—I still feel quite sad when I look at these pictures," Shabani says. "Like, someone who had just taken a picture of their sofa, well, they had to leave; someone who was in their dorm room, they had to leave."
Shabani assigned the project again this fall and was again impressed with the results.
"I was really curious to see my classmates' work. I was thinking with the pandemic and everything, it would be hard to come up with a sense of place—we're all in our rooms, all in our in houses and dorms," says Bridgette Lang (CAS'23), one of the students in this semester's class. "So I was originally excited to see how we can be creative during such a weird and difficult time when we can't get out into the real world."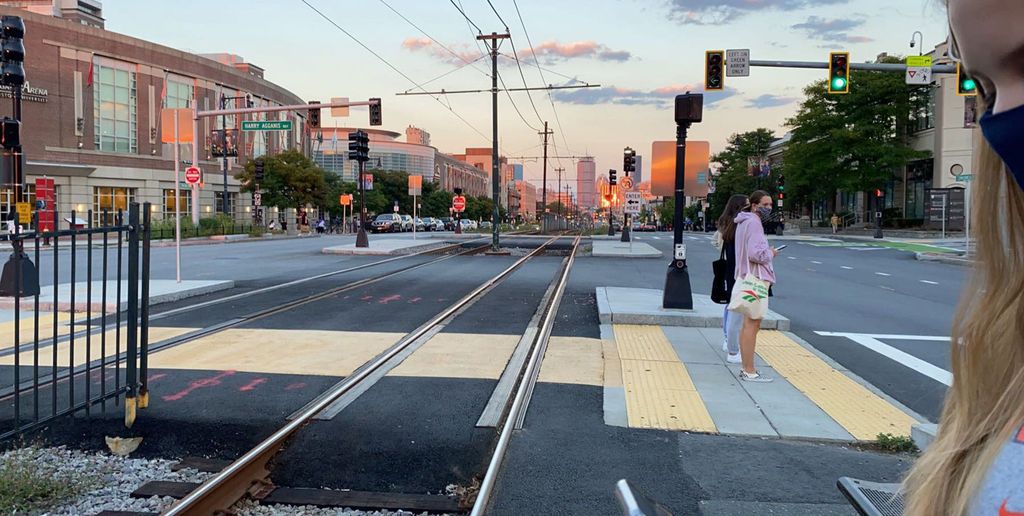 While the photos were significantly different from the spring, Shabani says, they too have their own beauty, and like in the spring, nature was a prominent theme.
"A lot of us talked about how we're in front of a screen all the time and that nature—like going outside or even just going on a balcony or something—is a way to detach from technology," says Aliya Zaidi (CAS'24), who is also taking Shabani's class this semester.
One of Zaidi's photos showcased her guitar and some sunflowers. She says that looking at the photo now reminds her of the transition from summer to fall and all the work she has accomplished in her room. Furthermore, she enjoyed looking at photos from classmates around the world.
"I thought it was really interesting, especially since we're not all on campus right now," she says. "One of my classmates in Puerto Rico took a picture of the sunset and palm trees. I'm in New Jersey right now, so my pictures are from New Jersey, and then we had pictures of the campus in Boston. So I just thought that was all really cool."
In addition to nature, many students submitted photos of technology. Laptops with screens open to Zoom calls and notetaking and streaming websites were common subjects.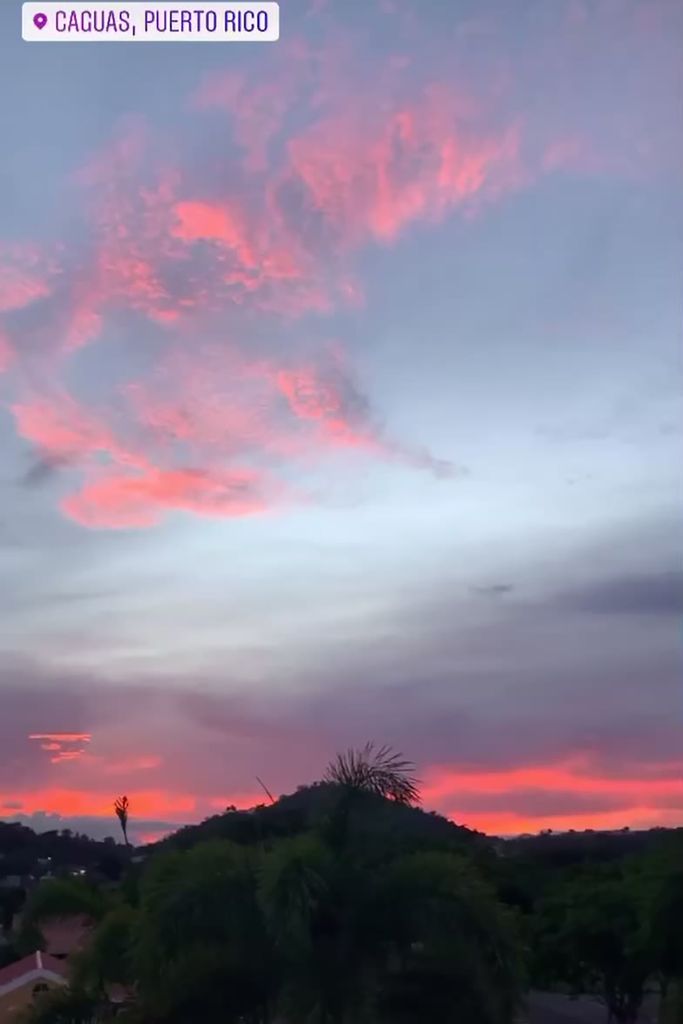 "The photos are very descriptive of what's going on right now," says Lang. "We do spend a lot of our time online, and we're trying to find ways to escape [the constant use of technology]. So I think that the class' photos really show the dichotomy of how we're living right now."
Lang submitted a photo of a sunset from outside of Myles Standish Hall. She says it was a peaceful moment and that prompted her to capture it with a photo. When she looks at it now, she says, it reminds her of her time in Boston (she's currently back home), the oddity of the Learn from Anywhere (LfA) semester, and her connection with nature despite being in an urban setting.
Emily Scheffler (CAS'24) photographed a sunset while waiting for the T. She says that seeing it now reminds her of the time she spent in Boston and her excitement for the semester ahead. The project as a whole, she says, was especially impactful.
"I think my biggest takeaway was that sometimes we don't take a minute and appreciate all the little things in life," Scheffler says. "I think that there's always something if we just look deeper into an ordinary moment."
Shabani plans to incorporate the project in her upcoming courses as well as brainstorm ways to include more projects that allow students to express creativity and individual interpretation.
"With the pandemic, it made me appreciate things so much more," she says. "Now I understand even better what the singer Carrie Newcomer [meant when she] said that there is something sacred and extraordinary about ordinary times."