Photos of Obama, Reagan by Pete Souza (COM'76) on Display at Thurman Center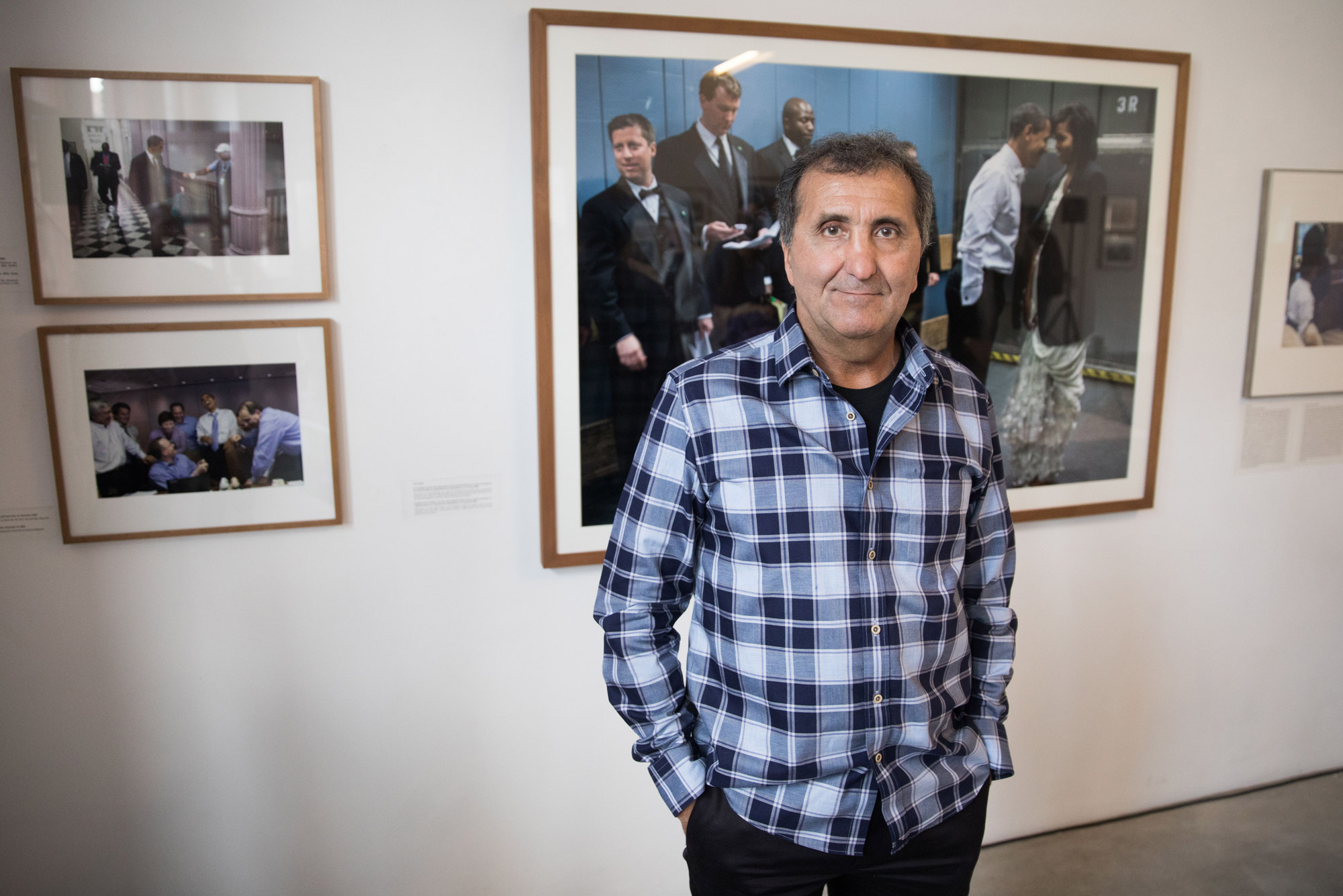 Photography
Photo Exhibition of Presidents Reagan and Obama at the Newly Expanded Thurman Center
Alum Pete Souza's photos on display at 808 Comm Ave
It's pretty well known that Pete Souza was President Barack Obama's chief official White House photographer, and his coffee-table book Obama: An Intimate Portrait (Little, Brown, 2017) debuted at number one on the New York Times best-seller list. But what most people don't remember is that Souza was also an official White House photographer for President Ronald Reagan.

The exhibition Two Presidents, One Photographer, now at the new and expanded Howard Thurman Center for Common Ground, showcases more than 50 photographs of two presidents from opposite ends of the political spectrum, all by Souza (COM'76), who began his career as a photojournalist.

"Both of these presidents were decent human beings. Take it from someone who spent thousands of hours observing them in public and private," says Souza, who also had a best seller with Shade: A Tale of Two Presidents (Little, Brown, 2018), contrasting Obama and his successor as president, Donald Trump.

---

Through his photos, Pete lets us into public and private moments that allow us to better understand Obama and Reagan and see them not only as presidents, but as people.

---
"This exhibition will show how Pete Souza, White House photographer for two presidents of different political ideologies and parties, has juxtaposed events and moments that Presidents Obama and Reagan both faced as chief executive," says Katherine Kennedy, director of the Thurman Center. "We are honored that such an accomplished alumnus felt it was fitting that this exhibition showcasing two very different leaders would fit within the mission and work of the center.

"At the HTC, students are united in their desire to learn about themselves and one another and come alive in pursuit of greater understanding," Kennedy says. "Through his photos, Pete lets us into public and private moments that allow us to better understand Obama and Reagan and see them not only as presidents, but as people."

Below are samples from the exhibition, with Souza's text; all photos by Pete Souza.
---

The exhibition includes several diptychs where Souza shows the two presidents in similar situations, even similar poses. For example, one captures light cinematic moments of the First Couples:
February 26, 1986: The Reagans watch a movie during a taping for a television special with Barbara Walters in the Family Theater of the White House. I recall this is the moment just after the First Lady said, "I can't see over Pete's head."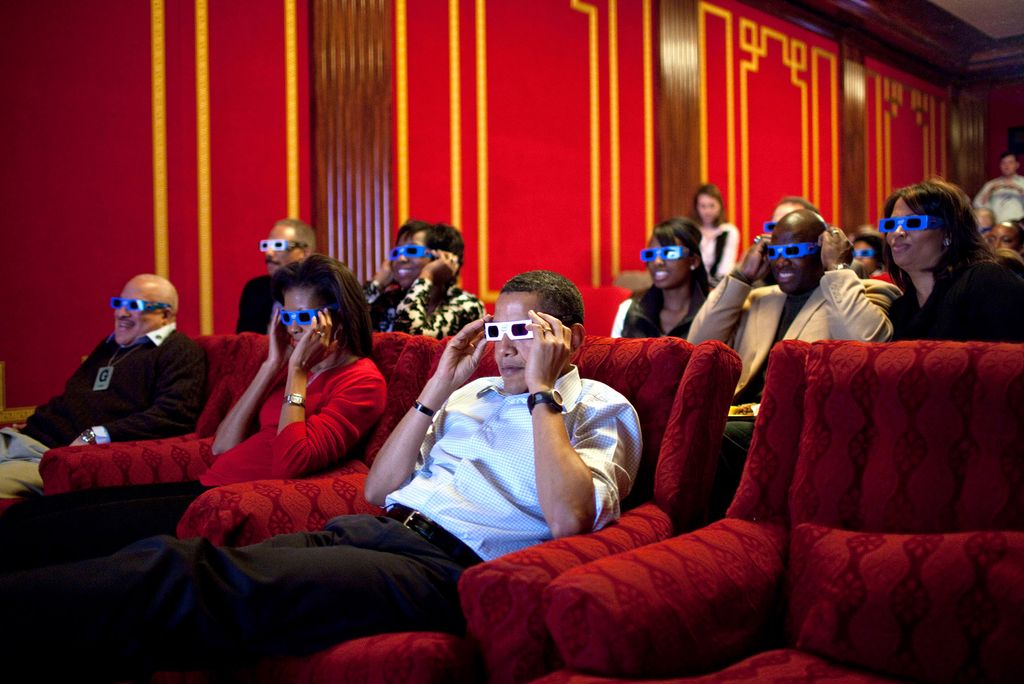 February 1, 2009: The Obamas and their guests don 3D glasses while watching a Super Bowl commercial in the Family Theater of the White House. The President evidently put them on backwards.
Many other photos stand alone, but it's not hard to see similarities and contrasts between the two presidents.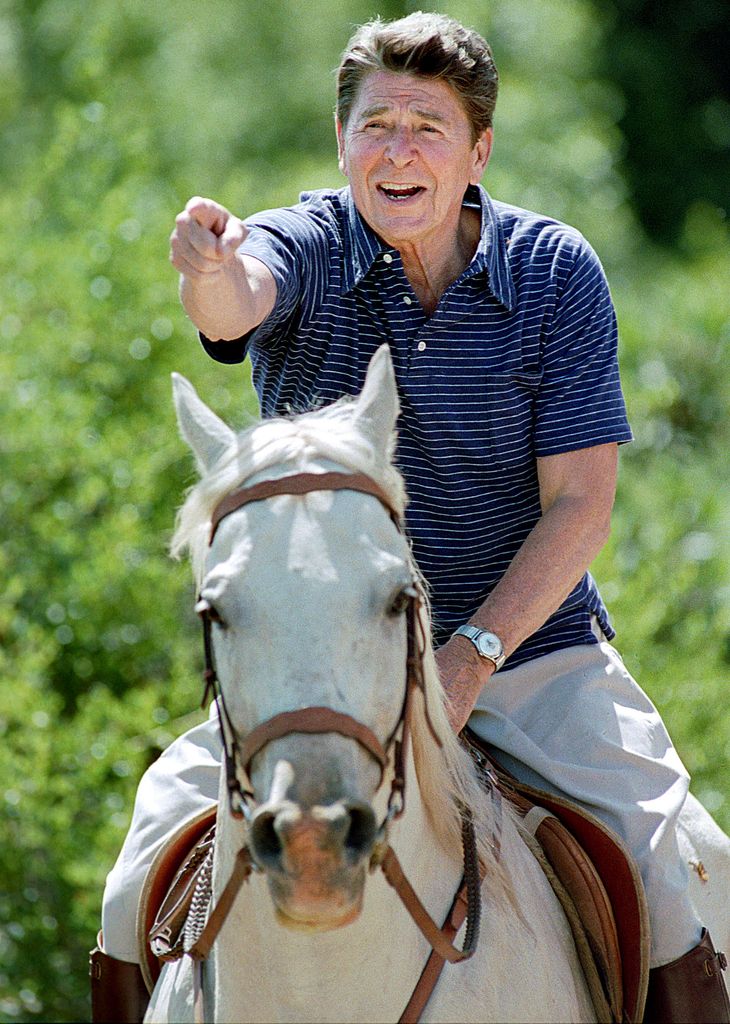 July 3, 1983: I had just joined the White House staff the previous month and accompanied the Reagans to California for the July 4th holiday. The White House staff would stay in Santa Barbara when the President was at Rancho del Cielo, about a 45-minute drive away. I made this picture the very first time that I went to the ranch as he was riding his horse, El Alamein, one morning. The President didn't really know who I was yet, but he spotted me out on the trail with a long lens, and responded by yelling, "Charge!" He was, of course, just horsing around.
June 9, 2011: President Obama greets children at a day care facility adjacent to daughter Sasha's school in Bethesda, Maryland, following her 4th grade closing ceremony. After the 2017 violent white nationalist rally in Charlottesville, Virginia, the now former President Obama tweeted out this picture with a quote from Martin Luther King, Jr.: "No one is born hating another person because of the color of his skin or his background or his religion…" It became the most liked Tweet in history.

October 12, 1986: Soviet leader Mikhail Gorbachev escorts President Reagan to his motorcade following the break-up of their summit meeting in Reykjavík, Iceland. The previous year, the two had a cordial first meeting in Geneva, Switzerland. In Iceland, the two leaders were on the brink of a major agreement to eliminate nuclear missiles within a decade. Gorbachev insisted that Reagan agree to confine to the laboratory research on the Strategic Defense Initiative—essentially a shield in the atmosphere to stop nuclear missiles. The two-day meeting ended abruptly when Reagan refused to budge. I was the only staff member within earshot when the two had a few last words at the doorway of the presidential limousine. "I don't know what else I could have done," Gorbachev said through his interpreter. "You could have said 'yes'," Reagan replied angrily, then turned and boarded his limousine.

Two Presidents, One Photographer is on display at the Howard Thurman Center for Common Ground Gallery, 808 Commonwealth Ave., second floor, through June 15; it is open to all during the center's hours: Monday to Thursday, 9 am to 9 pm, Friday, 9 am to 7 pm, closed weekends. For more information, email thurman@bu.edu or call 617-353-4745.