New Scholarships Honor Two Consequential Women at School of Theology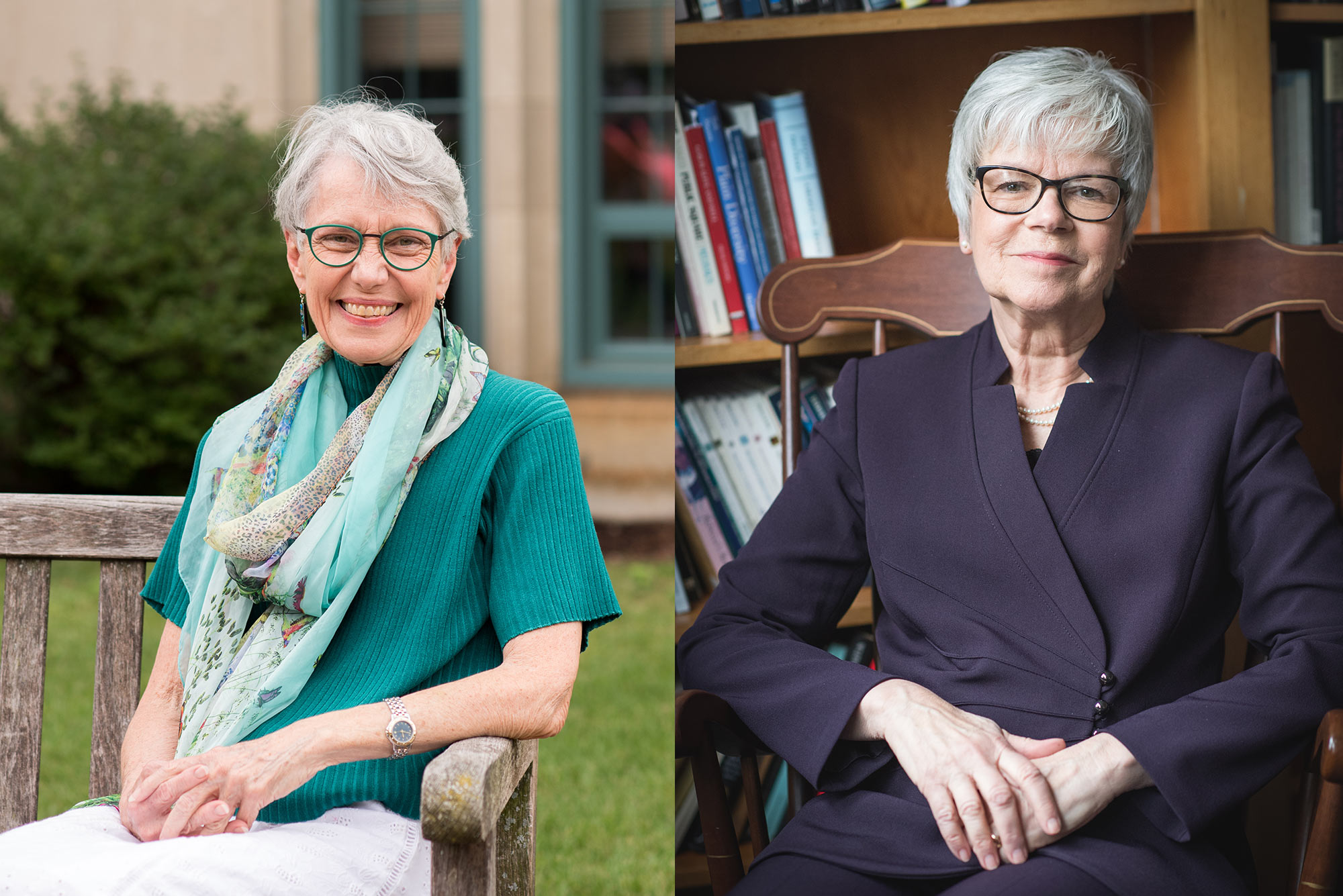 Accolades
New Scholarships Honor Two Consequential Women at School of Theology
Mary Elizabeth Moore, retiring as dean, and Nancy Ammerman, sociology of religion professor emerita, retired in 2018
Mary Elizabeth Moore, retiring as School of Theology dean this spring, made institutional history as STH's first woman leader. Nancy Ammerman, who retired as an STH and a College of Arts & Sciences professor two years ago, is a renowned sociologist of religious congregations and one of the scholars recruited to review the deadly 1993 federal assault on the Branch Davidian religious group in Waco, Tex.
Having inspired and mentored women and others traditionally underrepresented in their area of study or chosen vocation, the two will continue that legacy. STH is honoring them with two new scholarships targeted to students pursuing gender equity.
For Moore, it's a case of turnabout being fair play. She pushed for the creation of the Dr. Nancy T. Ammerman Gender Equity Leadership Fund; STH faculty in turn led in creating the Dean Mary Elizabeth Moore Fellowship Fund.
"Our students are smart, curious, compassionate, centered, and determined to change the world," Moore says. "I have been privileged to work with them for almost 12 years, and I am grateful that this new scholarship will support their religious, intellectual, and public leadership in perpetuity. They will be prophets and pioneers. That is a breathtaking legacy gift, and I am extraordinarily grateful."

Ammerman, now a professor emerita of sociology of religion, was on the BU faculty for 15 years before she retired. "My years of teaching at STH were filled with brilliant young, and not so young, women and others who were finding their voice and honing the skills that would make them great leaders in religious communities and beyond," she says. "I am thrilled to endorse this effort to support future leaders whose gender has historically been underrepresented and who pass through the halls of this amazing school."

Funded largely by alumni, faculty, staff, students, and friends, each scholarship aims to raise $100,000 for its beneficiaries. The Moore Fund already has about $102,000 in gifts and pledges, while the Ammerman Fund has about $10,000, says Ray Joyce (Questrom'91), STH assistant dean of development and alumni relations.
Once each fund reaches $100,000 in gifts-in-hand (not pledges), there will be a six-month waiting period, after which the fund will be available for distribution to students, Joyce says.
In the guidelines for the Moore fund, the dean is lauded as "a leader, role model, and mentor for a diverse array of students, especially including women, who have historically been underrepresented in the theological academy, religious institutions, and leadership positions in the wider society."

The scholarships will be awarded to STH master's students "who are committed to the empowerment of women in the theological academy, religious institutions, or wider society." Recipients must maintain at least a 2.7 grade point average.

The Ammerman Fund will award scholarships to women students, a student whose gender has historically been underrepresented in their area of study or chosen vocation, or a student whose area of study is focused on supporting a gender that has historically been underrepresented in that field of study, per the terms of the gift.

The fund also will cover costs of leadership-training events, such as conferences, for recipients who meet similar guidelines or whose study is "focused on supporting a gender that has been historically underrepresented in that field of study."