New Ghost Bike, and Finished Bike Lanes, Honor BU Student Killed in 2012 Crash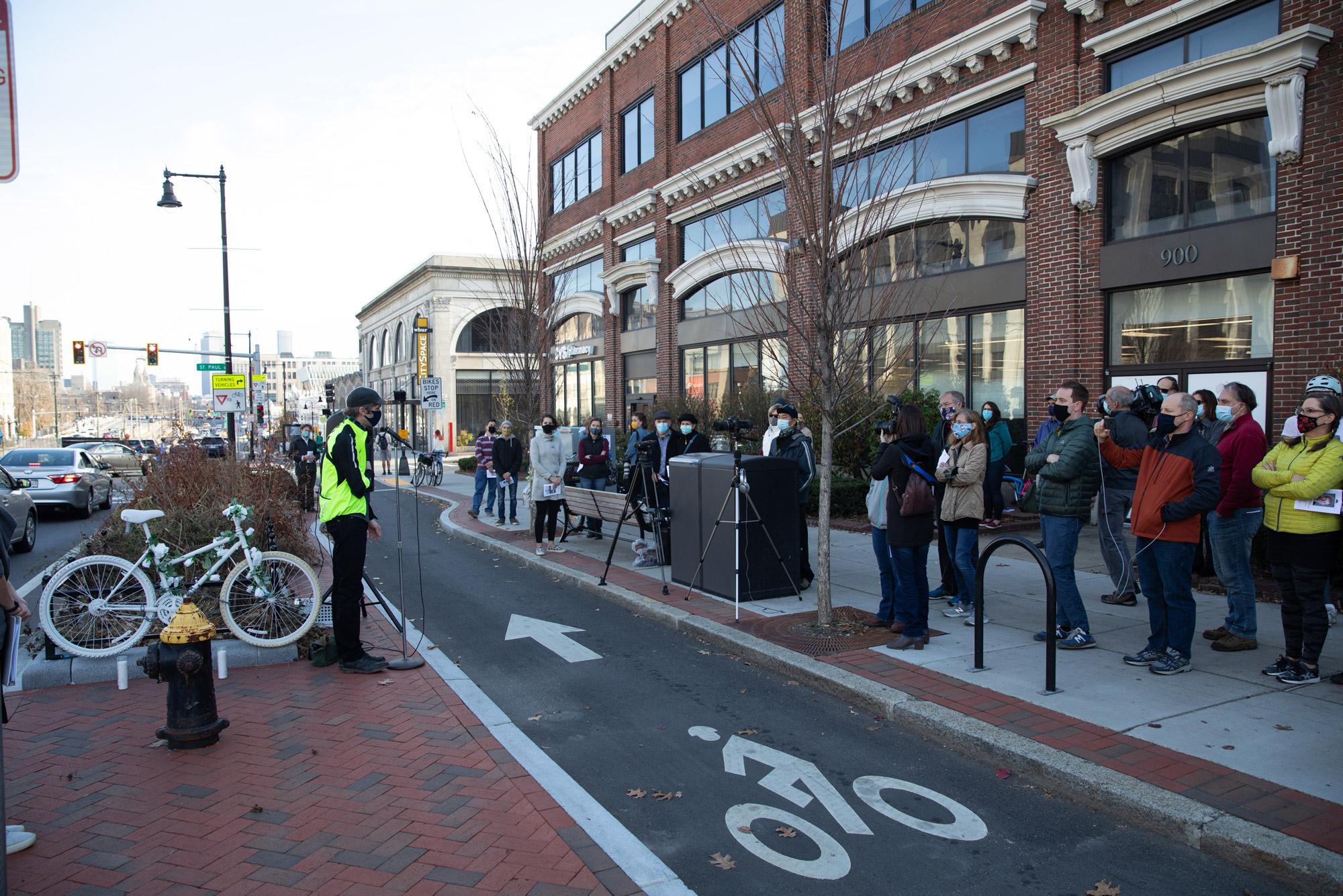 University News
New Ghost Bike, and Finished Bike Lanes, Honor BU Student Killed in 2012 Crash
With cycle tracks complete on Comm Ave, the memory of Christopher Weigl (COM'13) lives on in the safety of other cyclists
Eight years after 23-year-old Boston University graduate student Christopher Weigl was killed in a collision with a tractor-trailer while riding his bicycle down Commonwealth Avenue, his death has been marked in two ways—one temporary, but another that will live on permanently.
On November 21, a bicycle painted white was placed on the southern corner of Comm Ave and St. Paul Street, at the heart of BU's Charles River Campus. The "ghost bike," as such bicycles are called, honors the memory of Weigl, who died on December 6, 2012. The ceremony was officiated by Rev. Lindsay Popperson (STH'15), and a gathering of family, friends, Weigl's former professors, city officials and representatives, and bicycle advocates filled the sidewalk. Across from where they stood, cyclists pedaled past on the now buffered bicycle lanes, called cycle tracks, on Commonwealth Avenue.
"I'm sure they felt a little self-conscious passing through the ceremony," says Dustin Weigl, Christopher's brother, who attended the ceremony virtually from the phone of one of the family's friends. "But I think that illustrates how far that road has come."
When the accident happened, there were no cycle tracks. Typically, a ghost bike is put in place not only to remember someone who lost their life, but also in cities all over the world as a way to sometimes warn cyclists about a dangerous intersection. This ghost bike, however, represents the tremendous advocacy that unfolded in the eight years since Weigl's death and has led to the enormous changes that made the roadway safer, according to bicycle advocate Galen Mook, who helped organize the ceremony.
"This was a good showcase of what's possible with advocacy," says Mook (UNI'09), executive director of MassBike and founder of Boston University student bike advocacy organization BU Bikes. MassBike started a memorial fund in Christopher's name. Mook had been holding on to the ghost bike ever since it had to be moved for roadside construction over four years ago.
"This was a celebration of Christopher's life," Mook says.
The accident in 2012 sent shock waves and sadness throughout the BU campus. And those who were there remember the devastation, the loss, the grief. Weigl was the second BU student in less than a month who was killed bicycling that year. The crash led to an outpouring of activism that helped push the city of Boston and Boston University to transform the particularly dangerous section of Commonwealth Avenue, between the BU Bridge and Packard's Corner, along which the crash occurred.
"I remember the day that it happened," says Kenneth Elmore (Wheelock'87), BU associate provost and dean of students, who attended the ghost bike ceremony. "I thought it was important for me to be there to show the family love and respect. And it gave me a chance to reflect on how much has changed on that corner of Commonwealth Ave."
The cycle tracks are part of the Commonwealth Avenue Phase 2 project that wrapped up earlier this year. The long-awaited improvements were finished at a time when demand for bikes is at an all-time high due to the COVID-19 pandemic, and people are embracing any alternative to public transportation to get around, from walking to biking to scootering. The bike-share program Bluebikes has also led to more bicycle riding by people who otherwise might not be pedaling.
The one-way lanes on each side of Commonwealth Avenue provide cyclists with a cement buffer between them and ongoing traffic, and parked cars along the side of the road to avoid doors swinging open in front of cyclists. The city first unveiled the plan in March 2015, and by June 2016 state transportation authorities approved a $20.4 million reconstruction of Commonwealth Avenue that included the protected cycle tracks.
"The improvements of the Commonwealth Avenue Phase 2 project from the area west of the BU Bridge to Packard's Corner were the result of a very successful public-private partnership," says Michael Donovan, vice president for campus planning and operations. As part of the close collaboration with the Massachusetts Department of Transportation, the city of Boston, and the state's civil engineering firm, the University funded the design costs associated with the project.
"It was something the community and the University wanted," Donovan says. Ultimately, the reconstruction led to improvements for all road users, not just cyclists, he says, with enhancements to the sidewalk areas, plantings, and seating spaces.
"Boston and Cambridge have bicycle network plans that have been moving pretty slowly," says Dustin Weigl, who graduated from MIT last year and is now a transportation researcher. "And the critical piece is being able to complete that network."
About a year after his brother's fatal accident, Weigl spoke at the Massachusetts State House to advocate for requiring side guards on trucks, a proven way to make crashes less deadly. The bill is still held up in the State House, he says, likely because of large up-front costs for the trucking companies.
Boston has long been known for its perilous traffic. If you have ever ridden a bike down the winding streets of Boston with no barrier between yourself and traffic—often sandwiched between moving cars and parked cars whose doors can swing open at any moment, while frequently getting honked at by an impatient driver—then you're likely familiar with the anxieties associated with city cycling. When Mook was a student in 2003, there were no bike lanes on Commonwealth Avenue. Even in 2012, separated physical protection for cyclists was not a part of the conversation, but now it "is very much front and center when we're talking about redesigning streets," he says.
"A number of our students played such a role in advocating and bringing us all along to greater bike safety," says Elmore, and he gives a lot of credit to Mook, as well as to the Weigl family. He encourages BU's cyclists to still be watchful and careful even with a protected cycle track, and to pick up a helmet at BU's Parking & Transportation Services office if they don't have one.
"There are a lot more cyclists now," says Mook. "We are seeing an uptick in serious crashes in 2020; we're finding that may be because of increased speeding" as a result of emptier roads during the COVID-19 pandemic. According to Massachusetts Vision Zero Coalition, there have been eight bike fatalities in 2020 in the Bay State, up two from the previous year.
A couple of years after the 2012 crash, Mook asked Boston Mayor Martin Walsh to go for a bike ride with him through Boston, a ride the mayor called eye-opening. In the years since, and after more pressure from the biking community, the city has declared 2030 the goal for improving already existing bike lanes, as well as redoing streets and roads to make them safer, more accessible, and better connected. And although there has been tremendous progress, Mook says there are many neighborhoods in need of safer infrastructure.
"This level of safety on Commonwealth Ave needs to be provided on every street, on every intersection, on every corner, so that everybody feels safe," Mook says. "And that needs to happen before we lose more lives out there."