National Book Award Winner Sigrid Nunez Explores Life, Death, and Empathy in New Novel
Books
National Book Award Winner Sigrid Nunez Explores Life, Death, and Empathy in New Novel
CAS lecturer's What Are You Going Through is a meditation on the power of friendship
In her best-selling 2018 novel The Friend, Sigrid Nunez wrote movingly about a middle-aged female writer mourning the death by suicide of a close friend and how the unexpected companion she inherits—a Great Dane named Apollo—helps them both through their mutual grief. That novel—Nunez's sixth—won one of the nation's top literary prizes, the National Book Award.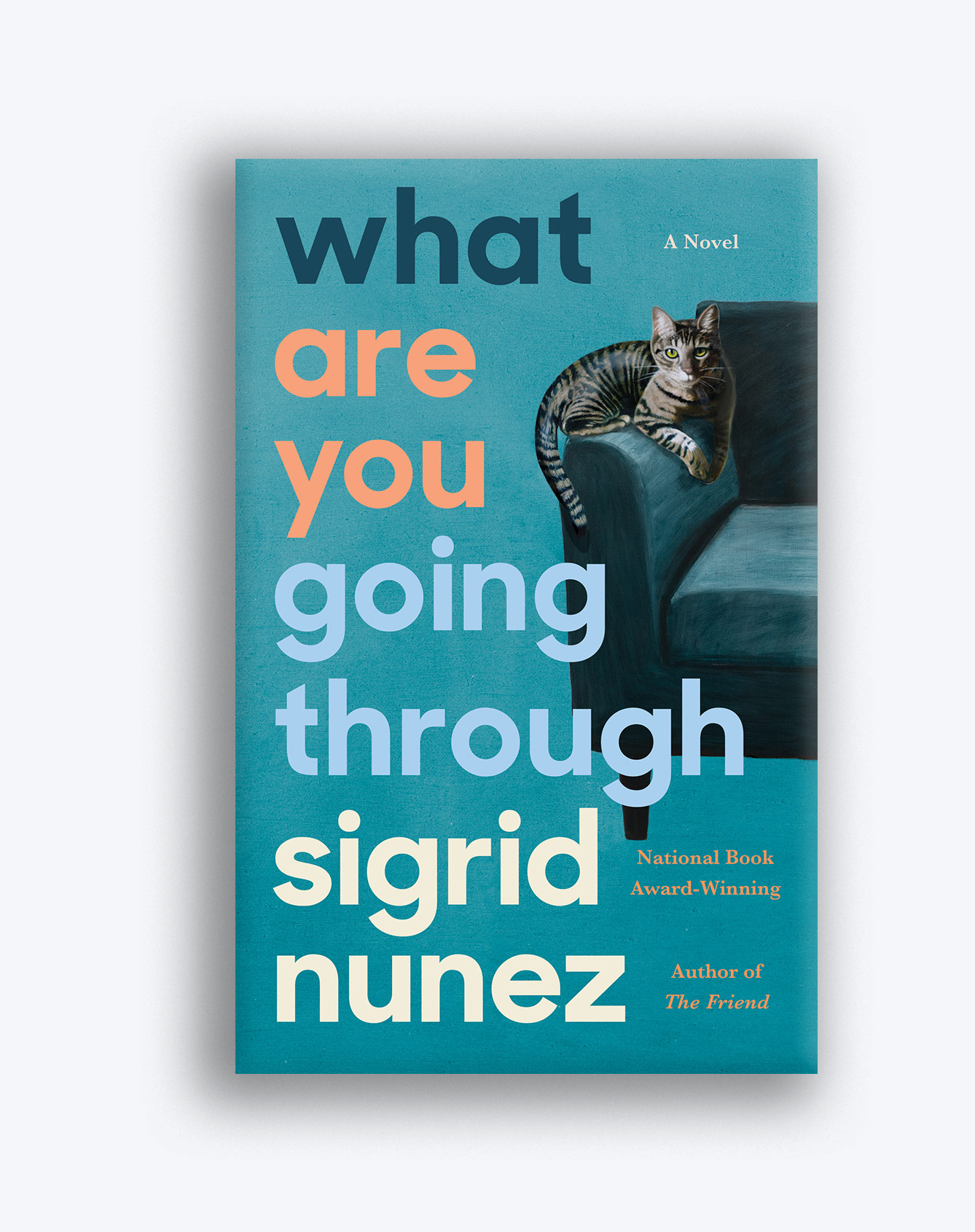 The new book by the College of Arts & Sciences creative writing lecturer, What Are You Going Through (Riverhead Books, 2020), is equally elegiac and empathetic in tone. As in The Friend, the narrator is an unnamed female writer of a certain age. And once again, death and loss figure prominently. The novel begins as the writer ruminates on a series of encounters with those around her—a doomsday writer whose lecture she attends, an overheard conversation between a father and his aggrieved daughter, an elderly, once beautiful woman acquaintance, even a talking cat named Booger. But the novel takes on a sense of urgency when a longtime friend asks the narrator to be with her as she battles terminal cancer and prepares to end her life. "Cancer can't get me if I get me first," she says.
What follows is a moving meditation on the importance of human connection, the ways we help one another through the worst moments of our lives. And the book tackles some big questions: how do we choose to die, how do we come to terms with difficult relationships at the end of our life, how much are we willing to forgive, and what efforts will we go to in order to help someone as they face the end of their life? While frequently sad, What Are You Going Through is also mordantly funny, particularly the shrewd bon mots tossed off by the dying friend. The novel also has a lot to say about growing old, particularly if you're a woman. At one point, the narrator observes: "No matter how hard we try to put the most important things into words, it is always like toe-dancing in clogs."
BU Today spoke with Nunez about her inspiration for the novel, her decision to leave the characters unnamed, and how winning the National Book Award changed her life.
BU Today:
How did the idea for your new novel come about?
Sigrid Nunez: I simply started with the first sentence, which came to me one day when I was out walking: "I went to hear a man give a talk." And I went on from there. Who is "I"? What man? Where was this talk? What was the talk about? And so on.
BU Today:
Here, as in your last novel, The Friend, the characters are unnamed. Can you talk about your decision to do that?
Sigrid Nunez: In writing these particular books, I discovered that the characters felt more real if they were not given names. As one reviewer said about the two main characters in What Are You Going Through, they don't need to be introduced. They just are. That's what I was after.
BU Today:
The narrator here bears striking similarities to The Friend's narrator. Do you see these as companion novels, since both deal with loss and grief?
Sigrid Nunez: It was only after I finished writing What Are You Going Through that I saw how much alike the two narrators are. It's the same narrative voice in each book, and the women have the same sensibility, the same way of looking at the world. I would say that What Are You Going Through, though not intended as a sequel, came out of The Friend, and that the two novels are in conversation with each other.
BU Today:
In the book, a woman agrees to a friend's request to stay with her for the time she has left, knowing she plans to end her life before the illness becomes too debilitating. Have you thought about what you would do if a friend made a similar request of you?
Sigrid Nunez: I'm not sure how I would respond to such a request in real life, but writing the book was my way of imagining what it might be like to take on such a huge responsibility and to go through such an "adventure," to use the dying friend's word.
BU Today:
The book is at times heartbreaking, but it's also very funny. Can you talk about the role humor plays?
Sigrid Nunez: I can't imagine writing a novel that didn't include any humor. Humor is a big part of life, and if it's not included, it feels as though something essential has been left out. Even tragic experiences usually contain some comic elements. Just think of all the hilarious things that have gone viral during the pandemic.
BU Today:
What Are You Going Through also has some pointed things to say about aging and what that's like for women, in particular. What about that subject interests you as a writer?
Sigrid Nunez: Everything. Aging is one of life's major experiences, after all, so how could it not be interesting and worth thinking about and worth writing about? And since I'm a woman, naturally it's how aging affects women and how our society treats women after they pass a certain age that interests me in particular. There's a lot about aging that could hardly be called good news, but as a subject for fiction, it's rich.
BU Today:
I can't let you go without talking about Booger, the cat that appears briefly in the novel. At what point did you know the novel would include a talking cat?
Sigrid Nunez: I didn't know until I reached that point in the novel. The narrator is away from home, staying at an Airbnb. The host's cat enters the room and jumps on the bed with the narrator, who is about to fall asleep. She hears the cat speak—or perhaps she only dreams that it does.
BU Today:
You were well into writing this novel when you won the National Book Award for The Friend. Has the award and the attention it brought changed your life at all?
Sigrid Nunez: It's made me busier, in that I now receive many more invitations to do readings and that sort of thing than I did before. Also, before I received the award my work had been translated into seven languages. Now it's up to 25 languages. But nothing about the way I write or the way I think about writing has changed.