ENG's Muhammad Zaman on the Growing Dangers of Antibiotic Resistance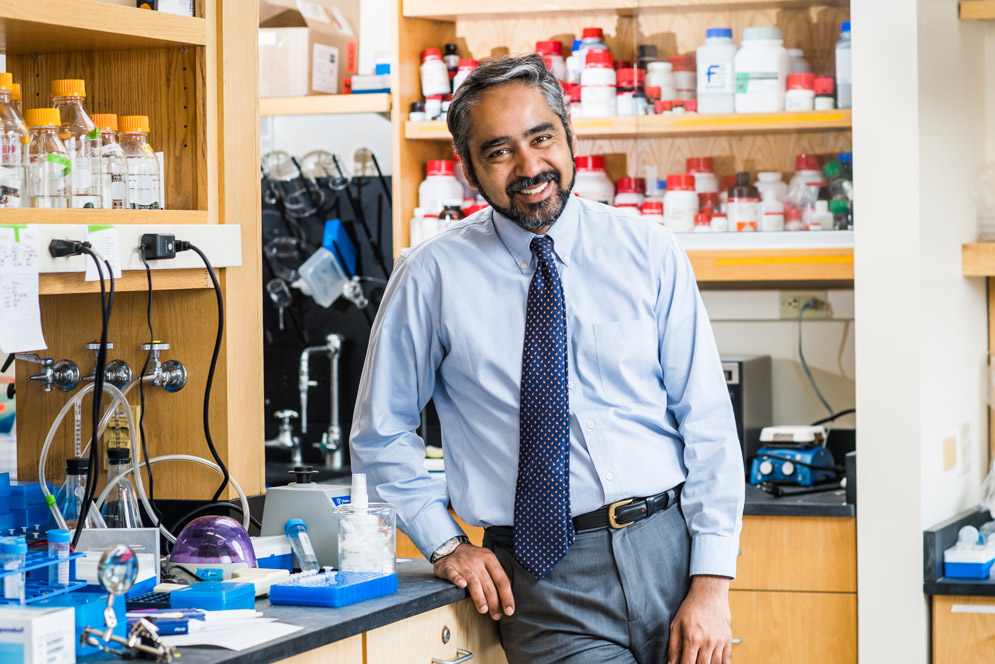 Health & Medicine
Muhammad Zaman on the Increasing Dangers of Antibiotic Resistance
In his new book, Biography of Resistance, ENG prof warns of the growing risk of drug-resistant infections
For the past eight months, the world's attention has been focused on the deadly health crisis caused by the COVID-19 pandemic, which has already infected 30 million people and killed more than 950,000.
But in his gripping, highly readable new book, Biography of Resistance: The Epic Battle Between People and Pathogens (Harper Wave, 2020), Muhammad Zaman, a Boston University College of Engineering professor of biomedical engineering and of materials science and engineering, says there is an equally urgent crisis before us—drug-resistant infections.
More than 700,000 people die each year as a result of multidrug-resistant diseases, including at least 35,000 in the United States. And as Zaman, a Howard Hughes Medical Institute Professor, makes clear, the situation is getting more urgent. Without action, he writes, we are likely to face an unimaginable public health crisis: "It will be like the great plague of the Middle Ages, the influenza pandemic of 1918, the AIDS crisis of the 1990s, and the Ebola epidemic of 2014 all combined into a single threat." A 2019 report issued by the United Nations Ad Hoc Interagency Coordination Group on Antimicrobial Resistance predicts that drug-resistant diseases could claim as many as 10 million lives a year by 2050. 
Zaman notes that bacteria predate humans by 3.5 billion years and that from the beginning, they have proven resilient: "The multilayered bacterial defense mechanism—one of nature's oldest creations, ever-evolving, ever-surprising—has learned to stay a step ahead of us at every single point in our history together."
Chapter by chapter, Zaman, whose research currently focuses on antibiotic resistance in low-income countries and refugee settlements and who was recently awarded a 2020 Guggenheim Fellowship, shows how bacteria have been able to quickly elude our arsenal of increasingly potent antibiotic drugs since the first ones were introduced for widespread use in the 1940s. He illustrates the myriad factors that have contributed to microbial resistance, including the overprescribing of antibiotics, counterfeit drugs that are often of poor quality, the large-scale use of antibiotics in agriculture, and ongoing wars and conflicts, which, he says, "contaminate waterways, destroy infrastructure, and create drug-resistant infections."
The book is full of lively stories of brilliant scientists who have advanced our understanding of bacteria, antibiotics, and antibacterial resistance, from the German microbiologist Robert Koch, credited with discovering germ theory, to Mary Barber, the British bacteriologist who discovered that widespread use of penicillin had led to penicillin-resistant strains of staph, to Tore Midtvedt, the Norwegian researcher who discovered in the 1980s that people in his country were being prescribed 24 tons of antibiotics a year and that salmon were ingesting twice that amount via "antibiotic-enhanced" fish food. But this is no mere hagiography: Zaman reveals the hubris and fierce competition that lies behind many of their stories.
BU Today spoke with Zaman in advance of his appearance today at a School of Public Health Zoom webinar where he'll discuss Biography of Resistance.
BU Today:
How did you first become interested in bacteria, and more specifically, in bacterial resistance to antibiotics?
Muhammad Zaman: Over the last decade, a significant part of my research has focused on counterfeit and substandard medicines as a central part of our global health research. My previous book, Bitter Pills: The Global War on Counterfeit Drugs (Oxford University Press, 2018), looked at this problem as well. It turns out that among the drugs that are often substandard and counterfeit are antibiotics. Among the challenges that these drugs pose, antibiotic resistance ranks at the very top. This work on how poor quality drugs lead to resistance has been a major part of our research portfolio over the last several years.
BU Today:
What made you decide to write Biography of Resistance?
Muhammad Zaman: Two fundamental reasons: first, I feel strongly that scientists, researchers, engineers, etc., should engage the general public on issues of science to increase awareness about the important public health challenges of our time. We do not do that adequately or effectively. Second, I think it is critical that we understand the history of how we ended up here. This wasn't an accident, or a single event, but a series of events, policies, and decisions, and if we want our future to be better than our past, it is critical that we understand that.
BU Today:
How serious a threat is this health crisis? How worried should we be?
Muhammad Zaman: The threat is already serious and is only getting worse. I am not sure if putting a number is going to make people care, because we are often numb to statistics, but think about it this way: if this continues, our routine procedures, elective surgeries, C-sections, etc., will become a question of life or death. Unfortunately, inequity would increase further as this would make life harder for those who are socioeconomically disadvantaged. People in low-income countries, those who live in urban informal settlements, those who are at high risk of infection—all will be hit harder.
BU Today:
People assume that drug companies are constantly working to develop new and better antibacterial drugs, but you write that that isn't the case.
Muhammad Zaman: Unfortunately, a large number of companies (including Novartis and AstraZeneca) are leaving the antibiotics business. The business models for antibiotics are no longer as attractive as they used to be. The companies are moving towards noncommunicable diseases (cancer, heart disease, neurological disorders, etc.). As a result, the pipeline of new antibiotics has nearly dried up. This is a serious concern. And an effort at BU called CARB-X, led by Kevin Outterson, a School of Law professor, is aiming to address that issue.
BU Today:
What is the solution to antibiotic resistance? What needs to be done?
Muhammad Zaman: We need to learn from history: what got us here is exactly what is going to take us out. An approach that is rooted not just in science, but also one that relies on good economic models, a respect for all communities, a stronger emphasis on peace, and a pushback on industrial hubris and greed.
BU Today:
You write in the book that this is a global problem, but also express concern about the current trend towards nativism, a "my nation first" philosophy. Is the political will there to find meaningful solutions to antibiotic resistance?
Muhammad Zaman: This is one of the most sobering parts of my work in this area. Whereas we have clear evidence that antibiotic resistance requires a collective approach based on inclusion, respect, coordination—we are moving the other way. The book starts with the story of a person who contracts a disease in one part of the world (India) and ends up passing in Nevada. An approach that is about "me first" is going to be disastrous.
BU Today:
You talk about the doomsday scenario posed by a drug-resistant superbug in the book, but you also express a sense of optimism about the future. Where do you see reason for hope in addressing this crisis?
Muhammad Zaman: The hope actually stems from individuals in far corners of the world—people who do care, who are selfless and fighting against the current tide of nationalism. People like Dr. Rumina Hasan in Karachi, like Tore Midtvedt in Norway, Dame Sally Davies in the UK, Dr. Joanne Liu, the former president of Médecins Sans Frontières (MSF), as well as many students, fellows, and ordinary citizens who are dedicating their lives to this cause and are not giving up. Their stories are powerful and inspiring. They give me hope.
BU Today:
You wrote the book before COVID-19 struck. Are you concerned that the huge amount of resources placed on finding a vaccine for that could divert attention away from finding a solution to drug-resistant bacteria?
Muhammad Zaman: This is indeed a concern, and unfortunately the problem of resistance is only going to get worse in the post-COVID world. This is because there is an increase in use of antibiotics in many parts of the world that will make the problem worse. Furthermore, the health systems are under lots of pressure in low- and middle-income countries, and there is a danger that they may roll back programs aimed at improving resistance. Finally, I am also concerned that there may be general fatigue against hearing about another public health crisis, and hence some of the awareness campaigns may start to become weaker.
Muhammad Zaman will discuss his new book, Biography of Resistance: The Epic Battle Between People and Pathogens, at a School of Public Health Zoom webinar today, Wednesday, September 23, from 4:30 to 6 pm. The event is free and open to the public. Find more information and register here.