Boston University's MED students graduate today, a month early, so they can go work on hospital front lines in coronavirus pandemic
Student Life
MED Class of 2020 to Make History Today with Early Graduation
Change was made so they could go straight to hospitals' coronavirus front lines
Today, Friday, April 17, the Boston University School of Medicine Class of 2020 will make a bit of history when they graduate. Not only will the fourth-year students graduate a month earlier than scheduled so they can jump immediately into the front lines of medicine during the global coronavirus pandemic, but they will also do so without all the glory of an in-person convocation, and instead will graduate remotely, with a virtual—and memorable—ceremony conducted via Facebook Live.

Here are some other notable points, quotes, and tidbits from what will be an unprecedented moment in MED's 172-year history.

The Class of 2020 has 190 members.
Of MED's fourth-year students, 55 plan to do their residency in Massachusetts, 30 in California, and 21 in New York—the three most popular states. Internal medicine, with 41 students, is the most popular specialty, 24 students are specializing in general surgery, 15 in pediatrics, 15 in emergency medicine, 13 in obstetrics and gynecology, and 12 in family medicine.
The tagline for MED has never been more apropos than it is today: "A long tradition of research and innovation. We are frontline medicine."
---

You are becoming physicians at perhaps the most medically challenging time in the last century.

---
To the graduates, Karen H. Antman, dean of MED and provost of the Medical Campus, will address the public health crisis that the graduates will soon confront: "You are becoming physicians at perhaps the most medically challenging time in the last century.…Now, as a newly minted physician, you will be literally on the front lines of a global pandemic," she is expected to say. "This will change your residencies that you had planned and this will change you."
So that they are able to immediately begin practicing medicine without going through the standard paperwork process, the commonwealth has said it will provide "almost automatic 90-day provisional licenses" to graduates from all four Massachusetts medical schools (BU, Harvard, Tufts, and UMass) who will do their residencies in Massachusetts.
During the ceremony, the school will confer 190 medical degrees; 27 students earned Latin honors—19 cum laude, 6 magna cum laude, and 2 summa cum laude; 56 students will receive awards.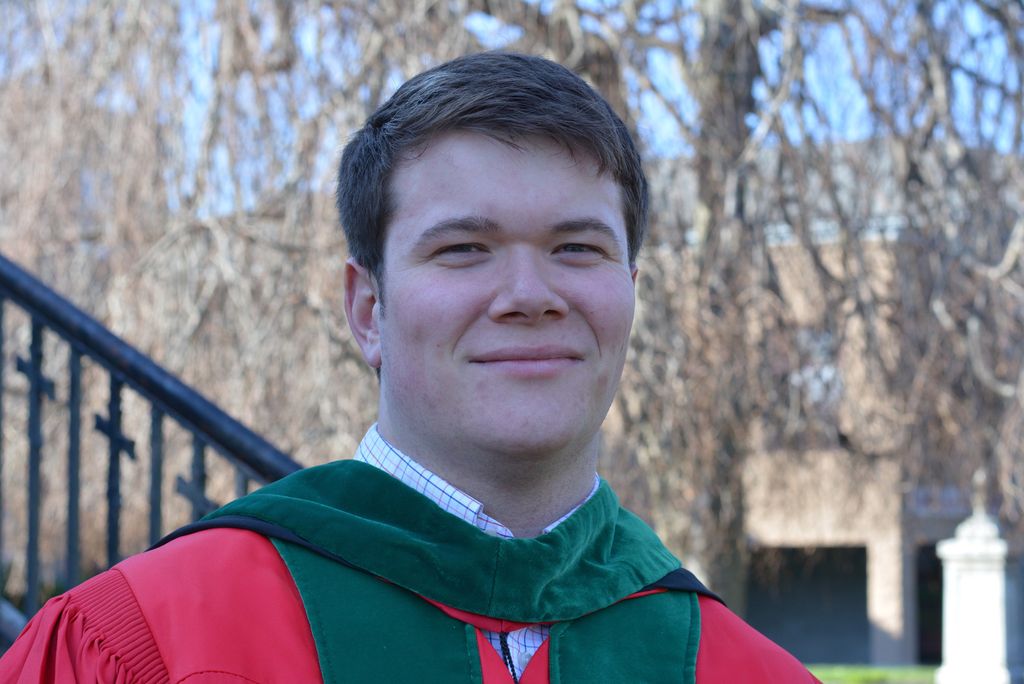 Forrest Beaulieu (MED'20), who will join Children's Hospital of Philadelphia in June as a pediatric neurology resident, is the class speaker. While at MED, Beaulieu studied the effects of extreme preterm birth through MRIs, and how parents understand cerebral palsy and some of their misconceptions about the condition. He volunteered with the Telehealth Epilepsy Care Collaborative, working with adolescents and young adults to transition their epilepsy care from pediatric to adult providers.
"I certainly did not expect to be spending the final months of medical school sitting at home, anxiously waiting with my classmates to become a part of our nation's healthcare force," Beaulieu says, adding that in his address he "will talk about the implications of starting our medical training in a period where our healthcare system is being so uniquely tested, and how we must persist through everything to deliver humanistic care to our patients while providing hope and support to our colleagues. Beginning our residency in the throes of one of the worst crises in modern medical history will be a unique challenge, and we are eager to help. I know that we as a class are ready for anything that comes our way."
A number of local and statewide dignitaries are sending congratulatory videos to the graduates (sorry, their names are a surprise!).
Priya Garg, MED associate dean for medical education and an assistant professor of pediatrics, will present the graduates. The students will then join with Antman to recite the Hippocratic Oath. "You first took this oath at your White Coat Ceremony, when the faculty welcomed you to the study of medicine," Antman will say. "Today, the faculty welcomes you to the practice of medicine."