BU Alum Leads a Very Different Democratic National Convention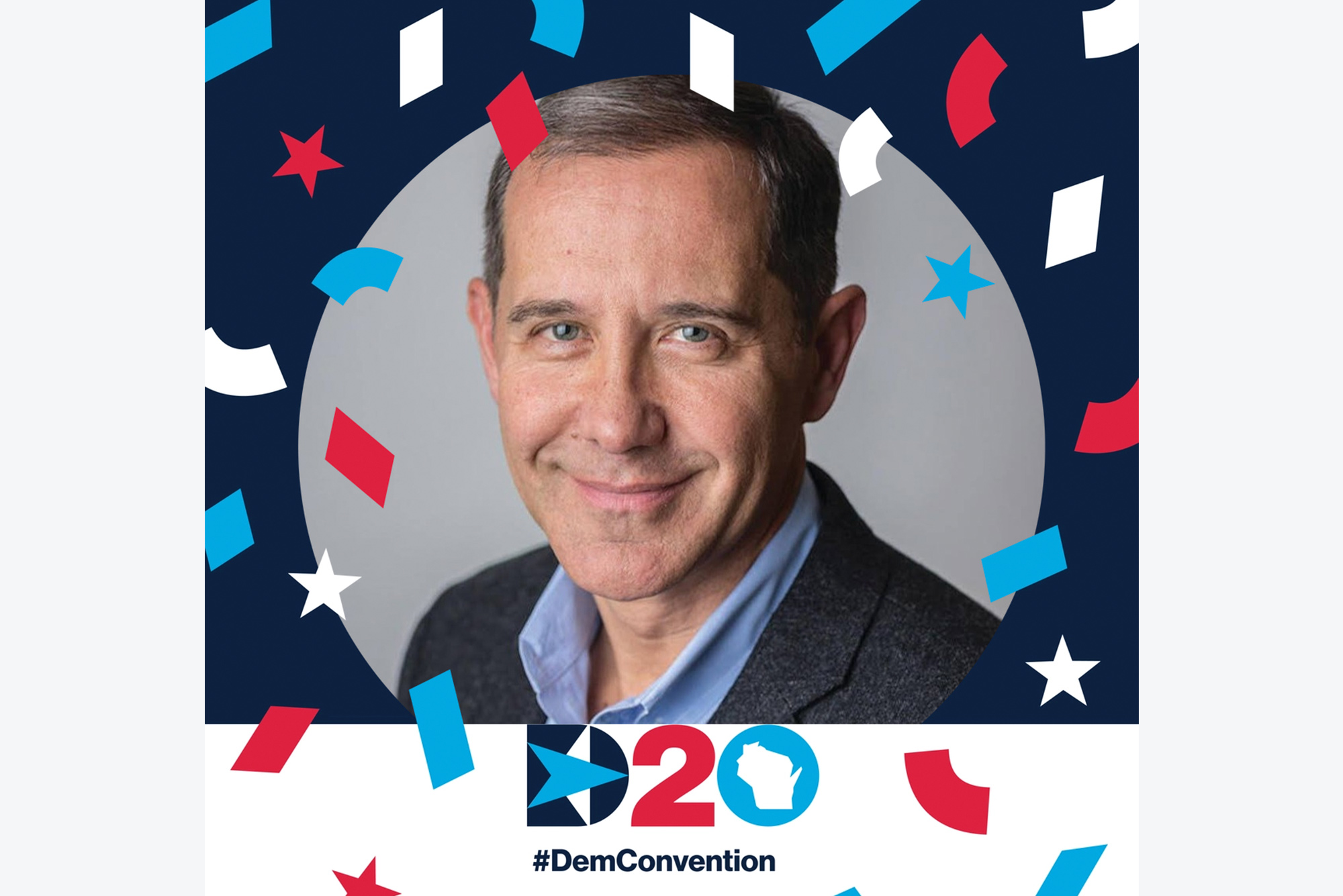 Politics
BU Alum Leads a Very Different Democratic National Convention
Joe Solmonese (COM'87) says the virtual gathering will aim for the same emotions, in different ways
Joe Solmonese is CEO of the 2020 Democratic National Convention, and last Monday, August 10, he had a lot on his mind.
Former Vice President Joe Biden, the party's presidential nominee, had recently announced that he would not travel to Milwaukee and would instead give his acceptance speech remotely. The long-planned gathering, which begins today, was already going mostly virtual, thanks to COVID-19. And Biden was about to choose US Senator Kamala Harris (D-Calif.) as his running mate.
So it should have been a hectic day at convention offices in Milwaukee. But Solmonese (COM'87), who previously led the Human Rights Campaign and Emily's List, made time for Bostonia, saying his years on the Charles River Campus still mean a lot to him. "I loved my time there. I learned about the world at BU," he says. "How's the Dugout—is it still there?"
Bostonia:
After all the months of planning and preparing, Biden's decision not to travel to Milwaukee must be difficult for a lot of people.
Joe Solmonese: It was a difficult decision that came after a lot of other difficult decisions we've had to make because of this pandemic. And this was a heartbreaking one because the people of this city worked so hard and came together in ways they haven't before to get this convention here, and I think they would have done a really great job with it. But as we've said all along, the difficult decisions we've made have always come down on the side of public health and what's going to keep the convention attendees and the people of Milwaukee safe.
Bostonia:
So what are we going to see?
Joe Solmonese: There will be a stage here in Milwaukee; we just were at it today. What is happening there depends on what part of the program we're in and what the public health authorities tell us when we get ready to go. The control center for this is going to be here in Milwaukee; there are a lot of people working in that building. The convention will be anchored in Wisconsin and gaveled in and out every night from Wisconsin. The roll call of states, that's going to be something that comes from every state across the country. The secretary of the DNC is based here and he will call the roll in Milwaukee. But we will have people speak from where they are. And there are everyday Americans and elected officials and all sorts of people with important stories to tell. And they will tell them from where they live.
Bostonia:
What will it be like to watch? And can we watch on our computers, our phones…
Joe Solmonese: Certainly you'll be able to view it on television, but there will be all sorts of different platforms. (The DNC has published a viewing guide.) The interesting thing is, when I took this job a year ago, I felt that the impact of political conventions needed to be reexamined. So we have been doing that all along, thinking about who we have to reach, where it is that we have to reach them, and what segments of the convention are going to be impactful. A lot of people watch hours of proceedings and have one or two impactful moments. We've been thinking all along about how we can do this in a more impactful way—with a shorter time period and a tighter schedule and a sharper focus. It's something we've been thinking about since before the pandemic; the pandemic has just forced us to be much more intentional about it.
Bostonia:
So are there upsides to the way this has played out? Lessons to learn?
I think that's probably as true for the convention as it is for BU bringing students back: What is a temporary change and what is a permanent change? What is the future of political conventions going to be? And four years from now, if this pandemic is behind us, what are the things we will resume and what are the things we won't? I think that a sharper focus, and using the opportunity to target what in presidential elections is a narrowing universe of the electorate, is something we set out to do. Despite the pandemic, what has not changed is really the electoral map, and the small number of states that are going to decide this presidential election.
Bostonia:
Conventions are known for iconic moments, like balloon drops and the crowd cheering the nominee. How do you re-create those?
The way we've tried to think about it is to think about what those moments really convey to people. They convey a sense of excitement and inspiration and enthusiasm around the candidate and his running mate. We've taken a step back and said, 'How can we convey those same things in the environment we're going to be presenting this in?' There's nothing more powerful than a compelling and impactful story about what something that someone in America is going through. To tell it in a way that lifts up a choice for people and helps them to choose Joe Biden and his running mate is what we really kept centered in the planning of this. The mistake would be to say, 'What's a balloon drop like in this?' You're not going to do lesser versions of the same stuff. Step back and ask yourself, 'How are we going to achieve the same sentiment but with very different optics?'
Bostonia:
You've talked about not being out when you were at BU in the 1980s, before becoming an LGBTQ leader with the Human Rights Campaign. Do you see any parallels between our battle with COVID-19 and the epidemic that was politicized in that decade?
I always remember the first time I read about the AIDS epidemic, in Time magazine, sitting in my room at 203 Bay State Road. And I remember sitting in the George Sherman Union eating lunch at a table full of people, and somebody walked through, and someone at the table pointed him out and said, 'That guy's gay.' And it was as if he was the only gay person in however many people there are at BU—36,000? I had a chance to come back there and speak a few years ago, and much has changed in terms of LGBT people and campus life. But I do think the stigma and health disparities and disparities around access to care that existed then are things we are seeing now, in different ways in terms of the people they are affecting—but nonetheless, and sadly, they still exist.
This Series
Also in
November 7, 2020

November 7, 2020