LAW's Jay Wexler on "the Honor and Joy" of Clerking for RBG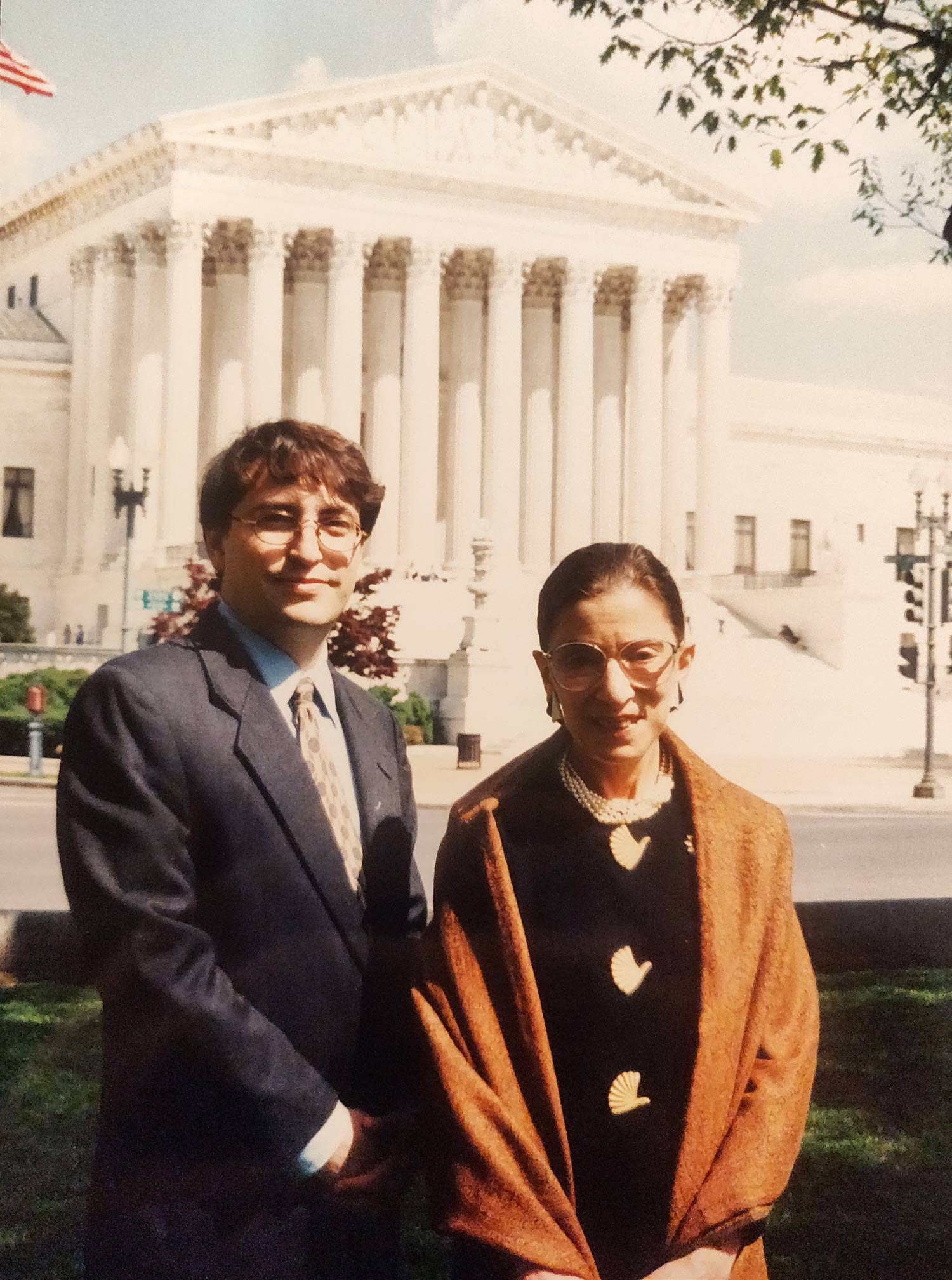 Reflections
LAW's Jay Wexler on "the Honor and Joy" of Clerking for RBG
"What a privilege it was to work for someone so brilliant, so careful, so precise, so diligent"
My first conversation with Ruth Bader Ginsburg did not go well. I'd flown clear across the country from sunny California into a mid-January East Coast snowstorm to interview with the Justice for a clerkship that wouldn't start for another year and a half. President Clinton's second inauguration was right around the corner and Justice Ginsburg, who was set to swear in the vice president, was thrilled that she'd be sitting next to a famed singer who I should have recognized, but didn't (opera singer Jessye Norman). But that wasn't the bad part. That came later, when the Justice started talking to me about the law. She was discussing a church-state separation case called Aguilar, which the Court was hearing that term, but given my extreme nervousness and the fact that my writing sample was all about a church-state separation case called Aguillard, I thought she was talking about that case instead. For about two minutes we carried on a conversation about completely different cases. I'd been warned about RBG's halting way of speaking and was ready for it—there was no way I was going to speak over her—but I wasn't prepared for how quiet she could be, and this flub was the result. As soon as I realized what was happening, I started making alternative plans for what I had previously hoped would be a life-changing clerkship year.
Alas, I somehow ended up getting the job anyway, and the year that I spent working for the Court's second-ever female Supreme Court Justice was undoubtedly the highlight of my professional life. What a privilege it was to work for someone so brilliant, so careful, so precise, so diligent, a woman who was one of the rare Justices in the history of the nation who was a famous lawyer before she was put on the bench, having battled successfully for over a decade to ensure that women and men would be treated equally under the law. The honor and joy of having worked for her during the 1998–1999 term of the Supreme Court only grew after the clerkship ended—watching this tiny but fierce force of nature become a national icon and popular hero, an inspiration to women and girls (and men too, lots of us) around the country and the world was a pleasure I had certainly never expected.
Not that clerking for RBG was always easy. Justice Ginsburg was a notoriously hard worker, and that meant that we (each Justice typically has four law clerks each term) had to keep up. Like all great lawyers, she was a stickler for language, always in search of the perfect word, and that meant that we had to help her find it. We would write her memos about the cases she was going to hear, and she would ask us questions we had never even considered. We would draft opinions she had been assigned to write, and she would rewrite them completely and give them back to us. I learned more that year than I could possibly express or explain.
The year had its fun, even surreal, moments too. I'll never forget the opera battle that Justice Ginsburg and Justice Scalia waged in the footnotes of the first opinion I worked on for her. The case was Minnesota v. Carter, which posed the question of whether the Fourth Amendment protects people who are social guests in someone else's house from unreasonable searches. Always eager to get opinions out the door quickly, Justice Ginsburg circulated her dissent before Chief Justice Rehnquist had even sent around his majority. Justice Scalia disagreed with RBG and wrote a concurrence relying on what he thought was the key case. In response, Justice Ginsburg accused Justice Scalia of misreading the case's leitmotif. For Justice Scalia, maybe the only person who loved opera as much as Justice Ginsburg, this reference was impossible to resist. His retort claimed that it was RBG who "sings from a different opera." I'll never forget talking to Justice Ginsburg on the phone from my cramped Capitol Hill apartment as she contemplated various opera-related comebacks. I had hoped the skirmish would continue forever and tried to egg her on. As always, though, she made the decision—the opera battle ended there, and that was that. 
Like so many people, I somehow thought Justice Ginsburg would live forever. For a while it almost seemed like she would. The nation, so deeply in need of heroes these days, is now one short. To say that she will be dearly missed doesn't even begin to capture what we've lost.