This Jack Kent Cooke Foundation Scholarship Winner Might Be the Busiest Freshman on Campus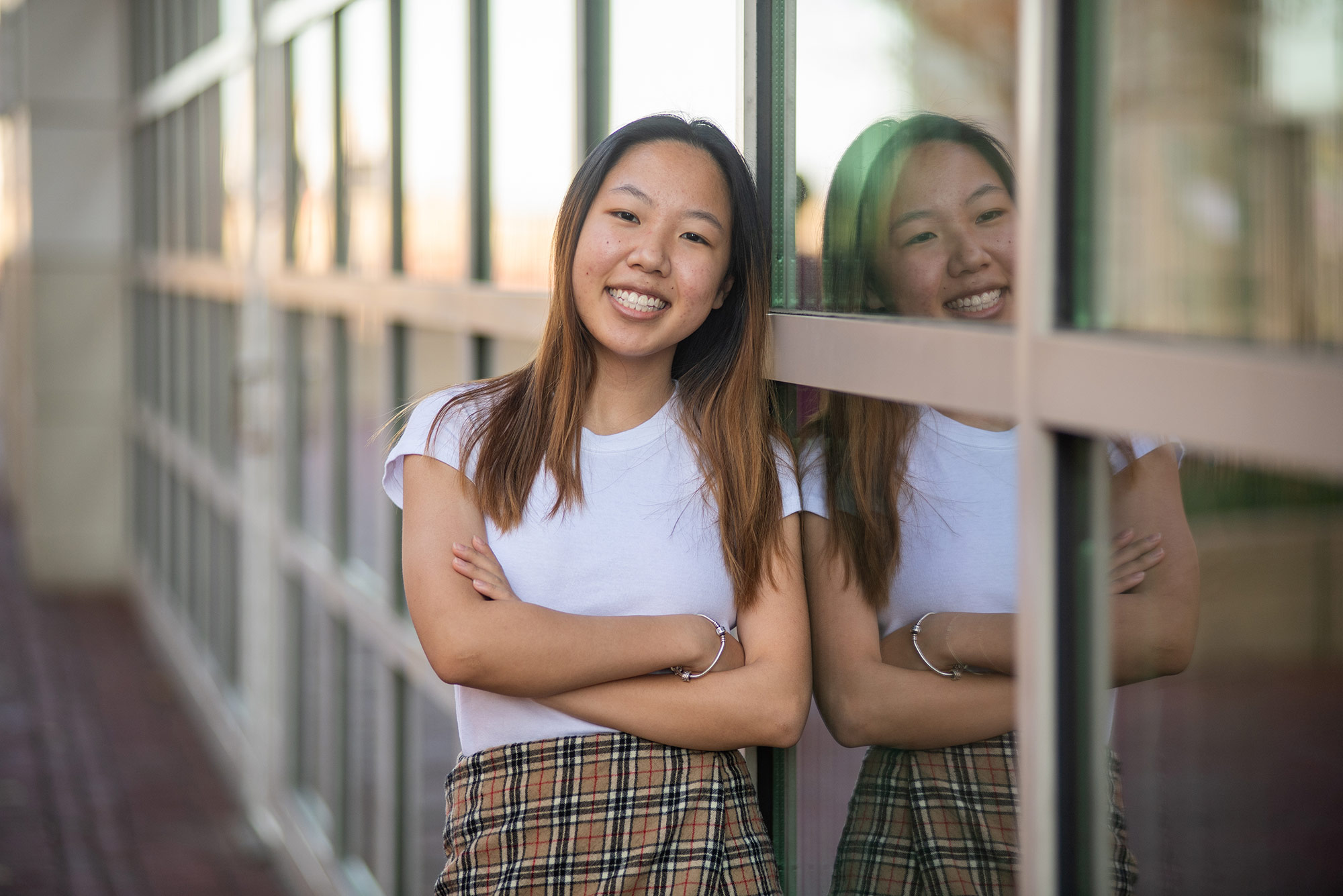 Accolades
This Jack Kent Cooke Foundation Scholarship Winner Might Be the Busiest Freshman on Campus
First-generation college student ShiMin Chen has big plans, and lots of them, for her time at BU
If you ask ShiMin Chen why she won a Jack Kent Cooke Foundation scholarship, a respected award for high-achieving high school seniors with financial need, she shrugs and says she's not sure. But once the freshman starts listing activities she was involved in prior to BU—Science Olympiad (president), volleyball team (manager), honor societies (societies, plural: treasurer of one and vice president of another), German club (for fun)—it starts to make perfect sense.
"I just loved staying busy; I couldn't not be doing something," says Chen (CAS'24), who grew up in Brooklyn, but spent most of her high school years in Sterling, Va. Now that she's at BU, coronavirus has limited her extracurricular options, but it hasn't stopped her from planning her post-lockdown résumé: in addition to majoring in biochemistry and molecular biology—with the intent of going premed—Chen intends to minor in Chinese, conduct research in one of BU's labs, work as a hospital scribe, and study abroad in Dresden. "Well, that's my loose plan," she adds.

Thanks to the Cooke Foundation, she should be able to do it all. As one of just 118 award winners nationwide from the high school class of 2020, all of the costs associated with attending a university—tuition, books, living expenses, fees—are covered for Chen for the next four years. The scholarship is also designed to be as accommodating as possible: if she wants to do an unpaid internship (as a hospital scribe, say) for a semester, the foundation will give her a stipend. And if she wants to move off campus, it will help her with the costs of renting an apartment. "It's crazy," she says. "It's just a huge relief."
It's also a big deal. Now that she's almost finished her first semester at BU, that gives her an added distinction: she's the first person in her family to go to college. Her parents, immigrants from China, went straight into the workforce to help provide for their families when they arrived in the United States as teens.
Because of that, Chen says, "I think they recognized the impact of college and worked harder to make sure that I could obtain an American education." And even though they always stressed the importance of a college education, as the oldest of four girls, Chen knew the prospect of actually paying for that education was daunting. So when she won the Cooke Foundation scholarship, taking the financial pressure off her parents, she says, it felt like validation of everything they'd all worked for.
"I think that winning helped to demonstrate my efforts, and also express my gratitude toward my parents for their efforts," she says. "Now they can be reassured that I won't need much from them financially and can focus on other matters."
Beyond the fact that she's a first-gen student, Chen's presence on campus is exciting for another reason, says Suzanne Kennedy, interim associate provost for undergraduate affairs. "Cooke scholars are high-achieving, engaged students who are selected through an intensively competitive process," she says. "We are really delighted to have ShiMin at BU, bringing her energy, academic talent, and leadership mindset to the community."
Jean Morrison, University provost, seconds that. "We are so proud of what ShiMin has accomplished and to have a student of her caliber and commitment as part of our community," Morrison says. "The world, particularly in the area of health and medicine where she's excelling, needs more students like ShiMin, and we are excited to see where her studies and professional pursuits take her."
Although grateful for her scholarship win, Chen is focused more on what it allows her to do than on the honor itself. Hence her day-to-day: between attending classes, planning the rest of her academic career, and participating in what extracurriculars she's been able to—she's part of the Community Service Center (CSC) and has joined Harvard University's Science Olympiad team (BU doesn't have one)—Chen is keeping busy. Her current projects include drawing coloring books for children as part of a CSC initiative, producing STEM videos and writing tests for the Science Olympiad team, and applying for hospital volunteer jobs. (Note: she refers to all of this as "just chilling.")  
But that's just how Chen is. "Everything interests me!" she says. "I did a lot of research on the kind of stuff I wanted to do while at BU, and I feel the need to try everything out. Achieving things makes me happy."