How Politics Shapes Our Understanding of, and Response to, COVID-19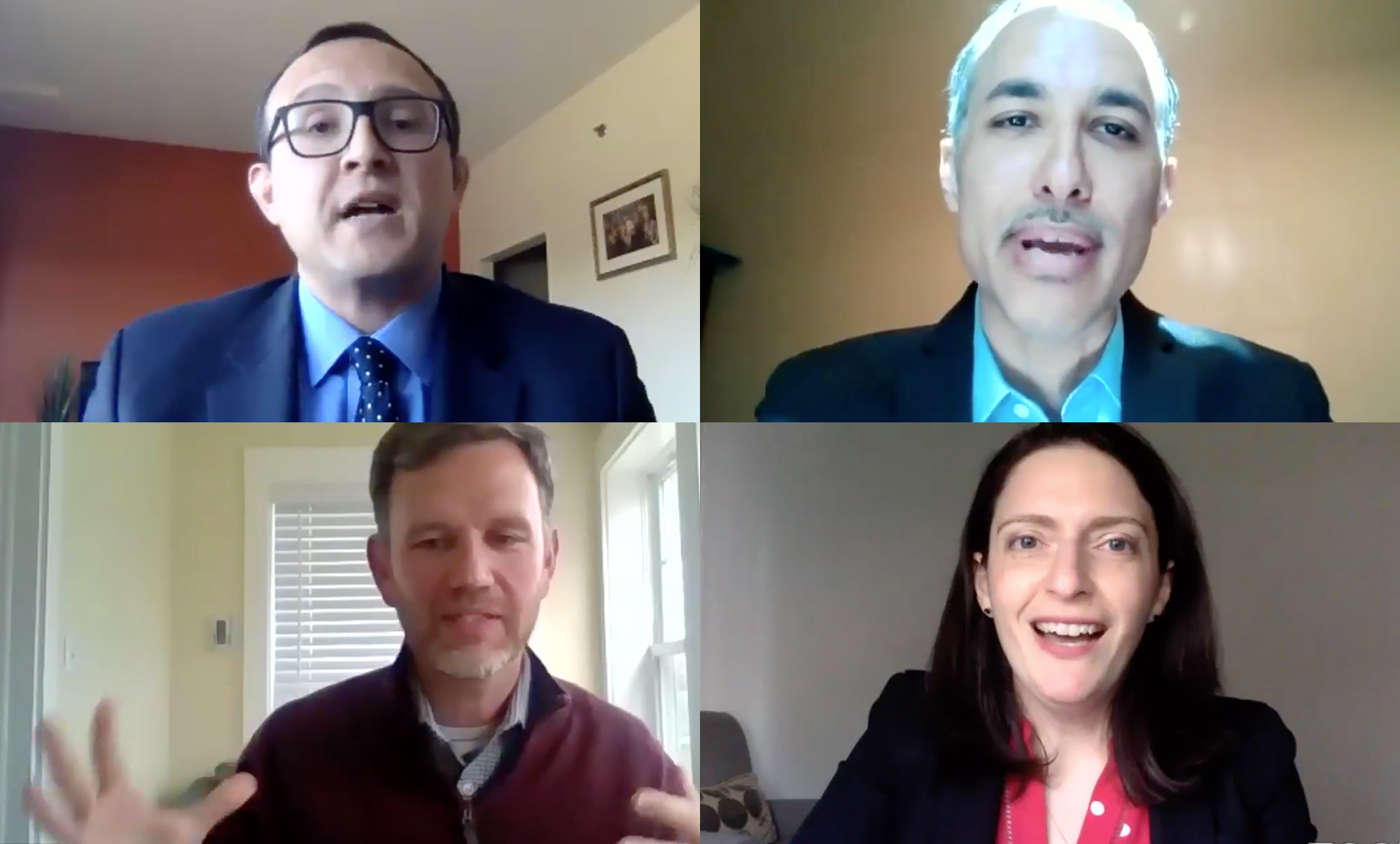 Infectious Diseases
How Politics Shapes Our Understanding of, and Response to, COVID-19
SPH seminar panelists discuss a "crisis within a crisis"—a pandemic that has exacerbated the nation's health inequities
When Jennifer Grodsky set out on March 10 for a day of lobbying on Capitol Hill, she expected the halls of Congress to be subdued. The rapidly spreading coronavirus and calls for social distancing dominated the news and public conversation, and just five days prior, Congress had passed the first relief bill.
But when Grodsky, BU vice president for federal relations, arrived on the Hill, she was greeted by the usual bustling scene of lawmakers and advocates congregating in the cafeteria and piling into elevators.
"The idea of so many people gathered in small spaces is shocking to me now, but at the time, it was business as usual on Capitol Hill," Grodsky said during the third of the School of Public Health Coronavirus Seminar Series, Politics, Health, and Coronavirus, held online last Thursday through Zoom videoconferencing. She was joined on the panel by legal and health policy scholars to discuss the role that politics and policy have played in the country's response to this unprecedented public health crisis.
"Public health needs help on Capitol Hill," Grodsky said, and policymakers tend to support issues that impact themselves personally and are less interested in issues that do not pose an immediate or tangible threat to their own lives.
"Legislators struggle to support things that seem routine and unchanging, that have few vocal advocates, and that seemingly won't pose a problem until the distant future," she continued. "As a result, public health can get ignored until there is a real emergency."
And when a crisis emerges, "throwing money at the problem" is nothing new—but it is also not the solution.
"We need policy, planning, and leadership," she said, and that will take a concerted effort to keep public health work "top of mind" once the COVID-19 crisis has been resolved. "If public health matters to you, please say so regularly to your friends, family, neighbors, journalists, and lawmakers at every level of government."
Eduardo Gomez, a Lehigh University College of Health associate professor, highlighted how President Trump's personal characteristics have also hindered policy development around COVID-19.
"Trump never forgets those who have offended him, and this seems to have hampered his relationship with Speaker Pelosi and caused him to miss meetings on policy issues with her," Gomez said. "Trump always stands by his personal beliefs on scientific matters, no matter what the science says." He went on to note that Trump's beliefs contributed to the federal government's delay in taking the virus—and the need for increased testing—seriously.
Gomez also said the administration's "politics of marginalization"—specifically, its anti-immigration stance—has created fear among undocumented immigrants and can discourage them from seeking critical medical care if they experience COVID-19 symptoms.

Daniel Dawes, Satcher Health Leadership Institute director and a Morehouse School of Medicine associate professor, expanded on this "crisis within a crisis"—a pandemic that has exacerbated the health inequities that remain a public health challenge in the United States.
---

Public health needs help on Capitol Hill.

---
"COVID-19 does not discriminate, but our current economic and social policies do," he said. "What we have is a perfect storm for a disaster: a serious health crisis, an inequitable method of health delivery, millions of uninsured and underinsured people, a politically charged approach to dealing with the pandemic, an upcoming election, and some of the most vulnerable people on the frontlines of our country."
Dawes said a regression of policies on health equity at the federal level will likely intensify health disparities among people of color, people of lower-socioeconomic status, people who have disabilities, LGBTQ people, and more.
"The inequities that predate COVID-19 did not suddenly become inapplicable," he said. As a result, "the United States could experience major disparities in who dies from coronavirus." Minorities and other vulnerable communities still contend with neighborhoods that are largely devoid of health resources, he continued, and many of those who do have access to these resources may harbor distrust of the medical system.
"Minority communities are particularly susceptible to falling prey to myths and misinformation," he said. "Many African Americans initially believed that they were immune to this virus," or they don't trust the government to test them for fear of being inflicted with the disease. "We have to educate our community."
The most important thing policymakers can do is address the social and political determinants of health through an equity lens. "We have to start shifting our efforts to better address the upstream factors related to health," Dawes said.

David Jones, an SPH associate professor of health law, policy, and management, shared his thoughts on how COVID-19 will impact the 2020 presidential election.
The pandemic "has reshaped Trump's strategy," Jones said. "His strategy was going to focus on a booming economy and high stock market, and all of that has changed overnight."
He said Trump's self-proclaimed title of "wartime president" is undeserved. "We are in a war without a clear enemy," he said, citing Trump's frequent quarrels with Democratic lawmakers and his penchant for calling the coronavirus the "Chinese flu."
Jones noted that the timing of the pandemic impacted the Democratic primary race, and that had it occurred before Super Tuesday, multiple candidates would likely still be in the race.
He also explained that the "geography of the virus" and confirmation bias both determine people's exposure to, and absorption of, information about the pandemic. "We have segregated ourselves with people who think and vote like us, so we get information that is the same as everyone around us."
Public health professionals can "appreciate that we're divided, but we have to try to speak across that divide," Jones said, and not expect that consistent facts and information will change people's ideological differences when it comes to the role of government and what policies should be put in place.
Sandro Galea, SPH dean and Robert A. Knox Professor, who moderated a brief Q&A with the panelists at the end of the program, asked, "What can students do to prevent such chaos from happening again, should we experience another pandemic?"
"The best thing you can do is introduce yourself to your local elected public officials," Grodsky said. "Go to their meetings and public events, meet with their staff, and tell them about your expertise. Be a resource for them so that when there is a crisis, they will come to you."