Free Temporary University Housing Is Offered to Off-Campus COVID-19–Positive Students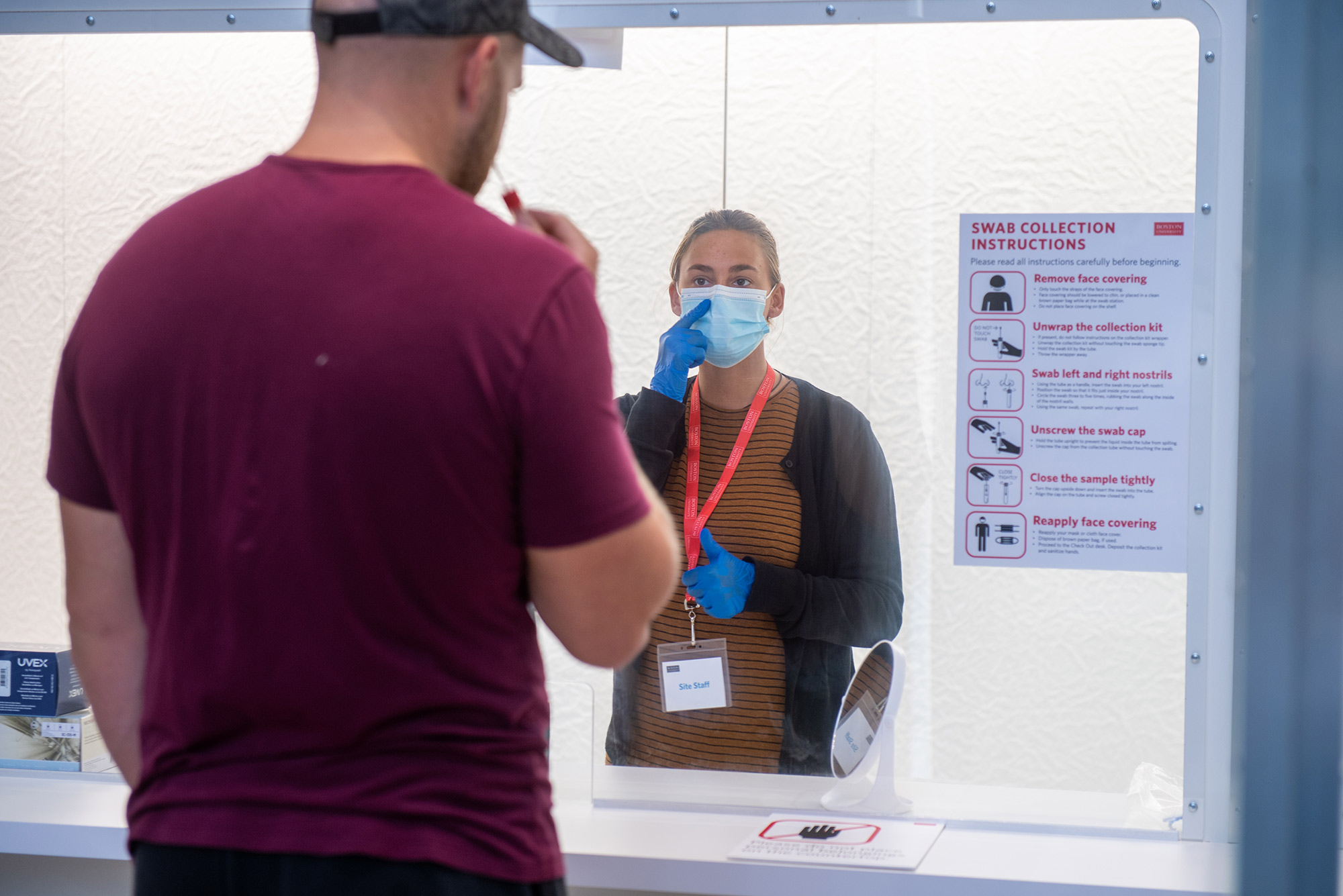 Public Health
Free Temporary University Housing Is Offered to Off-Campus COVID-19–Positive Students
Testing will now be extended to roommates of students in isolation as well
As University leaders continually look for ways to improve the progress of BU's efforts to keep COVID-19 at bay, two new safety practices are being put in place. BU is offering students who live off campus and who test positive for COVID-19 the opportunity to move into University housing for the duration of their isolation period at no cost, and it is expanding COVID-19 testing to more carefully monitor quarantined roommates of off-campus students who test positive and have chosen to move to campus housing.
"Students who live off campus are in more of a household setting, and they have multiple people using a shared space," says Judy Platt, Student Health Services director. "It becomes very difficult to isolate in the same safe way they can in our on-campus isolation. We also know that the more time you spend in a shared space and the more interactions you have lead to a greater likelihood of becoming COVID-19–positive."
Platt says so far the number of cases where that has happened is very small, but the University hopes to avoid situations where a student in off-campus quarantine becomes a student in off-campus isolation.
Undergraduate and graduate students who live off campus, have tested positive for COVID-19, and would like to use the University's isolation housing on the Fenway Campus should contact Residence Life, at 617-353-4380 (9 am to 5 pm, Monday to Friday), or Healthway, at 617-353-0550, press 1 (one), (8 am to 8 pm, seven days a week).
Shane Cutler, Events & Conferences general manager, who oversees nonmedical isolation and quarantine housing operations, says an off-campus student's choice to use on-campus housing for isolation is entirely optional. He says students who accept the offer will have transportation provided to one of four residence halls on the Fenway Campus, where they will move into a shared space with bedroom and bathroom. Undergraduate and graduate students will have separate housing. They will be provided with bedding, linen, towels, and laundry access, as well as prepackaged food and beverages and medical kits. Fresh meals and beverages will be delivered four times a week, and other items requested by students may be delivered by staff, friends, or family members. Cutler says the shared bathroom spaces will be cleaned several times a day, seven days a week (when the student is absent), and staff from Healthway, Dining Services, Residence Life, and the Dean of Students office will check in with the students throughout their stay. Each person will be provided a QC code and web link to submit nonemergency requests so staff can follow up to meet their needs. All of those services, Cutler says, are currently offered to BU on-campus students who are in quarantine and isolation housing.
On-campus undergraduate students who test positive for COVID-19 are required to relocate to either quarantine or isolation housing. On-campus graduate students who test positive and have a roommate or share a bathroom are also required to relocate to quarantine or isolation housing. Only those on-campus graduate students who test positive and live alone and have a private bathroom will be allowed to remain in place.
Platt says the expanded testing, which is based on recommendations from the Centers for Disease Control & Prevention as well as state public health authorities, will test off-campus students who have been identified as a close contact of someone who has tested positive and is currently in quarantine. If a COVID-19–positive student's roommates are not BU students, the University will give them a "DPH Test Pass," for a test at a local test site.
"We were already doing this for on-campus students," says Platt. "We were going to them for remote collection, mainly for two reasons: if someone has tested positive, so we could move them from quarantine to isolation, and to determine the likelihood of someone who has been exposed turning positive."
She says the University has an extremely low number of on-campus students in campus quarantine who have tested positive, and would like to have a better understanding of what the numbers look like for off-campus students. She says off-campus students in quarantine will be contacted by Healthway and appointments will be scheduled for them at the Health Services Annex for frequent testing.
"The medium time to develop symptoms after you've been exposed is five to six days," Platt says. "So we know that testing someone within a week of exposure is a good way to catch someone who may turn positive. We want to identify people who have tested positive and to get those people to a safe space so they can isolate as soon as possible. Bringing off-campus students to campus isolation and doing more frequent testing all work toward that goal."