For Companies, Talking Politics or Opining on Social Issues Can Be Like Stepping on a Landmine. Just ask the CEO of Goya Foods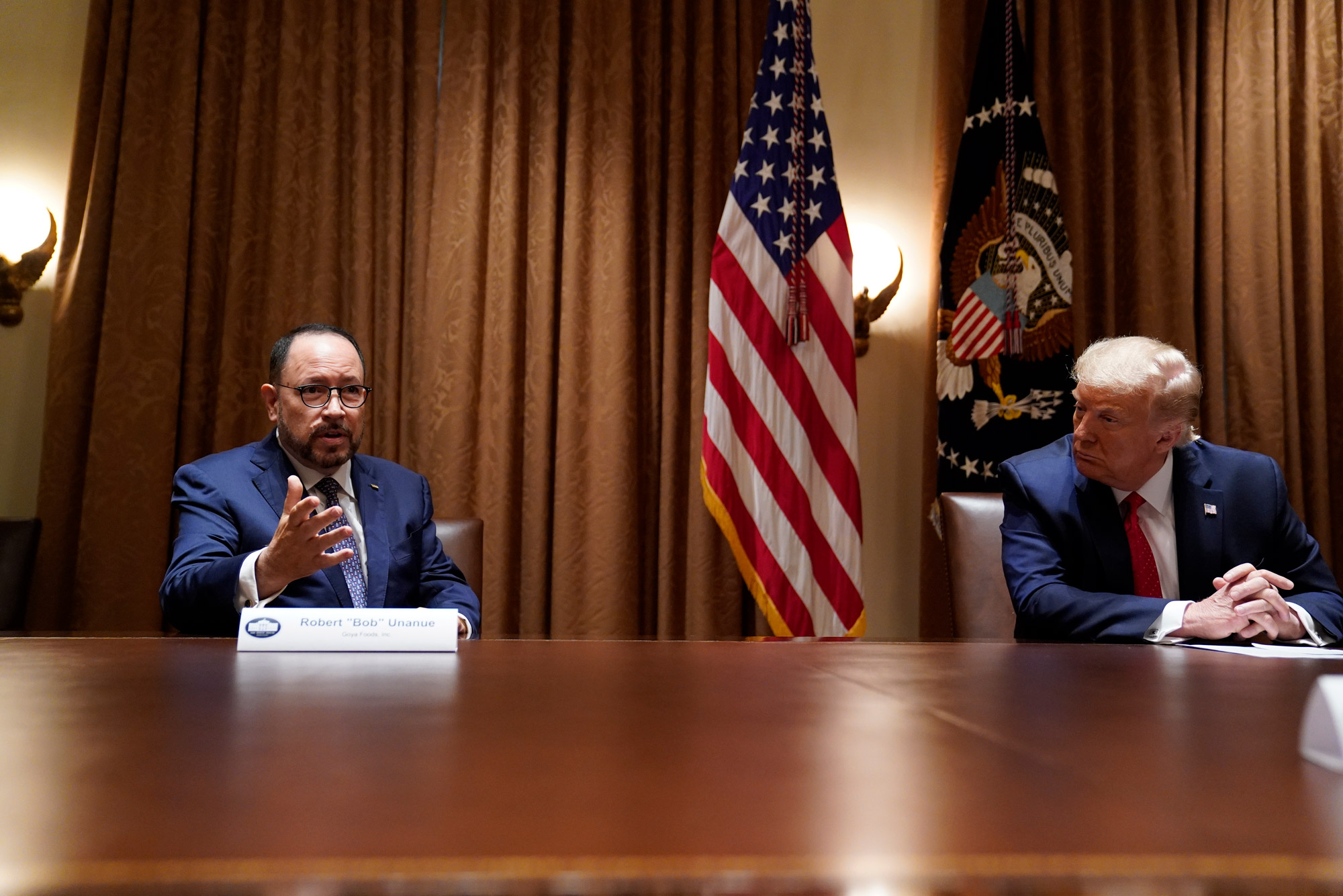 Business and Politics
For Companies, Talking Politics or Opining on Social Issues Can Be Like Stepping on a Landmine
Just ask the CEO of Goya Foods
#BoycottGoya, #Goyaway. Minutes after the CEO of Goya Foods spoke at a White House roundtable of Hispanic leaders on July 9 and praised President Donald J. Trump, his company—famed for its beans, spices, and other staples of Hispanic cuisine—was being battered on social media. "We're all truly blessed to have a leader like President Trump," Robert Unanue said.
Tony Award–winning Hamilton star Lin-Manuel Miranda begged to differ, tweeting: "We learned to bake bread in this pandemic, we can learn to make our own adobo con pimienta." Soon, Trump and his supporters were proudly showing off their support for the company, sparking even more ire against Goya from Trump opponents. With just a few words, Unanue had plunged his company into the heart of one of the most divisive elections in recent memory.

Our political affiliations can color much of what we do, from where we shop to who we date: online dating service OkCupid reports that since the 2016 election, nearly half of all users mention Trump—either positively or negatively—in their profiles. For businesses, from self-employed contractors to global corporations, venturing into politics or opining on social issues can—as Unanue discovered—be like stepping on a landmine. A donation to a business-friendly candidate might irk voters—and customers—incensed by the politician's positions on other issues; a one-off tweet from a CEO about a hot-button topic like gun control could prompt adulation, or boycotts. And yet, using a corporate platform to speak out against perceived injustices is becoming increasingly common—and expected.
Few businesses are exempt from negotiating this new (and confusing) reality. Even Zoom calls aren't safe: more employees than ever are arguing about politics during work hours. So how can companies stand up on topics they care about, lobby politicians on issues that impact their bottom line, and ensure employees stay friendly no matter who they vote for—and all without alienating customers, dragging a company's good name into the political swamp, or denting workplace morale? We spoke with Questrom School of Business experts about how to mix business and politics.

Speaking out
Companies may have fears about taking a stand on political and social issues, but consumers are pretty clear about what they want: more than two-thirds of them say it's important that companies get involved in sociopolitical issues, according to social media management platform Sprout Social. Many companies, of course, don't get a choice in whether their brand gets sucked into a larger political conversation—as when Donald Trump, Jr., compared Syrian refugees to Skittles, or when Bernie Sanders tore into Amazon as its workers prepared to go on strike. And some find that taking a stand is inevitable.
"I don't think the question is should a business speak up on a social or political issue anymore," says Kabrina Chang (CAS'92), a clinical associate professor of markets, public policy, and law. "The demand will come from one or more stakeholders. And when they do, they'll most likely disappoint one of the many groups of stakeholders—it's an unavoidable drawback."
In late 2019, Hallmark found this out the hard way. Three days after airing an ad that featured a lesbian couple kissing at their wedding, the company pulled the spot due to complaints from a conservative activist group—only to have the company CEO apologize and reinstate the ad the next day.

"Hallmark claimed they wanted to avoid controversy," says Michael Salinger, Jacqueline and Arthur Bahr Professor, a professor of markets, public policy, and law, "but given the issue, there was no way to do that."
If a company does decide to join the political conversation proactively, it's imperative that management first consider their brand history, core values, and most important, their audience. "If a firm knows its customer base and its market segment very well—and it's relatively homogenous—they can certainly gain favor by taking a political stance that is in line with their core customers," says Dylan Walker, an assistant professor of information systems. One example is outdoor clothing company Patagonia.
In 2017, after President Trump ordered an 85 percent reduction in the size of Utah's Bears Ears National Monument, Patagonia openly joined the fight for public lands. The designer and retailer positions itself as an activist company, frequently getting involved in politics, from publicly endorsing candidates to suing the government.
The company has been donating to climate action organizations for years. As a result, speaking up about Bears Ears was consistent with its values—and those of its customers.
"Knowing that a business cannot satisfy every group of stakeholders in making a statement on a controversial issue," says Chang, "the most authentic thing to do is act consistently with what it stands for."
At a time when consumers are both wiser and more jaded about the motives of a company taking a sociopolitical stance—according to a 2019 Edelman Trust report, 56 percent of people believe that too many brands are guilty of "woke-washing," using social justice issues to get in the public's good graces with the sole intent of selling more—that consistency is vital.
"Connecting a brand to political trends can cause positive outcomes, but also can result in valuation-damaging customer reactions, brand reputation harms, and reverberations through the company—including ousting of the CEO," says Shuba Srinivasan, Norman and Adele Barron Professor of Management, a professor of marketing. "I would advise companies not to take a stand if there is not a fit of the brand with the socio-economic-political, or SEP, trend. The bottom line is to assess whether the political category can be claimed with authority as the basis for an enduring brand platform versus a one-off marketing move."
If a company's political or social stance is insincere or inconsistent with its established values, the public will take notice—and call it out on social media. Take the tone-deaf 2017 PepsiCo ad featuring Kendall Jenner that caught flack for trivializing protest movements and co-opting imagery from movements like Black Lives Matter. The ad was so widely criticized that it ran for only a day. But the damage to the PepsiCo brand lasted nearly a year: millennials' willingness to buy a Pepsi plummeted to its lowest level in at least eight years, according to YouGov BrandIndex.
In the lobby
Many Americans find the idea of using money and influence to sway policy decisions unpalatable. In fact, Trump's plan for ethics reform in Washington, D.C., and his calls to "drain the swamp," became a keystone of his 2016 presidential campaign. Still, you'd be hard-pressed to find a lawmaker in D.C. who didn't meet with special interest groups. In the last year, many corporations—particularly big tech firms that were feeling the heat from the press and lawmakers, like Amazon, Apple, and Facebook—have increased their lobbying spend, some by as much as 32 percent.
"It is not only proper, but also necessary for companies to engage in lobbying and advocacy for legislative and regulatory treatment that is in their commercial interest. There is nothing inherently wrong or corrupt about that," says Salinger, a former director at the Federal Trade Commission. "When I was at the FTC, the commission was constantly soliciting input from businesses to help them understand their businesses, the markets in which they competed, and the likely effect of proposed regulations. Without that input, I'm sure that the commission would have made worse policy decisions."
Although many companies approach lobbying as an opportunity to improve public policy in a way that's good for society and business, cash-backed politicking didn't get a bad name for no reason.
"Obviously, it would be naïve to think that companies would—or even should—do so in an even-handed way," says Salinger. "They should be allowed to make their case. But I consider it immoral and ultimately self-defeating for companies to assert arguments they know to be wrong." A prime example: Big Tobacco.

"For years, tobacco companies tried to cast doubt on the evidence about the health effects of smoking," he says, "even though they knew the evidence was convicting. Efforts by big energy companies to cast doubt on climate science are similarly problematic."
Salinger advises companies to think carefully about what they're lobbying for.
"They should begin by asking why it is in the interest of their shareholders to spend company money on political activity," he says. "They should also ask whether they are participating to clarify issues or to intentionally muddy the waters. If the honest answer is that the company is trying to obscure something that it knows to be true or to promote an idea that it knows to be false, that should be a huge red flag."
Even Zoom chats aren't safe from the effects of political polarization. According to a 2019 study by the Society for Human Resource Management, more than half of employees say political discussions have become "more common in the last four years" and close to half say that's led to disagreements.

Given the potential hit to morale, should companies police discussion of hot-button topics?
"Companies can set policies prohibiting political discussion—or wearing a MAGA hat, or Feel the Bern shirt," says Chang. "Political affiliation is generally not a protected category in state discrimination laws—Mississippi and D.C. are the exceptions—so managers can require workers not to talk about politics or even terminate someone for refusing."
If companies don't want to go that far, how can managers and company leaders encourage political conversations to be constructive?
"There is no simple answer," Salinger says, "but I do think companies should make extra efforts to build a culture of respect for customers, suppliers, fellow workers, and so on."
And there is one politics-related move that employers can get behind without creating controversy: giving their staff time to vote.
"In a perfect world, employers would give employees the day off to vote—or election day would be a holiday or on the weekend," says Chang. "Short of that, employers can give their employees leeway to arrive late or leave early so they can get to their local polls."