Cornwall's Reopens and Adds Breakfast Service, Sidewalk Dining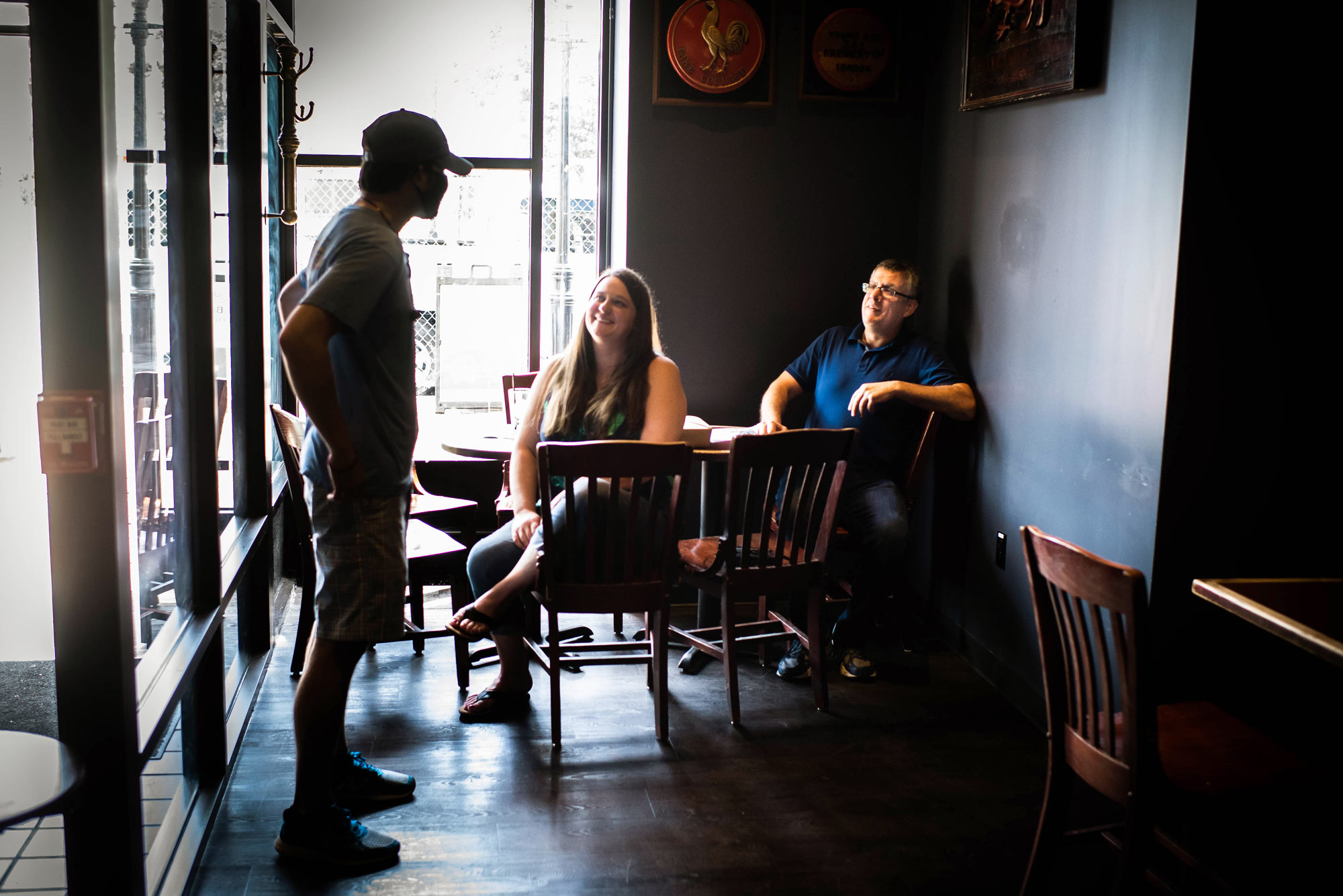 Restaurants
Cornwall's Reopens and Adds Breakfast Service, Sidewalk Dining
Popular Kenmore Square pub back in business after pandemic shutdown
They're used to pulling pints. Now, they're pulling espressos, too. The important thing is, Cornwall's is back.

A compact Rancilio espresso machine on the bar greeted patrons at the Kenmore Square institution when it reopened Tuesday, July 7, adding breakfast burritos, baked goods, and granola to its pub offerings after more than three months' shutdown due to the coronavirus pandemic.

"It felt great to be back," says Pam Beale, proprietor with her husband, John, of the popular pub he founded back in 1973. "It was wonderful to connect with everyone again."

Cornwall's "is part of the fabric of this community," says Chris Strang (LAW'05), a School of Law lecturer and neighborhood resident who made sure to stop in Tuesday for a breakfast sandwich and a side of Tater Tots with his coffee. "We hope they will be around forever."

Cornwall's briefly offered Sunday brunch about 30 years ago, Beale says, and insiders know there is usually an off-menu breakfast on Marathon Mondays. But there won't be a Boston Marathon this year, thanks to COVID-19. The BU campus has been a ghost town since March, and the Red Sox won't allow any fans in Fenway Park when and if they start playing this season. Offering breakfast is one way for Cornwall's to retain its relationship with the community—many BU staff are fans—and try to break even during a very difficult time for the restaurant business and Kenmore Square.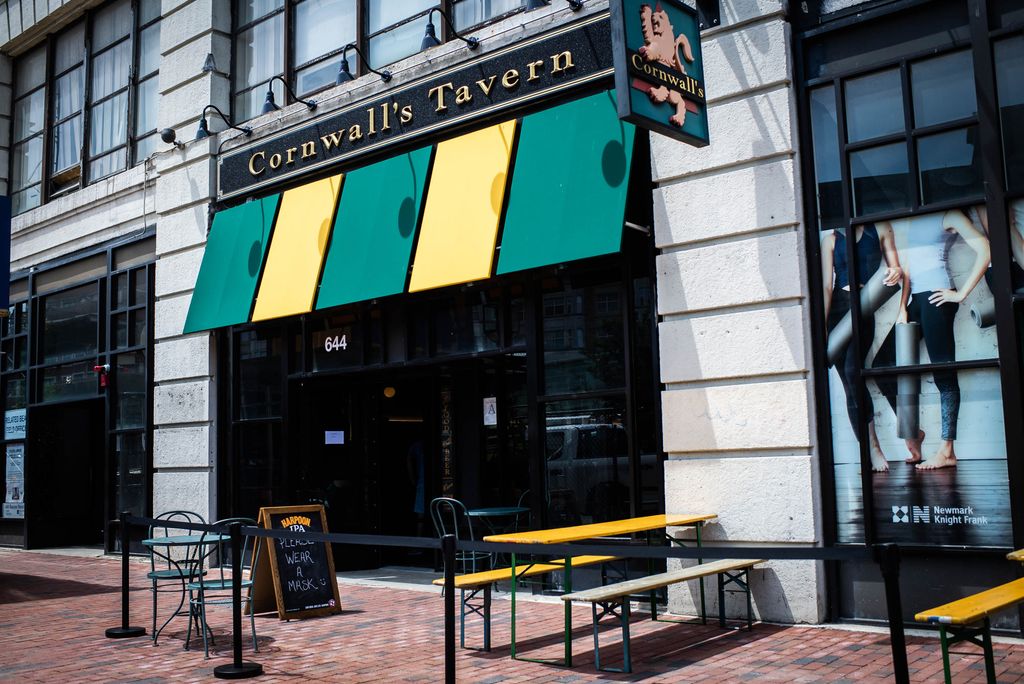 "The neighborhood has lost so much," says Billy Moran, Beale's nephew and the general manager of Cornwall's, who often greets patrons from behind the bar.

"We are stretched thin, emotionally, personally, financially," admits Beale, also a longtime leader in the Kenmore Square community.

For the moment, Cornwall's is open from 8 am to 8 pm, much earlier than usual on both ends, and the restaurant is staffed mainly by a handful of family members. Only two of the nine nonfamily employees laid off in March are back on the payroll so far, which pains Beale. But the health and safety of employees and customers alike is the most important consideration, which is why the restaurant didn't rush to open with outside seating when that was allowed a few weeks ago. "We wanted to get it right," Beale says.

Social distancing is being enforced inside the restaurant, reducing its capacity from 160 to 60, plus 12 more at sidewalk tables. Online ordering should be in place by the end of this week, and they'll hand you your to-go order outside. While Cornwall's has long been well known as a place where you might find yourself happily elbow-to-elbow with strangers over a few pints, currently there is no standing at the bar. For safety reasons, most beer is in cans, with only Guinness and Harpoon on tap. Employees are masked and gloved.

---

The neighborhood has lost so much.

---
Well, except the barista, Moran says. "We found out there are some things they touch that will melt the gloves."

He and Beale credit his wife, Lauren Moran, with making breakfast happen. She took time off from running her Hamilton, Mass., bakery café, Honeycomb, to teach Cornwall's staff to make muffins and other breakfast goods, and brought in her coffee purveyor, Speedwell Coffee of Plymouth, for lessons in all things java.

"It was a built-in opportunity to learn and grow and change," Beale says.

Business started slowly as expected on Tuesday, but traffic built during the morning with regulars coming in to grab a coffee and say hello. The reopening is welcome news for longtime customers like Strang, who first frequented Cornwall's after class as a LAW student. He found the first office for the law firm he cofounded, Strang, Scott, Giroux & Young, LLP, after mentioning to Moran one night that he was looking for a space, and Moran said there was a vacancy upstairs.

The law firm stayed there for eight years, frequently using Cornwall's as an auxiliary conference room. That was at 654 Beacon St., the third of four different places in Kenmore where Cornwall's has been located over the years. The pub moved just down the block to 644 Beacon St. last year, due to the major redevelopment project that also caused the law firm to move downtown in 2018. But Pam Beale says landlord Related Beal (ironically, no relation) was helpful at moving time and has been patient over the shutdown months.

Strang still lives in the neighborhood and says he had to hit that first breakfast service.

"I've experienced life's celebrations, trials, and tribulations at Cornwall's," Strang says. "Weddings, funerals, the Marathon bombing, my 40th birthday. They've become very good friends—family."
He chuckles when he says his day-one breakfast order was hearty, if not exactly health food—did we mention the side of Tots? But "it made me feel good. I'll be back tomorrow."