University Postpones 147th Commencement until Later This Year, Saying Grads Deserve In-Person, not Virtual, Farewell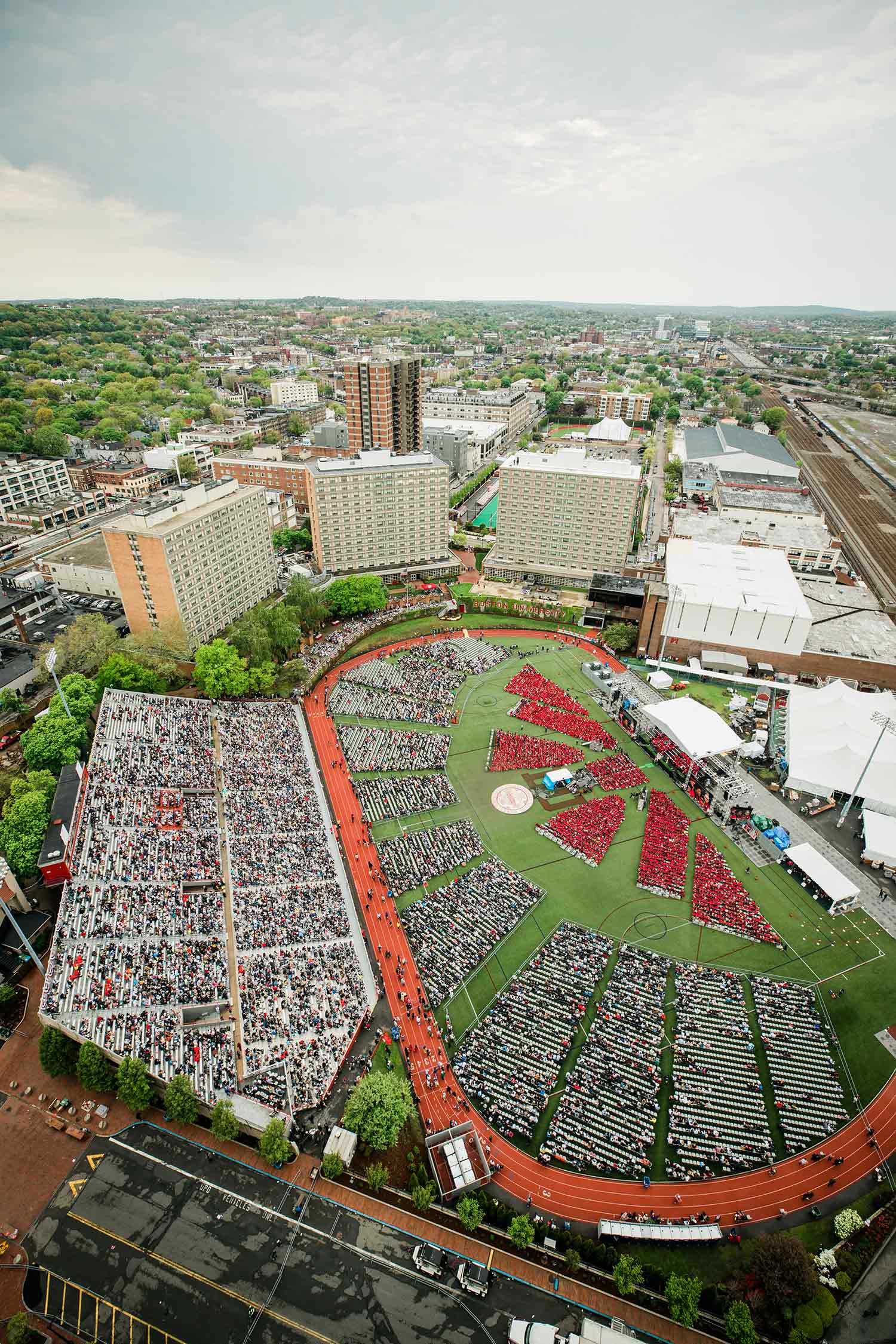 Commencement
BU Commencement Postponed until Late Summer or Fall
New date uncertain, but leaders determined to hold in-person graduation
Boston University is postponing its 147th Commencement and related events, originally scheduled for May 14 to 17, 2020, to either late August or early fall, bowing to safety needs amid the coronavirus pandemic, President Robert A. Brown announced Thursday.

For the 7,200 soon-to-be graduates, it's sure to be emotionally wrenching news, the postponement of a milestone moment in their young lives—a ceremony they've been anticipating not just for weeks and months, but for years. The date that's been marked on their calendars, when their friends and family would see them walking proudly onto Nickerson Field, draped in a red gown, excited to fling their mortarboards into the air, is suddenly in flux.

"I made the postponement decision with a heavy heart, but I am also mindful of the realities of the COVID-19 pandemic and our public safety obligations," Robert A. Brown, BU president, wrote in a letter to graduates and their families. "Regrettably, it is impossible to be definitive about a date until the epidemic subsides and we feel it will be safe to hold the exercises." He pledged to update the community by May 1.

Determined to give the Class of 2020 an in-person send-off, the University opted against both a virtual Commencement and outright cancellation, both routes that other colleges are choosing.

"It has become increasingly clear that it would be imprudent to host a large gathering, such as Commencement, only seven weeks from now," Brown wrote, and the future date will be determined by the pandemic and its course.

Graduates should not worry about not getting their physical diploma, however. "The University recognizes that there are many reasons, such as professional certifications, jobs, etc., that students may need their diplomas," says Christine McGuire, vice president and associate provost for enrollment and student administration. "We will be mailing diplomas to students as soon as we can certify the degrees and will communicate additional details to the graduates when we have more information about how this process will work."
Brown wrote that he heeded the opinions and advice of those who felt a genuine, live graduation, even delayed, would be important and could never be replaced by an event conducted via computer screens. "I have heard from many in our community who have told me that a virtual, online ceremony that could be organized in May is not seen as a fitting substitute for the in-person event that is shared with colleagues, family, and friends. I understand and appreciate this sentiment. We will do everything possible to create an in-person on-campus event for our 2020 graduates."
"We also realize that our decision to postpone the event will make it impossible for some graduates and your families to attend on the new date," he continued. "This is an inevitable consequence of the impact of COVID-19. Individual schools and colleges may plan virtual events in May to celebrate your accomplishments, especially for those of you graduating from professional graduate programs for whom returning to campus later this year may be impossible."
Jean Morrison, University provost and chief academic officer, says information on which schools will choose virtual events will be forthcoming from the individual deans.
Students are taking courses remotely through the end of the spring semester, as BU emptied its residences last weekend of all students except those with special cases who cannot return home.
Kenneth Elmore (Wheelock'87), associate provost and dean of students, was moved watching some seniors who were still on campus that final weekend, a few of them in caps and gowns, posing for and taking photos at Marsh Plaza. They were "having to leave and not even being able to hug each other as they left," he says.
"Overwhelmingly, folks want that opportunity to come together" for Commencement, Elmore says. "I've heard over and over again, 100 percent, they want to physically get together." He recalls one international student, the first in his family to graduate college, telling him, "'My family, my aunts, my uncles, they've all waited for this day.'"
Brown's decision for a live, if postponed, ceremony, he says, "gives us real, bold hope."
In almost a century and a half of observing pomp and circumstance, BU canceled its All-University Commencement only once, in May 1970, following the killing by Ohio National Guardsmen of four Kent State University students during a Vietnam War protest.

Scrapping Commencement 1970, which ironically had been slated, as was the 2020 Commencement, for May 17, followed campus eruptions nationwide over the killings. The Charles River Campus suffered arson, firebombings, and broken windows; one student was hospitalized after apparently burning himself with a Molotov cocktail.

But 40 years later, 225 alumni of the Class of 1970 attended the 2010 Commencement to get their belated recognition. The night before, the Rev. Robert A. Hill, dean of Marsh Chapel, presided over a service for the class, and he says he shared the emotions of that evening with BU's current leadership to support Brown's determination for an in-person ceremony this year.

"The place was packed, except the balcony," Hill recalls of the 2010 service. Hill's wife, Jan, played era-appropriate songs on the piano—Fire and Rain, The Long and Winding Road, Both Sides Now. Hill was introducing James Carroll—BU's Catholic chaplain in 1970, who left the priesthood and is now a well-known author—when a 1970 graduate stood up in the back and launched into her own impromptu sermon, declaring, "We didn't get to have a Commencement, and it was a real bummer."

When Carroll spoke, Hill says, he gave a litany of remembrances of the long ago spring when Terriers angrily protested a war they thought was immoral. He said they'd gathered four decades later to complete a journey they'd been mourning about leaving unfinished, and to let go of that sorrow.

"It was so bone-jarringly powerful," Hill says. "That was a 40-year grief that finally got healed by the work of the University. The long-story-short is, these Commencements are very important, these rituals are very important.…I think it's very important to meet the moment [and] find a way, if we can, not just by Zoom or cyber, to honor the Class of 2020."