BU's 2020 Grads Get Creative Celebrating What Should Have Been Commencement Weekend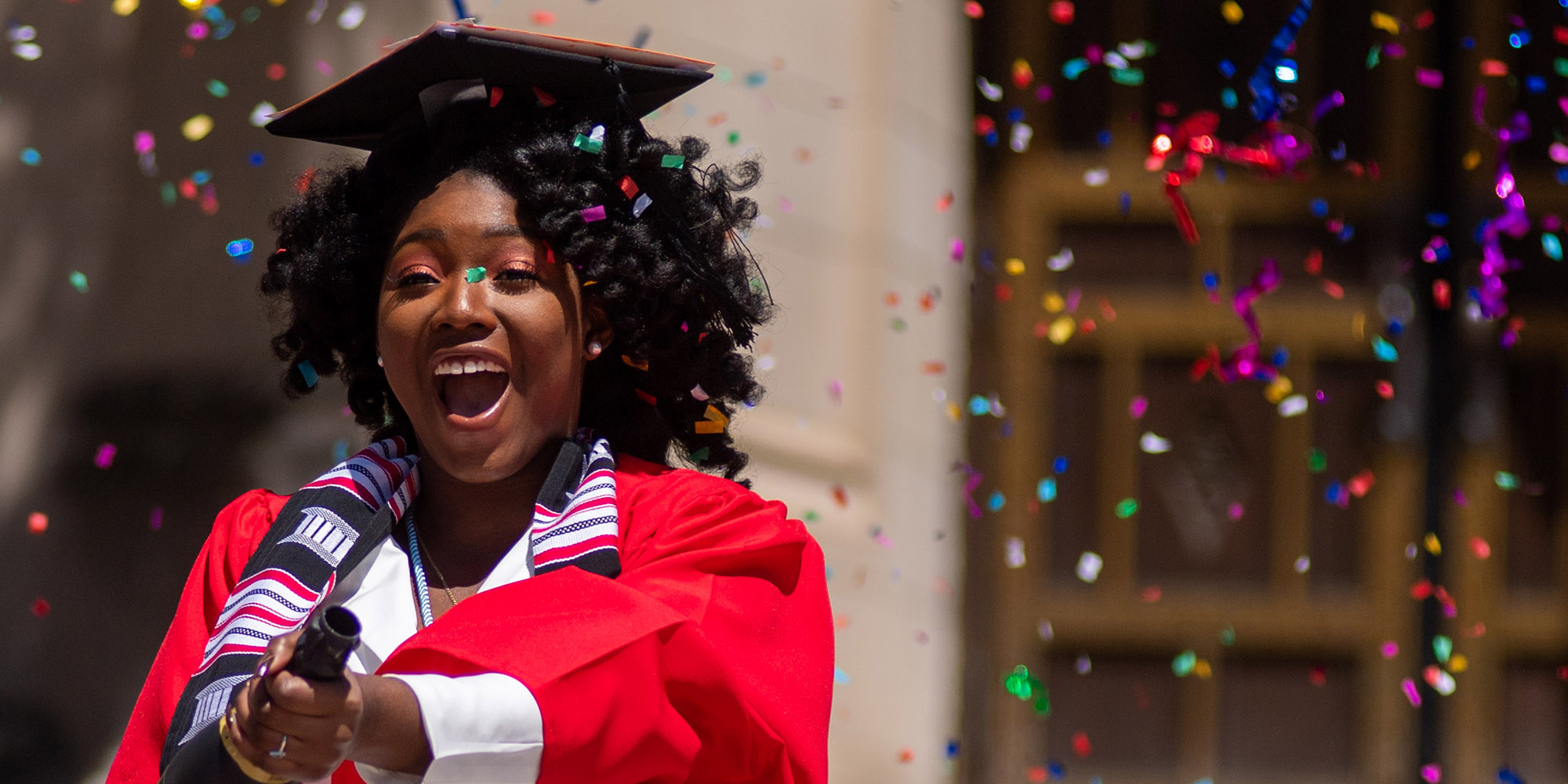 Commencement
BU's 2020 Grads Get Creative Celebrating What Should Have Been Commencement Weekend
Families hold their own ceremonies, with many from this year's class vowing to return to campus
On the eve of what should have been Boston University's 147th Commencement, Noelle Monge was staying with family 3,000 miles away in northern California, unable to return home to Guam where her parents live. Coronavirus made postponing this year's Commencement necessary, and Monge (CAS'20) reflected on the experience, sad that she couldn't be on campus with her friends, but delighted by how the weekend turned out.

She had an inkling that her family would mark her graduation in some way, but she was floored with what they ultimately pulled off and how they managed to sprinkle BU traditions throughout. Her uncle printed out a large picture of the BU seal and taped it to their patio for her to step on when she finished classes. On Saturday night, her mom orchestrated a ceremony from afar, complete with music, speakers (her uncle and sister), and pictures of family members taped to the chairs in the "audience." Monge wore her cap and scarlet gown, of course. And on Sunday, they watched the BU ceremony, hosted by Kenneth Elmore (Wheelock'87), associate provost and dean of students, and dined on fancy takeout afterwards.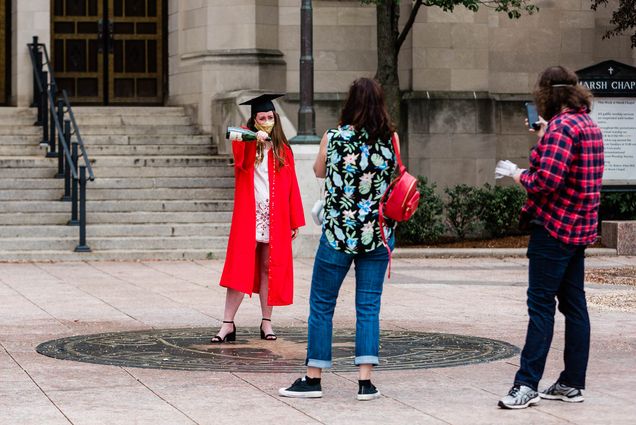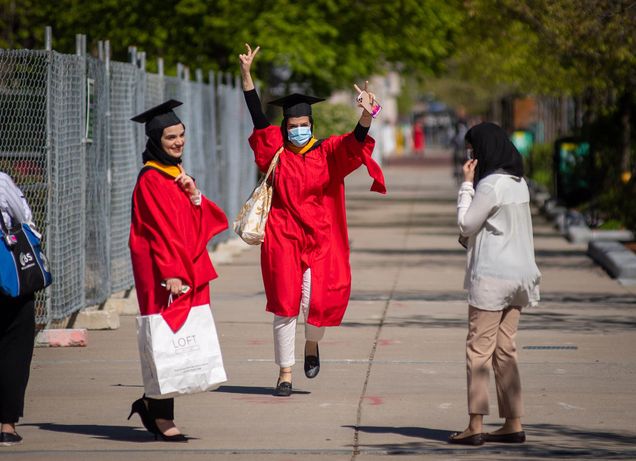 Ending her college career without an in-person Commencement has been a "bittersweet" experience, Monge says, a word echoed by many BU seniors. "Obviously I'm very sad, my friends and I are kind of in mourning," she says. "But if we didn't have such an amazing experience, meet all these wonderful people, we wouldn't be sad. I'm thankful I'm sad, because I have something I miss so much and something I want to celebrate correctly."

Commencement is by far the busiest weekend in BU's calendar, with thousands of families traveling from across the world to pack Nickerson Field to cheer on their grads. Although coronavirus made that impossible this year, it didn't stop the Class of 2020 from celebrating on their scheduled Commencement weekend, both on their own and at dozens of virtual ceremonies hosted by BU's schools and colleges during the three days and a general University virtual toast on Sunday. In the days leading up to May 17, there were reports of drive-by parades and small cookouts with family members. Some graduates even returned to campus to pose for pictures on the seal and crack bottles of champagne.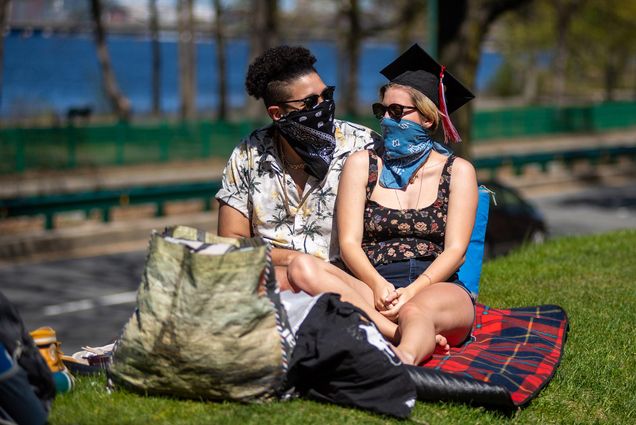 Despite his friends being in different states and countries, Avsar Rana (CAS'20) describes the end of his senior year with words like "solidarity" and "united." Rana says that "the situation at large has proved the resiliency that we as a community possess. To leave for spring break thinking you're gonna see your homies in a week or so to then being told you have to pack your things and leave campus for months just days later is no easy feat, but we did it and are currently going through it; it is something we can all relate to. This feeling of togetherness is what helps us get through the sadness that we see."

This weekend, Rana and his family dressed up and tuned in to the College of Arts & Sciences biology department ceremony via Zoom, and later enjoyed a festive meal and champagne. "Being socially isolated from your friends and family does not mean you have to be socially disconnected from the world," he says.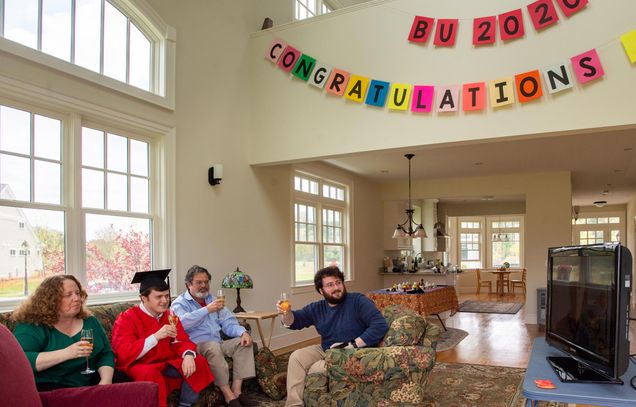 Thomas Nitti (COM'20) planned a weekend of family celebrations and Zooming with friends, saying that it's more the people than the place that he wanted to celebrate. He's learned how supportive his BU peers and friends are throughout these last few months. "One way or another, we made the most of what we had," says Nitti, who has just signed off as general manager of BUTV10. "It might not be what we expected, but that doesn't mean we couldn't have a good time celebrating with each other."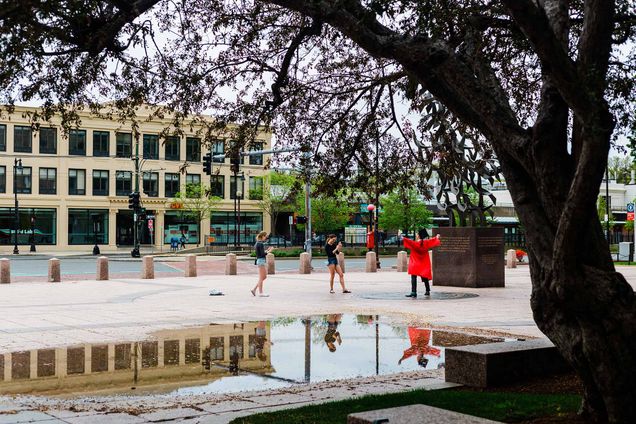 Shantelle Gao saw the weekend as an opportunity to gain some closure to her undergraduate experience, an acknowledgment that it marked a major milestone for her and everyone who has supported her. "After this weekend, we're officially graduates and will take on responsibilities associated with that, be it shouldering more duties at home, job hunting, and so forth," Gao (CAS'20) says. "I think it's important to celebrate achievements thus far and also the gradual transition out of student life into adulthood." To mark that transition, she Zoomed with friends throughout the weekend, enjoyed a three-course meal and champagne with her family, and received gifts from friends.

Kimberly Cahill (CAS'20, Wheelock'22), one of her family's triplets, moved back home to Abington, Mass., with her parents, brother, and sister in March ("it's a bit crowded right now," she says with a laugh). This weekend, the family watched both her brother's Curry College and her BU commencement ceremony online. She's sad about how her senior year ended. "Who thought we had to say goodbye for good when we left for spring break?" she says, and she will attend the Class of 2020 all-University ceremony in person, whenever it's held.

Monge likewise intends to return to campus when the Class of 2020 receives a proper send-off: "100 percent I plan to attend the ceremony," she says. "I'm the first one to graduate college on my dad's side, and one of the few women on my mom's side. We are going to try to make it happen. It might not look the same, but we're going to celebrate."