Citing Student Privacy, BU Says Faculty Won't Be Told if Students Test Positive for COVID-19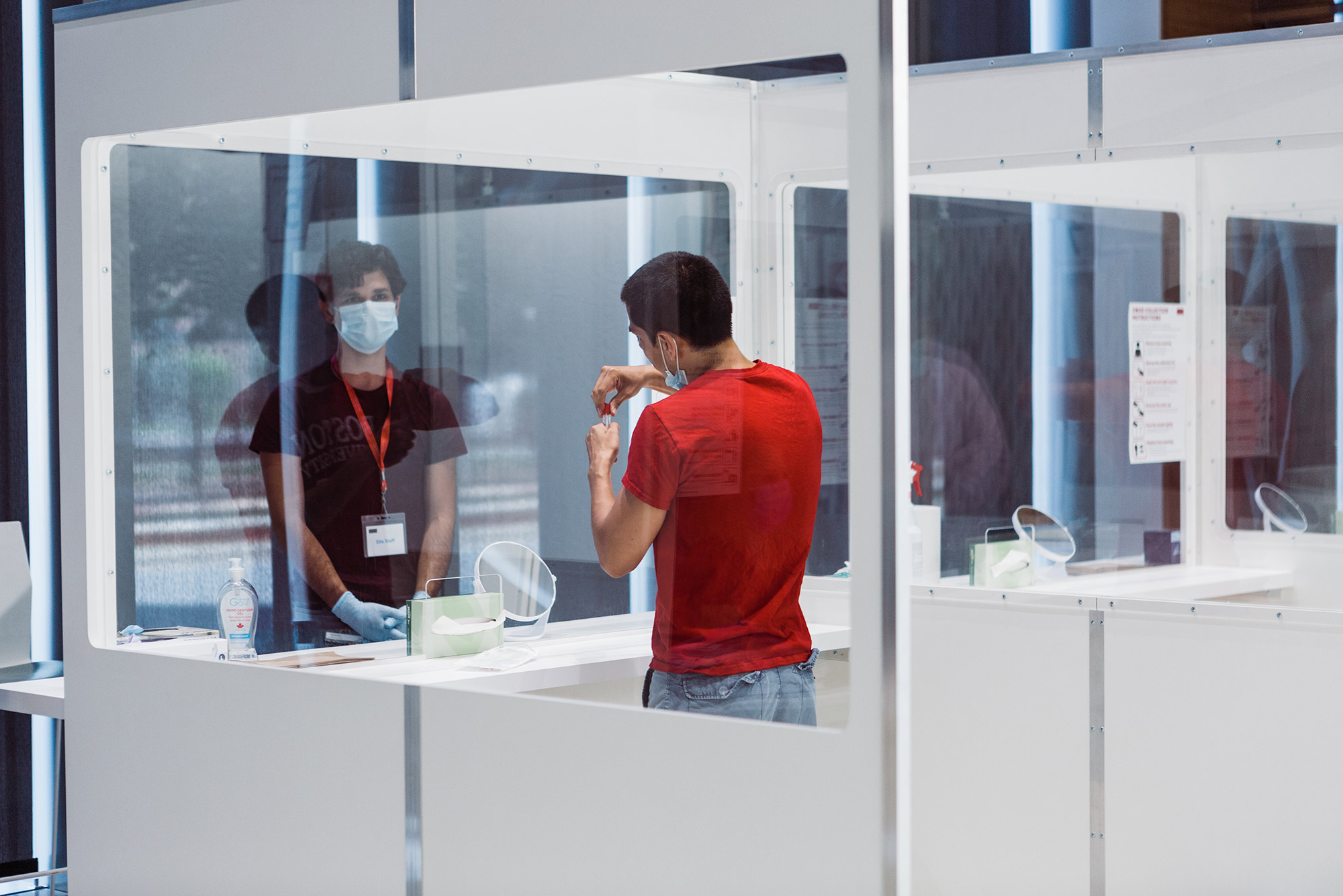 Campus Life
Citing Student Privacy, BU Says Faculty Won't Be Told if Students Test Positive for COVID-19
Distancing protocols in classrooms guard against close contacts, University says
University will not notify professors of students in their classes testing positive for COVID-19
Protecting student privacy drives decision
Distancing, masking precautions lessen chances of in-class close contacts
Citing student privacy and the need to encourage cooperation with contact tracing for COVID-19, the University will not inform faculty if students in their classes test positive for the virus.
"The efficacy of contact tracing is entirely dependent on the accuracy of the data shared by the individual who has tested positive," Jean Morrison, University provost, wrote in an email sent to faculty Monday. "If students do not feel their privacy is protected, they may be less likely to fully and honestly participate in contact tracing, putting us all at higher risk.…I know this decision will be a disappointment to some of you, but I hope that you understand that we have made this decision with the ultimate goal of keeping all faculty, staff, and students as safe as possible."
"We know that for our students, if we cannot ensure that their privacy and confidentiality are being safeguarded, then they're not going to tell us the information that we need to know in order to keep them safe, or keep the campus safe," says Judy Platt, director of Student Health Services (SHS). During Orientation and in other student forums, she says, "one question that always comes up is around privacy, and are we going to alert administrators or are we going to alert their faculty advisor—who are we going to tell?
"We've always held the line that unless there is an immediate threat to someone's safety, we are not going to disclose health-related information," Platt says. "To do something differently for this, when we've always had a standard practice of confidentiality and privacy guarantees, I think would significantly undermine the efforts of contact tracing."
Even if students were assured professors wouldn't disclose their identity in class, she says, in smaller courses, with "the remote, hybrid approach that we have going on now, it can be a little more difficult to actually guarantee that anonymity will be preserved."
Social distancing and masking protocols in classrooms this fall are designed to prevent close contacts and reduce the chances of viral spread, Platt adds. "I'm not going to say that the risk is zero in a classroom. But if the class is physically distanced, everyone is wearing a mask, everyone is doing their daily symptom attestation, everyone's complying with testing—that should make the risk of transmission in the classroom very low."
The University will share positive COVID-19 test results with local public health authorities in the municipality where the tested person resides, which is "what we do for any highly communicable healthcare illness," Platt says. Also, students may disclose their own health care information. "We often tell students, if you need to miss a class, proactively reach out to your professors," she says. "Let them know you're not going to be in class."
Eileen O'Keefe, chair of the Faculty Council and a Sargent College of Health & Rehabilitation Sciences clinical professor of health sciences, says the council discussed notification with the University's leadership. College of Arts & Sciences faculty "advocated strongly for notification," she says, while instructors at other schools have told her they're less concerned.
"I can appreciate the complexities that went into this decision and know the anxiety that some faculty feel around this issue," as an epidemiologist who is teaching this semester, O'Keefe says. "Some faculty will be disappointed. Looking at this more broadly, our combined efforts across all sectors of the University this summer has been to prepare the campus for the safe return of students, faculty, and staff.
"If there were the option of maintaining contact tracing compliance and informing class instructors, then I believe the administration could have honored this request," she says. "But given that we are in the midst of a pandemic and infection control is the priority, I think the administration had to opt for infection control and what is best for the entire community."