CFA Alum Opens Board Game Café in Mission Hill
In the City
CFA Alum Opens Board Game Café in Mission Hill
Nicholas Chen's Tavern of Tales offers gamers immersive, sound-enhanced game narration along with food and drink
Studies show millennials are feeling increasingly lonely and isolated, and there's speculation that social media and technology are partially to blame. So Nicholas Chen decided to do something that would bring young people together.
This past December, Chen (CFA'17) opened board game café Tavern of Tales in Boston's Mission Hill neighborhood. The café (which also serves food and drinks) has immersive, sound-enhanced narration tracks for the popular games Eight Minute Empire, Five Minute Dungeon, Forbidden Island, Mysterium, Robots on the Line, the Resistance, and Tokaido, which are played in a private room with a game master leading the group. The café also stocks games people can play more casually. In other words, you can grab Jenga off the shelf and play while enjoying appetizers like loaded tater tots and one of the cafe's cocktails, all named after games.

Chen, a College of Fine Arts School of Theatre sound design major, says Tavern of Tales stands out from other Boston board game bars because it invites patrons to immerse themselves in a game. For Mysterium, about a murdered ghost who communicates through mediums, he composed a carefully designed soundscape featuring foreboding organ music, a ticking clock, and a creaking door.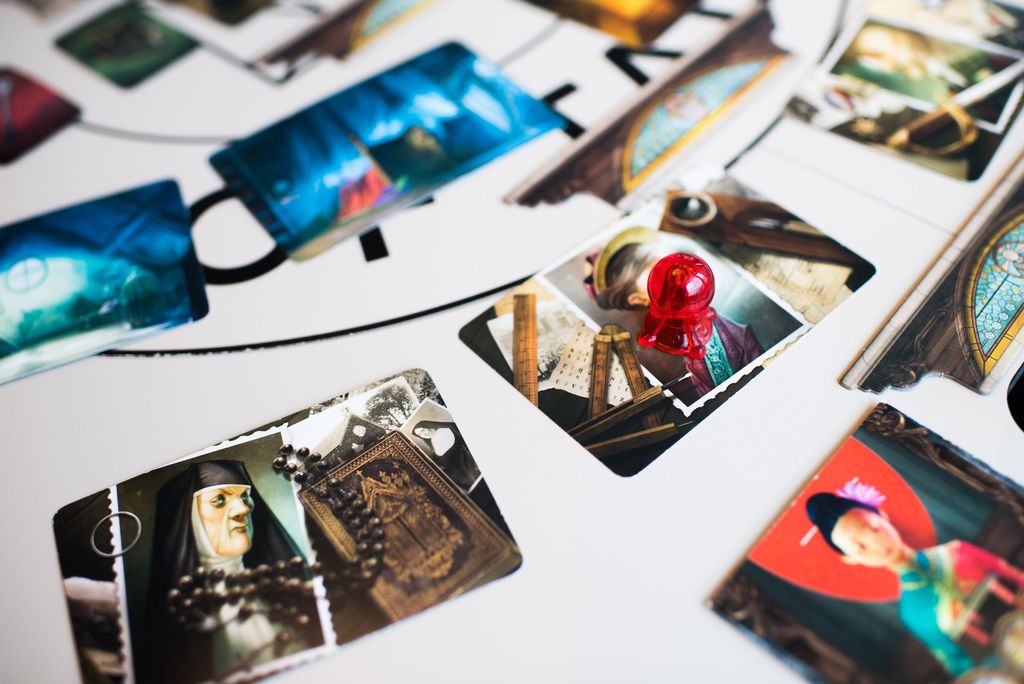 "If I go buy a horror game at the store and play it at home, it's not scary," Chen says. "It's just a board game. But when you come here, it is an experience that you can't get at home. We can make it tense and suspenseful."

As an undergrad, the 24-year-old was a sound designer for many CFA school productions and also worked as an assistant to Huntington Theatre Company sound designers. When it came time to choose a senior thesis, Chen, a big board game fan, decided to create an interactive board game experience. Over the next two and a half years, he further developed the idea and ultimately secured funding from banks to open his board game café. Finding a space proved to be one of the toughest challenges.

"I spent about six months going between Cambridge, Somerville, Back Bay, and Brookline looking for locations," says Chen, who grew up in California, but also spent time with his family in Thailand and Singapore. "My realtor found this place. I wasn't convinced at first. This is a brand-new building, so it was good for us because we could put walls in wherever we wanted."

The bright, modern, open café features a large bar and several tables, as well as six private soundproof rooms that can be rented for playing one of the seven sound-enhanced games or any of the other games. With Chen's input, a local Chelsea company built the game tables. Similar to blackjack tables, they have dice trays, raised ledges to contain game pieces and flying dice, and cup holders.

Much thought is put into the games Tavern of Tales features, Chen says. The first requirement is that it can be played in an hour or two and the second is that it can be enhanced by a "sound experience," as Chen describes it.

"One of the games people recommend to us is Settlers of Catan, so we looked into it," he says. "We can add a background track and music, but is that worth it to come play here? It's a popular game, with phone apps to enhance the play and an app that lets you play someone online. We always want to make sure the experience you get here is something that you can't do at home." So Chen decided the game wouldn't benefit from the added sound effects Tavern of Tales provides and gave it a pass.

In Tokaido, a game about going on a trip, one of the storylines transports players to a Japanese fish market. Played in one of the café's special rooms, players hear sounds of chopping food and sellers speaking in Japanese. At different points in the game, there's audio of rain (which Chen created by pouring rice) and seagulls, as players travel closer to the ocean. Deciding the sound effects to use is largely left to the game masters, who sit in on the game, help distribute cards and game pieces, navigate the sound board, and generally referee.

The reception from patrons has been positive, Chen says, adding that several local college board game clubs have already visited the café. BU Board Games Club president Andreas Towers (CAS'20) describes Tavern of Tales as fun and unique. "It felt like the difference between watching a movie at home on your laptop and going to a luxury theater with reclining seats," he says. "We played a game called Mysterium, and our game master provided us with clues and was actively in character, giving the game new life, along with a clever soundboard and background music to add to the ambience."

Tavern of Tales is constantly evolving, with Chen and his team working on soundscapes and effects for more games in the near future. When introducing a new game, Chen thinks about what kind of narration, music, and sound effects to add. He and his colleagues then hire a composer (usually through the Berklee College of Music gig board) and voice actors (BU students whenever possible), write a script, and finally incorporate sound effects. The whole process can take more than six months.

"I approach it much like I did in theater," Chen says. "When we designed a new show, the lighting designer, sound designer, costume designer, and director would sit in a room and talk about the aesthetics and the script. We do the same for board games."

Tavern of Tales, 1478 Tremont St., Boston, is open from 10 am to 10 pm Tuesday through Thursday, 10 am to 1 am Friday and Saturday, and 10 am to 10 pm Sunday; closed Monday. Find information about special events, like a Dungeons and Dragons tournament and Valentine's Day specials, here. There are also back-to-school specials with a student ID.