BU-Supported Wind Farm Now Up and Generating Clean Electricity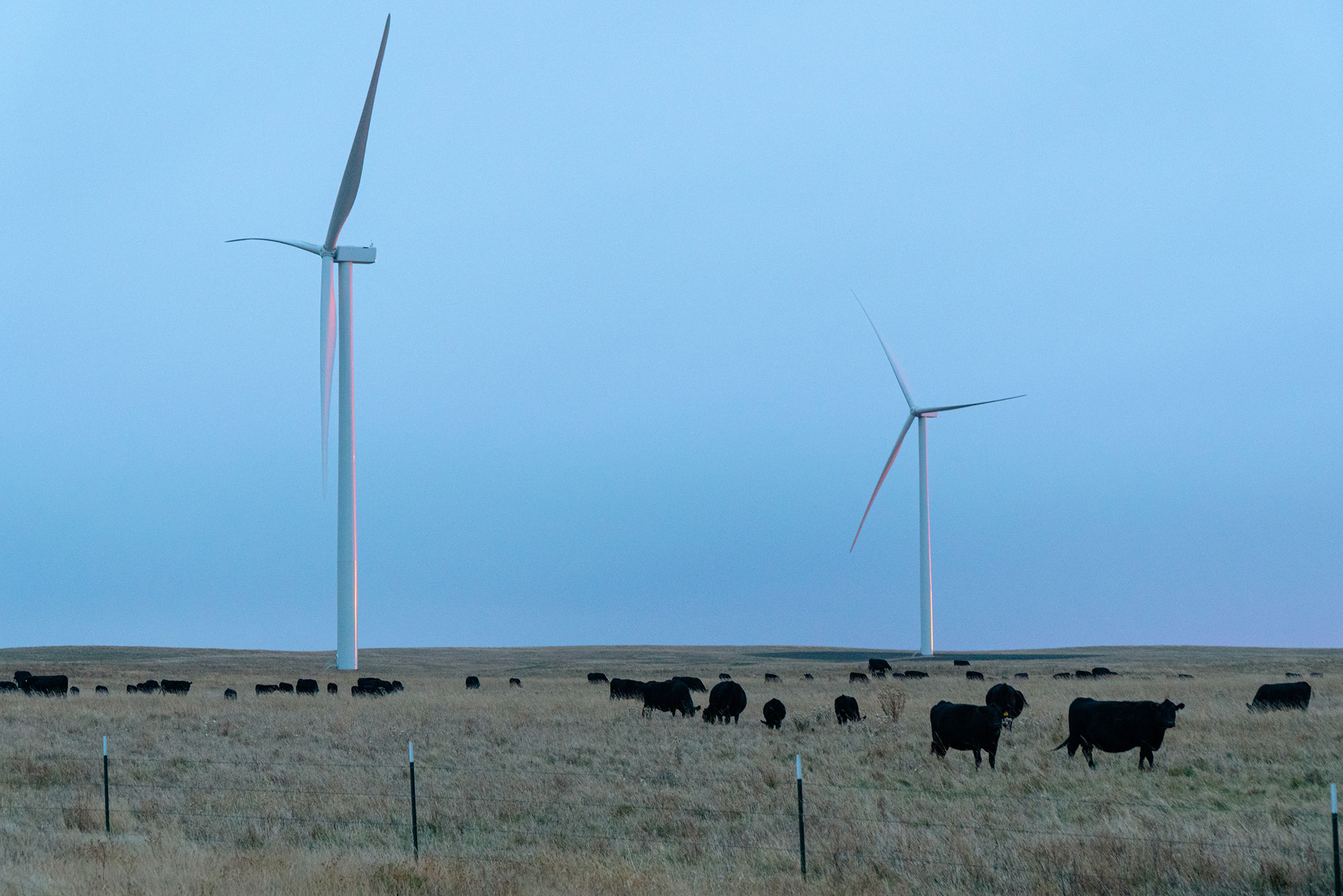 Sustainability
BU-Supported Wind Farm Now Up and Generating Clean Electricity
University's energy purchase enabled South Dakota facility's construction
Boston University begins buying clean energy today from the South Dakota wind farm that the University enabled, fulfilling a key goal of the University's Climate Action Plan (CAP).
BU will buy 205,000 megawatt hours of electricity annually for 15 years from wind farm developer, builder, and operator ENGIE North America. By reselling that clean power to Midwest consumers and helping decarbonize that region's power grid, the University will earn legal credits, called Renewable Energy Certificates (RECs), against its own carbon emissions in Boston. Those credits are a critical piece of the CAP's strategy for cutting campus and global operations emissions to zero by 2040.
The CAP also commits the University to boosting its energy efficiency and renewable sources, in line with the current greening of New England's own power grid.
The federal Environmental Protection Agency (EPA) says Boston University's buy is the largest single active clean power purchase agreement by any of the 126 colleges and universities in the EPA's Green Power Partnership, a consortium of organizations that voluntarily commit to clean power.
"EPA applauds Boston University for its commitment to using green power and for taking a leadership position on the environment," says James Critchfield, the Green Power Partnership's program manager. BU, he says, "is helping to reduce greenhouse gas emissions and provides an excellent example for other organizations to invest in environmental progress."
"We will receive the RECs from the project and retire them so they can't be used by a fossil fuel–based power plant to emit more greenhouse gases," says Dennis Carlberg, BU's associate vice president for sustainability. "RECs are the currency of renewable energy. They are the market mechanism used to drive the development of renewable energy projects in the United States."
Boston Mayor Martin Walsh lauds the purchase as well. "Climate change is one of the defining challenges of our time, and we need everyone in our community to commit to lowering emissions and moving to cleaner, renewable energy," Walsh says. "Boston University is an example of how large institutions can lead the way on achieving carbon neutrality and help the City of Boston create a more sustainable and resilient Boston for the future." 
"The development of this wind farm, and our purchase of wind energy from it, is a major milestone in our journey to reduce Boston University's net carbon emissions to zero," says Robert A. Brown, BU president. "Our Climate Action Plan is ambitious, and this purchase of renewable energy moves us closer to realizing those goals."
In conjunction with today's start of BU's power purchase, Boston's Green Ribbon Commission, a climate change–combating group of business and institutions, is holding a morning virtual panel, where Carlberg will discuss how the University decided upon, and executed, its involvement with the wind farm. (Brown is a commission member, as is Kate Walsh, CEO of Boston Medical Center, the School of Medicine's teaching hospital.)
"ENGIE is thrilled to work with a customer like Boston University, who has gone above and beyond to reduce their environmental footprint in numerous creative ways, and we're proud to have been a part of that process," says Laura Beane, ENGIE North America chief renewable officer. "Our team has great skills and experience working with a wide range of customers, helping each achieve sustainability goals with unique, customized solutions, and we're confident this partnership with BU can help blaze new renewable trails across North America's campuses."
The South Dakota farm has 92 wind turbines. "We have commissioned these towers to bring them online for commercial generation of power," says Kenny Van Ballegooyen, ENGIE project construction managing monitor. In recent weeks, the final steps in that process were completed, including software and fiber-optic installations, he says.
ENGIE stayed on schedule even as COVID-19 ravaged the country. "South Dakota's kind of hitting the influx of it right now," Van Ballegooyen says, noting that during construction they had avoided the spike they're now seeing. "We didn't see any setbacks from COVID on this project."
---

"The development of this wind farm, and our purchase of wind energy from it, is a major milestone in our journey to reduce Boston University's net carbon emissions to zero."

---
The company instituted safety protocols—frequent office cleanings, social distancing, and masks when possible—to keep the roughly 230 workers safe during the work.
Now that BU is buying its contracted power, the University will in turn sell it to the Southwest Power Pool, the grid the farm is connected to. BU's commitment to buy the power triggered the necessary financing for ENGIE to build the wind farm.
"BU's agreement to buy power from this wind farm guarantees a positive cash flow for ENGIE for 15 years," Carlberg says. "That allowed ENGIE to get the project financed and then built."
The 205,000 megawatt hours BU buys equals the amount of electricity the University used last year, which in turn was responsible for more than half of its carbon dioxide emissions. The Climate Action Plan Task Force recommended buying power outside of New England's increasingly green grid as a way to reduce the greatest amount of emissions from fossil fuels. (The Midwest grid relies more on those polluting fuels.)
The University has already cut its carbon emissions by one-quarter since 2006, and the CAP calls for spending $141 million over a decade on capital projects to achieve further reductions.
BU's contract with ENGIE includes two summer internships for BU students and wind farm tours for all University affiliates. "Once we can travel again after COVID, faculty can build curricular and research activities related to the project that include a site visit every year," says Carlberg. "Last spring, students signed up for a directed study program that mechanical engineering professor Michael Gevelber and I organized, which included site visits to the wind farm in South Dakota and the GE plant in Florida where the turbines are manufactured. Real time data will also be provided from the project for faculty and students to use."