BU Men's Basketball Advances to Patriot League Semifinals, Hosts Bucknell Sunday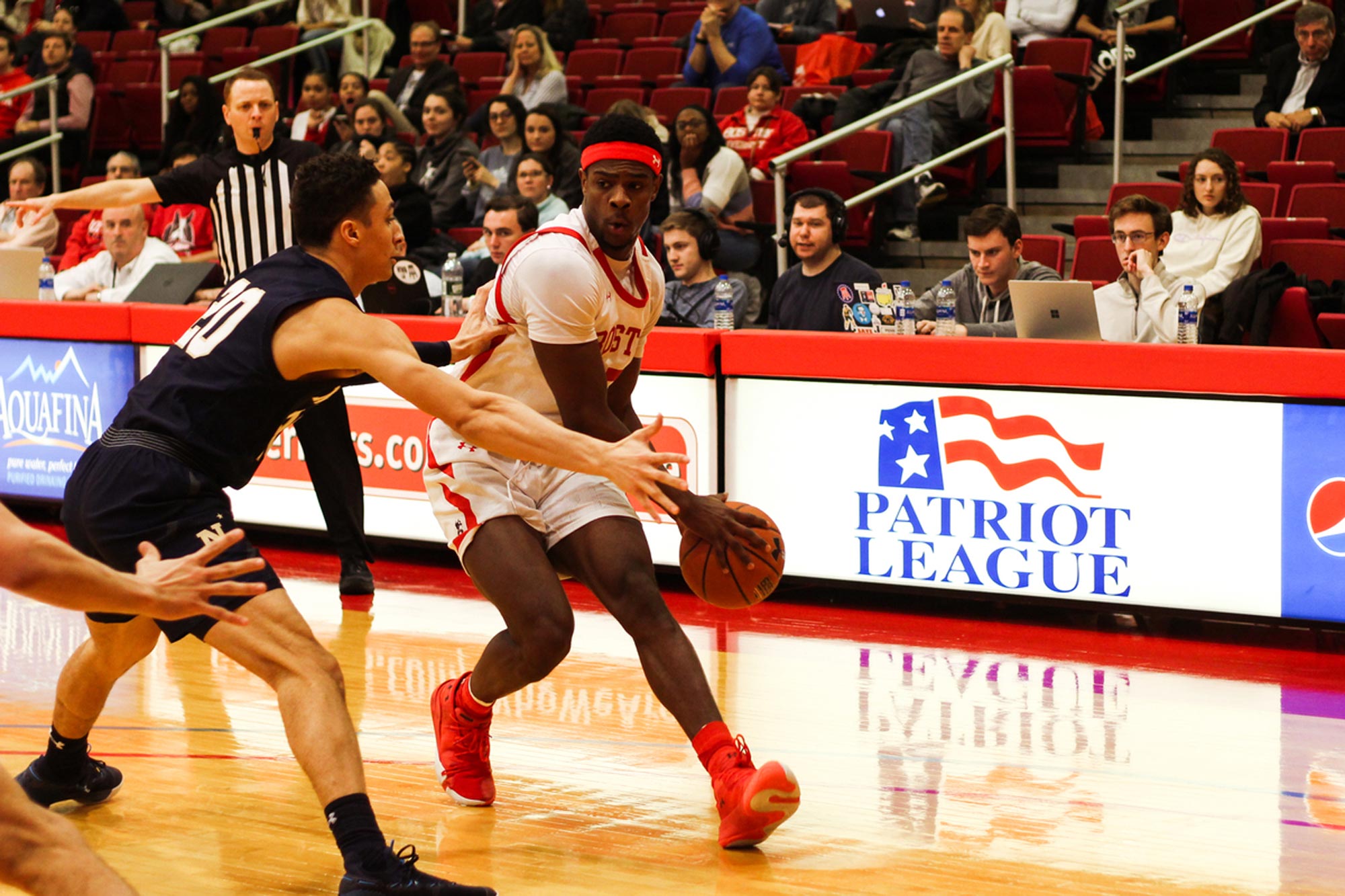 Varsity Sports
BU Men's Basketball Advances to Patriot League Semifinals, Hosts Bucknell Sunday
Terriers top Navy 69-63 Thursday at home
For the first time since 2017, the BU men's basketball team is going on to the Patriot League semifinals. Following a 69-63 victory over the US Naval Academy at Case Gym Thursday night, the third-seeded Terriers will host seventh-seeded Bucknell University on Sunday, March 8, at noon at Case Gym.

The Terriers (19-13, 12-6 Patriot League) swept the Bison (14-19, 8-10 PL) in the two-game regular season series, the second a narrow 74-71 victory at home in the regular season finale February 29. How far the Terriers go will depend heavily on three players who received Patriot League honors this season: Max Mahoney (Questrom'20), All Patriot League First Team, Walter Whyte (CGS'19, CAS'21), All Patriot League Second Team, and Javante McCoy (Questrom'21), All Patriot League Third Team. This gives the Terriers three All-Conference awards for the first time since 2013.

"When you get to this time of year, I told the players, expect an absolute battle," says Joe Jones, BU head coach. "I'm going to expect the same from [Buckell]. They'll be great, they'll be prepared."

Whyte posted 18 points and 10 rebounds in the quarterfinal victory. He says the Terriers are taking the playoff run one game at a time.
"We've been talking about this all year," Whyte says. "Each game, there's a team in front of us that we've got to go through to get to where we want to be. We're not thinking about the championship game—there's another one in front of us right now that we've got to get through."

Bucknell stunned second-seeded American University (16-14, 12-6 PL) in the quarterfinals. The semifinals are played at the home of the top two seeds. Top-seeded Colgate (24-8, 14-4 PL) hosts Lafayette (19-11, 10-8 PL) in one semifinal, and as the second best team, BU hosts the other.

The Terriers last played in the league semifinals in 2017, falling in double overtime to Lehigh. Mahoney is the only current BU player who was a member of that team.

The Terriers' roster is filled with experienced sophomores and juniors, and Jones says this group is one of the most cohesive teams he has coached, and he looks forward to the Patriot League semifinals.

"They're just winners—they have the right character," he says. "These guys buy it. They know what's right, they know what's important. Collectively, I think it's really powerful when you have guys pulling for each other and trying to get it done together." 

The Boston University men's basketball team hosts Bucknell University on Sunday at noon at Case Gym, 285 Babcock St., in the Patriot League semifinals. Purchase tickets here. The game will be streamed live on CBS Sports Network.