BU's Initiative on Cities Summer Fellows Tackle Racism, Help with Civic Research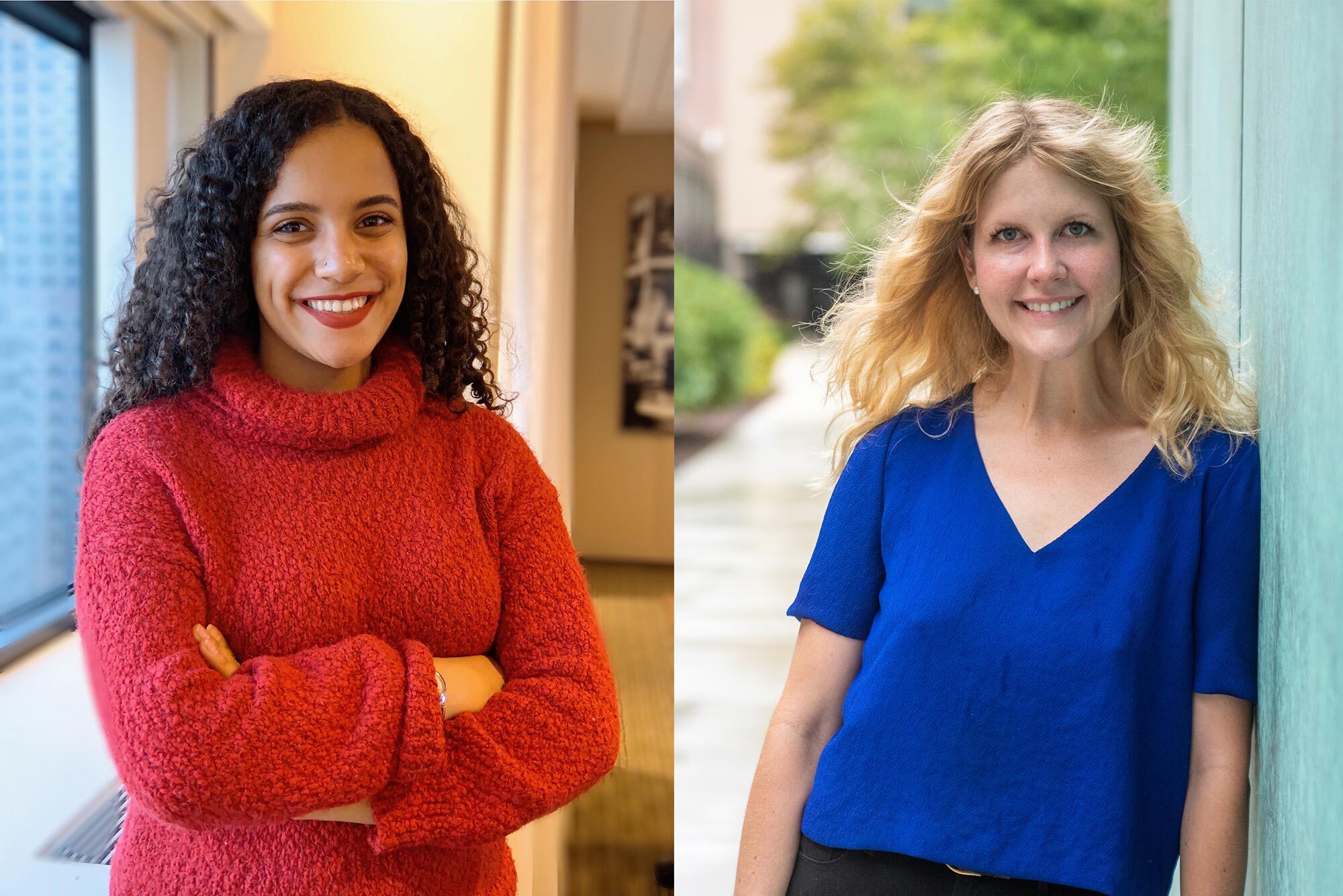 Initiative on Cities
BU's Initiative on Cities Summer Fellows Tackle Racism, Help with Civic Research
Students worked remotely with City of Boston officials this year
A silver lining to the COVID-19 pandemic here in Boston? It has inspired more Bostonians to become civically engaged: more than three times the number of residents have been attending city meetings (virtually) than before the pandemic.
That was one of the findings to come out of Meghann Lucy's summer internship through BU's Initiative on Cities (IoC). For eight weeks, Lucy (GRS'24), a PhD student in sociology, worked remotely as a fellow for the City of Boston's Mayor's Office of New Urban Mechanics (MONUM), a civic research and design team tasked with thinking up and testing potential policies to address issues like public safety, beautification efforts, and data collection, to name a few.
She describes the fellowship as an incredible opportunity "to get a bird's-eye view of how the city of Boston, and city governments [for larger urban areas] in general, function," she says. "I learned about the organization of Boston's government, met people dedicated to improving people's lived environments, and had the opportunity to work on an important project with immediate practical and policy applications."
With its goal of advancing local governance, the IoC has been sending BU students on fellowships across the United States and overseas each summer since it launched in 2014. This year's 2 fellows, selected from a pool of 13 student applicants, stayed local as a result of the COVID-19 pandemic, helping city of Boston officials tackle pressing issues such as racism and conducting civic research. Typically the IoC sponsors four summer fellowships, but the pandemic changed that this summer. Opportunities in Providence, R.I., and Manchester, United Kingdom, were canceled. The fellowships come with a $4,000 stipend for undergrads and a $7,000 stipend for grad students.
Also interning through the IoC's summer fellows program was Faith Rynda (CGS'20, CAS'22), who worked with the Mayor's Office of Resilience and Racial Equity (MORRE). Her fellowship was cosponsored by the IoC and the Howard Thurman Center for Common Ground.
"Now, more than ever, it's important to provide students professional growth opportunities—particularly when so many internships have been disrupted," says Graham Wilson, a College of Arts & Sciences professor of political science and IoC director. "We are determined to keep these fellowships going and are so grateful to our partners and the students for making it work."
Lucy says this summer at city hall was unusual; employees were often working remotely and much of the job, including community engagement, also shifted to a virtual format.
Since almost all of the city of Boston's community engagement practices pre-COVID were in person, Lucy's task as a MONUM fellow was to both understand how Boston could shift to remote civic engagement during the pandemic, and reimagine what civic participation could look like in "a 'blended' future with remote and in-person opportunities," she says. Since citizens actually engaged more with the new remote offerings versus the previous in-person events, she helped build on the momentum with an equity and inclusion mindset.
Her favorite part of the fellowship, she says, was being exposed to the cross-pollination of ideas and perspectives her coworkers and city hall staff shared with one another. "There was a concern that the virtual dynamic would be different and we might miss out on those bonding and collaborative moments," she says, but that fortunately didn't happen. "The remote experience allowed us access to people and experiences we may not have had if we were in person. For example, I attended remote community engagement events held by cities all over the country to learn more about best practices. It was really fun."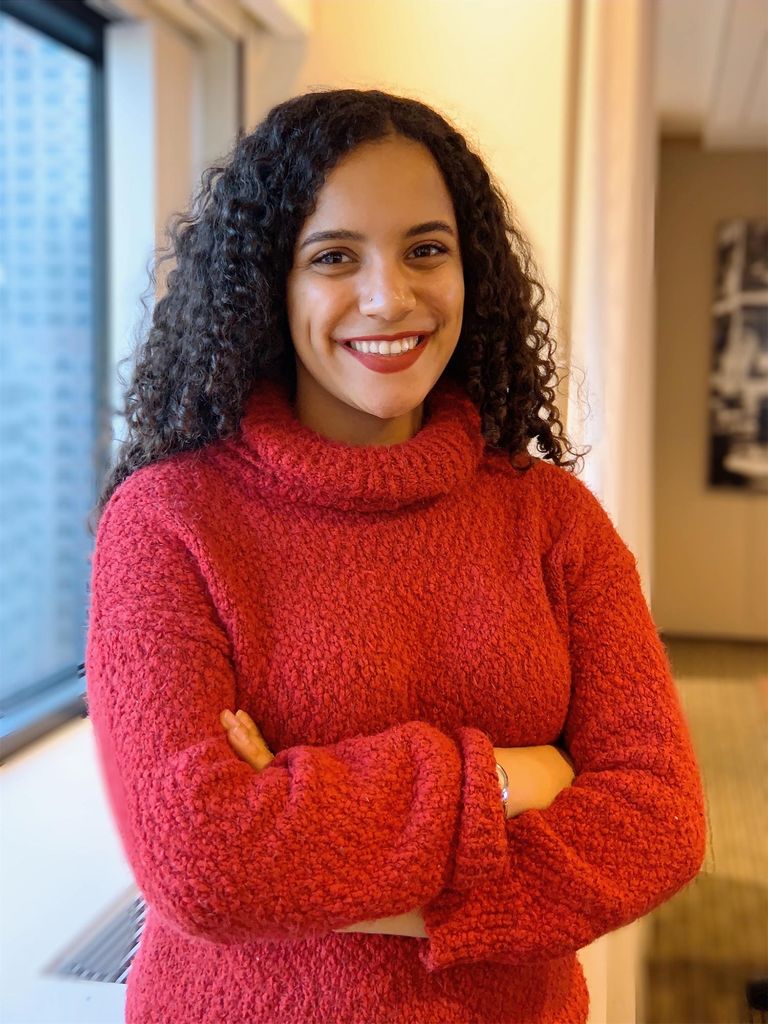 By the end of Rynda's first week in MORRE in late May, George Floyd (a Black man) had been killed by a white police officer in Minneapolis. Everyone working in the office (Rynda included) was Black, and all of them were in shock. "It was a very difficult week for all of us personally," she says, "but by the end of the week we were pretty close because we sat down to talk about it."
That event, coupled with the other recent violent acts directed at Black citizens, drove the coworkers' mission to support Boston's underserved communities. "That ended up transforming what the fellowship was about and the projects that we worked on," says Rynda, who was working remotely from her home in the Bay Area. "Before then, diversity and inclusion were sort of background conversations, with little projects happening here and there. But then this huge paradigm shift took place, and racial justice and equity were shot into the limelight."
Suddenly, everyone started looking to MORRE for guidance and support, she says, noting that by the time her fellowship ended, Mayor Marty Walsh had hired a chief equity officer (the city already had a chief resilience officer).
After the pandemic canceled the 2020 NAACP convention in Boston, the city made a concerted effort to organize more events, which included a take-out night supporting Black-owned businesses, a newsletter for Black city employees, and hosting special guest speakers on diversity.
Rynda says she's grateful that the office chose to bring her on the team in light of the pandemic, noting that many of her friends' internships were canceled. She was particularly gratified that she wasn't just handed busy work, but instead was asked to take on some substantive issues. "I was thrown into the deep end of city dynamics and local government," she says, "learning how resources are being distributed to the most underrepresented and underserved communities, and what are the things that go into real equity, especially in a place like Boston, with significant disparities."
She recalls a moment this summer when the Mayor's Office was planning a Facebook Live event designed to deliver COVID information to communities of color—a particularly important undertaking since the pandemic has taken a disproportionate toll on underrepresented communities. Similar to the way that Boston schools had rushed to hand out laptops when the schools went remote, the Facebook Live organizers had to suddenly grapple with the fact that not everyone had internet access. Those are the kinds of things MORRE helps identify and come up with solutions for, she says.
Rynda is now on to her next job, working for Sima Ladjevardian, a Democrat running for Congress in Texas, but is thankful for her summer opportunity. "I think our purpose in MORRE was to make sure people were thinking about the details," she says. "An office like that is just the beginning of the future—or at least I can hope."