BU Basketball Alums on Pro Seasons in Europe Cut Short by COVID-19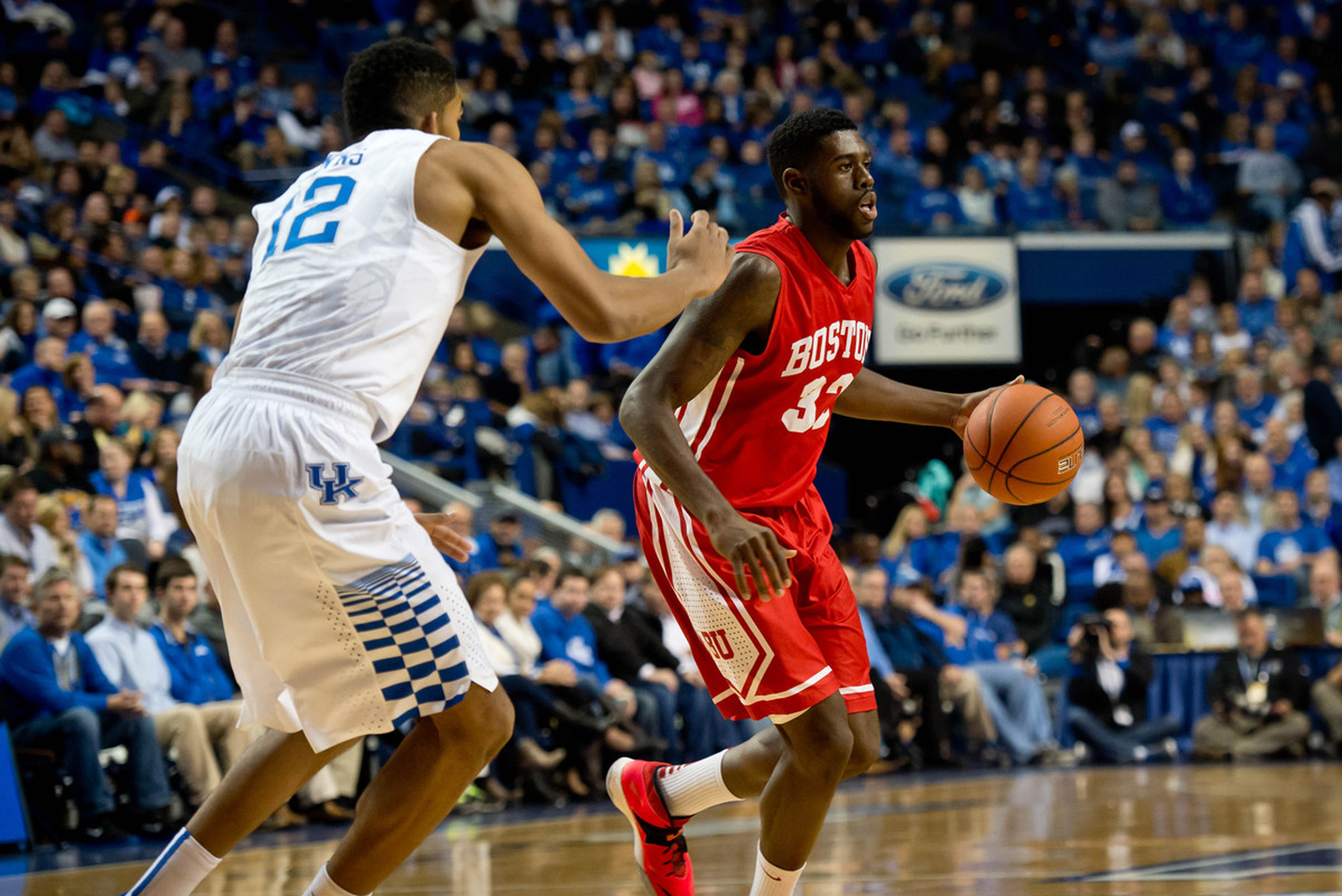 Sports
BU Basketball Alums on Pro Seasons in Europe Cut Short by COVID-19
Four former Terriers share experiences overseas amid pandemic
Four former Boston University men's basketball players, four countries, four suspended seasons. The coronavirus global pandemic cut short their hoops seasons overseas in mid-March.

Justin Alston (SHA'16, MET'17) was in Portugal, John Holland (COM'11) in Israel, Dom Morris (MET'14) in Switzerland, and Jake O'Brien (COM'12) in Cyprus.
BU Today caught up with them to get their stories and reflections.
Dom Morris (MET'14)

Morris played in Finland, France, and Belgium before signing this season with Union Neuchâtel Basket, a basketball club in Switzerland in the Swiss Basketball League. The league canceled the remainder of its season March 12.

"It came quickly, out of the blue," Morris said when he was reached in Switzerland.

The team's coaching staff told him events were canceled that Thursday morning. Later that day, he received another text: the season was over. At first, the league had talked about playing without fans or delaying the season.

On Friday morning, March 13, the coaching staff informed the four American imports that they would be given their flights home. On Saturday, the team meeting was canceled. Morris lived in his own apartment and since the team's gym was closed, he had been running outdoors to stay fit.

"I'm kind of used to this, but I'm not used to sitting in a country where I can't do anything," he said. "I don't want to say the word scary, but it's been a little eerie because you don't know what's going on."

As countries in Europe closed their borders, Morris prepared for the worst. "I almost feared that I was going to get stuck in Switzerland," he said. "I'm just happy to be en route to go home. Now is a time when everything is getting shut down. It's best for me to be home, somewhere where I have family and friends."

The players got an email from the team proposing a salary idea: they would get their March payments, but Morris' contract was scheduled to end on May 15. If his team had made it to the finals, they would have been paid a daily wage up until June 15.

"No one is able to make their money from the attendance. I think they are having a meeting with the federation to see if they can file for unemployment," Morris said. "Every country I've been in, I've heard that you get 80 percent of your monthly check, and that's it. We're hoping for that, but it's out of our hands. We really don't know because this is a disaster that's never happened before."

He arrived in Philadelphia on March 19.

Justin Alston (SHA'16, MET'17)

Alston was playing his first season with CAB Madeira, a pro basketball team based in Madeira, Portugal. The Portgueuese Basketball League, which was scheduled to go until early May, canceled its season on March 11.

"We still had a nice chunk of time left," Alston says. There were three Americans and one Canadian on the team.

---

It was complete chaos. No one knew what was going on. No one had a definite answer. Very, very difficult, but now I am glad to be home.

---
There were COVID-19 outbreaks on mainland Portugal, but none yet on the island of Madeira.

"It was complete chaos," Alston says. "No one knew what was going on. No one had a definite answer. Very, very difficult, but now I am glad to be home."

He arrived at his home in Maryland on March 18. Finding a flight was challenging. He flew from Madeira to Lisbon, then to New Jersey and on to Washington, D.C. Along with the stress of managing the logistics of getting home, there was the uncertainty about being paid. In the end, the team members were paid until the day they left.

"That was rough, but it is what it is," Alston says.

Jake O'Brien (COM'12)

O'Brien was playing for the Cyprus professional basketball club Keravnos B.C. when the league, Cyprus Basketball Division A, canceled the rest of its season on March 13. Of O'Brien's seven pro seasons, this was his fourth in Cyprus.

"It's actually just a really comfortable place to live, honestly," O'Brien says. "It hasn't helped that I've been injured the past couple of years, so it's been hard for me to make that jump back up to the top leagues in Greece and Germany." He'd hoped this year would "put me back where I think I should be in the top leagues."

COVID-19 had other ideas, but he thinks he still has put himself in a good position.

The league canceled quickly, O'Brien says, and he'd never envisioned that it would come to that. The teams played a few games with no fans, and then the season was suspended, and ultimately, canceled.

"I think a lot of these leagues are trying to figure out how to respond to this," says O'Brien, who has subsequently returned to the United States. He is under contract until the end of the season, but compensation is yet to be determined. He says his team was in first place, so they should get a bonus.

"It's going to be difficult, I can't deny that," O'Brien says. "It's a unique situation."

John Holland (COM'11)

Holland was in Israel with Hapoel Jerusalem B.C., a professional basketball club in Jerusalem, when the team's league, Israel Super League, announced on March 13 that it would suspend play until the end of the month, then on March 16 suspended it for the remainder of the season.

"I kind of knew where it was headed, especially how it was with Italy," Holland says. "Once they canceled the NBA, I saw the writing on the wall."

BU's second all-time leading scorer, Holland is in his ninth professional season. He played with teams in France, Spain, and Turkey before spending four seasons in the NBA G League, and he made appearances in the NBA with the Boston Celtics and Cleveland Cavaliers.

He commends the Israeli league's effort in trying to make things work. At first, the teams played a couple of games with no fans, which tipped off the players. "You could see the progression of it," he says. "The real question was, how long is it going to stop for? And obviously now, it's going to be hard to start it back up. That was the only question that was posed in my mind." He doubts the Israel Super League will start again this season.

Holland says his trip back to the United States was pretty easy. 
Nonetheless, losing part of a professional season is disappointing. "You don't ever want to waste a year of playing. I mean, personally I was on a great team, a team that had a chance to win a competition. It kind of sucks, but it is what it is," he says. "I can't explain this. It's hard to even fathom that anything like this could happen."