BU Alum Sue Miller's Novel Monogamy Explores a Good Marriage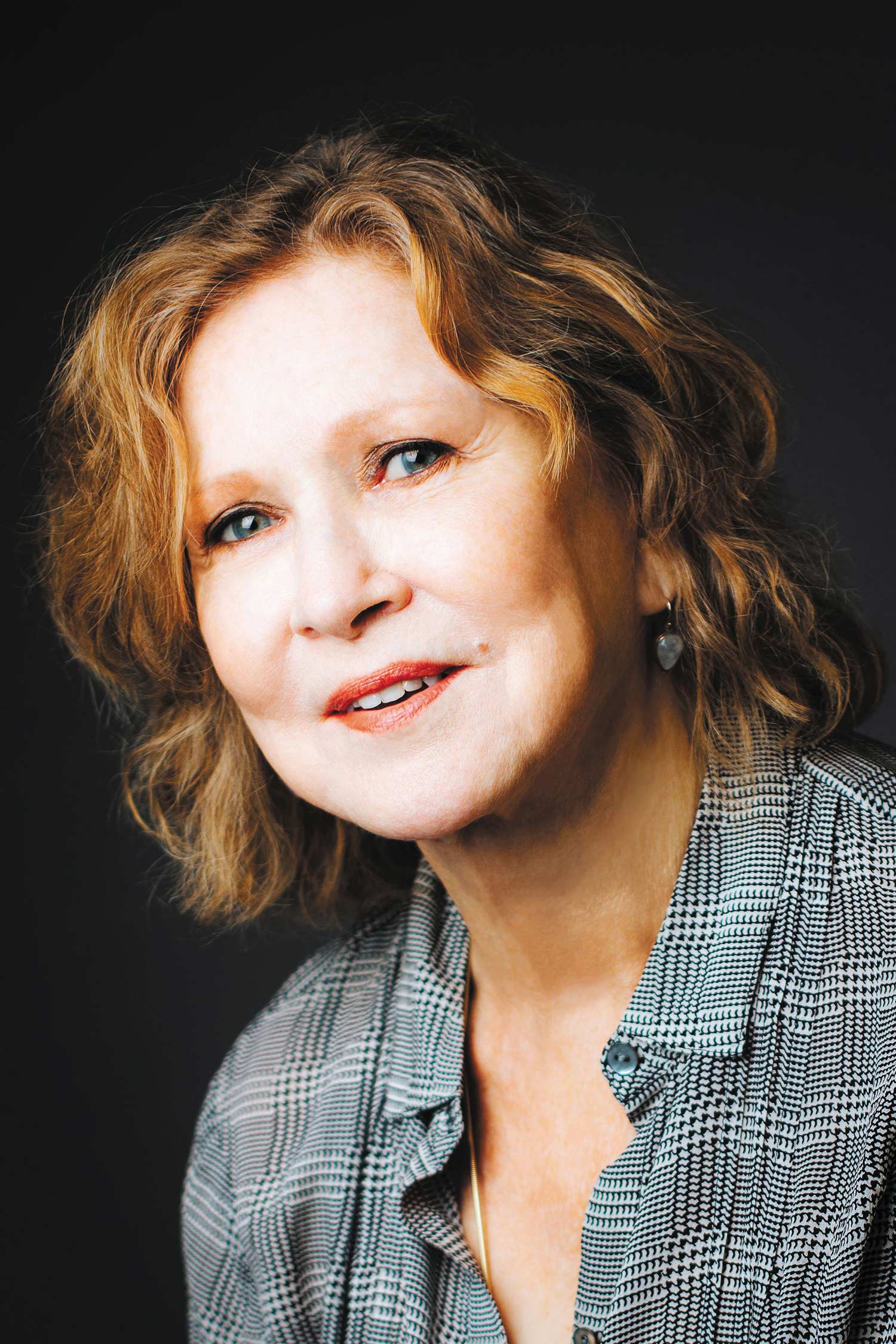 Literature
BU Alum Sue Miller's Novel Monogamy Explores a Good Marriage
The novel's ebullient, larger-than-life husband energizes his friends, family, and—after a long false start to her latest book—the author
Graham and Annie, the couple at the heart of Sue Miller's latest novel, Monogamy, have been married nearly 30 years, and their devotion to each other is the envy of their many friends. It's the second time around for both of them. Graham, the co-owner of a convivial bookstore in Cambridge, Mass., is larger than life, a charming enthusiast who loves food, books, talk, parties, and people, especially women.
Annie, a photographer, is more reserved and less sure about what she wants. She worries she's given up too much of herself to Graham and his passions. And yet she loves the lively gatherings that Graham counts on her to organize at their comfortable home in Cambridge, after events at his bookstore.
"The preparation, the cooking itself, the old friends who sat around the big kitchen table in the candlelight, the long, meandering conversations, the comfort, the pleasure of it all," Annie reflects at the end of one such party. "If she had to pick a central element to their marriage, it might be this. More than their general compatibility, more than their child or their shared sense of humor—this. This nexus, this web: the parties, the bookstore, the food, the friends. Occasionally still, the sex."
Graham dies unexpectedly of a heart attack at the beginning of the novel (his death is announced on the book's flap jacket), leaving Annie devastated and lost. Then she learns that Graham has had a brief affair, which he'd ended shortly before he died. So begins Annie's journey of grief, rage, and rediscovery—of Graham, of herself, and, finally, of their enduring love.
Miller (GRS'80), the author of many critically acclaimed, best-selling novels, has been described as "the doyenne of domesticity" by the New York Times, and in Monogamy, she explores the long, complicated, good marriage of Graham and Annie.
The reviews so far have been raves. Writing in the Times, Richard Russo calls Monogamy "an old-fashioned slow burn of a novel that allows readers to dream deeply." He praises Miller's generosity and humility as a writer, "her willingness to put [her characters'] needs before her own." Even her minor characters, he writes, "spring to life with Dickensian vividness."
Miller was in her early 40s when her first novel, The Good Mother, was published, in 1986, and it became an instant best seller. Subsequent novels include Family Pictures (nominated for a National Book Critics Circle Award), While I Was Gone, The Senator's Wife, and The Arsonist. Her nonfiction book, The Story of My Father, is a memoir of her relationship with her father during his illness and death from Alzheimer's disease. Her honors include a Guggenheim and a Radcliffe Institute Fellowship.
Bostonia talked with Miller about Monogamy, how she's adjusting to her Zoom book tour, and how writing about Graham energized her after a long false start.
Q
&

A
With Sue Miller (GRS'80)
Bostonia:
You write your novels in longhand and you've said that you're not all that interested in technology and yet here you are, starting off on a virtual book tour, doing readings and interviews from your home in Cambridge via Zoom.
Sue Miller: It took me a little while to master it, although it shouldn't have, since it's so fundamentally easy. But I must say that this sort of trade-off is not bad because the alternative, in the old days, was traveling around from bookstore to bookstore, and for someone now at my age that would be exhausting. It was exhausting then. And, you know, it's been six years since I've done it. So, I'm enjoying this in a certain way.
Bostonia:
You did one interview, with the podcast Moms Don't Have Time To Read Books, from your bathroom. What happened there?
Sue Miller: I was in my study, and suddenly this huge truck pulled up outside with their brakes squealing and then they started yelling at each other and unloading a bunch of flooring into my next-door neighbor's house. This is a very small house we live in and every room was flooded with this cheerful noise from outside, so I went into the bathroom and shut the door and [podcast host Zibby Owens] said, "Okay, now I can see all the towels behind you, so take those down…" It worked out fine.
Bostonia:
The reviews of Monogamy so far have been extremely positive, especially the one in the New York Times, by Richard Russo.
Sue Miller: I can't believe it, I'm sure they're holding back the negative ones. I need to write and thank him. I feel so lucky that he was so simpatico and that the Times let him write as long as he did. He covered the territory.
Bostonia:
One thing he talked about was how generous you are as an author with your characters. Does that seem right to you? Is that something you're deliberate working at?
Sue Miller: Oh, no, she said modestly. It just happens that way.

My concern is with character and it always has been. And there were a lot of characters in this book, and I was just with them for a very long time. I enjoyed them a lot, even in their sorrows and misunderstandings of each other. So, I'm glad he perceived it that way. There's a way in which I do right in service of the characters, but they're also in service to me, to what I want to do. There's a mutual generosity, if generosity is the right word.
Bostonia:
You seem especially forgiving of Graham. You write that he was too much of a people pleaser to be honest. And yet Graham is still lovable.
Sue Miller: That is my hope…. One of the things that I like to do is to sort of poke at the boundaries of people who are sometimes very wrong in what they do or who hurt other people in what they do—things that we would, in our own lives, be furious about or very judgmental about—and sort of poke around at stretching those boundaries a bit and just the notion that the reader should consider the full human being.
Bostonia:
You mean this idea that Graham could be unfaithful and yet still be a good husband? Was he a good husband?
Sue Miller: Well, I certainly liked him very much. I think if I had been married to him and found out later that he had been unfaithful, I would have been very, very angry at him, at least for a while. I think their marriage was a very good one. He thought of her often and lovingly. And it seems like a great deal to get, what she got from him.
Bostonia:
In your reader's note in Monogamy you write about how working on your memoir of your father made you think about him and learn things about him—and about yourself—in different ways and how that ultimately led to your idea for this novel. Can you talk more about that?
Sue Miller: It felt very much as though I were still in communication with him after he died and after I began to write the book about him. It took a very long time to write that book. I interrupted myself a lot to turn back to fiction because it was so much more natural for me—the form. But I did feel as though there was a way in which my thinking about him changed because of our being kind of in touch. And I wanted to, sort of, arrange for that fictionally. So, there are these various things that happened to Annie accidentally, that put her in touch with Graham again in some way, that make her reread her life with him, and her life, up to the very last minute, when she's been so furious at him, wanting him back so she could kill him.
---

There's a way in which I do right in service of the characters, but they're also in service to me, to what I want to do. There's a mutual generosity, if generosity is the right word.

---
And so that was where I was headed. I wasn't quite sure what the events would be that would turn things for her and change things so long after he died—and by the end of the book it's several years after he died—but that was my goal, to just make you understand, I hope, the sort of ongoing vigor of his presence in her life. Once she lets go of her great anger, she's able to think about him in a new and fresh way.
Bostonia:
Which character came first for you, Graham or Annie?
Well, I wrote a long false start. That was in Annie's first-person voice and it was just after he died. She was in the process of grieving. So, I guess I would say she came first. And then I just realized that it wasn't working that way, it just didn't have much life. And I moved to essentially what becomes the second chapter of the book—here's Graham sitting at the table on this morning.

And as soon I began to write about Graham and his complicated way of looking at the world and what he's done and his embarrassment and shame about it, there was something so lively about writing that passage, as though Graham energized me when I began to write about him. The book came to life for me after I wrote about him, even though I began with Annie. And then Annie came much more to life to me before Graham had died, and once he was established and real in my mind as the person he is, that helped me enormously. I think I thought I knew who she was and began with her, but I think I knew better who she was after I knew who Graham was.
Bostonia:
You say Graham energized you—that's so Graham.
Yes, absolutely. He charmed me. I would have gone to bed with him.
Bostonia:
Much of Annie and Graham's relationship is explored through their large network of friendships and the gatherings that revolve around his bookstore.
Friends are very important in this book—the way they think about each other, and the complications of that, really. Frieda's and Graham's and Annie's and Edith's and even the friendship Graham and Annie have with Karen, the next-door neighbor, and just the community around them I wanted to make very real. So, there's a point in time in their life together when Annie's pissed off at being stuck in this community with Graham, this small community, as she thinks about it at that time.
Bostonia:
You've said that you don't like being asked whether your fiction is autobiographical. Why is that?
It's the assumption that fiction is autobiographical—because it's so small and it doesn't matter where the things come from. They're always there. There's a wonderful quote that I need to rememorize by John Cheever that I used to use on book tours if people asked me if my fiction was autobiographical. And he said to even be asked to think about such a thing is to denigrate fiction, that fiction is a more active thing than that. And he says, essentially, it's like dreaming, you dream your boat. You're standing on the ship and you're going toward the coast. It's very unfamiliar to you. The people around you are speaking a language you don't understand, but the person on your right is your wife. And, he says, this combination of distortion and invention and what's real, it's what fiction is made of.

And you're dreaming fiction, essentially, so it just doesn't matter what you use. You use your wife in his case. You imagine the coast, you don't even understand what people are saying. But that's the dream that you're creating. And that's the way I think it happens for people. They have things they don't even at first recognize the source of, but it's useful and you use it this way, where it's completely disconnected from the way it occurred in real life, as we call it.

I had the misfortune once of going to a conference on Willa Cather, and the endless quest to understand where she got this element of this novel from or the other was just so profoundly absurd to me. And irrelevant to the work. Why talk about that? It's boring.

And that's what I mean about not wanting to have to discuss whether my family was shaped like this or like that or had to do with any family I ever drew on, though certainly I might use a tick of my father's, or my mother's, or one of my siblings, or an anecdote that happened, and embellish it as I wish.
Bostonia:
I saw in an interview you gave that you had this idea that Annie would have some of your qualities as a fiction writer.
Yes, the way in which she's sort of self-conscious and concerned about the use she makes of people. And, you know, I have some of that occasionally, too. I actually do take this tick from someone and this aspect of someone's life and just make use of it—it's mine. And, similarly, Annie feels she's sort of separate, that looking the way she does to take pictures separates her from whatever it is she's looking at, which is something she's not comfortable with. And sometimes I feel that way.
Bostonia:
In the acknowledgements for Monogamy, you say you regret the book took you six years to write.
People's pacing is so different. Look at Joyce Carol Oates. If she doesn't write three books a year, she must be slacking off. But six years is longer for me than most of my books have taken. And also, you know, I could ill afford to take six years. I'll be 77 shortly. And I wish I'd written it faster, but there were things happening in my life.

And then I made a very long false start. And my granddaughter—she lives in Germany and when she comes here each year to visit I drop everything. So, that's months out of my life each year. So, some of it was just circumstantial, really. But the other part was that I felt my way into this novel rather slowly.
Bostonia:
How old is your granddaughter?
She's 12 now, but she's been living in Germany with her mother now for about five years. And my time with her is very precious.
Bostonia:
What do you do together?
We play a lot of games of Clue and Old Maid and Go Fish and things like that. And she likes to cook so we cook together. In the past, I arranged various day camps for her when she's here. And I had the privilege of driving her around to and from places and having these idle, very pleasant conversations, which are the most delicious of all. But there have been no camps this year so there's no driving.
Bostonia:
Have you thought about the idea of turning this surreal period we're all living through into a novel?
I don't know, I don't even understand it. It's going to take me a very long time to assimilate all of this. And the meaning of it all may be changed by the election. I just can't imagine, until it's a more settled event, how to make anything of it. At this point it's just so immensely confusing and dark and awful…I haven't started another book yet. I think I need to get through all this stuff.

I can't imagine writing at the moment. I'm sure there are people who are able to write and it's probably a good way of shutting out the noise or examining the noise, but for me it somehow needs to be more resolved. I really am sort of idle a good deal of the time, and I don't organize myself to do anything.