Biogen's New Alzheimer's Drug Is "Hugely Important," "One of the Biggest Moments" in 20 Years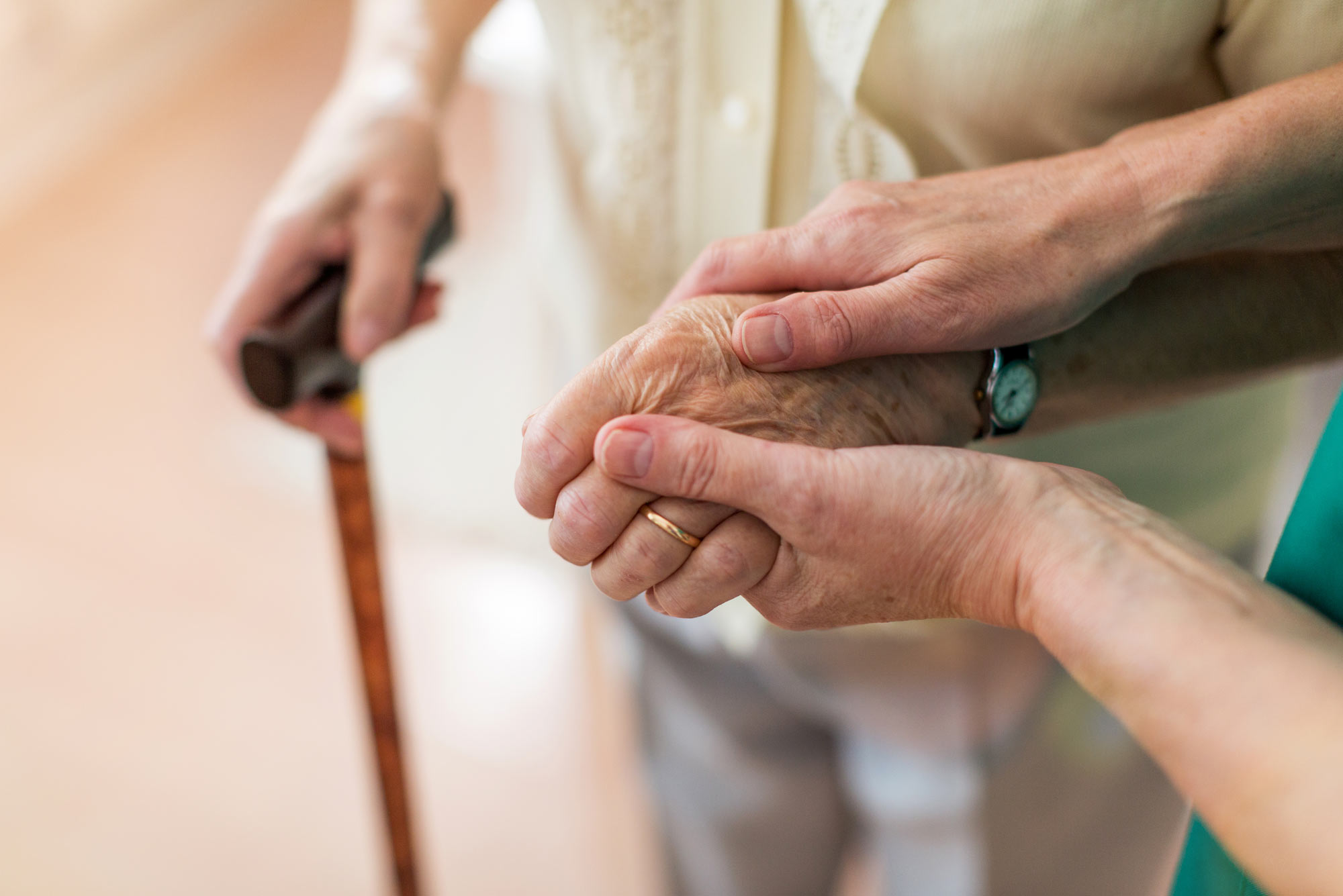 Alzheimer's Disease
Biogen's New Alzheimer's Drug Is "Hugely Important," "One of the Biggest Moments" in 20 Years
BU researchers weigh in on what FDA approval of the drug could mean for treating the devastating disease
A US Food and Drug Administration (FDA) advisory committee on Friday will review the Biogen drug aducanumab, which would be the first new Alzheimer's drug to hit the market in nearly 20 years if it is approved. Two days ago, preliminary feedback from the FDA that indicated aducanumab appears "safe and effective" sent Biogen's stock price rocketing skyward by 44 percent.
Alzheimer's disease affects more than five million Americans and is the sixth leading cause of death in the United States. The neurodegenerative disease that causes dementia and memory loss is thought to be caused by the abnormal buildup of plaques and tangles in the brain. Tangles are twists of a protein called tau, and plaques are made up of protein fragments called beta-amyloids. Biogen's aducanumab is intended to treat the buildup of beta-amyloid plaques to slow down the speed at which Alzheimer's disease progresses.
To find out more about aducanumab and what it might mean for people with Alzheimer's and their loved ones if the drug is granted FDA approval, The Brink reached out to BU Alzheimer's researchers Andrew Budson and Vijaya Kolachalama.
Budson is an associate director of the BU Alzheimer's Disease Center, a BU School of Medicine professor of neurology, and chief of cognitive and behavioral neurology at VA Boston Healthcare System. He is also the author of Seven Steps to Managing Your Memory. Kolachalama is a BU School of Medicine assistant professor of computational biomedicine and a BU College of Arts & Sciences assistant professor of computer science. He is also a faculty member of the BU Alzheimer's Disease Center.
Here's what they had to say about aducanumab.
Q
&

A
With Andrew Budson and Vijaya Kolachalama
The Brink: How big of a deal is this news for people with Alzheimer's and researchers who have spent decades trying to treat it?
Kolachalama: This is unquestionably one of the biggest moments, probably the biggest, in the past two decades.
Budson: This is hugely important to those with Alzheimer's, their families, and researchers. For individuals and their families, this would be the first drug that actually slows down the progression of Alzheimer's disease. That means we could possibly turn Alzheimer's from a fatal disease into one that people could live with for many years, in the same way that people are living with cancer, diabetes, and HIV/AIDS. For researchers, it means that 20-plus years of scientific work that suggested if you remove amyloid from the brain you can cure Alzheimer's may be correct—something many of us were beginning to doubt when trial after trial showed that amyloid could be cleared from the brain, but disease progression was not altered.
Biogen's new Alzheimer's drug has failed clinical trials in the past—what do you know about its efficacy?
Budson: I have reviewed all the publicly available data for aducanumab. In brief, there were two large trials and one smaller one that were designed to show efficacy. The small study and one of the large studies were positive, meaning that the drug worked to slow down the decline of thinking, memory, and function that is usually inexorable in Alzheimer's. The other large study was negative, although Biogen's scientific team has possible explanations for why that study was negative. If I were the FDA, I would provisionally approve the drug for five years, with the condition that Biogen conduct a large phase 4 study within that time. If the new study was positive, the drug would receive permanent approval but, if negative, the FDA approval would simply expire.
Kolachalama: This drug was expected to reduce cognitive decline by targeting and eliminating beta-amyloid plaques. While the results showed that the beta-amyloid plaque burden was reduced—as hoped—when the drug was given, it did not show clear evidence in slowing cognitive decline. This prompted Biogen to pull the drug back in March 2019. Then, in October 2019, Biogen came back and presented results from additional analysis, showing that patients who got the highest dose of aducanumab had a slowing of cognitive decline.

Past studies have reported edema as a side effect of aducanumab. At least a third of patients receiving a high dose of aducanumab had this side effect.

Today's FDA advisory meeting is very important because we may know whether drug approval is going to happen soon or not.
---

If the drug does not get FDA approval, then this might mark the end of R&D on beta-amyloid reducing agents.

---
If approved, is this a drug that you think will have broad use in patients with Alzheimer's?
Budson: If this drug is both FDA approved and paid for by Medicare and other insurance companies, then I think it will be widely used in the more than two million people with Alzheimer's in the mild cognitive impairment and mild dementia stages. But it's not for the faint of heart.

You need an amyloid PET scan to be sure the drug is appropriate for you. It is given intravenously every four weeks—forever. A reversible swelling of the brain was present in 30 percent of those who took the drug, and more than 10 percent had one or more tiny brain bleeds. These side effects, although not devastating, need to be watched closely by an expert neurology/radiology team who understand how to monitor for these events and know when to pause or stop the drug.
Kolachalama: It's difficult to say because this drug is expected to reduce cognitive decline by targeting and eliminating beta-amyloid plaques. There are several other things going on that contribute to Alzheimer's disease. Having said that, even if it gets an approval for a small subgroup of Alzheimer's patients, then that would itself be a game changer.
Can you talk a little about what this moment feels like? Are you hopeful, excited, or burnt out by the slow progress in finding new Alzheimer's drugs?
Budson: I began my fellowship in cognitive behavioral neurology and dementia in 1997, the year after the drug donepezil (better known by its brand name, Aricept) was FDA approved for Alzheimer's. I then participated in some of the research for other new drugs for Alzheimer's, including rivastigmine (approved in 1997), galantamine (approved in 2001), and memantine (approved in 2003). So, back then, I thought—oh, these new Alzheimer's drugs get approved every couple of years. Now, after 17 years without a new successful drug, I'm much more skeptical. I'm still hopeful that aducanumab will be safe, effective, and FDA approved, but I remain cautious about it and other potential new drugs to treat Alzheimer's.
Kolachalama: This would be an exciting moment if the results come out in favor of an effective treatment for the patients. If not, we may have to go back to the drawing board. If the drug does not get FDA approval, then this might mark the end of R&D on beta-amyloid reducing agents.
What areas of Alzheimer's research have the most potential in your opinion? Where do you predict the biggest gains in treatments will be made?
Budson: There are so many different areas of Alzheimer's research that are likely to be important in the next 5 to 10 years. Drugs that remove tau—the tangles of Alzheimer's—are being developed and may be particularly effective, because it is the tau that directly damages and kills brain cells. There are treatments using flashing lights to induce specific brain rhythms that may protect the brain. There are treatments for Alzheimer's to change the microbiome of the gut or other parts of the body. There are also drugs being developed which alter nitric oxide—a gas that has critical functions in brain health. In addition to all of these pharmacologic treatments, in my laboratory we are working to develop strategies to help individuals with mild Alzheimer's and mild cognitive impairment to remember things better, because, at the end of the day, that's what matters most.
Kolachalama: If aducanumab gets approved even for a small group of patients, then the next important step would be to specifically understand which patients would benefit from such a therapy, and also how to monitor patients who underwent therapy so that they would not develop untoward side effects.
Editor's note: Aducanumab did not gain support from the FDA advisory committee during their review on November 6, 2020. The advisors voted 8 to 1, with 2 undecided, that positive data from one clinical trial did not supply enough evidence of the drug's efficacy in the face of conflicting data gathered from a separate trial. The advisory's recommendation does not represent the FDA's final decision.