At New Howard Thurman Center, Building Community Remains the Goal
Student Life
At New Howard Thurman Center, Building Community Remains the Goal
With a larger, more visible HTC space, students hope the intimacy they had in the cozy GSU basement won't lessen
When Bradley Noble (CAS'20) and his friends wanted to start a magazine at BU spotlighting artwork by Terriers of color more than two years ago, they relied on Noble's regular attendance at the Howard Thurman Center for Common Ground (HTC) to help spread the word and to showcase the artwork. After all, the basement space in the George Sherman Union had become BU's home for many cultural programs promoting inclusive community.
The magazine, which became Charcoal with an assist from Thurman Center funding, piqued Katherine Kennedy's interest as both HTC director and as an ex–Boston Globe journalist on the social justice beat. Now those portrait photos of BU students from Charcoal, which graced the walls of the old Thurman Center, are featured in the new, more spacious and visible Thurman Center at 808 Commonwealth Ave.
"The fact that the Howard Thurman Center [said] we want to stand behind something like this on campus," Noble says, is one reason it "keeps pulling me back" as a place to hang and attend events. "I didn't get the same feeling in my dorm or in any club or organization."
Noble's story of how the Thurman Center helped him build his own community at BU is a common one. After a 2010 earthquake devastated Haiti, says Santiago Gomez (CAS'14, ENG'22), the center "opened the opportunity" for him to be a liaison with student leaders and raise more than $10,000 for relief efforts. "I came of age because of the Thurman Center" with that, and in other ways: "My best man at my wedding was a friend that I met here."
Grace Ferguson (COM'22) recalls a recent Coffee & Conversation—a weekly current events confab she regularly attends—where a student confided that she had to drop classes because she couldn't afford the textbooks. "We all know that that's going on," Ferguson says, "but seeing someone in front of you explaining to you what that experience is like…makes it real."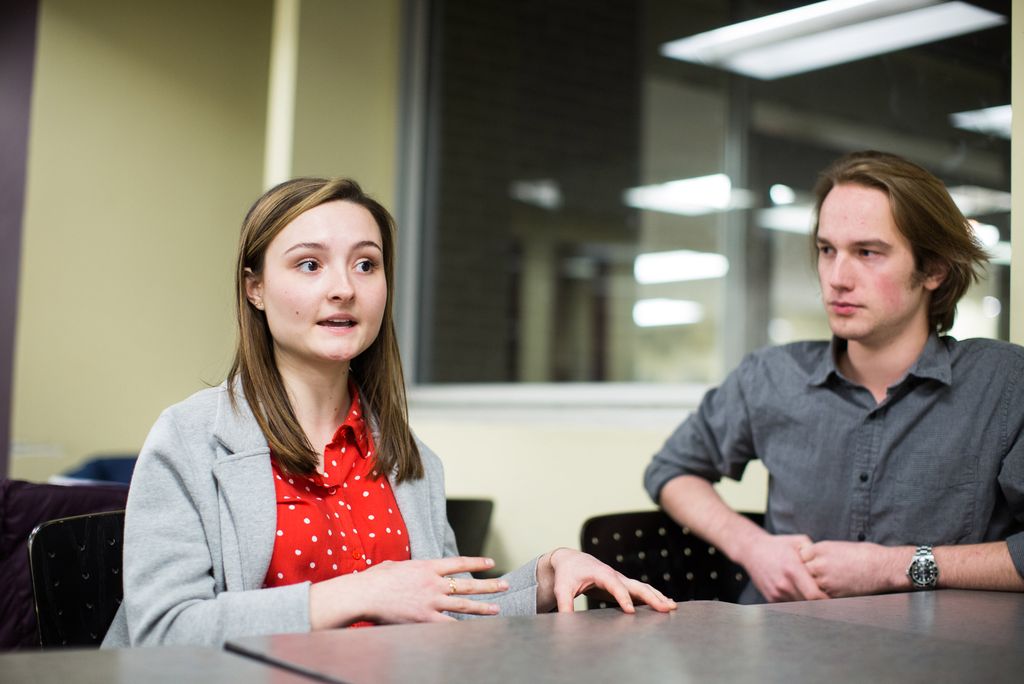 These kinds of student memories and shared experiences explain the dual sentiment of hope-plus-wistfulness that many express about the center's new location at 808, which opens January 21.
With five times the space of the old center and two floors of facilities that include a 180-seat event space with a stage and a Listening Room for reflection and meditation, HTC devotees eagerly anticipate more elbow room for the old and new programs that fulfill the center's mission: sowing in students a "philosophy of self-exploration and community building through meaningful and creative shared experiences."
But the intimate scale of the old center, one main room with satellite offices, has many wondering, can the huge new, two-floored space forge the same tight-knit community that clustered in the old? Or will something be lost?
Kenneth Elmore (Wheelock'87), associate provost and dean of students, predicts that skeptical students will quickly discover that intimacy does not depend on the design of a space, but on those who use it. "Intimacy and coziness are created by people," he says, and at the old HTC, "people made that cozy.…It's the generosity and the hospitality that we have."
To any student who is worried about losing those, Elmore says: "Come and create it then. You created it over there; you can create it here. This is the space you deserve for intimacy."
Up for the challenge
Students who attended the pizza party that closed the old center sounded up for that challenge.
"My heart is here with this space just because it's quirky, but I do feel that with the new center, the Howard Thurman Center is finally getting the attention that it deserves," said Nneka Oyigbo (CAS'20), who visits the HTC almost daily.
Gomez agreed. "Amongst people of color, there was always the feeling that the Thurman Center's at the basement," he said. "We say that it holds such a prominent place in the thought of BU—but it's still in the basement."
Despite its out-of-the-way basement location, the center remained a magnetic place. Ferguson quit her job at the Questrom Starbucks to leave time for Coffee & Conversation and for hosting the center's Common Thread podcast. That on-air opening, relayed to her during a College of Communication class, was her introduction to the HTC, which she said is "a space, and it's also an idea."
"Now that we're getting this larger space, I am a little bit worried that the Howard Thurman Center is going to be more of a space than an idea," Ferguson said. "But I still have confidence, with the staff being there and with all the programs, that…there's a huge benefit to having a larger physical presence."
She'll engage in the same HTC activities at the new building: "I'm going to keep doing what I'm doing, but I look forward to meeting more people while I do it."
Autumn's tumult over the campus appearance by conservative commentator Ben Shapiro demonstrated the need for a larger and prominently located HTC that will be "practically impossible to not hear about," said Marco De Laforcade (CAS'21), one of many students who protested against Shapiro's invitation to speak.
"A lot of our core beliefs and friendships were really tested" by the controversy, De Laforcade said. "The Howard Thurman Center was a bit of a refuge from that."