As Primary Season Kicks Off, BU Students Volunteer for Presidential Candidates and Ask Whether "Electability" Is a Fair Issue or Code for White Male Privilege
Politics
As Primary Season Kicks Off, BU Students of Both Parties Volunteer for Presidential Candidates
Who they're supporting and why, with Democrats, especially, asking whether "electability" is code for white male privilege
New Hampshire voters, accustomed to aspiring and future presidents coming to them every four years before the nation's lead-off primary, famously play hard-to-get. So Niya Doyle does her best to woo fellow Nashua resident Ivonne Rosario to Elizabeth Warren's cause.
"You're undecided? Is there any issue that kind of concerns you in particular?" Doyle (CGS'20) asks Rosario at the door of her townhouse, one of 40 homes the student is canvassing this winter day in the city's Boulder Circle subdivision. "Hmmm, no," Rosario answers, just as long as "that actual president doesn't win."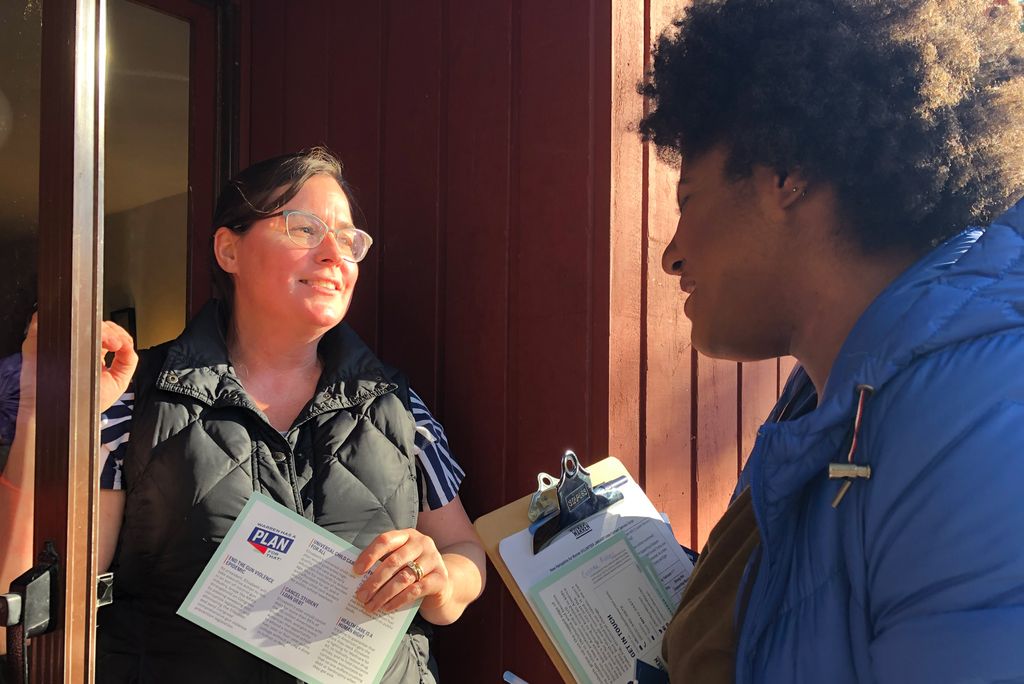 That actual president. Democratic Terriers face a crowded primary field, but they're united by Rosario's sentiment: Donald Trump—who polled dismally among millennials even before his impeachment and acquittal last week—must go.
In this combustible election, BU Democratic student activists have gone all in: knocking on Granite State doors ahead of today's primary, like Doyle. Or running campus "Pete-ups" (training sessions for campaign volunteers for Pete Buttigieg), like Grace Naquin (CAS'23), head of BU Students for Pete. Or feeling the Bern during phone banks for Bernie Sanders, like Marco Adreyan De Laforcade (CAS'21), student coordinator of BU4Bernie.
For months, politically engaged Terriers have diverted precious time from academics, knowing that other campaigns were hoping to outhustle them, as Doyle was reminded when knocking on the door of Katie Kelly, another New Hampshire voter.

"There was somebody here for Bernie yesterday," Kelly mentioned nonchalantly.

If anything, New Hampshire and other early-voting states (Massachusetts is part of the March 3 multicontest Super Tuesday) have acquired extra significance after the technical snafus of last week's Iowa caucuses got as much attention as the virtual tie between Buttigieg and Sanders. But as desperately as Democratic students want Trump defeated, they're conflicted about a big question shadowing the contest:

Is nominating the most "electable" candidate a legitimate goal—or code for privileging white males?
Doyle, for one, finds talk of electability to be "low-key misogynistic. When people think of electable, they think of Joe Biden because he's a white man." She also thinks it's throwing away voters' golden opportunity in such a wide-open race.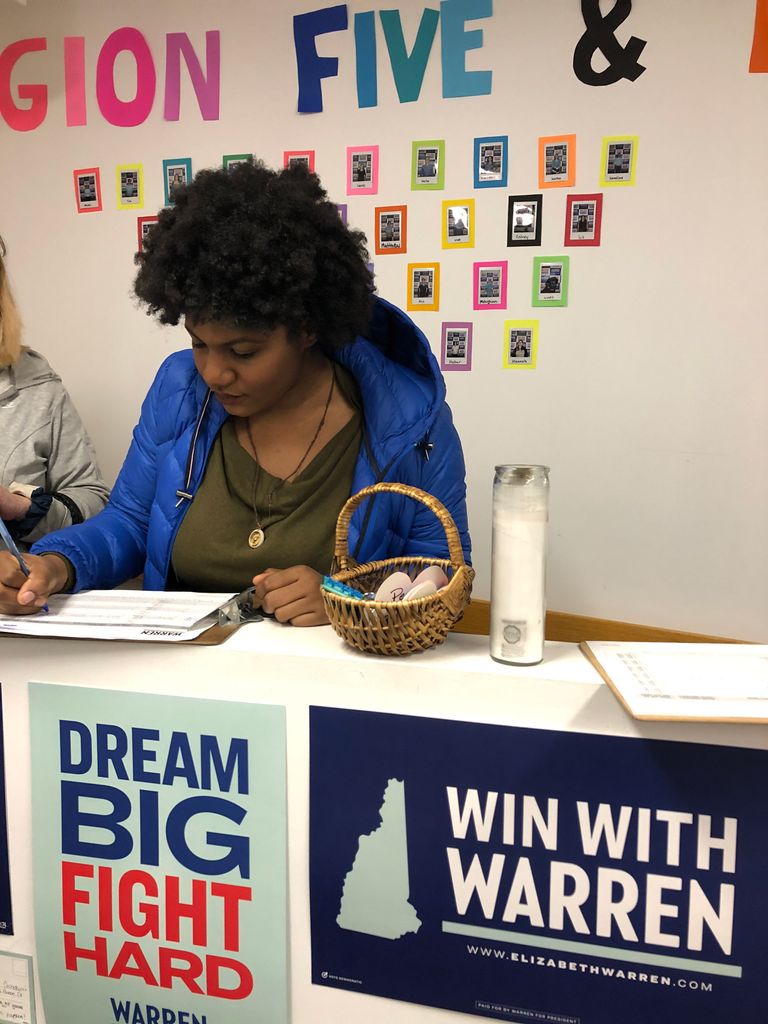 "The primary's your chance to vote for whoever you want, whoever you believe in," she says. Warren, seen by some to be hobbled by her gender in the electability department, actually would make the strongest candidate against Trump precisely because of "her policy-oriented campaign," argues Doyle, an aspiring Foreign Service officer drawn by the Massachusetts senator's support for the State Department, in an era when diplomacy is questioned.
Former vice president Biden has spent the campaign atop most national surveys for the nomination (although he currently polls fourth in New Hampshire). Warren and Sanders appear to have cornered the BU Democratic student market, their progressive agendas appealing on a liberal campus, say Doyle and Joseph Candela (SPH'21), who finds himself a lonely supporter of the more moderate Biden. For his part, Sanders supporter De Laforcade senses that undecideds dominated among Terrier peers in the weeks leading up to Tuesday's vote.)
Candela calls a candidate's ability to trounce Trump in the fall "absolutely" relevant—and says Biden fits the bill for reasons having nothing to do with being white and male.
America has "lost its purpose and needs tremendous revision to reinstitute our traditional democratic values of honesty, decency, compassion, and humility," he says. Having earned his undergraduate degree at the University of Delaware, in Biden's home state, "I have firsthand experience [that] Biden is well-known, trusted around the world, and by far has the most experience throughout all domains to start healing our country."
Former South Bend, Ind., mayor Buttigieg is competing with Biden for moderates' support, but as the youngest candidate (38), he's also trying to parlay his youth into greater support among students and young voters. The campaign is "eager to engage young people and to give us experience in politics," says Naquin, a woman who has no problem with talking electability, having found the 2016 result "devastating."
"Everyone should be putting a premium on beating Donald Trump," she says. She chose Buttigieg precisely because he has emphasized repairing the fractures she believes Trump has caused: "Pete's message of unity is really what made me excited about his candidacy.…One thing he says a lot is that you can't lead a country if you hate half the people in it—and that really resonates with me." A fellow Midwesterner (she's from Illinois), Naquin says she and her candidate have seen "working-class Americans that otherwise feel left behind in politics," and they want to reach them.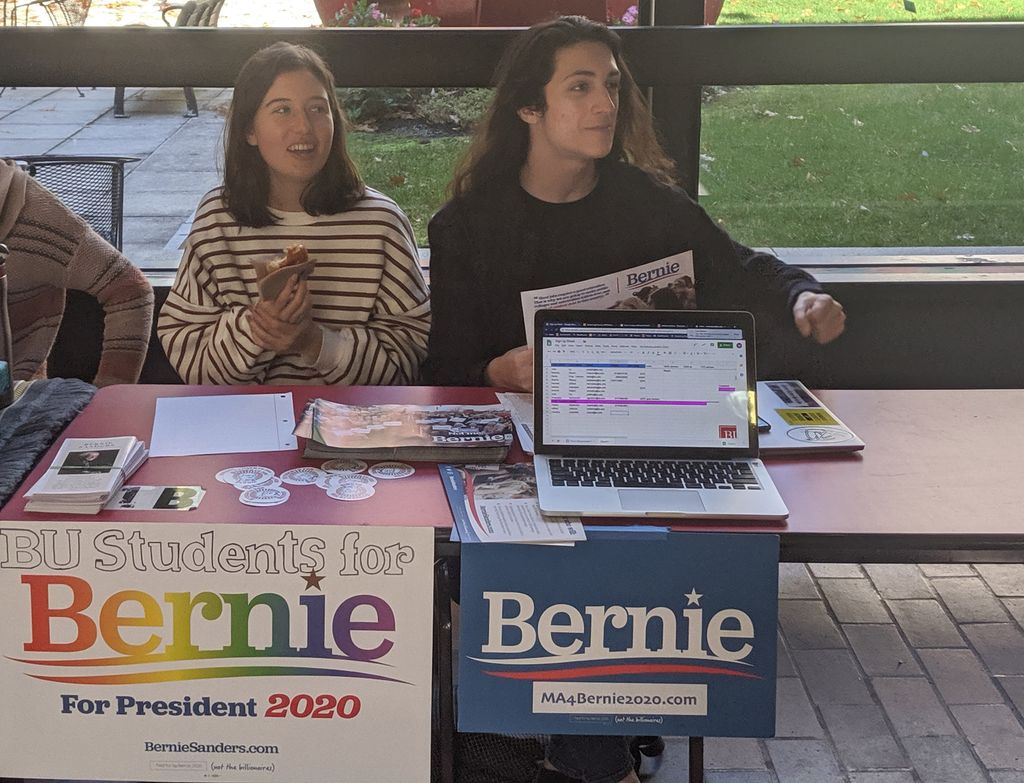 In Sanders, De Laforcade (CAS'21) found a candidate who has consistently described his philosophy as democratic socialist during almost 40 years in political office. The political science major likewise prioritizes principles over both electability and identity politics.
"I think a woman or a person of color could win the US presidency," says De Laforcade, but "it is less important to consider the personal identity of a candidate [than] is the policy-oriented benefits they would bring to the American people." From Medicare for All to the Green New Deal to canceling all student debt, Sanders has "the strongest record of fighting for social justice," he says, and shows the best understanding of people who are members of multiple marginalized groups.
If decisions, decisions among a crowded candidates' field sums up the Democratic race, no such dynamic perturbs the GOP side. Not only are both candidates white males, but Trump boasts commanding approval ratings among Republicans nationally
"As far as I can tell, a vast majority of Republican students at BU are supporting President Trump in this election…even in the face of impeachment," says Dan Treacy (COM'22), one of those supporters. He says he knows no students weighing a vote for former Massachusetts governor William Weld, Trump's primary challenger.
Treacy counts the continuing strong economy among Trump's accomplishments; more important, though, he admires the president's "guts to fight back against the opposition, while too many Republican politicians crumble at the first sign of backlash for anything they say or do."
Rafael Kriger (CAS'23), by contrast, is a decidedly tepid Trumper. He thinks the president has flaws—"his character and morals" among them—and merited impeachment for his attempts to get Ukraine to investigate Biden and his son. (That's not saying much, however, as Kriger believes "every president since Bush, Sr., should have also been impeached and removed, and many more before him.")
Rather, Kriger's support reflects an even dimmer view of the Democrats. "Among all the options available," he says, Trump "is the best."
Read More
Also in
November 7, 2020

November 7, 2020