Andrew Bacevich on Winning the Cold War, Then Blowing the Cold Peace
Books
Andrew Bacevich on Winning the Cold War, Then Blowing the Cold Peace
In his new book, BU professor emeritus and former Army colonel says fumbled opportunities fueled Donald Trump's rise
Just two months after the 30th anniversary of the fall of the Berlin Wall, Andrew Bacevich has a book sure to be a killjoy for anyone inclined to triumphalism. America, he says, fumbled its victory.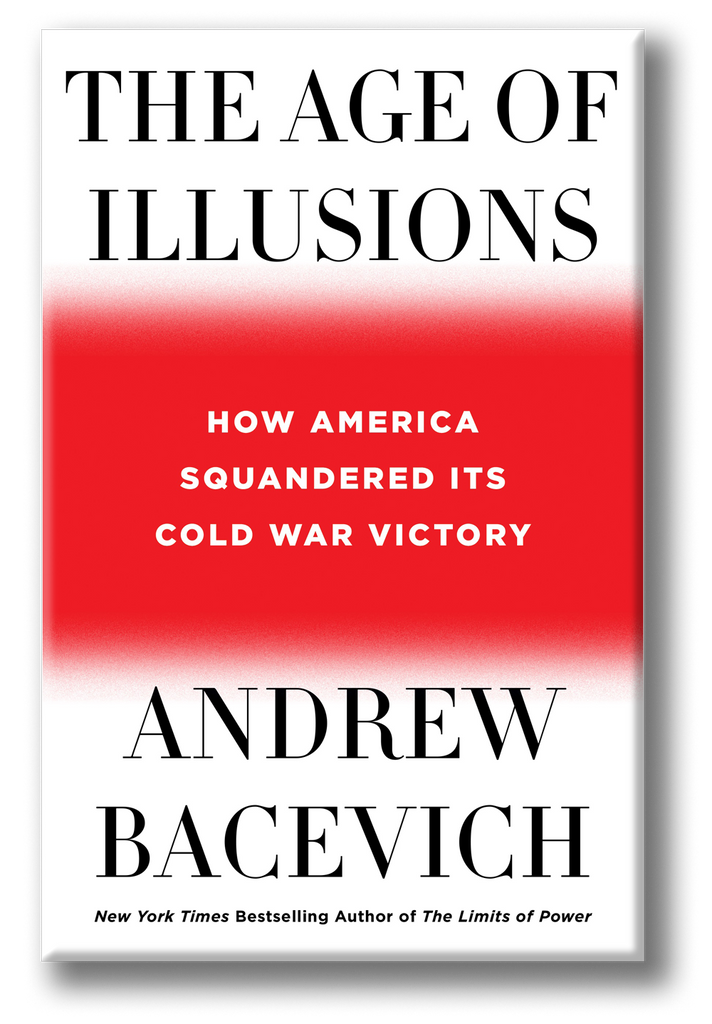 In his new book, The Age of Illusions: How America Squandered Its Cold War Victory (Metropolitan Books), Bacevich, professor emeritus of history and international relations at the College of Arts & Sciences and the Pardee School, argues that the country's intelligentsia and leadership shared a consensus built on four misguided precepts after the Wall and Soviet Union both fell: globalization and capitalism would enrich the world; an expensive US military could enforce global stability; expansive freedom untethered from self-restraint would reform our domestic culture; and the American presidency was inflated like a political Macy's balloon to become the all-important center of government, contrary to the Founding Fathers' intent.
Bacevich writes that the detritus of this consensus—economic inequality, endless wars, spiritual emptiness and accompanying social problems—helped Donald Trump win the White House.
His analysis rests on lived experience in addition to scholarship. Before his academic career, Bacevich spent 23 years in the Army, retiring as colonel. While holding his country's leaders to account in the book, he does the same for himself, relating the end of his military service, when, while he commanded a regiment along the Kuwait-Iraq border, a motor pool fire killed several troops. "I was quite properly held responsible," he writes. "The termination of my soldierly career was personally wrenching." But it led to his academic career and a new understanding of US history, he adds.
Today, Bacevich is president of the Quincy Institute for Responsible Statecraft, a diplomacy-promoting think tank he cofounded in Washington, D.C. BU Today asked him four questions about the themes he explores in his book, which Kirkus Reviews called "a brilliant but ultimately discouraging analysis of how America messed up its big chance."


BU Today: You attribute Trump's election to voters' rejection of the post–Cold War consensus. Weren't those voters motivated instead by overwhelming discomfort with changing racial and sexual norms, from the country's browning complexion to same-sex marriage?


Bacevich: While not wrong, that argument is self-serving and too narrowly framed. Reduced to its essence, it amounts to this: those who voted for Trump are bigots. I am not willing to write off 60 million of our fellow citizens.

In the election of 2016, Hillary Clinton embodied what I refer to as the post–Cold War consensus. When it came to globalized neoliberalism, using the military to overthrow dictators and spread democracy, and overturning traditional moral norms, she was all in. Yet large numbers of Americans concluded, not without reason, that policies formulated pursuant to that formula were not working for them. So they voted for someone else or, in very large numbers, simply chose not to vote at all.

From my perspective, the outcome of the election represented not so much an endorsement of Trump, but a repudiation of the consensus that Clinton embodied. The election served as a de facto plebiscite. In one sense, Trump won, but it was the status quo that lost.

Is the inequality that globalism has fostered mainly a US problem, since China and India have seen remarkable poverty reduction in a globalized world?

My knowledge of China and India is limited. And I am not an economist. But two things seem quite clear to me. The first is that globalization has contributed to massive, even unprecedented, inequality in our country. The second is that while globalization has clearly promoted growth in some—not all—parts of the developing world, the benefits are not equally distributed.

When the Cold War ended, it appeared obvious, at least in elite circles, that there was no viable alternative to capitalism. Now that proposition is being revisited, which is a good thing.

Could you give some specific examples of the contemporary belief that freedom should be unfettered by self-restraint and responsibility?

I really have no desire to wade into the murky waters of the culture war. I happen to be a conservative Catholic. My side lost that war. I accept the outcome. The point I try to make in my book is this: while Americans today enjoy more freedom than any earlier generation—plenty of choices, virtually no obligations—ours is a society plagued by various pathologies, not to mention an epidemic of loneliness and alienation. So we may be free, but we aren't necessarily happy. Is there a causal connection? I don't know. Maybe freedom ain't all that it's cracked up to be. Or maybe we should consider the possibility that a bounded freedom might offer a better recipe for human fulfillment.

Given the 2020 presidential candidates, do you see any hope of the beginnings of a renaissance of the approach your book argues for?

I find it odd that we would look to the White House to save us from our present predicament. We are a republic, not a monarchy. The Trump presidency should cure Americans once and for all of the delusion that the person occupying the Oval Office has the capacity to save us from our sins.

Bacevich will discuss his book tonight, Tuesday, January 14, at 7 pm at an event hosted by the Cambridge Forum at First Parish (UU Church), 1446 Massachusetts Ave., Cambridge. The event is free and open to the public and will be moderated by journalist Christopher Lydon. Via public transportation, take an MBTA Red Line train to Harvard Square.