Activist and BU Alum Barbara Lee Has a Mission: To See a Woman in the Oval Office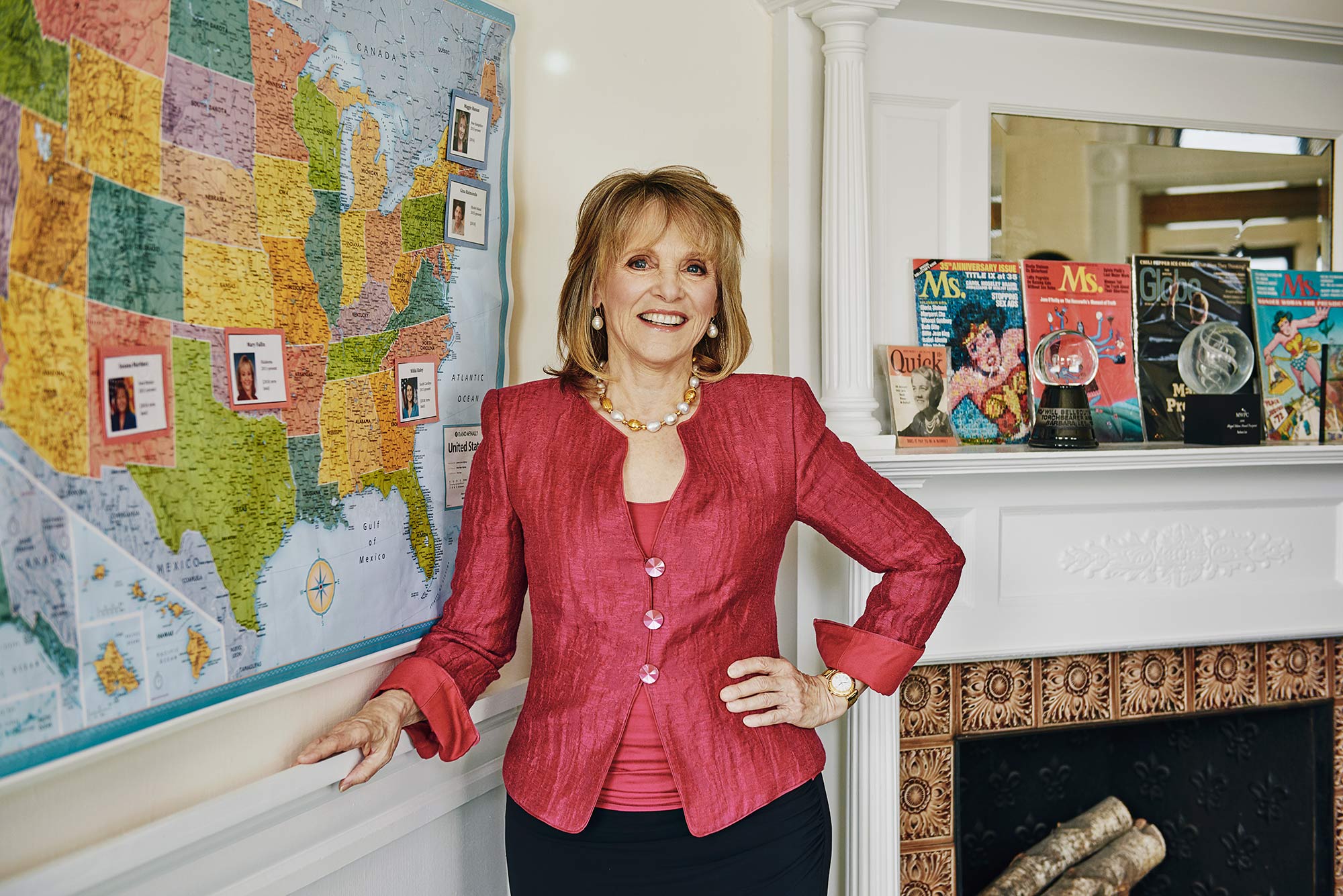 Politics
Activist and BU Alum Barbara Lee Has a Mission: To See a Woman in the Oval Office
She's helped elect 170 women to office, including every current sitting Democratic woman senator and governor
After helping elect 170 women to office over two decades, including every current sitting Democratic woman senator and governor, Barbara Lee likes to think she knows a winner when she sees one. That's why Lee urged Ayanna Pressley, who studied at Boston University's College of General Studies and is now a US congresswoman, to run for Boston City Council in 2009. And that's why she thinks Joe Biden chose an ideal running mate.
Kamala Harris "is exactly the right addition to the Democratic ticket," says Lee (SSW'84), the founding head of Barbara Lee Political Office, which recruits, advises, and supports progressive women candidates. "And I can't wait to see her shine as America's first woman vice president."
Lee, a philanthropist who is listed among Boston magazine's "50 Most Powerful Women in Boston," is considered a leading force in advancing women's representation in both American politics and contemporary art. In addition to her work through Barbara Lee Political Office, she is the founding head of the nonpartisan Barbara Lee Family Foundation, which conducts research on women's campaigns and shares its findings—and advice—with candidates of all political stripes.
In a recent op-ed in the Boston Globe about Biden's selection of Harris, Lee noted that her foundation's "decades of research shows that women have historically been held to different and higher standards than their male counterparts. That goes doubly for Black women.
"In multiple elections, Harris has already had to prove that she is both likeable and qualified," Lee wrote. "(For men, qualification is assumed, and likeability is not required.)"
Lee's big goal is to put a woman in the Oval Office. And her foundation's latest study, "Rising to the Occasion: How Women Leaders Prove They Can Handle a Crisis" (2020), tells her that the leadership roles women mayors and governors have played in fighting COVID-19 has brought that day closer.
Bostonia talked with Lee about that research, her insights on women's electability, and her take on Elizabeth Warren's run for president.
Bostonia:
You earned a master's degree at the School of Social Work. How did your time there shape your work?
Barbara Lee: Let me start by saying that my experience at Boston University School of Social Work was life-changing for me and influenced so much of the work I do today. At the time, I was a busy mother, and SSW accepted me as a part-time student and allowed me to extend a three-year program to five years after I had a second child. That, in itself, was ahead of its time.

Dean Emeritus Hubie Jones (SSW'57) and my professors Melvin Delgado and Debbie Menashi were inspirational for me and opened my eyes to the issues of systemic and institutional racism, and the depths of gender inequality, at a time, in the late 1970s and early 1980s, when these topics were not part of the mainstream dialogue. To this day, I still think back about the lessons I learned and vividly remember the interviews and site visits I did for the research projects I undertook for those classes.
Bostonia:
How did your grandmother's stories about the suffragist movement figure into your life and work?
Barbara Lee: My Gramma Minnie is one of my heroes. She used to tell me about growing up in the time before women had the right to vote. She proudly voted for the first time in the presidential election of 1920—just months after the 19th Amendment gave women the right to vote nationwide. She lived to the age of 96 and never missed an election. She would be absolutely amazed by all the women elected to political office today, and the prospect of a woman vice president.
Bostonia:
How might the leadership roles women governors and mayors have played in response to both the pandemic and the calls for racial justice following the death of George Floyd help change perceptions and convince skeptical voters that women can lead in a crisis?
Barbara Lee: Crises clarify, and the past six months have shown why it is so important to have more women in crucial leadership roles. We thought 2020 would be all about the presidency. It's also showcasing nationally the visibility of strong women governors and mayors, who have risen to the occasion, given multiple crises. Voters identify the ability to handle a crisis as a primary consideration for women's electability. My foundation's recent research, conducted during our country's first COVID-19 lockdown, confirms that voters believe women can lead effectively during crises, and they have distinct advantages.

It has been so inspiring to see women like Washington, D.C., Mayor Muriel Bowser, San Francisco Mayor London Breed, Atlanta Mayor Keisha Lance Bottoms, and Chicago Mayor Lori Lightfoot show strong leadership around the COVID-19 crisis and the national conversation around racial justice in our country. The same is true for women governors like Oregon Governor Kate Brown, New Mexico Governor Michelle Lujan Grisham, Maine Governor Janet Mills, Rhode Island Governor Gina Raimondo, and Michigan Governor Gretchen Whitmer. We've watched these women governors and mayors take center stage, showing their strong, decisive leadership during these dual crises.

Bostonia:
Your 2019 guide's essentials for a woman seeking executive office sounds like a list of Elizabeth Warren's credentials. Why do you think her candidacy came up short?
Barbara Lee: Senator Elizabeth Warren was the first candidate to launch her presidential campaign, and was the last of four sitting Democratic women senators to end her campaign. She was a tireless campaigner, full of boundless energy—including her endless selfie lines, packed campaign rallies, and strong debate performances.

Just because she did not win the Democratic primary does not mean her campaign wasn't successful. Senator Warren's bold ideas and detailed policies often defined the overall 2020 conversation. She set the standard, challenging her opponents to be more thoughtful and more specific. She outlasted 24 rivals.

---

"This is how my grandmother must have felt watching the suffragists march up Fifth Avenue."

---
Barbara Lee: The fact that she and three other highly qualified women senators did not make it to the Oval Office is a reminder of the entrenched stereotypes that exist in our country about what a successful presidential candidate looks like. For hundreds of years, it has been an older, straight white man.

Senator Warren moved us closer to changing that stereotype for good, and she remains a powerful role model, especially for all the young girls she "pinky promised" to remember that running for president is "what girls do."
Bostonia:
Playing devil's advocate: what difference does a president's gender make? Why do we need to have a woman president?
Barbara Lee: Underrepresentation impacts which issues are taken seriously in the halls of our most powerful institutions. Women make up more than half of our population, and still we have not yet had a woman vice president or president. In fact, there have been more male governors who have had the name John or James than the total number of women who have ever served as governor.

The COVID-19 crisis is a stark reminder why we need more women serving in public office. Aside from the fact that so many women governors and mayors are skillfully navigating their communities through the pandemic, this crisis has disproportionately affected women and people of color. Instead of laser focusing, women are able to take a broad 360-degree view and identify problems that others may not. 

In addition to governors and mayors, many women in Congress are doing the same. That's why here in Massachusetts, Congresswoman Katherine Clark has been advocating for investment in child care, and Senator Warren released a detailed plan early on with recommendations about how to take on the COVID-19 crisis. Having more women leaders ensures more thoughtful debates and ultimately better public policy for all.

Bostonia:
Do you think we'll elect a woman president in your lifetime?
Barbara Lee: I sure hope so! In 2017, when I attended the Boston Women's March, I felt a powerful energetic shift. I realized, this is how my grandmother must have felt watching the suffragists march up Fifth Avenue. I knew this was not a moment, it was a movement, and women's political participation is here to stay.

The fact that this Democratic primary was the most diverse in history is significant progress. It was remarkable watching the first presidential debate showcasing six women, including two women of color and four sitting senators. A major barrier was broken. I believe that in the future, we will always see multiple women and people of color on the presidential debate stage, and that's a good thing.
Bostonia:
What specific qualities in Massachusetts Congresswoman Ayanna Pressley prompted you to urge her to run for Boston City Council more than a decade ago?
Barbara Lee: I met Congresswoman Pressley in the early 2000s, when she was working in constituent services for [Massachusetts] Senator John Kerry [Hon.'05], in his Boston office. I knew right away that she is a star. I am proud to have been the first person ever to encourage her to run for office. And she was so shocked, she ran home and called her mother. I'm so grateful to have her powerful voice in Congress at this critical moment in time. Congresswoman Pressley has an extraordinary amount of empathy, and a fierceness when it comes to fighting for underserved populations. Ayanna has a true gift for being in touch with the lives of her constituents. She is politically savvy, and knows how to get results.
Bostonia:
How does Joe Biden's public vetting of a number of women as his running mate figure into your mission of electing a woman president?
Barbara Lee: Seeing a highly qualified woman vice presidential candidate this cycle challenges voters' long-held "imagination barrier" that women aren't fit for executive office.

The many women who were being vetted by the Biden campaign, and being discussed in the press, normalize the concept of a woman on a presidential ticket.

I am sure that seeing a woman VP candidate on the virtual campaign trail will transform the conversation, challenge stereotypes, and inspire the next generation. It is a momentous step toward changing the face of leadership in our country.

This Series
Also in
November 7, 2020

November 7, 2020