11 Ways to Stay Connected if You're Remote This Semester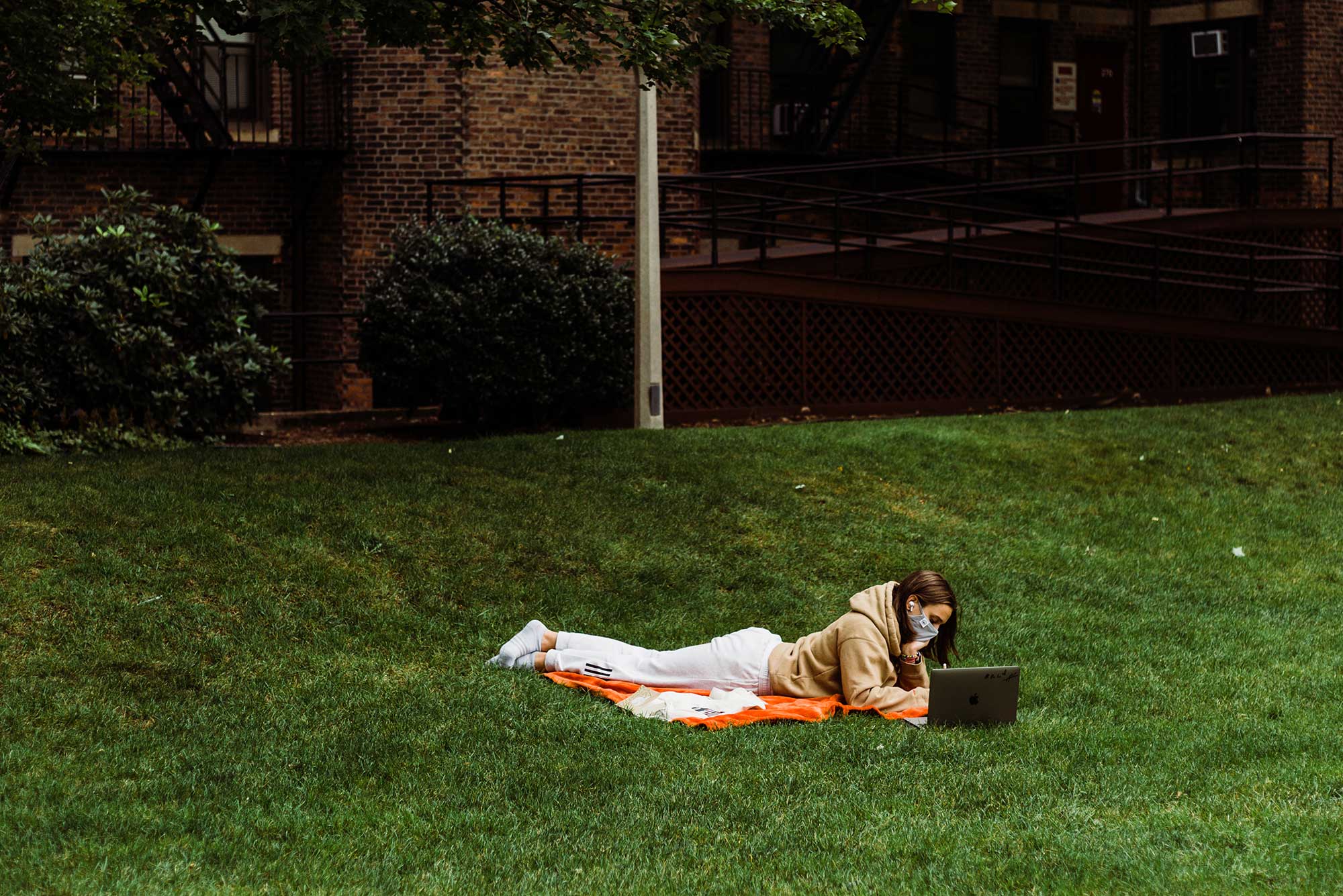 Student Life
11 Ways to Stay Connected if You're Remote This Semester
Students studying from home can still join clubs, attend social events
While students on campus are navigating the new rules about socializing safely in small groups, social distancing in classrooms and libraries, and mask-wearing etiquette, those taking advantage of the Learn from Anywhere model (LfA) by learning remotely have a different set of concerns. Sure, you can Zoom into a class, but feelings of social isolation may be starting to creep in as you scroll through Instagram and see pictures of Bay State Road and (small) groups of friends hanging out.
So if you aren't on campus this semester, how can you feel connected? We've picked up a few ideas from Reddit, and added some of our own to help those wanting to be part of the BU community this fall from home.
1.
Join the official Facebook group for your class (2024, 2023, etc.) for links to group chats on GroupMe or Snapchat. If you can't find one, start one specifically for students staying home this semester.
2.
Poke around Discord for groups that might appeal to you. Here's one for college students in Massachusetts.
3.
Miss walking around the Charles River Campus? Visit virtually on Minecraft.
5.
Have you been watching recordings of classes after the fact because of a time difference? Some students recommend attending live for a few sessions to see if you get more out of the class. "I did benefit attending the classes live, as it kept me on schedule and provided the opportunity for live questions," one user said on Reddit. "The interaction aspect was more important for lab/problem sections because I was able to ask questions."
6.
Attend professors' office hours. Students are encouraged to do this in normal semesters, but it's even more important this fall. It's as simple as a one-on-one Zoom call and can help you get face time if you aren't physically in the classroom.
8.
Missed Splash? It's not too late to join one of BU's more than 450 student clubs. The complete list and contact info can be found on the Student Activities office website and most of them are conducting meetings and events virtually.
9.
Suggest that professors keep the Zoom chat option on, instead of turning it off…and if that doesn't work, turn to GroupMe.

One Reddit user was disappointed when a professor shut off the ability to Zoom chat. "It's incredibly isolating if you are 100 percent remote and know no one in your lectures, especially if you're in a different time zone and watch the recordings instead of live chats."

The student suggested creating a GroupMe chat for each class and sending out the link to your classmates via Zoom.
10.
Follow the new Instagram account BU Spirit, which organizes events like BU-themed spirit dress-up days and room-decorating contests. Students are invited to take a selfie or a video and post it to the BU Spirit Instagram page, whether they're on campus or learning remotely. Prizes and gift cards will be awarded.

Organized by BU's New Normal Challenge, an initiative where students suggest and develop ideas that could have a positive impact on the BU community this fall, these "spirit events" will be ongoing throughout the semester in an effort to build community. Look for more events later in the semester, including more dress-up days, a TikTok competition, a scavenger hunt, a cooking challenge, and more.
11.
Join the weekly Coffee & Conversation discussion hosted by the Howard Thurman Center for Common Ground. Held Friday afternoons at 3 pm, this BU tradition offers students a chance to come together to discuss news headlines, current trends, and controversial ideas. One recent chat focused on how social media is changing during the pandemic and leading up to the 2020 presidential election.