You Could Own Roast Beast! Make Your Best Offer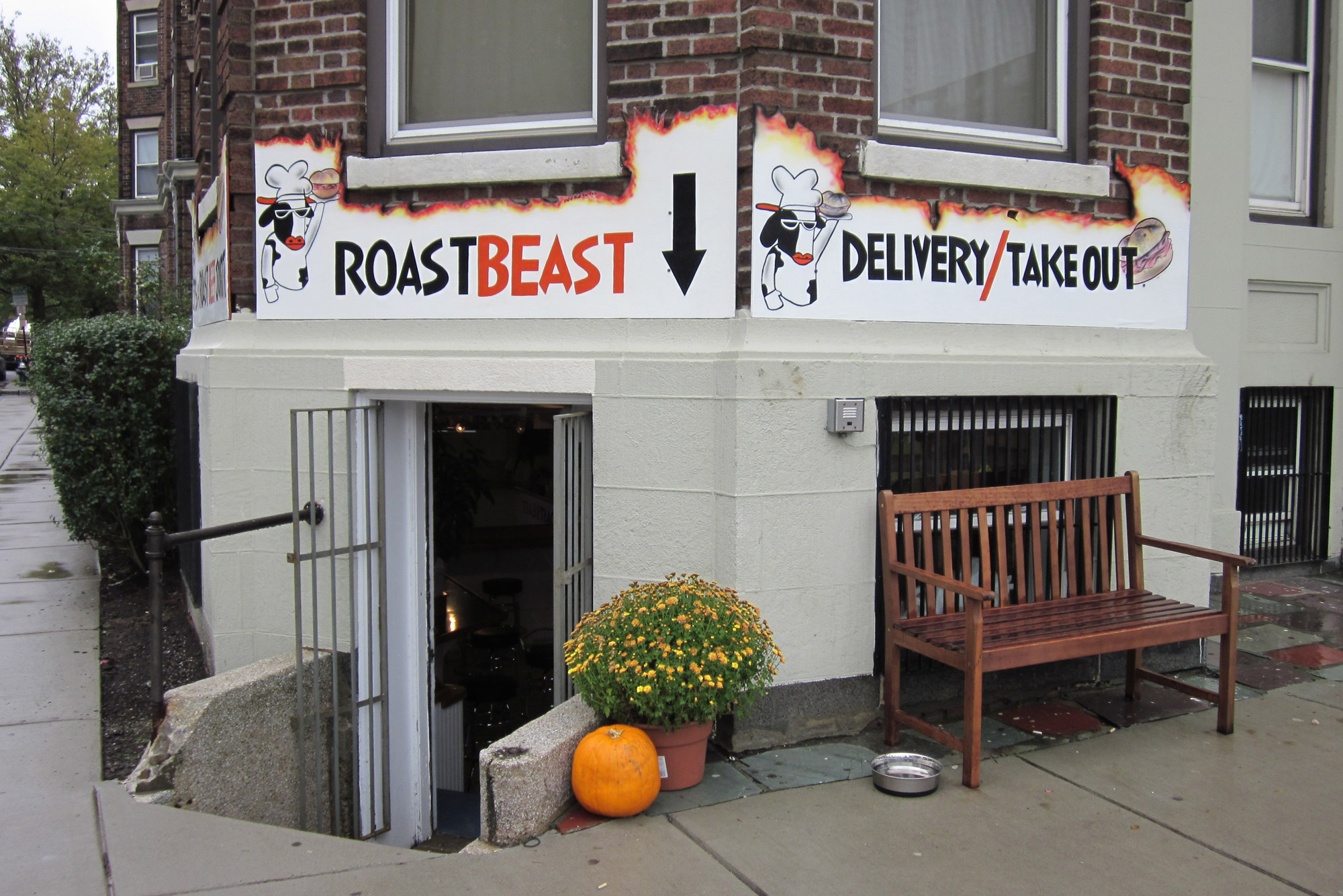 Food
You Could Own Roast Beast! Make Your Best Offer
Owner and BU alum closes popular Comm Ave sandwich shop, and is selling his recipes and the brand
If you've ever thought about getting into the restaurant business, well, you might not find another opportunity like the one DJ Lawton has put on the table.
Lawton (Questrom'09) last week abruptly closed his popular Roast Beast sandwich shop at 1080 Comm Ave, the downstairs spot where delicious smells of griddled bread piled high with roast beef, turkey, onions, pickles, and his special sauces wafted out to the sidewalk at lunchtime every day. He blames a dispute with city officials, but that's not important now. What matters is this: he is offering to sell all his "secrets"—the recipes, trademarks, the brand, everything—to the highest bidder.
"Anyone qualified with a serious offer should submit it by December 1st to lawtondj@gmail.com," he wrote on the Roast Beast Facebook page. "Whoever's offer I accept will receive everything needed to make the greatest sandwiches on earth available once again."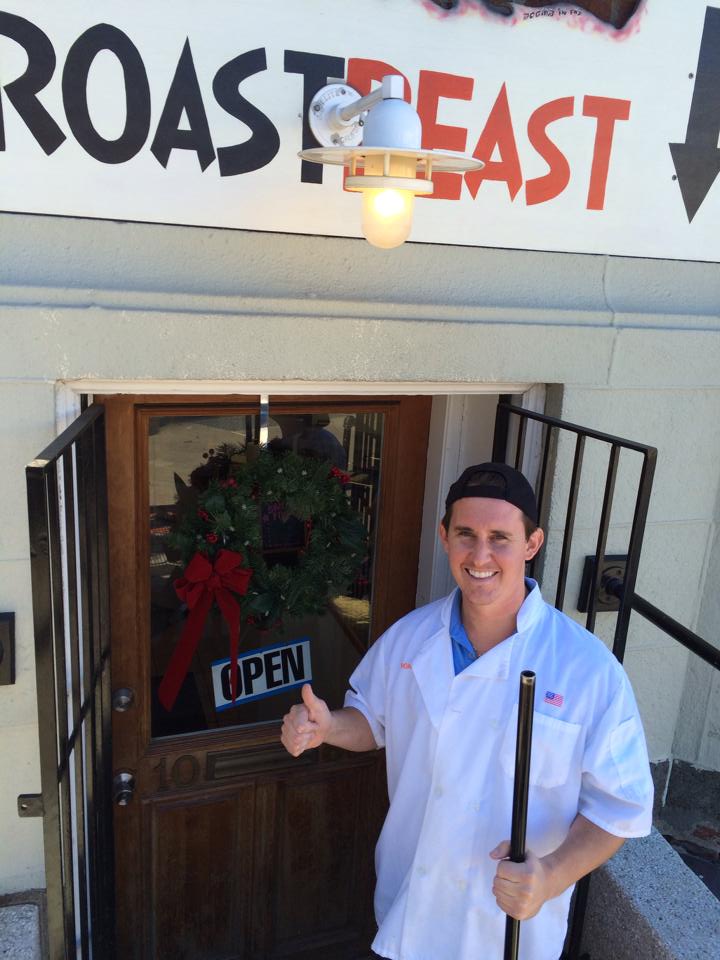 He added: "It would be selfish of me not to give someone else the opportunity to take advantage of what I dedicated the last decade of my life to creating. That is why I have decided to offer the Roast Beast brand for sale. Names, trademarks, copyrights, website, trade fixtures, recipes, and anything else associated with the brand will be included."
To be clear, this was not just another generic college campus sandwich shop. In the basement at the corner of Comm Ave and Naples Road, Lawton opened for business in October 2011 and soon became a West Campus staple for many BU students and staff, not to mention police, firefighters, EMTs, and anyone hungry for an overstuffed sandwich. He offered tall stacks of roast beef (and/or turkey) in regular-, large, and mega-size sandwiches made with an array of breads, condiments, and extras. The Terrier, for example, featured roast beef along with chipotle mayo, horseradish sauce, secret beast sauce, pepper jack cheese, and onions, all on an onion roll.
Some commenters on his Facebook page were bereft after the sudden closing: "DJ…you and Roast Beast will be truly missed," wrote a William Fong. "I was one of the first customers since the beginning and it has been an extreme pleasure eating your incredible sandwiches. My favorite…Mega roast beef, 3-Pepper Colby (2 slices), Xtra Beast Sauce, and Xtra Mayo on a grilled Onion Roll!"
How much might Brockton resident Lawton expect to fetch for Roast Beast? One expert suggests he probably shouldn't be thinking about an early retirement.
Gregory Stoller, a Questrom School of Business senior lecturer in strategy and innovation and a 2019 Metcalf Award winner, says that taste aside, the secrets behind Roast Beast's sandwiches and brand are likely to be less lucrative than any assets Lawton did not mention. The value in a restaurant sale is usually "the ability to sell the interest in a lease and the ability to sell a customer list," says Stoller. Lawson made no mention of either one or of any physical assets, such as kitchen equipment.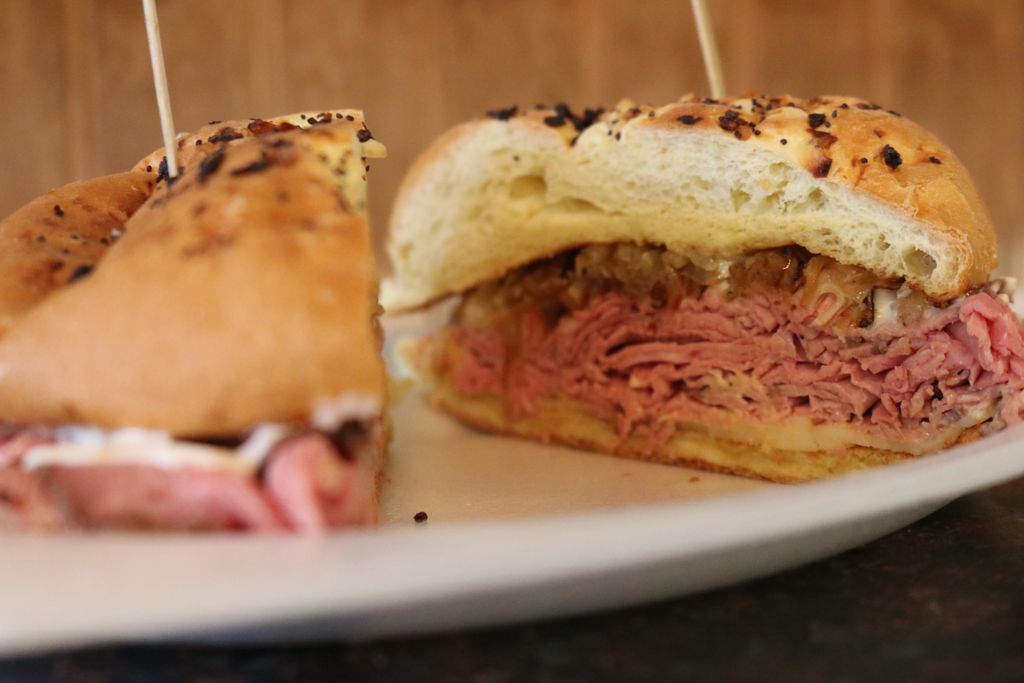 The facts of the, ahem, beef between Lawton (DJ stands for Daniel James) and the city are disputed. He initially told Boston.com that a city inspector ordered him to install a range hood exhaust system over his electric griddles, a fire safety issue for the apartment building where Roast Beast is located. But he said that was a $150,000 project that he could not afford, and he argued it was unnecessary because all he did was toast bread on them. And he had some harsh things to say for the way the city was treating a small businessman. (He did not reply to BU Today's requests for comment.)
But when city of Boston officials saw what Lawton claimed, they had a beef of their own. They told the Universal Hub website that they saw a buildup of grease on the ceiling, suggesting that more than bread was being cooked, and ordered the griddles removed. But they said that they were willing to work with Lawton, by suggesting he simply replace the griddles with a panini press, and they gave him 30 days to complete the project. So his preemptive closing was a surprise to them, as much as everyone.
Back on the Facebook page, one fan summed up the sentiments of many: "Long live the beast."